Motorola Droid RAZR review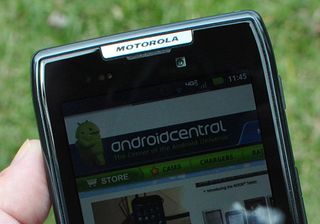 What a way to enter the holiday season. Verizon Wireless has suddenly found itself with arguably three of the hottest Android smartphones of the year, just as the holiday shopping season begins. There's the just-announced HTC Rezound, the "Pure Google" Samsung Galaxy Nexus and what brings us together today -- the Motorola Droid RAZR.
Yes, the RAZR -- the flip phone that became as cliche as it was once iconic -- has been reborn in the smartphone era. And it should surprise no one that Android is at the heart of its reincarnation.
And Motorola, which led the march toward thinner, lighter and bigger smartphones more than a year ago with the Droid X, has changed things up again with the RAZR. But the Droid RAZR's eccentricities may also be its undoing. Read on to find out why in our complete Droid RAZR review.
Pros
It's fast, it's thin, it's got a gorgeous high-resolution display, and it's running the most recent version of Android available (at least for a few more weeks). Motorola has already promised an update to Ice Cream Sandwich. Good camera, and has Verizon 4G LTE data.
Cons
May be too large for some; is about the widest phone we've used. Battery can't be removed. Full of preloaded apps that you might or might not actually want.
The Bottom Line
Yet another "best-of" phone for Verizon. But the Droid RAZR's size could be a bit much for some, and we've got real concerns about not being able to swap out the battery for a fresh one when needed.
Swipe to scroll horizontally
The hardware
Youtube link for mobile viewing
The Droid RAZR certainly continues the theme of 2011 -- that is thin, light, and big. Design-wise, it's not unlike the Droid X and X2, only refined over the months, and significantly slimmed down. It's got the same bulge up top for the camera assembly, but it's far less noticeable.
It's worth noting that when you hear Verizon and Motorola crowing that the RAZR is only 7.1 mm thin, they're talking about the thinnest part of the phone, not the top section, which balloons up to 10.5 mm or so. OK, that's hardly what we'd consider to be fat, especially for 4G LTE phones, which tend to a bit on the portly side.
The Droid RAZR is pretty damn wide, though, at some 2.71 inches, and tall at 5.15 inches. This is not a small phone. But it weighs just 4.48 ounces.
With a phone that takes up that much square footage, you might expect it to have an oversized display, too. But the Droid RAZR has a "mere" 4.3-inch Super AMOLED display with qHD (540x960) resolution. And in a word, it's gorgeous. Don't worry about the specs, really. It looks great, mostly. You may still occasionally notice a tiny bit of fuzziness on the edges of fonts. Or you might not. But gone is the checkerboarding of previous Motorola displays.
Above the display is the Motorola logo and phone earpiece, along with the ambient light sensor and (thankfully) a hidden notification light. There's a front-facing 1.3MP camera there, too, with a square cutout letting it look forward. It kind of looks out of place, with the camera breaking up an otherwise immaculately black bezel around the display.
Below the display is the Verizon logo and four capacitive buttons in the menu-home-back-search configuration. There's a tiny pinhole mic down there as well.
On top of the phone is the 3.5 mm headphone jack, microUSB port and HDMI-out.
The power button's been moved to the right-hand bezel. For those of us who review phones for a living, that's a pretty big shift that makes us think we're using a Samsung phone, not Motorola. But you'll get used to it quickly enough. (There's also a nice little texture on the power button.) Below it is a small, one-piece volume rocker.
The left-hand bezel is bare save for a little pry-open door. And inside there is -- wait for it -- the LTE SIM card and 16GB microSD card. While we occasionally see microSD cards on the exterior of a phone like this, it's the first time (in the U.S. anyway) we can remember a SIM card being moved around like this. And there's good reason for it. (Note that the phone's unique IMEI number is on the door flap.)
There is no removable battery. That's right. Flip the Droid RAZR over and you see a huge tract of patterned soft-touch paint -- supposedly it's Kevlar, but we're not going to shoot it -- with the Moto batwings and other logos and FCC identifications stenciled on. It's pretty expansive, but it also doesn't move.
The top section houses the 8MP camera (more on that in a bit) with flash, and speakerphone. There are a couple more mics on the rear of the phone, too.
What's under the hood
The Droid RAZR is powered by a TI OMAP 4430 dual-core processor running at 1.2 GHz. In a word, it's fast in daily use as a smartphone. Fast to boot, fast in the home screens and launcher, and apps run as you'd expect. (Web browsing feels especially fast.) Don't worry about benchmarks. (We don't.) Don't worry about whether you're using both cores. (The phone will take care of that for you.) It's fast. Period.
Data speeds are what you'd expect from Verizon. Data on 3G is fairly fast, and data on 4G is definitely nothing to sneeze at. But we have seen more bouncing back and forth between 3G and 4G than we'd prefer to see. (Which is, to say, any.) Could be a disturbance in the force, or it could be the phone. Further use should help flesh that out.
Fun fact: If you're in range of a Wifi network to which you've already added, the Droid RAZR can automatically turn Wifi on and reconnect. Even if you don't want it to.
You've got about 2.5 GB of storage on which to install apps. (They can be moved to the "media area" -- ie out of that 2.5GB of storage -- if you so desire.) There's another 8GB of internal storage for music and pictures and app data or whatever, plus the aforementioned 16GB card. You'll find that the actual storage numbers are slightly lower than advertised, but that's normal. And an interesting side-effect of having dual storage like that is when you connect the phone to a computer in USB mode, it'll show up as two drives.
But about that battery ...
So here's the thing. The Droid RAZR has a 1780 mAh battery, which isn't too shabby as far as capacity goes. But -- and this is a big "but" -- you can't swap it out for a freshly charged battery when things go south.
The Droid RAZR is a 4G LTE phone. And if there's one thing we've learned about LTE over the past 11 months, it's that it can drain a battery quicker than a bunch of bloggers can drain the coffee pot in a newsroom. And battery life on LTE hasn't changed much, even with dual-core processors. (Never mind that the Droid RAZR can also fry an egg with a hot as it got during our initial setup.)
We'll update our findings once we're more than a couple days in. But so far, with our normal usage, we're going to plug in whenever possible. Not that you shouldn't do that anyway, but we're real wary of using the Droid RAZR as our only device while traveling. That said, Motorola's got a number of battery-saving options that can be enabled, as it does on other phones. But it's up to you to use them.
The bottom line is this: Being Android users (and especially after using a number of 4G LTE devices), we're a lot more comfortable being able to replace a dead battery than we are hoping for a chance to charge while on the go.
And for those who are wondering about battery pulls when something goes wrong (ie the phone freezes up) we've yet to experience anything that'd cause us to need a battery pull, but we'd imagine it works the same as on an Android tablet -- the power button should cure what ails ya.
The software
Youtube link for mobile viewing
The Motorola Droid RAZR is running Android 2.3.5 Gingerbread out of the box. And, yes, Motorola has already announced it'll get an updated to the most recent major version of Android, "Ice Cream Sandwich," just as soon as it can.
The basic home screen experience is relatively unchanged from other recent Motorola phones. There are three app shortcuts and the app drawer button docked to the bottom of the screen. You can swap out the docked app shortcuts by tapping and holding on them.
You've got five home screens on which to put widgets, app icons and other shortcuts. The center home screen features Moto's excellent favorite contacts widget and app shortcuts for voicemail, e-mail (not Gmail), the browser and the Android Market. The home screens aren't terribly overburdened with preloaded widgets and what not, and the two bookend home screens are blank.
While the home screens may be delightfully devoid of bloatware, you'll find no refuge in the app drawer. Verizon, for better or for worse, has loaded up the RAZR with a ton of apps, some of which you'll find more useful than others. You'll find:
Amazon Kindle
BlockBuster
GoToMeeting
IM
Let's Golf 2
Madden NFL 12
MOTOACTV
MOTOPRINT
My Accounts
My Verizon
Netflix
News
NFL Mobile
Quickoffice
Slacker Radio
Smart Actions
Social Location
Social Networking
Task Manager
Tasks
V CAST Tones
Verizon Video
Video Surf
Voice Command
VZ Navigator
And that's in addition to the usual Google apps you'd expect to see, like Gmail, Google Talk and Youtube. A couple of standsouts though:
MOTOACTV
The companion application for Motorola's fitness tracker. (More on that to come.)
MOTOPRINT
Motorola's surprisingly good application that let's you wirelessly connect to a printer, either directly from the phone, or via a computer.
Task Manager
On one hand, hit is a handy way to quit a misbehaving app. And we're fine with that. But it's also got an "Auto-end" blacklist, and that's where you can get into trouble. We'd recommend staying away from that part of it.
Smart Actions
A very cool if slightly complicated app that conditionally changes settings on your phone via a set of rules. It's got a bunch of sample rules. "Home," for instance, assumes that you've come home and set your phone down somewhere, and automatically sets the ringer volume to 100 percent so you don't miss a call. You set the locations that will cause it to trigger. Or there's a charging reminder that will remind you to plug in your phone at night.
Very cool stuff, though it can be a little confusing to soet up if you're not into workflows.
MOTOACTV
This is Motorola's new music player/fitness tracker that doubles as a Bluetooth-connected watch that runs its own full version of Android. We'll have a full review on it later.
Music and MotoCast
Motorola's got a fairly slick and new method of getting music onto your phone. You'll need to load the MotoCast application on a computer, then set up some watch folders. After that, it'll automatically sync the media to your phone. You do have to be careful, of course, because you only have so many gigabytes of space on your you phone.
We set it up to watch a folder with two albums. It synced quickly, and the music was easily playable on the phone.
Keyboards
You've got two keyboards from which to choose: Motorola's multitouch keyboard, which looks like a skinned version of the stock Gingerbread keyboard, or Swype. The multitouch keyboard is loaded by default, but it's also lacking in secondary functions. If you use basic symbols or punctuation a lot, you'll likely want to switch keyboards.
The cameras
The Droid RAZR has a pair of cameras -- a 1.3MP shooter on the front, and 8MP with flash on the back.
Motorola's camera software is pretty darn good. You've got one-touch switching from the front and rear cameras, as well as for switching from still pictures to video. With a phone this size, we'd have loved a physical shutter button, but that's just not in the cards.
You've got a few scene settings (auto, portrait, landscape, sport, night portrait, sunset and macro) from which to choose, as well as various modes (single-shot, panorama, multishot and timer). Notably absent is HDR support, which takes a series of pictures at various settings and stitches them together for a brilliant result. HTC has begun incorporating it into its camera app, but with the Droid RAZR you'll have to turn to a third party app. The panorama feature works great, as does macro.
Image quality is fairly good, and we're not seeing the laggy focus like we did on the Motorola Droid Bionic. Not quite as fast as the "zero-shutter lag" of the Samsung Galaxy Nexus, but it's not bad, either. Note that by default the Droid RAZR shoots in 6MP "widescreen" at 3264 by 1840, so that your pictures fill the phone's screen. If you have to have the full 8MP, it's just a touch away in the settings menu.
Images open in a new window in full resolution
Macro (left) and front-facing camera
Video is decent enough at 1280x720, which is the default resolution, though it seemed to get a tad cloudy when we upped it to 1080p. For most of us, 720 is more than enough.
720p video test
Youtube link for mobile viewing
Swipe to scroll horizontally
Other odds and ends
The external speaker is nice and loud, just as we'd expect from Motorola.
Moto continues the ridiculousness of having 15 volume steps from silent to loud. Craziness.
The RAZR has a "Sleep" mode in addition to Airplane Mode. Sleep sends it into some low-power sleep and shuts down the radios. It wakes quicker than a full reboot.
The Droid RAZR touts a "splash guard." It might keep a mild splash from ruining the device, but with the 3.5 mm headphone jack and microUSB and HDMI ports left exposed, we wouldn't suggest taking it into the shower or anything.
The Droid RAZR works with the Motorola Lapdock so you can run a full version of Firefox instead of using a proper laptop.
There's encryption available, which should make IT departments happy.
Call quality was fine on Verizon's network.
The wrap-up
Chalk up another one in the "Best phone on Verizon" category. We keep saying that a lot for Big Red, but it's no less true. The Droid RAZR's got a great screen, the dual-core processor keeps things plenty speedy, and Motorola's customizations keep getting better with each iteration.
But we're very much aware of the fact that the Droid RAZR is a 4G LTE smartphone with a battery that can't be removed. That means you're either going to need to make sure you're able to plug in when needed -- and it's telling that Motorola included one of those little mobile battery banks in our review package. We'll give an update on battery life after we get a little more usage under our belts.
That relatively major caveat aside, one thing is abundantly clear after even just a short time: Bringing back the venerable RAZR name with the ever-improving Droid line should prove to be a winner for Verizon, as long as the battery holds out.
Android Central Newsletter
Get instant access to breaking news, the hottest reviews, great deals and helpful tips
Sorry, Galaxy Nexus for me!

Nexus ftw.... for me still...

Android tablets, and their prospective bugs, are so far a mystery to me-- what DOES one do in the event of a tablet device freezing up, if not yank the battery? Not trolling, merely curious. I have a Samsung phone that just got wiped & pared-down to hardly any apps because of wonderful daily s**tfits. Hopefully it'll behave itself better now.

I asked this in one of the razr articles and never got a response. I have had to pull the battery on my phone maybe 3 or 4 times. I assume you would have to wait for the phone to die on it's own and hope it is using a lot of battery power in it's frozen state.

No No, it has a battery pull/soft reset...It's the Power button and (I believe) volume up, similar to the Xoom.

On my Galaxy Tab 10.1 which does not have a removable battery I can hold down the power button for about 5 seconds to shut it down, then power it back up. Fortunately I have only had to do that like twice.

I've never had the tablet freeze on me SG10.1 (6months) but long holding the power button will bring up the reboot menu or eventually reboot it. It's probably a pretty minimal concern, imo. Aside from that, if it's frozen, i'm sure the battery will die quickly anyway. I've discussed this with friends that have iphones and when they totally froze up, they'd just have to wait for them to die and turn off themselves.

Not that it really matters for this review but just because it's wrong info I'm replying. You don't have to wait for the battery to die on the iPhone if it freezes up (and it does). You hold down the home and power button down together (for 5 seconds I believe)and it will reboot. So you can let your friends know.

On my Acer Iconia Tab there's a little pinhole button to push if it freezes up. sortof a soft reset thing but it doesn't erase anything.

Phil your review seems rather glowing, some others I have read this morning don't seem to be as nice with the phone.

Those other sites are only out to knock anything that isn't an iPhone. I'm not at all surprised by their reviews and attempts to pick on the screen...amazing they never picked on any other SAMOLEDs before...
Phil's review is pretty in line with everyone I know that's been testing one. It's also funny how no review mentions Netflix HD or the fact that the Front camera is also 720 HD...

which phone are you looking forward to getting more the Razr or Nexus?

I am actually getting both for my lines. On an everyday basis, I suspect I will probably use the Razr more simply because it supposedly does noticeably better on battery, has a nicer form factor, and my music is on different SD cards for running...but time will tell. They both are wonderful devices for slightly different reasons.

I don't get some the reviews on other sites. I'm I the only person not using my phone through a microscope? I prefer using my naked eye so it's nice to get a review from someone who uses a phone the same way I do. Keep up the good work guys!

Given a review from an Android fanboy site like this and a site that reviews all phones equally (PhoneArena, TheVerge, Engadget, Phonescoop, etc.), the other site is likely to be more objective. Phil's comment on almost every Android phone that comes out is that he's gotta get one. I have yet to hear an objective opinion in his reviews.
.
I suffered from the buggy GB release on my DX and then DX2 for months as did many others on the forums - never mentioned in the reviews. I know from personal experience as a DX2 owner how pixelated the pentile screen is. It took Phil a long time to figure out what many other reviewers pointed out and was obvious.
.
When I buy my next phone I will listen to an objective review, not a fanboy review.

Lol Your comment lost credibility when you named Engadget as a site that reviews all phones equally.

Well god damn, I didn't realize how wide and tall this phone really is. I guess that was the only way they could have gotten it so thin, in either case this phone looks like shit from every angle.

ya, kinda lame actually. This phone is the same "size" width/height as the Infuse 4G, and that has a 4.5" screen, and isn't much thicker. So you just got a taller/wider phone thats thinner. All 3 things make it harder to hold....

i saw it in person. it's pretty damn wide.. i think it makes the phone pretty ugly IMO.

If you think this is big just wait until you get your hands on the Galaxy Nexus. 5mm taller and almost 2mm thicker. Just under 1mm smaller in width which you will not be able to notice. That will be a tablet of a phone.

True but looking at height and width to the size of the screen it wouldn't be as noticeable on the galaxy nexus because it has a larger screen than the razr.

Won't do anything about the sheer bulk of the thing though

thats a ton of bloatware.....geesh

Verizon phone :P expect it.

Interesting review Phil. Like has been mentioned other sites haven't been kind to the Razr this am. Those sites also show considerable Apple favoritism so that's to be expected also. Never the less I'm going to have to check the reviews for the Rezound & Galaxy Nexus before I put the money down. I might even have to do a full hands comparison in the Verizon store with all 3 to determine the replacement for my Droid X2. It's a good time to be an Android fan & a Verizon customer.

http://www.bgr.com/2011/11/07/motorola-droid-razr-review/
Calls it better than sgs2 which means alot coming from bgr who is very pro apple and anti anything else.

LOL yeah... Like the Verge(ins) who worship everything Apple and pray to Lord Jobs on a nightly basis. Those guys are a joke!

If you want to get your reviews from only Android fanboy sites and ignore all other phones, its your loss. Keep living in ignorance...

You're at an Android fan site. Do you expect pro Apple/WP7 reviews here as well? There are other sites for that at the top & bottom of your screen. Go visit them & get lost.

You did an outstanding job with the lay-out of this review. Thanks for taking the time to put it together

Can't you unintall some of the bloat like on the atrix 2? Test that out phil

I must give you props for showcasing Big Wreck in your Motocast picture. Fantastic band.

http://www.phonearena.com/reviews/Motorola-DROID-RAZR-Review_id2884/page/4
They seem to like it also.

FYI: it's Super Amoled Advanced...aka Plus. PS: you nexus people are more annoying than pissy iphone sheep.

LOL! I don't even know if your comment is true (are PLUS and ADVANCED really the same tech? A Google search didn't really give me an answer), but I have to second that emotion on the one-track-mind Nexus people. You really are starting to sound like our ovine brethren at this point. I'm all for a vanilla Android phone (kept my OG Droid for two years) -- especially with ICS. But it's a SAMSUNG phone! SAMSUNG! That knocks about 50% of the excitement off it right there. It'll be an okay phone, but it'll have its typical Samsung problems. Not even saying I won't ditch my Bionic and buy one if it turns out to be the PERFECT PHONE... but I'll believe it when I see it. In the meantime, I just wish the damn thing would be released so I can stop hearing about how totally, unbelievably awesome it's GOING to be. I know you're all excited. It's a great time to be an Android user -- especially on Verizon -- but get a life. This is the kind of rampant fanboyism I mock the Apple drones for. You're disappointing me. I thought we were above this.

I shot these pics with my Trophy. They may say it's a Super AMOLED Plus screen, but it certainly doesn't seem that way in comparison to the one found in the Charge: Motorola RAZR. Notice in particular the Amazon Kindle font: http://img.photobucket.com/albums/v75/notoriousneo/razrscreen.jpg Motorola Bionic. Way more noticeable that it is PenTile: http://img.photobucket.com/albums/v75/notoriousneo/bionicscreen.jpg Samsung Charge. An actual SuperAMOLED Plus screen. Notice the general smoothness of the icons: http://img.photobucket.com/albums/v75/notoriousneo/chargescreen.jpg Samsung Stratosphere. This one is marketed just as SuperAMOLED. To me the RAZR's is equal to this: http://img.photobucket.com/albums/v75/notoriousneo/stratospherescreen.jpg Now take a gander at the Galaxy Nexus' screen: http://cdn.androidcentral.com/sites/androidcentral.com/files/postimages/... Overall, not as good as a Nexus or GSII, but better than the current crop of Motorola PenTile screens.

You know what it needs...........? It needs an a clip-on utility module with some or all of: 1. A slot for another battery (the utility module could cover, port replicate, the top plugs allowing it to charge the non-removable battery from the spare in the utility module. 2. An optical zoom lens for the camera. 3. Infra-red remote control sender 4. Finger print reader for fast unlocking. 5. Extendable antenna for fringe areas 6. Bluetooth headset holder and charging I'd recommend that the utility bring the thickness up to 15 mm for a male-hand comfortable grip. Actually, if I had my way, it would have the thickness of the classic Motorola walkie-talkies and a rubber-ducky antenna.

Why was my comment deleted?! 2nd take: The none-removable battery is a real issue for me! My phone with CM7 froze up about 5 times in the past two weeks and I had to pull the battery. Something like this happens to the RAZR and you got your self a fancy paperweight!

Not if you would read the articles that tell you how to reboot your phone without doing a battery pull.

Hmm, never seen any articles like that. Google Search didn't turn up much. Can you post some links to it?

The Verge was saying that the screen is terrible. Interesting how two reviews came to completely different conclusions on that.
"THE RAZR'S SCREEN IS A MAJOR DISAPPOINTMENT"
"Not only are individual pixels readily apparent, but text looks jaggy, there's red fringing around vertical lines, and images seem to de-res when scrolling in the browser." http://www.theverge.com/2011/11/7/2543626/motorola-droid-razr-review

That is to be expected, sadly though. The Verge is just simply over-saturated with Apple fanboyism. :-/ They actually gave SGS2's lower scores across the board than the iPhone4S. That says a lot about the people that run that site.

They also said the pentile Bionic and X2 screens look excellent. Did they not put those under a microscope? The Verge is worthless. They have no idea what the hell they are talking about. I've never ever seen CNET give out a 4.5 to an Android phone. But they did for the RAZR. That says more to me than any other review out there. Not saying CNET is the ultimate authority. Just this phone is something special and worth consideration for anyone in the market for a new phone. If it's anything like my wife's Epic, you will notice if you stare at something closely but everything looks so pretty with normal use that it doesn't really matter. AMOLED is my favorite kind of screen. I'm a sucker for insanely deep blacks.

Phil! BIG WRECK! Thats awesome. "The Oaf" had one of the best guitar riffs ever!

I don't need to worry about the battery life that the LTE radio uses, being in the UK. LTE really does run through a battery very fast. Using 3G/HSPA+ should give much better battery life. I am sure there is a way to reset the phone if it freezes, some people are getting a bit crazy talking about waiting till the battery runs flat till it can be used again.

Wow Phil! I have to say... Your wife is gorgeous! Oh and BTW, awesome review. I'm definitely gettin' this phone. I've got big hands with fat fingers so the size won't bother me at all. :-)

I'm sure the phone is a top-notch Verizon phone, but it's a bit ugly to me. Also, after having a look at ICS, the Motorola UI makes me cringe. Seems silly to have an upgrade and not go with the Galaxy Nexus.

Wow, that Verizon logo makes the bottom part look awfully cluttered. They couldn't have thrown that on the back? I've never seen another Android phone with the Verizon logo in the way of the softkeys.

Not anywhere near enough of an improvment over my Bionic to warrent bothering with it. And no removable battery is the deal breaker.. And Nexus? No SD card?? = FAIL not acceptable.. Staying with my Bionic. Can't wait to read all the hate mail in a few weeks about the faulty batteries and having to send it back etc... On the other hand it's a perfect time for anyone looking to get a deal on a smart phone, as most of the (i must have newest phone possible zombies) will have they're phones for sale..LOL

No City ID!!!!!!! YEAH!!! I never thought I would see the day...

that's odd...... the Verge said the display is pretty much trash and they showed how pixelated the text was. pretty much didn't recommend the Razr at all....
Phil, are you sure the display is good? hmm
check this picture. http://assets.sbnation.com/assets/780276/10VRG_4562razr555.jpg

Dude, The Verge reviewer is on crack. Take a look at these pictures: http://img.photobucket.com/albums/v75/notoriousneo/razrscreen.jpg http://img.photobucket.com/albums/v75/notoriousneo/bionicscreen.jpg The first one is the Razr, the second the Bionic. Notice how much closer I am to the screen on the Razr picture. If you read the Verge review they said the Bionic screen is better than the Razr when it's so clearly not. The Razr screen is far from being substandard. It's not industry-leading by any means, but it's the best out of the Motorola lot.

With a non-removable battery, it's smart or fortunate that they are releasing this in November when it's cool. Next July these may not last very long. I know how much my phone seems to appreciate getting a fresh, cool battery around 2pm in the summer. I would have little use for a device that can't swap batteries.

Damn Phil, your wife is a fox, really punching above your weight class with that one aren't ya? I kid I kid. How does the device feel in the hand? Some other reviewers have mentioned it's a bit ungainly because of its width but their hands all seem to be a good deal smaller than yours and mine. Hooping it'll fit in my hands rather well if it's too large for some. I toyed with one at a Verizon kiosk at the wholesale club but the retractable cord thing kept me from really wrapping my hand around it

Yuck. The RAZR is officially the worst of the recent three "flagship" phones coming out on Verizon. Nexus is my next phone!

I've read a few reviews and as some mentioned, I sniffed out the iFan-ism before they basically ripped the phone apart. The major reasons I'm getting the gNex over the Razr is: 1. Pure Google phone (no VZ bullsh*t bloat - I'm assuming)
2. ICS right from the gate
3. The zero lag opticals (i have to little boys 4yrs and a 20 months old who rarely stand still for pics. Never mind the lame bashing on 5MP camera the Nexus received (just plain ignorance)
4. Loving the zero buttons (capacitive or physical)
5. No manufacturer "skin" atop of android. That said, my next choice would have been the Razr!

The RAZR camera has been awful so far. Specifically, we can't seem to get a picture to be in focus. 1 in 10 maybe. What the heck is that all about?

Totally HATE the Android Razr phone. have had this piece of junk since Aug 2012, it has gotten so hot it is not possible to hold has burned my face, freezes up, when doing a call back (88#) from voice mail the last digit keyed continues to be keyed until the call is ended,etc. HATE THIS PIECE OF JUNK PHONE and I am stuck with it till the end of my 2 year contract. Verizon has sent me two replacements one new one remanufactured however, the problems have continued from phone to phone. HATE HATE HATE HATE HATE HATE HATE THIS FREAKING PHONE!

I really dislike this phone. Within the first 24 hours, it froze and being that the battery is non-removable, I had to go on a web hunt on how to reboot it. I am not tech savvy at all. I use my phone for calls, txts, and facebook primarily. The keyboard wigs out and types whatever it wants thus making texting and chatting on FB impossible. I have had to re-enter contacts as they keep disappearing or different names come up on my caller ID than the name of the actual caller. The battery life leaves much to be desired and cannot make it through an entire day for basic usage. The camera is acceptable and haven't had a problem with it thus far. I am going to be pinching my pennies so I can splurge on a G3. I had a first generation galaxy which I absolutely loved, but was not compatible on Verizon. This phone is free after a mail in rebate, but not worth the hassle. I wish I would have spent the extra money and got a better phone. You get what you pay for.
Android Central Newsletter
Get instant access to breaking news, the hottest reviews, great deals and helpful tips
Thank you for signing up to Android Central. You will receive a verification email shortly.
There was a problem. Please refresh the page and try again.