Best noise-canceling wireless earbuds 2023
Plug your ears in — and the noise out.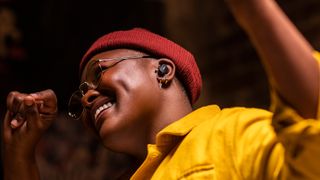 (Image credit: Bose)
The best wireless earbuds have come a long way in the few short years they've existed, and now with so many options with ANC, it can be tough to decipher which are the best noise-canceling true wireless earbuds. Early offerings like the first-gen AirPods were expensive and lacked many features, but as time went on, prices went down, and additional features were implemented — one of which is noise cancelation.
True wireless earbuds that can block out ambient sound are more common than ever before, and today, we're highlighting 13 of our favorite ones — including the Bose QuietComfort Earbuds II as our top overall pick. Here's a power-packed list of the best noise-canceling true wireless earbuds you can buy right now.
Best overall
Reasons to buy
+
Outstanding ANC performance
+
Superb sound quality
+
Solid ambient mode
+
Adjustable EQ
+
Comfortable fit
+
Wireless charging case
Reasons to avoid
-
No multipoint support
-
No wireless charging
-
Case is still large
-
Expensive
Bose has established a reputation for creating some of the best noise-canceling headphones on the market, and it brought some of that prowess to its wireless earbuds. If you thought the previous QuietComfort Earbuds were good, their successors drown out so much noise they sound like a noticeable upgrade.
The QuietComfort Earbuds II have different levels of noise cancelation to play with. So whether you want to block out everything or just dull background sounds, you have that control. What matters is that when you do, you really muffle those noises in ways that other earbuds won't match right now. The Transparency mode does a good job of bringing in ambient sound to hear everything around you when you still have the earbuds on. The thing is, the ANC and Transparency are so potent, Bose doesn't give you the option to turn both off. It's going to be one or the other at all times.
Audio quality is top-notch (as you'd expect), with the QuietComfort Earbuds II delivering crisp audio, only this time, you can make your own adjustments. The Bose app offers four EQ presets you can tweak to make them sound more to your liking. A thinner frame also helps these earbuds fit better to help with better passive isolation.
Battery life hasn't changed, meaning you can expect up to six hours per charge. The case gets you another three charges, only it doesn't support wireless charging, so you'll need to plug in to refuel.
Sony WF-1000XM5
Runner up
Reasons to buy
+
Amazing sound quality
+
Outstanding ANC performance
+
Fantastic battery life
+
LDAC and 360 Audio support
+
The case has wireless and USB-C charging
+
Solid app support
Reasons to avoid
-
Expensive
-
Touch volume controls need work
-
Smaller ears may not feel comfy
Sony has been on a run with its wireless earbuds going back several years. We felt the Sony WF-1000XM4 were a fantastic example of refreshing an earbuds lineup that routinely find themselves among the best in the business.
Sony has since tweaked the overall design, with the WF-1000XM5 improving the overall fit and comfort level, including foam tips to add another level of passive noise isolation. The star feature — active noise cancelation (ANC) — makes these earbuds unique within the category in erasing ambient noise in much the same way the full-sized over-ear Sony WH-1000XM5 headphones do in that category.
Aside from the amazing ANC, the WF-1000XM5 also pack incredible sound quality for whatever you like listening to. Sony's Headphones Connect app gives you all sorts of settings to customize the sound profile specifically for your preferences. When you want virtual surround effects, try 360 Audio to pipe it through your ears, or go hi-res with LDAC support from the right sources.
You get up to eight hours of listening per charge with ANC on, along with three extra charges in the case. A fast five-minute charge can get you up to 90 minutes of playback in a pinch. It's not all roses, though, since these are on the pricey side, but in the end, the Sony WF-1000XM5 give you amazing audio quality and top-class ANC.
Best for Samsung users
Reasons to buy
+
Extremely comfortable
+
Improved ANC
+
Perfect for Samsung's ecosystem
+
Great option for workouts with an IPX7 rating
+
Good app support
Reasons to avoid
-
Touch controls can be finicky
-
Lack true multipoint capabilities
-
So-so battery life
When we reviewed the Samsung Galaxy Buds 2 Pro we felt they were updated in pretty significant ways over their predecessors. Perhaps one of the most significant is how much more comfortable they are to wear in comparison. Samsung chiseled them down enough to enable a sleeker design with a snug fit.
Despite the smaller frame, Samsung didn't skimp out on the tech inside. A tighter seal improves passive isolation, though you'll also benefit from better ANC performance that drowns out the background more consistently. You have some flexibility in how you apply it with low and high settings, but in either case, you should hear an improvement.
The Samsung Galaxy Buds Pro also have an immaculate and balanced sound profile outside of the ANC. You can make adjustments within the app to better fit your preferences, though the EQ is limited to a handful of presets. These are the first Samsung earbuds to support 24-bit hi-res audio, and also feature Enhanced 360 for spatial audio effects with head tracking. Phone call quality is great, and Voice Detect sticks around to lower the volume of your music and help you hear who's talking to you in person.
These are a solid choice if you're looking for great-sounding earbuds that have good ANC with durability in mind. The IPX7 rating makes them excellent for workouts, though you will have to be mindful of battery life, which will max out at about five hours per charge with ANC on. The case gives you three extra charges and supports wireless charging when the juice runs out.
Best for balance
Reasons to buy
+
Excellent audio quality with solid ANC
+
Adaptive ANC works well
+
Very comfortable fit
+
Solid app support
+
Pretty good durability
+
Reliable button controls
Reasons to avoid
-
Too few codecs
-
Head tracking can affect battery life
Jabra is one of the most consistent brands you can find in the wireless earbuds category, and the Elite 10 stood out in our review for several reasons, not least of which is their overall balance.
These earbuds no longer require that you customize ANC yourself because they'll do it for you with adaptive technology that adjusts wherever you go. Despite a newer design that opens up the space within the ear, the increased comfort does wonders for keeping these buds on for longer periods. HearThrough also works well to bring in sound from the outside world to make it easier to hear or talk to someone. A handy mute button through the physical button controls is always there when you need it, too.
Multipoint connections let you pair with two devices simultaneously, and when it's time for the music to play, you can expect great audio quality. They sound great for any genre you want to play, which you can tweak via the EQ in Jabra's Sound+ app. Plus, you get IP57 water and dust resistance for extra durability compared to most other earbuds.
Battery life holds up well at up to eight hours per charge with ANC on, while the case gives you an extra three additional charges for an overall total of around 32 hours. The case itself charges via USB-C or wireless charging, including a fast-charging option where plugging in for five minutes can get you up to 60 minutes of playback.
Great for comfort
Reasons to buy
+
Great audio quality
+
Solid ANC
+
Lots of features in the companion app
+
Good battery life
+
Fun color choices
Reasons to avoid
-
Microphones could be better
-
Only IPX2 resistance rating
In our review of the Galaxy Buds 2, we found they share a lot of DNA with the design and features of their predecessors, the Galaxy Buds Pro. But the differences between these two earbuds are key and perhaps a primary factor in choosing what's better for your ears. Because each option excels in its own way, but if you are looking for the most comfortable pair of ANC wireless earbuds, then the Galaxy Buds 2 are the ones for you.
Samsung made ever so slight changes in the earbud shape to push the Galaxy Buds 2 into that "oh so comfortable" category. Of course, you want your earbuds to be comfortable, but if they sound bad, then — what's the point? The Galaxy Buds 2 bring not only excellent audio but solid ANC into the comfy earbuds. The companion Galaxy Wearable app for your phone gives you added controls to tweak your earbuds to get them just right for you.
While the battery life in the Galaxy Buds 2 isn't the absolute best, you can expect to get about 5.5 hours of use before popping them into the charging case. Turn off the ANC, and you'll get about eight hours between charges. Unfortunately, the water resistance rating is only IPX2, so even sweat can cause some issues here. Also, the microphones can pass for a casual call or video chat, but you probably don't want to use them for your most important voice calls.
Long battery life
Reasons to buy
+
Long battery life
+
Solid audio quality
+
IP66 sweat resistance
+
Various ear tips and sizes
+
Excellent app support
Reasons to avoid
-
Don't swim with them
-
Bulkier design may not be for everyone
JLab Audio addressed two key things when we tested the Epic Air Sport ANC: durability and battery life. These earbuds have an IP66 rating ideal for runs and workouts and can keep doing it for longer than most other pairs. The ear hooks offer plenty of stability, and their flexibility moves enough to make them secure and comfortable while you wear them. There are no less than six pairs of ear tips in the box to find the right fit.
That fit helps the ANC better muffle background noises when listening to music, while Be Aware mode is JLab's ambient setting to pipe in some background sounds to stay aware of your surroundings or talk to someone, and keeps you aware whenever you're on a phone call.
You'll get balanced sound with elevated bass, all of which you can adjust with the equalizer in JLab's Air ANC app. JLab pushed these earbuds to go for up to 15 hours of battery life per charge with ANC off. Leave it on, and you can still play for a solid 10 hours. The built-in charging cable is cool, if not always convenient, and you have wireless charging as a handy alternative.
Tough workout buds
Reasons to buy
+
IP68 water resistance earbuds and IP55 for the case
+
Up to 24-hour battery life
+
Trackable charging case
+
Powerful companion app
+
Charging case offers wireless charging
Reasons to avoid
-
Design isn't for everyone
-
No aptX support
When working out with true wireless earbuds, you need a pair that can withstand the intensity of a long run, bike ride, or weight-lifting session, and that's exactly what you'll get from the Jaybird Vista 2, based on our time with them.
These are earbuds designed with physical activity in mind, readily apparent by the ultra snug and comfy design. Though the Vista 2's are on the bulky side in terms of their design, you'll get three different sizes of ear tips and wings to make sure the buds stay comfortably in your ears. You also get an IP68 rating, ensuring protection from water or sweat. So not only will these earbuds remain safe from a splash, but so will the charging case thanks to an IP54 water-resistance rating. Oh, and the case is trackable should you misplace it.
Jaybird designed the Vista 2 to sound great. You'll get a more neutral sound stage out of the box. But with a full-featured companion app, there are plenty of ways to customize the sound to how you prefer. You also get noise canceling (obviously) and up to 24 hours of battery life.
Best value
Reasons to buy
+
Very comfortable
+
Great overall sound
+
Solid ANC
+
Creates custom EQ based on your ears
+
LDAC support
+
Fantastic battery life
Reasons to avoid
-
Only IPX4 water-resistance rating
-
Tap controls are inconsistent
-
Missing AptX codec
Anker's Soundcore lineup of earbuds has an impressive range of options, and it's hard not to like the Liberty 4 for what they can deliver, much like we did in our review. They follow many of the same design and functionality principles applied in previous pairs, including a comfortable fit with a tight seal that sets things in motion.
The audio quality is very good, partly because you can tailor it a couple of ways. Use the Soundcore app's HearID to create a custom EQ for the earbuds made specifically for your ears by mapping your hearing sensitivity at multiple frequencies. Or you could try out the two dozen EQ presets available and try your hand at creating something yourself. You can even give spatial audio a chance. Unfortunately, Anker still won't bring in aptX codec support, but at least you get some hi-res love with LDAC. Moving the onboard controls to the stems increases consistency, too, taking the hands-free experience to another level.
These aren't especially durable, given the IPX4 protection might be fine for some sweat — but that's about it. ANC is solid, even if it won't beat out most competitors at the same price. It handles a lot of background noises just fine, so you are getting what you pay for in the long run.
Battery life is good at up to nine hours per charge with ANC off, and about seven if you turn it on — all relative to volume levels. The case provides another three charges and charges either via USB-C or wireless charging.
Best for gaming
Reasons to buy
+
Great audio quality
+
Gaming mode reduces latency for gaming
+
Multiple tip sizes and materials for excellent in-ear fit
Reasons to avoid
-
Response to touch controls is slow
-
Audio can bleed out easily
When you search for nearly anything gaming-related, you will undoubtedly come across the name Razer, and the new Razer Hammerhead True Wireless Pro earbuds fit right in that pedigree in our review. These earbuds have a sound profile great for gaming and a nice trick to make them perfect for gaming.
One of the most sought-after features for gaming is low latency — the amount of time between what you see, hear or do. So Razer included a gaming mode specifically for these earbuds to solve the delay that most true wireless earbuds experience. This mode keeps you locked into the game, especially when you have ANC to keep out distractions surrounding you.
No matter whether you are using the Hammerhead Pro earbuds for gaming, movies, or music, it will all sound amazing due to the THX certification. You'll be able to listen for hours with a multitude of ear tips to give you the perfect fit. Although there is still quite a bit of audio bleed at higher volumes regardless of the fit. These earbuds are a solid choice for anyone looking for excellent-sounding earbuds with ANC, from the look to the features.
Best for Alexa
Reasons to buy
+
Audio is great
+
Improved noise cancellation
+
Hands-free Alexa
+
Great battery life
+
Sweat-resistant
Reasons to avoid
-
Wireless charging costs extra
-
Limited EQ settings
After popularizing Alexa with its Echo speakers, Amazon popular Echo Buds Amazon has improved the true wireless earbuds with a sequel.
The Echo Buds (2nd Gen) bring dynamic audio and full active noise canceling to the earbuds to offer great sound quality while blocking unwanted noise from our environment when we reviewed them. From the app, you still get built-in settings for changing the Echo Buds' EQ.
Being an Echo product, it only makes sense Alexa is baked in. Just say "Alexa" at any time while wearing the Echo Buds to set a timer, ask about the weather, get turn-by-turn directions, and more. While we love that this new version is 20% smaller than the previous iteration, it also means that the battery life has been cut to a 15 hour total battery life. At least Amazon did manage to squeeze in IPX-4 certification for sweat resistance.
There are two case options, one with USB-C only and another that for a little more money, you can get wireless charging included. The cases offer quick charging to give you up to two hours of music playback in only 15-minutes in the case.
Apple AirPods Pro (2nd Gen)
Best for Apple users
Reasons to buy
+
Noise cancellation is top-notch
+
Transparency mode works very well
+
Improved and effective controls
+
Enjoyable sound
+
Super comfortable design
+
Compact, high-quality charging case
Reasons to avoid
-
Charging case uses Lightning
-
Loses features with non-Apple devices
-
So-so battery life
-
Expensive
Moving right along with our list, we need to talk about the AirPods Pro (2nd Gen). Easily some of the most popular truly wireless earbuds in existence, our own review of the original AirPods Pro found them delivering an excellent user experience in return for the high price. That balance very much remains with this latest iteration.
Like the Bose QuietComfort Earbuds II and Sony WF-1000XM5, the AirPods Pro (2nd Gen) offer some of the best noise-cancellation you'll find in a pair of earbuds. Apple doubled down on the ANC, silencing more varied sounds going on around you than the previous pair could. They can block out an impressive range, and in a similar fashion, the Transparency mode does the exact opposite and allows you to clearly hear everything around you when wearing the earbuds.
You can technically use the AirPods Pro with an Android phone, but you miss out on some of the features that make AirPods so great in the first place. As such, we're more inclined to recommend these if you have an iPhone.
You'll want to hear this
Why you can trust Android Central Our expert reviewers spend hours testing and comparing products and services so you can choose the best for you. Find out more about how we test.
True wireless earbuds that have noise cancelation are quickly exploding in popularity, and as of right now, the best ones you can buy are the Bose QuietComfort Earbuds II. When it comes to snuffing things out, these sequel buds come out on top. Great sound quality, plus noise-canceling in a league of its own, and we have no complaints about battery life.
We also like that Bose goes the extra mile by addressing things previously missing, like an EQ to tinker with for the sound and a smaller stature to improve fit and comfort. Then there's the earbuds' ability to do right by its Transparency mode to allow you to hear more of the outside world more naturally when you want to.Unfortunately, while wireless earbuds have better noise-canceling than ever before, the best noise-canceling headphones are still hard to beat. Aside from including ANC, a great pair of over-ear or on-ear headphones also have a physical advantage by simply covering your ears in ways earbuds can't. Even so, if you've decided you want more wireless earbuds to choose from, regardless of noise cancelation, we've got a list of the best wireless earbuds, too.