Best 5G phones 2022
By Samuel Contreras published
Want the latest and greatest with 5G? Check out the best phones that include the feature.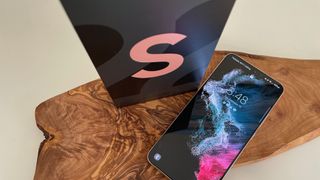 (Image credit: Michael Hicks / Android Central)
New technology works best when everyone commits to it, and over the past couple of years, 5G coverage has reached the masses on every major carrier with speed further speed improvements in the works. If you want to make the most of your phone plan and network, you want a phone that works with 5G. The Samsung Galaxy S22+ hits all the right marks with excellent 5G compatibility and some of the most advanced hardware on any phone you can buy.
Best 5G phone overall: Samsung Galaxy S22+
The Samsung Galaxy S22+ brings software and hardware together in a beautiful design that makes it one of the best Android phones you can buy from any angle. While bigger brother, the S22 Ultra, stole much of the spotlight, the more compact and cheaper S22+ makes more sense for most people. Besides that, it's still an excellent phone with some of the best specs around including the blazing-fast Snapdragon 8 Gen 1 and support for every carrier's 5G networks.
The S22+ will work great whether you're still relying on low-band 5G or LTE as well as supporting newer mid-band 5G including C-band. Finally, mmWave support means this phone will keep up excellent speeds in dense areas like sports arenas where mmWave networks have been deployed. This phone also supports Wi-Fi 6E so if you've upgraded to one of the best Wi-Fi 6E routers, you can get the most out of it.
Camera performance is top-notch with Samsung's software making the most of the massive 50MP main shooter. It supports fast charging at up to 45W with the 4,500mAh battery easily making it through the day. On the front, you have a vibrant 6.6-inch 120Hz AMOLED display that feels buttery smooth thanks to a 240Hz touch sample rate. It's also robust with Gorilla Glass Victus on the front and an IP68 rating.
The right balance for Samsung's new Galaxy S line
Reasons to buy
+
Gorgeous 120Hz AMOLED display
+
Blazing-fast Snapdragon 8 Gen 1
+
Great battery life
+
Top-of-the-line camera system
+
5G support for every carrier
Reasons to avoid
-
Doesn't have expandable storage
-
Expensive
Best alternative: Google Pixel 6 Pro
Like all Pixel phones, the Pixel 6 Pro was designed to show off the very best of the Android OS so naturally, we're fans. The Pro model ships with Google's own Tensor CPU with plenty of performance for ultra-smooth phone operation. This chip also comes with support for 5G including both sub-6 and mmWave. This phone also works with Wi-Fi 6E so it can make the most of modern 6GHz-enabled routers. If you're looking for a phone that will work great on just about any carrier's 5G network, the Pixel 6 Pro is a great place to start.
On the back, you get a large 50MP camera for the majority of your photos as well as a telephoto camera that sets it apart from the smaller Pixel 6 model. Google's legendary camera software helps this phone take some astonishing pictures including one of the best night modes around. All of this looks great on the 6.7-inch OLED display with a 120Hz refresh rate and you can take photos to your heart's content with the 5,003mAh battery under the hood.
This phone is a great showcase for Android 12 and its Material You theming that allows you to customize the look of your home screen with vibrant color choices. When it comes to updates, the Pixel 6 Pro will more often than not be at the very front of the line for software updates with three platform updates promised as well as five years of security updates.
Google's most capable phone ever
Reasons to buy
+
Large, beautiful 120Hz display
+
Great cameras performance
+
Excellent battery life
+
Fast Google Tensor chip
+
Excellent software update support
Reasons to avoid
-
The look isn't for everyone
Best value flagship: Google Pixel 6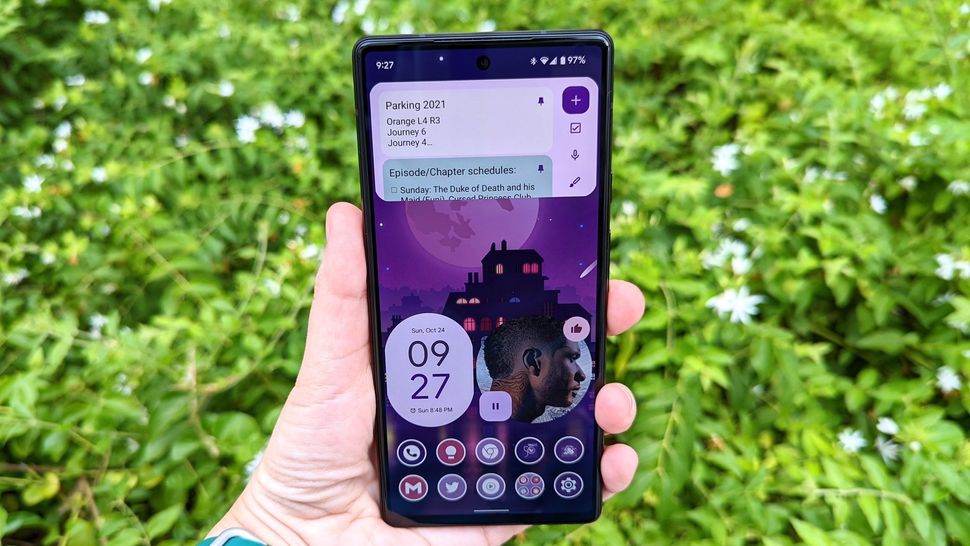 The Google Pixel 6 takes a step back from its larger sibling to offer a more sensible package at a more affordable price. This phone supports low-band and mid-band 5G when purchased unlocked or from T-Mobile or AT&T. If you buy it through Verizon, it will also come with mmWave support. Still, for the majority of people, sub-6 5G makes the most sense with the greatest coverage and more than enough speed for just about anything you need to do on your phone. Where it will miss out is in dense areas with a ton of people all trying to connect at once, like a sports arena.
Like the Pro, this comes with Google's Tensor CPU, delivering great performance. This phone has a 90Hz 6.4-inch OLED display so navigating Android 12 feels smooth and responsive. The battery is a 4614mAh unit with enough power to get you through the day. This phone doesn't have the telephoto camera of its older sibling but still has the massive 50MP main camera that delivers some great results. It's also IP68 rated so you don't need to worry if you get caught out in the rain with your phone.
As it's a Pixel, it's running the latest version of Android 12 and updates are frequent with this phone being among the very first to get security updates. Google has also promised three platform updates and five years of security updates so you can feel confident using this phone for years to come.
Perfect balance for Android fans
Reasons to buy
+
Great camera performance
+
Nice 6.4-inch 90Hz display
+
Fast Google Tensor chip
+
Solid battery life
+
Excellent software update support
Reasons to avoid
-
Confusing lack of mmWave in some models
Best cheap 5G phone: OnePlus Nord N200 5G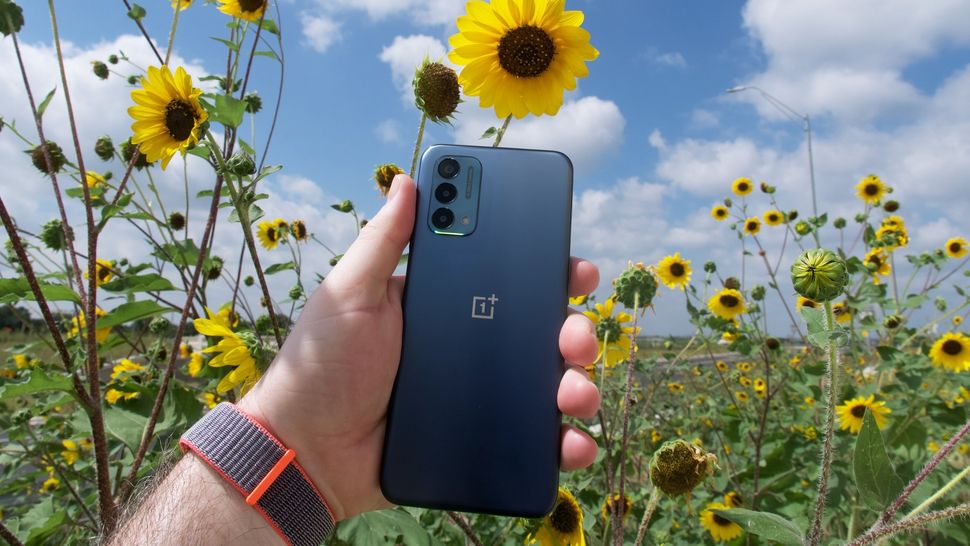 The OnePlus Nord N200 is the cheapest phone on this list but it still has a strong set of features. It supports low-band and mid-band 5G, though it lacks c-band support so this phone won't be a great fit for Verizon or AT&T. On T-Mobile, you'll get access to the majority of the network including fast mid-band 5G. If you were looking for a cheap 5G phone to try out with a T-Mobile-base carrier like Mint Mobile, this is a solid choice. It also looks nice with an attractive blue back.
The Snapdragon 480 powering this phone can keep up with most Android apps with ease and the 5,000mAh battery means it can easily last the entire day. The display is solid with a 90Hz refresh rate at 6.49 inches and Gorilla Glass 3. This phone comes with 64GB of storage but it's expandable with a microSD card. Around the back, you've got a 13MP main camera capable of solid daylight photos and a 2MP macro camera for closeups.
The Nord N200 ships with Android 11 with OnePlus promising an update to Android 12 at some point in the future. While this will be the only planned update, it's on par with most other phones in this price range.
5G doesn't have to be expensive
Reasons to buy
+
90Hz refresh rate is buttery smooth
+
Solid performance
+
Large 5,000mAh battery
+
Excellent price
Reasons to avoid
-
No C-band or mmWave support
Best mid-range 5G phone: Google Pixel 5a with 5G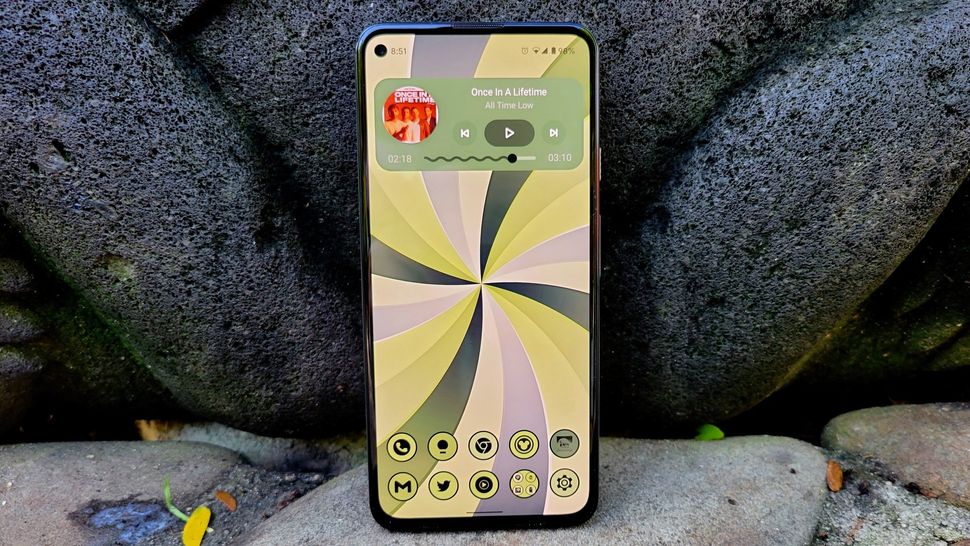 If you like what you see with the OnePlus Nord N10 5G but have a bit more cash to spend, it might be worth considering the Pixel 5a with 5G. This might be one of the most overlooked smartphones of 2021, but as far as affordable 5G phones are concerned, it's one of the best options.
Powering the Pixel 5a with 5G is the Qualcomm Snapdragon 765G and, in our testing, results in a genuinely excellent performance. It may not be on the same technical level as something like the 865+ or 888, but for the vast majority of people, it's more than fast enough for virtually any task. You're also getting 6GB of RAM, 128GB of storage, and a massive 4,680 mAh battery that is the largest ever on a Pixel phone.
A big draw to the Pixel 5a with 5G is its camera system, which is the exact same setup you'll find on the more expensive Pixel 5. The 12.2MP primary camera and 16MP ultra-wide camera may not sound all that impressive on paper, but in actual use, this is a phone that churns out stunning photos every single time you press the shutter button.
As for the 5G situation, it's a bit clunky. The unlocked variant of the Pixel 5a with 5G is limited to Sub-6 speeds, and there are no plans for a mmWave variant.
A cheaper alternative to the flagship 5G handsets
Reasons to buy
+
Amazing cameras
+
Snapdragon 765G is fast and reliable
+
AMOLED display looks great
+
Excellent battery life
+
IP67 water and dust resistance
+
Three years of timely updates
Reasons to avoid
-
No mmWave model
-
Display is only 60Hz
Best for Verizon: Samsung Galaxy A42 5G
The Galaxy A42 5G punches above its weight like most of the Galaxy A-series of phones. The A42 5G is one of the cheapest phones around with support for sub-6 (including C-band) and mmWave 5G so it's a great fit for Verizon's network. Just make sure you grab the U.S. version A426U. The Snapdragon 750G does a solid job under the hood, keeping it humming along without delay while making the 5,000mAh battery last.
The camera on this unit could be better but in proper lighting, you can take some solid shots with the 48MP main camera. The 6.6-inch screen is big enough to show off your shots and with the display area reaching the edge of the phone with a small notch at the top, the phone has a nice modern look. This phone ships with Samsung's flavor of Android 11 and is slated to get an update to Android 12 in 2022. If you're looking for a bit more phone from the A-series, the A53 5G is due out in early April with a bump in specs and a newer design.
Sub-$400 champ
Reasons to buy
+
Large 6.6-inch display
+
5,000mAh battery lasts all day
+
C-band and mmWave support
+
Great support for Verizon 5G
Reasons to avoid
-
Unimpressive cameras
-
Not a great fit for other carriers
Best 5G flip phone: Samsung Galaxy Z Flip 3 5G
With LG exiting the smartphone market, your options for dual-screen phones are now limited to foldables. The foldable offering the most convenient form factor with 5G onboard is Samsung's new Galaxy Z Flip 3.
At first, the Z Flip 3 may not look like a huge upgrade from the previous version, but it features incremental upgrades that dramatically improve its utility. For starters, its hinge, display, and outer glass have all been re-engineered to be more durable than ever, and it now sports IPX8 water resistance for the first time ever. Its external display is much larger and more usable, and it offers flagship-grade cameras and the top-of-the-line Qualcomm Snapdragon 888 processor.
On the 5G side, you get both Sub-6 and mmWave, so regardless of which network or carrier you use, you're sure to get the best speeds available. One word of caution, though — this phone is a slippery little bugger. Do yourself a favor and pick up a great case before taking it out into the real world.
The ultimate pocketable phone
Reasons to buy
+
Gorgeous design
+
Larger cover display
+
Fantastic cameras
+
Sub-6 and mmWave support
+
IPX8 water resistance
+
More durable than ever
Reasons to avoid
-
No telephoto camera
-
Super slippery
Best foldable 5G phone: Samsung Galaxy Z Fold 3 5G
Where does one begin when it comes to talking about the Galaxy Z Fold 3? It's almost as if the original Galaxy Fold — and even the Fold 2 — are from a different device lineup altogether, as the Galaxy Z Fold 3 is incredible from every perspective. The Cover Screen fills up almost every inch of the front and unfolding it provides you with a 7.6-inch tablet that is much more useful than you may think. And now it even supports the S Pen, making it a fantastic note-taking or doodling device.
The camera system may not be exactly on par with the Galaxy S21 Ultra, but it is still better than a lot of other smartphones. While Google is still trying to figure out how to handle foldable devices, Samsung has tweaked its software just enough to make sure that you can take full advantage of those apps. From including the Snapdragon 888 paired with 12GB of RAM and 256GB or 512GB of onboard storage, along with all-day battery AND 5G connectivity, this is truly the Ferrari of smartphones.
The Z Fold 3 is the most durable fold ever, with an improved hinge, display, and stronger glass, and it's the first to sport IPX8 water resistance. While the phone comes with up to 512GB of onboard storage, that may not be enough for some, but that's just "too bad" as you won't be able to use one of the best microSD cards with this bad boy.
Samsung Galaxy Z Fold 3 5G - Phantom Black
The best 5G phone for those who want to live in the future
Reasons to buy
+
Improved durability and IPX8 water resistance
+
S Pen compatibility
+
Great cameras and performance
+
Flex mode is awesome
Reasons to avoid
-
No built-in storage for S Pen
-
The folding crease is still noticeable
-
No microSD card slot
---
The best 5G phones aren't just for enthusiasts anymore
5G coverage is growing, but it isn't yet to the point where we can unequivocally say that you have to get a 5G phone. At the same time, most phones launching these days now have 5G as a staple feature. Whether you can take advantage of 5G speeds today or need to wait a little longer, ensuring it's in your next smartphone is a good way to ensure you're prepared for the latest generation of wireless connectivity.
For those who want to get to the best network speeds, the Galaxy S22+ is a clear winner thanks to its impressive hardware design and support for 5G on every carrier. Samsung's commitment to software updates also helps buyers feel confident that they'll be able to use this phone for years to come, not to mention, sell it at a higher price.
The Pixel 6 and Pixel 6 Pro are also excellent options and to some people, the version of Android included straight from Google will be worth any of the top-end specs given up compared to the S22+. Not only that but the base Pixel is one of the most powerful phones you can get under $600.
When Samuel is not writing about networking or 5G at Android Central, he spends most of his time researching computer components and obsessing over what CPU goes into the ultimate Windows 98 computer. It's the Pentium 3.
Android Central Newsletter
Get the best of Android Central in in your inbox, every day!
Thank you for signing up to Android Central. You will receive a verification email shortly.
There was a problem. Please refresh the page and try again.