Consumers are making 'significant cutbacks' on tech purchases before Prime Day
With most consumers treading lightly for major tech purchases, deal events like Prime Day become more relevant.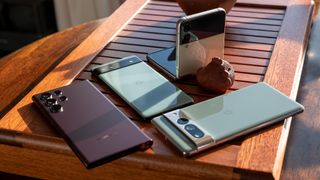 (Image credit: Nicholas Sutrich / Android Central)
What you need to know
49% and 38% of surveyed U.S. tech users are making "significant" or "slight" cutbacks to their tech spending in 2023.
64% of consumers are avoiding "big-ticket luxury items" like computers and TVs; only demand for smartphones remains unchanged.
Video streaming subscriptions are the most common category for saving money, followed by eating out less.
The survey was conducted by Android Central's parent company, Future, in preparation for the relaunch and rebrand of our sister site Techradar.
A survey of 13,797 "tech enthusiasts" in the U.S. and U.K. found that people are dramatically changing how they spend their money due to concerns about the cost of living, inflation, and family health.
In particular, about 40% of those surveyed said they were very likely to cut back on tech and electronics, more than on homeware, clothes, alcohol, and other necessities — and about equal to furniture. The only noted exception is when thrifty tech lovers hunt for deals, making Prime Day 2023 an important event for them.
Conducted by our parent company Future, the survey split its results between 13,000 general tech enthusiasts and 2,000 readers of our sister site Techradar, which relaunched on Wednesday. TR readers actually plan to cut alcohol, clothes, and homeware more than tech purchases.
Similarly, even though only 11% of general tech enthusiasts plan to buy "big-ticket luxury items" by EOY, more than double that number of Techradar readers plan to do so. For example, only a small proportion of surveyed tech lovers plan to buy a gaming console (15%), PC (18%), or laptop (21%) in 2023, but those numbers jump to 39%, 38%, and 37% for Future's core readers.
Generally speaking, most tech categories like tablets, TVs, and computers are trending way downwards year-over-year, as people try to make their devices last longer despite upgrades and sales. The only exception is smartphones: 25% of those surveyed plan to buy a new one, the same as in 2022.
Clearly, people are tempted by trade-in deals to keep their iPhones or the best Android phones on the cutting-edge. On that note, the survey found that the three strongest phone brands for U.S. and U.K. Techradar readers was Apple, Samsung, and Google, respectively.
In particular, the number of people considering Google Pixel phones has climbed "1000%" since last year, no doubt thanks to the strong showing of the Pixel 7 Pro.
How tech enthusiasts are changing their shopping strategy
The Future survey also emphasized how tech enthusiasts are much more careful than ever before when it comes to reading reviews and hunting for deals before buying anything.
86% of those surveyed said that finding a good deal was more "important" than any other factor, with research and reviews as next important on the list. Similarly, when choosing their favorite types of tech articles, deals were the top choice at 73%, tied with articles on avoiding scams and just above how-to guides.
So for tech lovers, holiday deals events like 4th of July sales or Prime Day sales are the only time they can let loose and buy the things they read about all year.
Somewhat amusingly, Americans and Brits have very different perspectives on how to determine if a product is worth buying. U.K. readers said that expert reviews were their number one consideration, while U.S. readers prioritize "my previous experience with the brand" and "recommendations from friends and family" before reviews.
U.S. readers also trust user reviews and ratings less than any other option, no doubt due to the influx of fake scores on Amazon and other sites in recent years. When it comes to Prime Day tech deals, blindly trusting a score when choosing a deal is a recipe for disaster, without some other way to verify if a product is good or not.
The launch of 'The Technology Experts'
Our sister site, Techradar, has officially rebranded itself as "The Technology Experts," focusing on letting readers "Ask an Expert" on tech questions they have instead of relying on iffy AI-backed answers from ChatGPT or Google Bard.
The new site will allow users to get free "one-to-one tailored product recommendations" from Techradar staff, as well as a new "mobile-first" site design that makes it easier to find the content you want, such as deals.
"In the era of clickbait, fake news and AI chatbots, there has never been a more important time for a trusted, authoritative voice," says Paul Newman, Future's new CEO and managing director, "and that's why TechRadar is rebranding as 'The Technology Experts'."
You can go to Techradar.com now to see these changes for yourself!
Get the Android Central Newsletter
Instant access to breaking news, the hottest reviews, great deals and helpful tips.