Best portable high-capacity power banks, including 50,000mAh+ chargers 2022
These chargers offer the capacity and power output to handle all your device needs.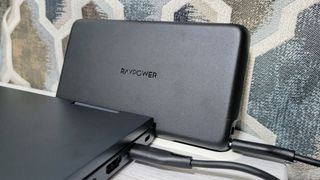 (Image credit: Ara Wagoner / Android Central)
Today's phones and tablets are more powerful than ever, but despite more power-efficient processors, it's not uncommon to find yourself needing to charge up at times when you aren't near a wall outlet with a portable charger or power bank. A high-capacity battery pack that is 20,000mAh and higher is ideal for people who need a lot of juice while on the go, and while they may not fit into your pocket, they're necessary for keeping your devices topped off. Our top pick is the RAVPower 90W Power Delivery Portable Charger. Here's why it's the best high-capacity power bank, along with other great alternatives if you need something even bigger.
Anker 737 Power Bank (PowerCore 24K)
Best overall
Reasons to buy
+
USB-C and USB-A charging
+
Can charge or recharge at up to 140W
+
Excellent build quality
+
Helpful display
Reasons to avoid
-
Only three ports
-
Expensive bundle
Anker is one of the biggest names among power banks and chargers today. It's built that name thanks to exemplary build quality and long-term durability and recently announced new technology to further improve on the best Anker power banks on the market. The Anker 737 Power Bank is a major upgrade from previous generations with 24,000mAh in a very compact package. But don't mistake its small size for small power. It can pump out up to 140W of juice and recharge at the same rate. This means that this power bank can charge phones, tablets, and power-hungry laptops with no trouble.
24,000mAh is on the lower end of the "high capacity" spectrum, but it can still recharge a smartphone four to six times on a single charge or recharge most USB-C laptops from empty to full at least once. If you are using more than one port, it is worth keeping in mind that the USB-A port is capped at 18W regardless of what the USB-C port is doing. But those high-powered USB-C ports will still kick out up to 122W when using both simultaneously.
This beefy bundle isn't lightweight, but nothing over 20,000mAh is. The Anker 737 Power Bank is compact enough to easily slip in and out of a backpack while rushing around an airport or convention. While it doesn't come with a USB-C charger, it does include a high-quality USB-C to USB-C cable capable of handling the high wattage. You also get a helpful display showing battery percentage, what the output or input rate is and how long until the battery is drained or full.
RAVPower 90W Power Delivery Portable Charger
Best budget option
Reasons to buy
+
Low weight for high capacity
+
Excellent price
+
90W output for laptops
+
60W input for 2.5hr recharge
+
PPS support for Samsung
Reasons to avoid
-
Above FAA limit for air travel
-
Only one USB-C port
RAVPower has some of the best prices for power banks on the market, especially considering the high build quality and the 30,000mAh capacity of this model — and that's before you factor in sales, which happen at least once a month. Also included is a 5Amp-capable cable in the box so that you get top speeds instead of whatever your older, slower cable might've allowed. I've been using this power bank for years, and it's been fantastic.
The next major benefit of the RAVPower 90W is that even with its heightened capacity and faster-charging speeds, it's still about the same size as many 20-25,000mAh portable chargers. Unfortunately, it does this by sacrificing the third and fourth ports most power banks this size have — as if we always need to charge five things at the same time — and I only wish they'd gone the extra step of swapping that USB-A port for a second USB-C port. This would allow us to stick to one cable type rather than needing to haul around a USB-C to USB-A cable for when we want to charge our laptop and phone simultaneously.
Speaking of charging two devices at once, you can only get that 90W charging speed when you leave USB-A empty, which is fairly standard for multi-port power banks but is always worth mentioning. When both ports are engaged, you get 65W through the USB-C port and 18W through the USB-A port for a total output of 83W. 65W is still more than the top speed on Chromebooks and is a perfectly fine speed for most Macs and Windows laptops, so long as you're not gaming or rendering something in Premiere Pro.
This power bank also joins the very slim ranks of power banks that support the Power Delivery sub-certification called Programmable Power Supply. This protocol allows for more variable charging rates that help keep the device's temperature down and improve the safety of higher-speed charging. Samsung has used PPS on the last few generations of its phones, which is why even though the Galaxy S22 supports 25W charging if you plug it into a 30W or 45W charging, it usually only pulls 15-18W. PPS support here is also great news for laptop owners — PPS is built into the charging tech for many Windows laptops — but it's even more important to Galaxy owners.
The only flaw in this power bank is that 30,000mAh puts it above the 100Whr limit that the FAA has for flights in the U.S., but that will apply to most of the portable chargers and power stations on this list. So if you want a high-capacity battery that you can take on a plane, the next entry from Anker is your best bet.
Goal Zero Sherpa 100 PD Qi
High speed and capacity
Reasons to buy
+
60W charging for laptops
+
Two USB-A ports
+
Qi pad on top
+
0-100 indicator readout
Reasons to avoid
-
Extra expensive
-
USB-A ports are only 2.4A each
When it comes to charging multiple devices quickly with a power bank, you don't need tons of ports, just a few ports that all charge at decent speeds. If you need a big, beefy battery that you can still fly with, the Sherpa 100PD is just under the FAA's 100Whr limit, and it's just what you need to keep a laptop or camera topped off while working on the road.
The main port here is a 60W USB-C Power Delivery Port, which will give your laptop a quick recharge and recharge faster once you reach your destination and plug it back in. You also get two USB-A ports for smaller peripherals and a Qi wireless charging pad on the top of the bank.
Goal Zero is a brand you might not have heard of before since it tends to deal with solar and portable power solutions. However, because it's geared towards outdoor tech, you can rest assured this is a battery pack that will not leave you hanging. The Sherpa 100 PD is about half the size (and half the price) of the Sherpa 100 AC, so make sure you grab the newer PD model!
MAXOAK Power Bank 50000
Best 50,000mAh pack
Reasons to buy
+
Gigantic 50,000mAh capacity
+
Two dedicated laptop ports
+
Four USB-A ports for smartphones
+
Relatively portable considering the battery you're getting
Reasons to avoid
-
Expensive
-
No USB-C
-
Not the most portable option
Let's say that you want an overwhelmingly huge battery pack with no concern about its price or size. If that's the situation you're in, the MAXOAK Power Bank 50000 hits all the right notes.
The 50,000mAh capacity here is enormous, and while you may not think you need that much battery, it comes in handy for long road trips, hurricane season, and other situations in which you're without access to power for a prolonged period of time. With such a big battery, you could charge an iPhone X up to 16 times.
For phones, tablets, and other mobile gadgets, you have two USB-A ports at 2.1A and two USB-A ports at 1A. MAXOAK's battery pack is also a great choice for laptops, as there are 20V and 12V DC outputs.
MAXOAK's pack won't be going in your pocket anytime soon, but you can easily toss it in a backpack and have hours upon hours of charge time to take with you anywhere.
Jackery Portable Power Station Explorer 300
Best big brand station
Reasons to buy
+
Has AC and car outlets
+
60W Power Delivery
+
Solar ready
+
Jackery is high quality
Reasons to avoid
-
Expensive
-
Ports are clustered
If you've played in the rugged power space for any amount of time, you're bound to be familiar with Jackery and its eponymous Explorer Series. These power stations come in sizes ranging from 160Whr all the way up to 100Whr, but after reviewing the
Explorer 300, we think it hits the sweet spot in Jackery's current lineup for three reasons:
The Explorer 300 has a USB-C Power Delivery port, while the 500 and 240 do not.
You get both AC wall plugs and a car outlet, which many camping appliances runoff.
300Whr is a good capacity without getting super expensive or too heavy.
Unlike the RAVPower, Jackery goes for the traditional toolbox style where all the ports go on the front, and all the power cells sit in the bottom and back with a box, honking handle up top that's easy to grab and easy to carry from a car to campsite and back again. There are two AC plugs here that can be used to charge electronics and run smaller appliances like a camp fridge or a TV, but it's not rated for higher-wattage electronics like the Explorer 500 and 1000. When used with lower-wattage devices, it also has an automatic shutoff, meaning you can't trust it to stay on all night with a CPAP machine.
Like Goal Zero, Jackery makes solar panels perfect for recharging this power station when you're out in the woods for that three-week sabbatical, but also, like Goal Zero, those solar panels will come at a steep premium. If you need to recharge the Explorer 300 in a hurry, though, you can combine the 60W Power Delivery charging with the included 90W wall charger to recharge to 80% in two hours.
Like Goal Zero, Jackery makes solar panels perfect for recharging this power station when you're out in the woods for that three-week sabbatical, but also, like Goal Zero, those solar panels will come at a steep premium. If you need to recharge the Explorer 300 in a hurry, though, you can combine the 60W Power Delivery charging with the included 90W wall charger to recharge to 80% in two hours.
Fanttik Evo 300 Power Station
Upgrade pick
Reasons to buy
+
Tons of output ports
+
USB-C Power Delivery
+
Carrying handle
+
Built-in LED area light
+
Solar ready
Reasons to avoid
-
This is a thicc boi
-
Quite pricey
There are battery packs in a league of their own, and there's the Fanttik Evo 300. Not everyone needs to spend this much money on a battery pack, but if you want one of the most powerful options out there and have the money to afford it, this is it, chief.
The Fanttik Evo 300 is less of a battery pack and more of a lunch box-sized emergency power station. You get plenty of ports and surge output up to 600W, which powers more substantial things through the AC outlet and car socket for a day or two.
Going back to the port selection, you have a lot to choose from, including:
12V DC car socket
Two 110V AC output
Two USB-A 3A ports
Two USB-C ports, one rated at 60W PD
DC input combines with USB-C for faster recharging
While it is on the expensive side and a bit cumbersome, the after reviewing the Fanttik Evo 300, it became clear it's one of the best options for having a reliable power source during power outages, emergencies, and long camping treks. As an added point of comfort, the power station has a large LED room light to ensure you are never left in the dark, checking all of the boxes for why everyone should own a portable power station.
BLAVOR Solar Charger Power Bank
Best for camping
Reasons to buy
+
Solar recharging
+
Has a Qi wireless charger
+
Power Delivery input/output
+
Built-in LED flashlight
+
IPX5 water resistance
Reasons to avoid
-
No dustproof rating
-
Only 18W charging
One of the best use cases for a power bank is using it as a power source while camping, hiking, or on other outdoor adventures. If this is the primary scenario in which you'll be using your new power bank, we recommend checking out the BLAVOR Solar Charger Power Bank.
For people who spend a lot of time outdoors, one of the best features of this battery pack is solar panels on the top that allow it to recharge using the sun. Solar recharging isn't the fastest, but it is nice to have. If you need to recharge the BLAVOR more quickly, you do so via USB-C or Micro-USB. This bank has a single USB-C 18W Power Delivery port, two USB-A ports (one 9V/2A, one Qualcomm QuickCharge 18W), and there's even a 10W Qi wireless charging pad so that you can charge four devices at once.
An IPX5 rating offers ample protection against splashing water, there's a built-in LED flashlight to help you see at night, and the 20,000mAh capacity should be plenty of battery for most weekend adventures.
Balancing size and sensibility: What makes the best high-capacity power banks
You'll be happy no matter which battery packs on this list you choose, but at the end of the day, if you want a portable power bank that offers high-power output and isn't going to be a beast to carry around, the Anker 737 Power Bank is the way to go. It allows you to charge three devices at once, it comes with a high-quality cable and has a helpful display to see the battery status. While this power bank isn't going to come cheap, it offers impressive capabilities that will likely handle your mobile power for years to come.
We think the best value pick is the RAVPower 90W Power Delivery Portable Charger with its 30,000mAh capacity. It's the most affordable entry on this list, and yet it also hosts one of the highest charging speeds and will still fit easily in your backpack or suitcase (so long as you aren't getting on a plane). Yes, it only has two ports, but unless you consistently need to charge 3-4 devices at once, why pay for ports you on't need?
How to choose the best high-capacity battery pack
While battery packs are seemingly simple gadgets, there are quite a few different things you should consider before buying one.
Sure, you could go out and buy the biggest one you see, but if you take the time to understand the little differences between everything, you'll end up with a battery pack that truly fits your needs and works the best for your specific workflow/lifestyle. Once you have determined what you'll be using the mobile power solution for, you can decide if a high-capacity power bank is for you or if you should go with one of the best portable power stations.
How much battery capacity do you actually need?
Perhaps the most important thing to consider before buying a battery pack is its capacity — in other words, how big of a battery it's packing.
Since we're dealing with high-capacity packs, we're only looking at 20,000mAh or higher options. As such, any of the picks on this list will be able to charge your smartphone multiple times and still have some leftover fuel in the tank.
For comparison's sake, most smartphones today have batteries that vary in capacity from around 3,500 and 4,500mAh. If you're planning on using your battery pack to charge your phone, tablet, or headphones, something with a capacity of around 10,000-15,000mAh should be enough so long as you're getting home to an outlet by the end of the day. If this sounds like a better fit for you, you might want to consider a more compact power bank.
So, why do power banks with capacities of 30,000mAh and more exist? There are a couple of good reasons:
For people that want to charge a larger device, such as a laptop, having a big capacity will ensure you have access to enough power.
For backpacking or other outdoor adventures where outlets are few and far between, a high-capacity bank ensures you can keep your phone charged and your lifeline alive, as well as power small camping appliances.
If you live somewhere prone to severe weather like hurricanes or tornadoes, a power station-style high-capacity portable charger like the Anker 757 PowerHouse will ensure you can stay connected while waiting for the electrical grid to be repaired.
Why USB-C is so important
We've talked a lot about USB-C Power Delivery throughout this article, but let's take a step back for a second and explain why it's so important and why you should get a USB-C battery pack.
USB-C is essentially the better-in-every-way evolution from those Micro-USB ports that used to be prevalent on just about every Android phone for charging. Not only does USB-C benefit from the fact that it's reversible (meaning there's no "wrong" way to insert it), but it's also considerably more powerful: Power Delivery can be used to charge at speeds up to 100W or beyond, such as the 140W speeds on our overall pick, the Anker 737 Power Bank.
Here's the thing, though — not all USB-C ports are created equally. Most USB-C ports come with the Power Delivery standard (often referred to as PD), which signifies that a USB-C port offers considerably faster charging and data speeds. So if a USB-C port only offers 15W, that's a USB-C port that is not USB-C, and you should skip it.
As such, when you're looking to charge a device that has an extraordinarily big battery, not just USB-C but also Power Delivery is a must. Not only are a lot of newer devices moving to Power Delivery ports, but it'll also cut down quite a bit on recharge times.