Which color OnePlus 6 should you buy?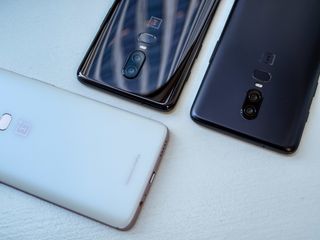 "Most people put their phones in a case, so why does it matter what color you buy?" I hear a variation of that sentence very time I talk about phone colors and materials.
But if that were the case, companies would release phones in one color — "Model T" black — and call it a day. Instead, we've seen color trends come and go, and increasingly a variety of hues, materials, and shimmer to suit anyone's tastes. And while many people do cover their phones with gaudy cases, there are an increasing number that choose to go naked, or use a clear case, to see the phone as it was intended.
The OnePlus 6 comes in four colors, and each feels as distinct as it looks. Choosing which one to buy won't be easy, but hopefully, we can help.
Mirror Black
Image 1 of 3
Mirror Black is the obvious choice for the OnePlus 6 because it's the default choice — if you want the cheapest variant of the phone, you have to choose Mirror Black.
Given that the OnePlus 6 is covered in glass, the Mirror Black variant looks the most traditionally reflective, with OnePlus "coating it with a mirror sheen, giving it the look and feel of ceramic." While the coating means it picks up fingerprints quite easily, it's also surprisingly grippy, allowing you to safely use the phone without a case. You'll be wiping it down every few minutes, but when fresh and clean the phone looks incredible, and picks up on the strongest light source in the room.
Who should buy the Mirror Black OnePlus 6?
If you're looking to get a OnePlus 6 that looks as far from a previous OnePlus device as possible, Mirror Black is where it's at. Or, conversely, if you loved the short-lived OnePlus X (OnePlux), this is your only real option.
At the same time, given that the Mirror Black model is the only one offered at the $529 starting price, for 6GB of RAM and 64GB of storage, it should be considered the frugal pick.
Midnight Black
Image 1 of 3
Midnight Black is the more traditional-looking variant of the OnePlus 6, harkening back to the halcyon days of the OnePlus 3T, where the "matte black everything" was all the rage. While this particular variant is covered in glass, it looks very much like metal, and offers a cleaner, more sophisticated look to the OnePlus 6.
It's also available in both 128GB and 256GB variants, both of which have 8GB of RAM.
Who should buy the Midnight Black OnePlus 6?
If you long for the days when the OnePlus line was made of metal, the Midnight Black OnePlus 6 is the closest thing you'll get. At the same time, it actually looks better than the metal versions because despite the matte underlay, the glass catches the light and looks really nice in almost any lighting condition.
That said, it's not as striking as the Mirror Black model, so it's easily covered in a case without regret.
Silk White
Image 1 of 3
Only available in one storage combination — 8GB of RAM and 128GB of storage — the limited-edition Silk White OnePlus 6 features a glass back, but underneath is a crushed pearl design that looks slightly pocked in the light. With rose gold accents, the Silk White OnePlus 6 is striking and unique, and will definitely be more coveted given its limited-edition nature.
Who should buy the Silk White OnePlus 6?
If you're looking for the only OnePlus 6 color that actually has any color, Silk White is the obvious choice. If you enjoy rose gold, or just want a phone that looks a bit different, it's the way to go.
At the same time, it's possible, given the Silk White's limited manufacturing run, that it may become something of a collector's item, so you better get on it fast if you want one.
See at OnePlus (opens in new tab)
Red
Image 1 of 3
Without a doubt, the OnePlus 6 Red is the most eye-catching color we've seen for the phone so far. Announced on July 1, the six-layer glass design includes an extra anti-reflective layer, a translucent orange one, and red base layer that all come together to create the stunning end result.
In addition to the red covering the back and frame of the OnePlus 6, you'll also find subtle gold accents around the camera housing, fingerprint sensor, OnePlus logo, and "Designed by OnePlus" branding.
The OnePlus 6 Red officially goes on sale July 10 and will be available in the 8GB RAM + 128GB configuration for the standard $579.
Who should buy the OnePlus 6 Red?
If you want a phone that truly stands out from the crowd and catches the attention of everyone around you, the OnePlus 6 Red is the way to go.
The only downside is that it'd be a shame to cover its beauty with a case or skin, so if you do pick it up and decide to go naked, you'll need to be extra careful to ensure its glass design stays in tip-top shape.
OnePlus 6 Red hands-on: This is the one to get
What's your color?
Have you chosen a OnePlus 6 color? Are you lusting after the Silk White or Red version? Let us know in the comments below!
Updated July 3, 2018: This article was updated to include the OnePlus 6 Red.
Android Central Newsletter
Get instant access to breaking news, the hottest reviews, great deals and helpful tips
Daniel Bader was a former Android Central Editor-in-Chief and Executive Editor for iMore and Windows Central.
Like how you started the article as that is an almost instant comment when this type of piece is posted. I say that in addition to those who always go case-less and those who use clear cases, the color also matters to those of us who use regular cases because we don't ALWAYS use a case and may on certain occasions use it completely naked as the manufacturer intended (especially in a more formal setting). Hence why color still matters. I chose Midnight Black for my OP6 because I don't like a "fingerprinty" phone and because after owning a White Essential I realized it's harder to find a case for a White phone that blends in nicely with it's design since most cases are dark.

People actually need help deciding what color to purchase? Someone actually took the time to write about it? Wow

And they got their click from you! ;)

Instead of what color it is worry about performance first & foremost. 95% of consumers put their glass sandwich's in a case anyway!

Go for the one you prefer. But not the white one, white phones are ugly and you deserve better.

We don't care because we'll put it in a case out of the box! :D

I got the Midnight Black color and am kind of disappointed with it. The "S" on the back that reflects light is almost not existent.
I thought the matte would look unique but it just looks like black metal, but with the low durability of glass. The OnePlus videos and site made it look like it had a very unique affect in the light, which is does, but it's much much more subtle than they make it seem. I also read a few reviews that mentioned the matte should be "textured like a MacBook touchpad" but I guess this was speculation. It just feels like glass.
And I totally get the article's point. Some people genuinely aren't sure. And comments from people who have the phone can help!

The gloss black will look the worst over time so I would avoid that if you are dead set on buying a notched phone. I would imagine the glossy will start getting noticeable fine scratches almost immediately.

Plus glossy looks cheap and chinsy to begin with...

The Mirror Black only comes in the 64GB model? How come I have the Mirror Black 128GB model in my hand? ;)

Best overall is the Avengers edition finish. I love the carbon fiber look with glass! Very unique

Waiting on the 6T.... you know it's coming..

Why not wait on the 7 then? Or the 7t for that matter. Or the ...

How hard is it for one of the team to try Android Auto? Seriously? The phone doesn't launch it automatically when you connect to a headunit in a 2016 Accord. Likely same in other cars. I don't understand why this isn't included in all reviews of phones.

I bought the midnight black and it's still very slippery. Definitely needs a case! I use the karbon case, keeps it nice and slim. The case that comes with it is clear silicon? and kind of gives it the shiny black look.

A red One would be sweet!

I bought the Silk White, and luv it.

I love the shiny and striking Midnight Black Version!

Red has been released in UK.
Still prefer shiny black myself.

The Midnight black sounds easiest to maintain so that one. I like Midnight blue best but not many phones have that color option lately.

Get the cheapest one, put a nice colored case on.

The color does not matter whatsoever. How about a fully sandstone body? Otherwise it has to be in a case at all times, negating the color and material choice altogether. How many times do we have to say this?

I am going to buy OP6 Red...
Waiting for it...
Android Central Newsletter
Get instant access to breaking news, the hottest reviews, great deals and helpful tips
Thank you for signing up to Android Central. You will receive a verification email shortly.
There was a problem. Please refresh the page and try again.