OnePlus 6 Red hands-on: This is the one to get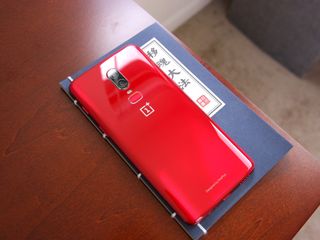 The OnePlus 6 is easily the best-looking phone OnePlus has released to-date, and while Mirror Black, Midnight Black, and Silk White are all fantastic colors, there's one that's been noticeably absent so far — the striking Lava Red from the OnePlus 5T.
Thankfully, that's now changing as OnePlus has officially unveiled the OnePlus 6 Red.
As soon as you take it out of its box, the OnePlus 6 Red assaults all of your senses in the best way possible with its incredibly bright and vibrant paint job. The same six-layer glass design used on other OnePlus 6 variants is present, in addition to an extra "anti-reflective layer" that OnePlus says allows for more light to reach the bottom sections of glass before any light is reflected off the phone.
Image 1 of 4
To concoct the red that's present here, OnePlus mixed a translucent orange glass panel with a red base layer. The end result is one of the deepest, brightest, and most pleasing reds I've ever seen on a phone (even surpassing the red iPhone 8).
Along with the back of the phone, the red also makes its way to the frame, buttons, and alert slider. To complement all of this red, OnePlus also added a sleek gold accent to the OnePlus Logo, "Design by OnePlus" branding, and around the rear camera lens and fingerprint sensor.
Image 1 of 2
If you want to pick up a OnePlus 6 Red for yourself, it's on sale now at OnePlus's website for $579 with 8GB RAM and 128GB storage. OnePlus is only making a limited numer of the OnePlus 6 Red, so be sure to act fast if you want to secure one for yourself!
See at OnePlus (opens in new tab)
Android Central Newsletter
Get instant access to breaking news, the hottest reviews, great deals and helpful tips
Joe Maring was a Senior Editor for Android Central between 2017 and 2021. You can reach him on Twitter at @JoeMaring1.
Indeed. And I'll put it right in my black case ;-)

Same phone, different color?
https://www.youtube.com/watch?v=DaOgZwk9rN8

Joe- does it leave finger prints similar to the gloss black one? Thinking yes......

I haven't used the Mirror Black color myself, but the Red does have a similar shiny finish. Fingerprints do show up but I wouldn't call it a fingerprint magnet

Gorgeous color. If you have this you should always use a clear case.

That's my plan. I like clear cases to show off my phones.

It's the 'one to get' when they wake up and offer the 256GB config. Otherwise ... meh!

128GB is plenty for the average consumer. 256 would've been nice though.

I'd even argue 64 GB is enough. I struggle to use up my 128 GB onboard, I'm hovering around 90 at the moment.

That's a good thing. You got some space to move around.

I purchased the standard cheapest version of the 1+6 as wasn't prepared to pay the extra £50 for more ram and storage that I know I didn't need (came from a 1+3).
...
if that had been released at launch along with the others...well hot damn that would have been purchased so hard.

Every all glass phone looks great, going all the way back to the Nexus 4. My Moto X4 Sterling Blue looks just as good as the OnePlus 6, but like with every glass phone, it needs a case, always.

Agreed. I have the same through Pfi and I was really struck by how pretty it was, being a mid-range phone.

Yeah, I have the Fi/Android One version, too.

I'm very curious how this assaults the sense of smell... /S

When dealing with glass phones I still say the majority of consumer's choose to put it in a case. So much for colors!

Waiting for sales to start to buy mine. Held out on op6 for this color.

Not seen Oneplus discount their phones.
Maybe get something for free, but I'll bet they sell all stock before the 6T is released.

OP is not putting it on sale. It'll be sold out and you'll only see higher prices on Ebay.

Wow, beautiful and so much more economical than shelling out for the other flagships. Can anyone tell me a bit about their experience with the One+ phones?

Customer service is... OK. Wasn't reliable and constantly had to send emails to get my questions answered. As for the phone itself (1+5) it runs smooth, has just enough features to keep me satisfied without feeling bloated, camera imo is good enough for usage, as it just goes on my computer and social media, display despite being 1080p is great, battery life is consistently strong. It makes you question why phones even go for over $700.

Did they fix the Netflix only at 480p issue on oneplus phones?

Don't think so but I doubt you would notice.
It's not like the phone has a 4k screen anyway.

That's what I wanna know.

The problem with the red OnePlus 6 is that it's still a OnePlus 6.

It will look amazing in a black case.

What better way to express your love for China by buying red Chinese made phone? Can't beat that.

The one to get would be fully plastic sandstone and without a notch.

Meh I'm getting the Avengers version.

Yes! If you don't use Android Auto! Because this phone doesn't work with it!

The OnePlus 6 looks nice in Red but I still wouldn't trade my Pixel 2 XL for it even though I like Oxygen OS. I like Google and their software more.
Android Central Newsletter
Get instant access to breaking news, the hottest reviews, great deals and helpful tips
Thank you for signing up to Android Central. You will receive a verification email shortly.
There was a problem. Please refresh the page and try again.