Where to buy a DJI Mavic Air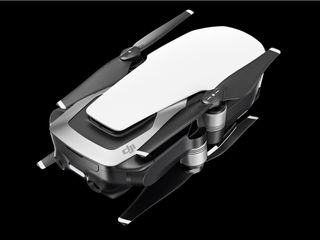 Famed drone manufacturer DJI has officially announced the newest model in its drone lineup, the Mavic Air. Offering the best parts of the company's Mavic Pro and Spark drones rolled into one compact package, the Mavic Air is perfect for adventurers who want to record their travels beautifully and with ease.
Whether you're a photographer looking to add a quality drone to your equipment arsenal or an experienced drone hobbyist who needs the newest model for your collection, there are a growing number of purchasing options available to you. Here's where to grab the Mavic Air!
Available now
DJI
Perhaps the easiest place to find the Mavic Air is, of course, on DJI's website. All the color options are currently available here, and if you don't have all the money up front you can apply for financing and get it for as low as $71 per month.
What's more, if you have a DJI Select membership, you can get prioritized delivery. However, because the item is currently only available for preorder, it won't ship until January 28.
Amazon
Ah, the king of all online retailers. Amazon has long been a carrier of DJI products, and the Mavic Air is no exception. If you already have an Amazon account — especially Amazon Prime — this may be the easiest route for obtaining your drone since you're familiar with the site and can keep track of all your purchases pretty effortlessly.
Like on DJI's site, the Mavic Air is only available for preorder through Amazon right now and won't ship until January 28.
B&H Photo Video
If you're a pro that's more comfy ordering your drones from the same place you get all of your other photography gear, B&H Photo Video is thankfully also offering preorders of the Mavic Air in both its standard and combo packages.
If you don't want to order right away and would rather get your hands on one once they're actually in stock, you can request a stock alert so you'll get an email as soon as they're available.
Newegg
If you're an avid Newegg user, you can purchase the Mavic Air and get 8x the EggPoints once it ships. That basically means if you preorder the Mavic Air now you'll end up getting approximately $60 off your next Newegg purchase — nothing to sneeze at, if you ask me.
Best Buy
Often a one-stop shop for all things tech, Best Buy is also offering preorders of the Mavic Air. If you're a Best Buy card member you can apply for financing as well, so you don't have to drop all $800 in one day.
If you're looking to buy from here, though, do note that you may get your order a bit later than you would from other retailers — after I input my location, the website said that orders weren't expected to ship to my area until January 31.
Keep your eyes peeled...
Though there aren't listings for the Mavic Air on any of these sites yet, these companies are authorized retailers or resellers of DJI drones and accessories so it's likely the new model will be popping up in at least a few of them soon. Instead of linking to a specific product page, I've linked to the DJI or drone section of each site to make the Mavic Air easier to find once it is actually listed.
Get the Android Central Newsletter
Instant access to breaking news, the hottest reviews, great deals and helpful tips.