DJI's new Mavic Air drone blends features from Mavic Pro and Spark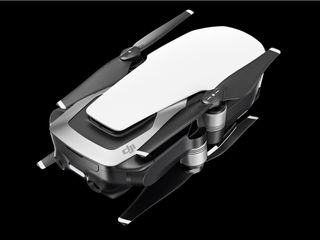 Drone-maker DJI officially announced (opens in new tab) today at an event in New York City that it'll be launching an new mid-range hobby drone that expertly spans the gap between its $999 Mavic Pro and $499 Spark models. Called the Mavic Air (opens in new tab), the drone is slated to cost $799 and will be released January 28.
Like its predecessors, the Mavic Air is foldable and thus super portable, and "delivers higher performance, more intelligent features and greater creative possibilities than any other consumer drone" (according to the company's press release). It's also compact — about half the size and weight of the Mavic Pro — so it can be slipped into a bag or even a pocket with relative ease. Its size and shape make it perfect for explorers who want to capture their adventure at a high-quality level without having to lug around a bigger machine.
Imaging-wise, the Mavic Air leans a little more toward the capabilities of the Pro, boasting a built-in camera that can capture 4K video, 12-megapixel stills, and 32-megapixel panoramas. And, if you're a fan of the dramatic, you can also use it to shoot 1080p slow-motion video at 120 fps. Said camera is mounted on a recessed three-axis mechanical gimbal that's suspended from dampeners, reducing vibration that could both hurt the drone and muck up the steadiness of your shots. The Mavic Air also utilizes new HDR algorithms that preserve more highlight and low light details, allowing for crystal-clear capture no matter the weather or the time of day.
As for software, the Mavic Air features a new obstacle avoidance system that uses an increased number of sensors and optimized algorithms to construct a 3D map of its environment, helping it avoid and bypass obstacles automatically. In addition, the Mavic Air offers a handful of new shooting modes that even inexperienced drone pilots can take advantage of:
The only thing about the new model that isn't really revamped is flight time — Mavic Air can only stay up in the air for a maximum 21 minutes, which is about six minutes less than the Mavic Pro. Still impressive for a drone of its size, but nothing mind-blowing. However, its newly designed omnidirectional antenna system helps increase signal coverage as compared to older models, delivering a maximum range of up to 2.5 miles with 720p real-time video transmission when flying with the remote controller. The Mavic Air's "Sport mode" also allows it to fly at speeds up to 42mph.
Roger Luo, President at DJI, shared his excitement for continuing the Mavic legacy with the Mavic Air in a statement:
The Mavic Air will be available for $799 in three color options — Onyx Black, Arctic White and Flame Red — and will come with battery, remote controller, carrying case, two pairs of propeller guards and four pairs of propellers. For $200 more, however, you can get it in the Fly More Combo that includes the drone, three batteries, a remote controller, a travel bag, two pairs of propeller guards, six pairs of propellers, a battery to power bank adapter, and battery charging hub. If you're interested in purchasing the Mavic Air, you can preorder it now though DJI's website.
See at DJI (opens in new tab)
Thoughts?
What do you think of the Mavic Air? Sound off in the comments!
Get the Android Central Newsletter
Instant access to breaking news, the hottest reviews, great deals and helpful tips.
I have a phantom 4 pro and I love it. A word of advice about DJI drones is that once you find a firmware that does exactly what you need it too, DO NOT UPGRADE your software from then on unless there is a problem that is fixed in that new release. THEY ARE FAMOUS FOR SCREWING UP something in the newer software releases that previously worked fine. It is getting really bad. Awesome drones and tech, but terrible at fixing any software issues later down the line. It can really be a pain in the butt. BEWARE!!!!

Completely agree with your suggestion. Do not upgrade unless you need to, to fix an issue. When it comes to dji, if it's working, just leave it

Have to agree with this. Love my Phantom 3 Standard, but the software can be so bad.

so is this thing waterproof at all? misty days or light rain will ruin it?