Select Verizon Wireless customers can get Apple Music for free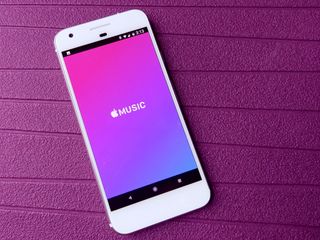 Starting on January 17th, select Verizon Wireless subscribers will get Apple Music for free. The offer is extended to users Beyond Unlimited and Above Unlimited plans. Typically, Apple Music costs $10 per month, but those lucky customers will be getting the service for exactly $0 extra. It'll be bundled in with your plan and won't change or end until your plan does.
It's worth noting that Above Unlimited and Beyond Unlimited plans are some of the network's most expensive. However, if you have a Go Unlimited plan, you're not going to be left out entirely. You can get a six-month trial of Apple Music for free. That's twice as long as the usual free trial.
Apple Music gives you access to 50 million songs with no ads. You can download the tracks to play them offline, listen across all of your devices, and get exclusive and original content. Getting all that for free sounds like a pretty great deal to me.
Louryn saves money on everything she buys (which is a lot.) In between waiting for Amazon deliveries, she pines for the next Elder Scrolls installment and checks Reddit for gaming rumors. She also loves Hearthstone, makeup, and beer. Find her on Twitter: @lourynstrampe
Apple paid Verizon some coin for this
..... Hmmm I might use this

It's probably the other way around.

Maybe but doubt it, since apple phone market has hit a wall..apple trying to get more people in their software side

But Apple Music is the one Apple thing that is truly cross platform.

According to the Verizon site provided in the link in the article, even when you have the most expensive Unlimited plans it is still free for only 6 months.

Maybe the reason is that this is effective tomorrow the 17th?

I would never pay for music anyway...

I'm confused. How is this a "deal"? In order to get the "free" Apple Music, you have to sign up for a data plan that is $10-20 more than the regular "Unlimited" plan that they have. So, you're paying an extra $10 a month just to have Apple Music which in itself is $10 a month. BTW, what if you have more than one line? Do you have to pay an extra $10 a month for each line which is $20. That's $5 MORE than an Apple Music Family Plan.
Android Central Newsletter
Get the best of Android Central in in your inbox, every day!
Thank you for signing up to Android Central. You will receive a verification email shortly.
There was a problem. Please refresh the page and try again.