Sprint ID teases the Samsung Chief, LG Q, LG Optimus B and Motorola Sunfire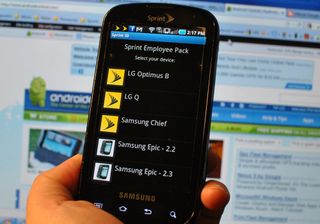 Wanna have a little fun poking your nose around where it doesn't belong? Tucked deep inside the Sprint ID app is a not-so-secret menu for downloading the Sprint Employee Pack for Sprint ID. And before you download the pack, you're asked which phone you have. And there are a few interesting names in that list. Namely:
LG Optimus B
LG Q
Samsung Chief
Motorola Sunfire
Those four listings, unlike the Samsung Epic 2.2/2.3 you see in the picture above, don't have images with them. Just the Sprint logo. So what are they?
The LG Optimus B, it stands to reasons, could be the Optimus Black. The Motorola Sunfire is believed to be the recently announced Photon 4G. And the Samsung Chief could be the mid-level "Conquer" everybody's geeking out over today. As for the LG Q? Your guess is as good as ours. The upcoming LG Optimus Slider, perhaps?
Any Sprint employees wanna chime in and clear things up?
Thanks, anon!
Android Central Newsletter
Get instant access to breaking news, the hottest reviews, great deals and helpful tips
I think the optimus b is more likely to be the slider because the black is most likely going to another carrier and/or be an international phone. Its unlikely the b stands for black. Also we know the slider is coming to sprint and we know its going to be in the optimus series. With the lg q not having optimus in the name its probably going to be another rendition of their dual core series phone or 3d phones.

I'm a sprint employee and have the epic my self. This is a first for me never heard of it. What Do these id packs include?

Samsung Epic 4G 2.3? do they mean gingerbread.

Wonderful. Share a website with you , ( http://lnk.co/G2BM6 ) Believe you will love it.

Spam, don't click the link

I don't ever click on shortened links unless I trust the person who posted them. And sometimes not even then.

http://www.androidcentral.com/lg-optimus-slider-appears-headed-sprint-pa... Per that roadmap leak: LG Q - is the Optimus Slider/Gelato Q
Samsung Chief - is the SPHD600BKS, sometimes referred to as the Within, Galaxy S2, Conquer, etc... What I am concerned with is that is is listed as replacing the ZIO, but I hope it is a 4G phone with the dual core processor, etc.
Optimus B - Don't know, but i'm starting to think it's the Optimus Black too... LG needs a 4G Sprint phone.
Moto Sunfire - Probably the Photon 4G
Epic 2.3 - is the Gingerbread update coming very soon. The employee ID packs were announced to employees in the retail playbook a few weeks ago. They are just another ID pack but with links to sales tips and facts about devices. What is sort of funny is I get more info from these leaks than I do from the company itself. So, the typical employee is going to be mostly clueless to stuff like this, and until it's officially announced, it's all just speculation.

"The Motorola Sunfire is believed to be the recently announced Photon 4G."
Ummmm...the Photon is already on Sprint's site - http://now.sprint.com/p4/?ECID=vanity:photon

Following the LG Optimus naming conventions, I'd venture to say that the LG Optimus B will be a Boost Mobile version of the phone. So far the letter tag has been associated with the company the phone is on. So far we've gotten these Optimus (non-)variations:
S - Sprint
T - T-Mobile
U - US Cellular
V - Virgin Coincidentally, they're in alphabetical order as well. As far as I know, it would be new for them to push Sprint ID to Boost phones, unless it is only an employee thing.

LG B has been used by the company itself as a name for Optimus Black. This was how the phone was first leaked: http://phandroid.com/2010/12/16/exclusive-lg-b-android-phone-super-slim-... Also take a look at the unboxing video: http://androidandme.com/2011/05/phones/the-lg-optimus-black-unboxing-ben... They are pushing the "B" branding pretty hard, you can be pretty confident B=Black.
Android Central Newsletter
Get instant access to breaking news, the hottest reviews, great deals and helpful tips
Thank you for signing up to Android Central. You will receive a verification email shortly.
There was a problem. Please refresh the page and try again.