A sneak peak at the Droid Bionic training docs, plus more confirmation of a Sept. 8 launch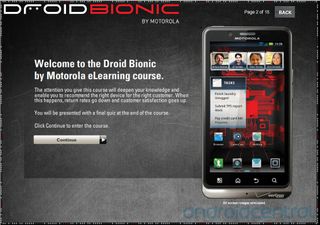 If you sell Verizon smartphones, chances are you're well on your way to being properly trained up on the Motorola Droid Bionic. And we've gotten a sneak peak at the training, which we'll share with you here. There aren't many surprises -- it'll have all the usual accessories and Webtop dock -- it'll even come with a phone charger! But seeing as how it's been a couple hours since we last teased the DB, we now present you with more, after the break.
Oh, and with the demise of the fake Droid Bionic Twitter account also comes the demise of the unofficial Sept. 8 launch date. It's cool, though. We've gotten more confirmation that independent retailers are expecting inventory on Sept. 8, and we may see pre-orders start on Sept. 1, so be sure to check in.
This so makes me want to jump to Verizon. ~Insert Generic I was first statement~

Extended battery at launch is so cool hope it works with wireless charging

If this has the same screen as the Photon, then it's not as cool as you think. I had that phone for 2 days & had to return it, it's unwatchable. It was like looking through a screen door every time I looked at it.

https://market.android.com/details?id=com.mf.DroidBionicARena "Join a nationwide Augmented Reality scavenger hunt for the chance to win the highly anticipated Droid Bionic, powered by Verizon 4G LTE. Hunt down exciting prizes like HDTVs, Laptops, Tablets and Quadcopters to enter to win them and the smartphone that controls them all – Droid Bionic. Each day for four days, four lucky hunters will win Bionic and one of the machines – there are up to 192 chances to win each prize. Good luck and safe hunting.
No purchase necessary. 18 yrs or older. 9/4 – 9/7. Rules at DroidDoes.com/Bionic."

It made me giggle to read "it's been a couple hours since we last teased the DB"

Great news - I know Prime and Vigor are coming, but I need a new phone - too much overclocking has taken it's toll, I'm afraid. Just one nitpick about the article, though: "peak" != "peek"

So, can we talk and surf at the same time like you can do on the Thunderbolt? If so and the battery life on this phone is much MUCH better than on my Thunderbolt...I'm all in.

I used to be able to do that (pay full price for a new phone less than a year after buying my last)... More power to ya!

I rely on my phone heavily for work. If the battery goes dead while out because it sucks the life out of it (with 4G off) then the phone is useless to me and business suffers. If I was a regular consumer, then it would be a no brainer and ride it out until my next upgrade but I can't.

We can talk & surf at the same time, but ONLY if you are in a 4G LTE area. The data goes over the LTE network and the voice goes over the 3G network...so you can do it, but it's a little different from the TB.

On thunderbolt you can talk and surf at the same time over 3G (I keep it locked to 3G to conserve battery).

So, what exactly is a "sneak peak"? I know what a "sneak peek" is, does that mean "sneak peak" is a really big "sneak peek"? ;-)

It means that, if you look over your shoulder, out of the corner of your eye, you might see a mountain staring at you. In Denver, I get that a lot - you really can't trust 'em!

Whenever I see this typo, I always imagine a young mountain tiptoeing around, saying to itself, "I'm being vewy, vewy quiet," as it uproots itself and rumbles around, scaring wildlife and passers-by. :)

Is it me or does this look very similar to the Droid 2? They could have at least made the flagship phone have some distinguishable features....And will we ever see a Android phone that doesn't have the "Verizon" logo plastered all over it? I mean say what you want about the iPhone but apparently Steve Jobs told Verizon "no logos" and they obeyed!

Citizen... please cease all resistance and embrace the suck.

Don't know if we're allowed to compare phones on these comment section.. but I'm thinking why get 1 GHz phone when u can get 1.2 GHz Exynos (Galaxy S2) with a better screen.
That Zumocast looks fun, but Galaxy S2 offers something very similar I believe (wifi connection with computers) Doesn't seem as appealing now that Galaxy S2's getting released about a week after DB's release date!

But if your a Verizon customer....no S2.

Nexus Prime's suppose to come out in October!

Because Samsung just sucks. Ill have ics and you'll still b on GB and if i wanted a iPhone clone id go out and buy the real thing.

DB has rounded corners and it's rectangle.. oh look! It's an IPhone clone according to apple. And also u overlook the fact galaxy S2 surpasses Iphone in hardware, which DB can't claim to be able to do.
Android Central Newsletter
Get the best of Android Central in in your inbox, every day!
Thank you for signing up to Android Central. You will receive a verification email shortly.
There was a problem. Please refresh the page and try again.