When it's time to replace your frayed, old charging cables, you shouldn't waste your money on just any cable you can find at the store. Choosing the right cable can ensure you'll be able to power up for years to come. One great option is this two-pack of Unbreakcable Micro-USB Cables. Normally sold for $9 at Amazon, today you can snag the two-pack for only $3.50 when you enter promo code 65GMUBBT015 during checkout. That's like paying just $1.75 per cable, and with how durable these are, this deal is practically a no-brainer.
This two-pack of Unbreakcable micro-USB cables isn't just cleverly named; each cable is equipped with a high-performance, ultra-strong aramid fiber core wrapped in a double-braided nylon sheath which is paired with a laser-welded aluminum connector to offer extreme durability. They allow for charging speeds up to 2.4A, and they're suitable for data transfers at 480Mbps, too. In testing, they've been able to withstand bending 95 degrees more than 8,000 times, along with more than 10,000 plug-ins.
Stay Charged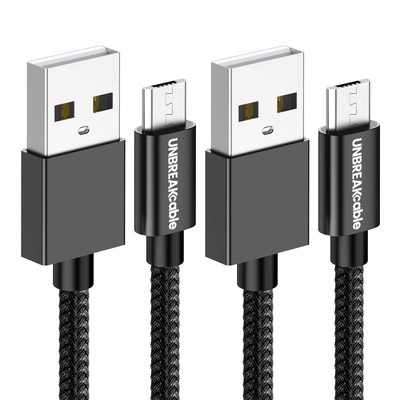 These 3.3-foot cables are suitable for charging at up to 2.2A and data transfers at speeds up to 480Mbps, and they're extremely durable too having been wrapped in a double-braided nylon sheath. They're tangle-free and come with a 3-year warranty.
$3.50 $8.99 $5 off
Unbreakcable includes a 3-year warranty with the purchase of its micro-USB cables. At Amazon, nearly 100 customers left a review for this two-pack resulting in a rating of 4.2 out of 5 stars.
To score free shipping at Amazon, you'll need to toss this two-pack into an order totaling $25 or more, or have an Amazon Prime membership. If you don't want to sign up for Prime's 30-day free trial, then you might want to consider picking up a new power bank or a USB wall charger to use with your new charging cable. Our guides to the best power banks under $30 and the best wall chargers in 2019 are full of options that can help you reach that free shipping order minimum and make sure you're better prepared to power up wherever you go.
We may earn a commission for purchases using our links. Learn more.