Save up to $290 on the Moto Z3 Play and pick a free Moto Mod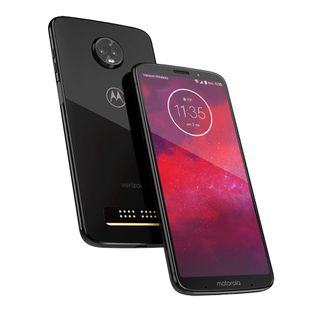 It's been awhile since we've seen a nice deal on the Moto Z3 Play, but if you've missed your previous chances, today you've got another shot. In our in-depth review, we said you should buy this phone on sale, and that's exactly what you'll be able to do thanks to this deal. Right now Motorola is offering up to $290 off the Moto Z3 Play, plus you'll get your choice of a free mod. Shipping is free as well. We'll go over the options in detail below. Add the phone you want and your chosen freebie to your cart, and the discounts will all be applied automatically.
This unlocked smartphone is discounted by up to $320, and you'll be able to get a free Moto Stereo Speaker, Moto Gamepad, Moto Folio, or two Moto Style Shells.
First, you'll need to decide which model of the phone is right for you. The 32GB version has a smaller out-of-pocket price, coming in at $169.99 instead of $349.99. However, you'll get an even better deal by option for the 64GB version at $259.99, considering its MSRP is $500. The 64GB configuration also includes your choice of a Power Pack, a mod that charges your phone on-the-go, or the Alexa mod, which basically attaches an Alexa smart speaker to your phone. Both of those mods add nothing additional to your total, though they're only up for grabs if you opt for the 64GB phone.
No matter which version you pick, you'll be eligible for another freebie as well. You could go for the Moto Stereo Speaker, which is valued at $60. It snaps onto your phone and transforms it into a device with powerful stereo sound. However, that option might not be the best for those that pick the Alexa mod, as both of them perform similar functions, though the Stereo Speaker mod doesn't have a voice assistant built-in.
Another freebie option is the Moto Gamepad, a mod valued at $80. It transforms your phone into a semi-traditional console controller, adding on dual control sticks, a D-pad, and four action buttons. Maybe now you'll finally be able to beat your friends in Mario Kart.
Finally, you could opt for two Moto Style Shells as your free mod. This is my least-favorite option. Each shell transforms the look of your phone. That's basically it. These are also the least valuable freebies in terms of typical cost. If you want the best bang for your buck and none of these mods speak to you, go for the most expensive mod and resell it. Even if you take a "loss", you'll still be getting more bang for your buck, and you could put that money towards a mod that's more your style.
Get the Android Central Newsletter
Instant access to breaking news, the hottest reviews, great deals and helpful tips.
Louryn saves money on everything she buys (which is a lot.) In between waiting for Amazon deliveries, she pines for the next Elder Scrolls installment and checks Reddit for gaming rumors. She also loves Hearthstone, makeup, and beer. Find her on Twitter: @lourynstrampe