Rogers goes live with Canada's first LTE network today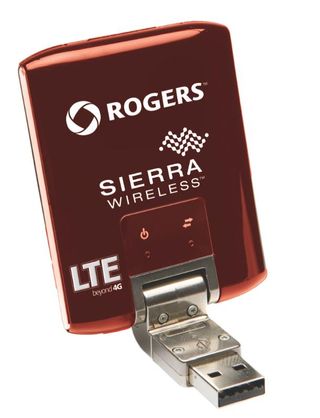 A small number of Canadians today will now get to experience the joy of true 4G. Rogers has now gone live with Canada's first LTE network in the Ottawa area and much like the launch of LTE for Verizon, they started off their device offerings not with a handset but rather a LTE Rocketstick from Sierra Wireless. No worries though, Rogers has stated LTE devices are coming from both HTC and Samsung later this year. In other words, Android devices will be among the first LTE enabled smartphones to hit the Rogers network. Full press release is after the break.
Rogers lights up Canada's first LTE network today
Next-generation network significantly faster than any other Canadian wireless network
OTTAWA, July 7, 2011 /CNW/ - Rogers Communications Inc. announced today the commercial launch of Canada's first Long Term Evolution (LTE) network, bringing the latest global wireless technology to the Ottawa region. Rogers also announced that network rollout to Toronto, Vancouver and Montreal will occur this fall, and that LTE-enabled smartphones from Samsung and HTC will be available later this year.
"Rogers' customers will be among the first in the world to experience this superior technology," said Rob Bruce, President, Communications, of Rogers Communications. "This network will power the next generation of innovative products and services in ways we've never seen before. And it will be the backbone of Canada's digital economy as we continue to move from a wired to a wireless world. We're thrilled to welcome Ottawa - and Canada - to the future of fast."
LTE delivers unparalleled connectivity and increased usage capacity to provide an unrivalled mobile experience for Ottawa customers, and soon, to other Canadians. Rogers LTE will expand to a further 21 markets by the end of 2012, changing the way Canadians use their mobile devices for work and play by enabling fast mobile Internet in any location, on any LTE-enabled device. LTE delivers higher speeds and lower latency than 4G HSPA+ which means a better experience for customers using highly interactive applications like multi-player gaming and rich multi-media communications. It will deliver more usage capacity which means more users can access the network at top speeds simultaneously.
Rogers is working with Ericsson to build Canada's first LTE network. Rogers and Ericsson began conducting comprehensive technical trials of LTE in Ottawa and Montreal last fall. The tests measured data speeds, quality of signals and interoperability with Rogers' existing 4G HSPA+ wireless network. The tests confirm that Rogers LTE network in Ottawa is significantly faster than any other Canadian wireless network. At launch the Rogers LTE Rocket Stick will be capable of maximum theoretical download speeds of up to 75 Mbps on the Rogers LTE Network. Typical download speeds can range from 12 Mbps to 25 Mbps, which is significantly faster than the speeds Canadians experience on any other network today. As device selection evolves, maximum theoretical download speeds will increase to up to 150 Mbps.
The launch of LTE reinforces Rogers proud history of innovative firsts and commitment to investing to build Canada's digital future. Rogers was the first Canadian carrier to announce technical trials last fall, followed by the commitment to a multiyear deployment beginning this year. Rogers recently launched the Rogers Reservation System, which allows customers the opportunity to reserve the first LTE-enabled device, the Rogers LTE Rocket stick, from Vancouver-based Sierra Wireless. Starting today, Ottawa customers can pick up LTE Rocket sticks from four Ottawa-area Rogers retail locations.
"Ottawa is proud to play a significant role in Canada's first LTE network, from the trials through to the launch today. This new technology is a significant step forward towards increasing the accessibility and enjoyment of high speed applications while enhancing the productivity and reliability of mobile communications for Ottawans" said Steve Desroches, Deputy Mayor of Ottawa.
Ottawa is now Canada's fastest city, with LTE network coverage spanning a broad area from Arnprior, Ontario in the west to Orléans, Ontario in the east and includes the Hull and Gatineau regions of Quebec.
Canadians can learn more about Rogers' LTE network by visiting www.rogers.com/lte. To find out when LTE is coming to your area, sign up at www.IwantmyLTE.ca.
About the company:
Rogers is a diversified public Canadian communications and media company. We are Canada's largest provider of wireless voice and data communications services and one of Canada's leading providers of cable television, high-speed Internet and telephony services. Through Rogers Media we are engaged in radio and television broadcasting, televised shopping, magazines and trade publications, and sports entertainment. We are publicly traded on the Toronto Stock Exchange (TSX: RCI.A and RCI.B) and on the New York Stock Exchange (NYSE: RCI). For further information about the Rogers group of companies, please visit www.rogers.com.
Anyone know what frequency they are on for LTE?

Hmm! ,, first of all Rogers is NOT the first LTE network, Bell has had it for 1 year ( in toronto ) and was release CANADA wide starting July first!! 6 dayz beffor rogers , and rogers network has less Over all coverige then bell. get your story strait . if you change the name from rogers to bell , it might make more sens.

That's pretty inaccurate.. Bell hasn't launched their LTE network, they've only concluded their testing of it and haven't flipped the switch. You seem to be confusing LTE with their HSPA+ network, it's OK.. that just proves their marketing is working.. you may be interested in reading: http://www.androidcentral.com/editorial-its-time-stop-4g-smoke-our-eyes

i work for bell and it was evan in the NEWS!!! and yeah it wasn't July first , it was JUNE 30th,, i can send you the paper work if you want , you can Evan see it on the bell.ca website , mobile/coverage and im NOT talking about the 4G HSPA+ ( hspa + is NOT 4g , its 3g) HSPA+ ahs been out sints September 5 2009 for bell. 4G lte june 30th 2011 so yeah the 4g LTE is out! im not confusing them

If you could spell "even" instead of Evan maybe we would take you seriously

http://best.bell.ca/en/fastest/ LTE coming soon.. nuff said.

Show the article, as there is nothing on the bell website to announce this.

Actually working for Bell, LTE is in testing. It's not been officially unveiled. When they do later this summer/fall, it will have more coverage than Rogers, and won't run into the same problems Verizons did. It seamlessly switches from LTE to HSPA+. Current HSPA+ phones will receive a speed boost in the LTE areas, and there are more LTE devices planned at the moment then Rogers.

In other words, if you have problems, ask ChaosZero. But got to hand it to bell they seem to be second on rolling things out (android devices etc) but in a good amount of ways doing it in a better way. Now to get faster on device software upgrades. I do find it funny how rogers illustrates what LTE is in the same way bell described CDMA over TDMA and that generation of GSM.

Guess it's certain that my next phone will be LTE since I'm a year and a half from upgrade, gotta love 3yr contracts. :D Already Bell and Telus's 42 Mbit HSPA+ is available in Calgary and surrounding areas. Only thing is, no phones with this speed, Galaxy S II is due on Bell in a couple weeks and that is only 21Mibt. LOL ONLY! Rogers is not an option for me, their coverage in the West is garbage. I get HSPA+ from Bell out in the mountains ( The Rockies ) but you can't even get a signal from Rogers.
Android Central Newsletter
Get the best of Android Central in in your inbox, every day!
Thank you for signing up to Android Central. You will receive a verification email shortly.
There was a problem. Please refresh the page and try again.