Samsung Galaxy S23 Plus vs. iPhone 14 Pro: Which should you buy?
Apple's popular flagship and Samsung's middle-child 2023 phone cost the same, but which is better?
With a larger display, battery, and memory capacity than the iPhone 14 Pro, the Galaxy S23 Plus has several upsides despite not being the "flagship" of Samsung's lineup. Thanks to the Snapdragon 8 Gen 2 revamping its performance, combined with Samsung's trusted One UI software support, the Galaxy S23+ should last you for years to come.
For
Larger, unblemished display with fingerprint sensor
Victus 2 fall protection
Better graphical performance
Excellent selfie photos
Long-lasting battery
Against
Only FHD display
Average camera quality
Expensive for non-flagship
The rare one-handed flagship that's comfortable to hold without compromising on specs, the iPhone 14 Pro still beats any Android phone in sheer speed on the back of its A16 Bionic chip. Apple added new features like Always-On Display, crash detection, satellite SOS, and Dynamic Island this generation that make it more exciting than ever — but battery life is its Achilles' heel.
For
Top-class CPU performance
Beautifully bright OLED display
Dynamic Island > notch
Emergency SOS
Long software support
Against
Middling battery life
Still waiting for USB-C
No SIM tray
The Apple iPhone 14 Pro tops many "best phone" lists on various tech blogs thanks to its usual cutting-edge performance paired with upgrades to the design, display, and cameras over previous years. It isn't a perfect phone, but its popularity isn't ill-founded. But is it good enough to tempt Android fans?
While the Pro is Apple's top-tier phone — its only downgrade from the Pro Max is its smaller display, which many users prefer — the Samsung Galaxy S23 Plus is a second-tier phone behind the Galaxy S23 Ultra in several areas. Although the iPhone 14 Pro and Galaxy S23+ cost the same, Apple's flagship has fewer handicaps.
That being said, the Galaxy S23+ doesn't automatically lose by comparison. Samsung has some tricks up its sleeve with its newest Galaxy phones, and Apple has its usual quirks and downsides that many people won't appreciate, especially Android users. On that note, let's compare the Samsung Galaxy S23 Plus vs. iPhone 14 Pro.
Samsung Galaxy S23 Plus vs. iPhone 14 Pro: Design and display
Why you can trust Android Central Our expert reviewers spend hours testing and comparing products and services so you can choose the best for you. Find out more about how we test.
The 6.6-inch Samsung Galaxy S23 Plus display is far closer in size to the 6.7-inch iPhone 14 Pro Max than the 6.1-inch iPhone 14 Pro. Whether you prefer a one-handed or large-screened phone will vary from person to person. Samsung gives you a larger phone without paying $100 extra for a Max-sized display, but Apple gives you the flexibility of top-tier performance in a smaller phone if that's what you prefer.
Whichever size you choose, the iPhone 14 Pro and Pro Max have pixel-dense displays with 460 pixels per inch (PPI), slightly below the QHD resolution of the S23 Ultra but well above the Galaxy S23 Plus' FHD resolution at 393 PPI.
In addition, Apple advertises a max brightness of 2,000 nits for outdoor use or 1,600 nits for HDR content, compared to 1,750 and 1,200 for the S23+, respectively. Our parent company's Future Labs couldn't test the outdoor scores but found the iPhone 14 Pro hits about 200 nits higher at 100% HDR than the Plus. Still, the S23+ is undoubtedly a bright phone in its own right.
Both phones score about the same for color gamut range in both sRGB and DCI-P3. Our iPhone 14 Pro reviewer noted its "excellent contrast and color accuracy" thanks to True Tone tech that adjusts the colors based on the ambient lighting in the room. As for the S23+, our reviewer noted "there are zero issues with color vibrancy or contrast," and he praised the "customizability when it comes to color management."
Both phones hit a smooth 120Hz refresh rate, but only the iPhone 14 Pro benefits from an LTPO display that can dip down to 1Hz for battery preservation (compared to 48Hz on the S23+). While this undoubtedly helps Apple preserve battery when using the always-on display function, the impact isn't enough to close the battery gap between the two phones (as we'll discuss below).
Also, we'll note that Samsung takes full advantage of its 120Hz display when gaming, whereas other Android phones with 120Hz displays lock apps to 60Hz by default. That makes the S23+ well-suited to match the iPhone 14 Pro with its unlocked ProMotion tech.
Compared to the iPhone 13 Pro, the iPhone 14 Pro added the LTPO functionality and removed the notch in favor of the new pill-shaped Dynamic Island. Apple uses this empty space to put an icon of your current app and other preview data during regular browsing use, which looks great; but you do have to accept the ever-present black pill while streaming or gaming.
Most Apple users still prefer the pill to the original notch, though some preferred the latter because it looked more "natural" and less out of place. As for Android users used to the typical hole-punch look of modern phones, they'll prefer the more seamless look of the Galaxy S23+ display.
Apple relies on its selfie camera for Face ID as the primary method for unlocking your phone. It has yet to implement a fingerprint sensor for any of its phones, whereas Samsung uses an in-display sensor on the Galaxy S23+ that's immediately responsive.
Otherwise, Apple has the clear edge for display tech and gives consumers more flexibility in sizing, though the Samsung Galaxy S23 exists as a more affordable 6.1-inch option. But when we strictly compare the Galaxy S23+ and iPhone 14 Pro, Samsung's phone does have a couple of design upsides.
Despite its much smaller display, the iPhone 14 Pro is a quarter-millimeter thicker and weighs 10g (0.35oz) more than the Galaxy S23+. Samsung's phone is much wider, of course, which still means Apple's is easier to hold unless you choose the Max. But the iPhone 14 Pro is certainly boxier, even though the Galaxy S23+ mirrors the traditional iPhone look with its flat glass back and flat, angular edges.
Our S23+ reviewer notes that the phone "nailed the dimensions of the S23+, and you get a large screen without sacrificing usability." So while the smaller iPhone 14 Pro is more comfortable, you may still prefer the larger, Dynamic Island-free display of the S23+ because it's not as bulky as many 6.7- or 6.8-inch flagships (like the bulky iPhone 14 Pro Max or Galaxy S23 Ultra).
Another significant upside to the Galaxy S23 series, in general, is its Gorilla Glass Victus 2 support, which is significantly more resistant to cracks and scratches than before. While we don't have many direct comparisons between Victus 2 and the older Ceramic Shield standard, this PhoneBuff drop test shows the S23 series coming out on top for durability.
You should still buy a Galaxy S23+ case since no glass is fully shatter-proof. But you may be able to get away with a more stylish case instead of a heavy-duty model, whereas the iPhone 14 Pro needs all the protection it can get.
Lastly, the U.S. variant of the iPhone 14 Pro removed a physical SIM card tray, forcing users to rely on eSIM when transferring phones. My colleagues have written about how Apple jumped the gun on eSIM, and about half of our readers prefer that phones keep the physical SIM slot. When it comes to switching carriers or traveling abroad without incurring roaming fees, having the option to pop in a new card at will is something in the Galaxy S23 Plus' favor.
Samsung Galaxy S23 Plus vs. iPhone 14 Pro: Performance and battery life
The Apple Bionic A16 chip, like practically every Bionic chip that came before it, has no peers for raw CPU performance. It's so far ahead of the pack that Apple chose to give the iPhone 14 and 14 Plus 2021's A15 Bionic chip, which is about on par with what most 2023 Android phones offer in performance.
The gap used to be wider for previous generations, but the Galaxy S23+ closes the gap somewhat thanks to the Snapdragon 8 Gen 2, Qualcomm's excellent follow-up to the thermally-challenged Gen 1 chip last year. Samsung still falls short in CPU performance, but thanks to the extra RAM, it's actually the better option for graphically-demanding tasks (like gaming).
Either phone will give you speedy day-to-day performance. But if you need specifics, the Future Labs benchmarks below show these two phones' differences:
Swipe to scroll horizontally
| Benchmark | Samsung Galaxy S23+ | Apple iPhone 14 Pro |
| --- | --- | --- |
| Geekbench 5 (Single-Core) | 1524 | 1891 |
| Geekbench 5 (Multi-Core) | 4642 | 5469 |
| Adobe Premiere Rush | 0:39 | 0:26 |
| 3DMark Wild Life Original Unlimited | 14509 | 12413 |
| 3DMark Wild Life Extreme Unlimited | 3730 | 3217 |
Harish Jonnalagadda, our long-time phones expert who reviewed both the Galaxy S23+ and iPhone 14 Pro, specifically praised Samsung's offering as a gaming phone that can "challenge the might of the A16 Bionic."
With it, "you get lag-free gaming even during extended sessions," with a "noticeable difference in fluidity versus last year" and "no slowdowns whatsoever in daily use." Plus, thanks to the jump to UFS 4.0 storage, the Galaxy S23+ offers a better read/write speed on par with what Apple usually offers with its NVMe storage.
To be clear, the iPhone 14 Pro remains the undisputed leader for daily performance speed; but as a gaming phone, the smaller memory and poorer battery (not to mention the 6.1-inch display) make it less suited. You probably want the Pro Max to resolve the latter two points, at least.
The other benefit of the Snapdragon 8 Gen 2 is that it's much more efficient than previous generations, giving the Galaxy S23+ a battery life boost. Future Labs estimates that the S23+ lasts about two hours longer than the iPhone 14 Pro, and one of the biggest knocks against the Pro is that it'll barely last a full day of use despite having a larger battery than the 13 Pro.
You'll need to buy the 14 Pro Max for more dependable longevity if you're a more active user; otherwise, you'll want to keep a portable power bank on hand just in case. Plus, the maximum 20W charging speed means you'll only hit about 50% charge in 30 minutes compared to 70% on the S23+ despite its much larger capacity.
Only Apple supports MagSafe wireless charging, while Samsung relies on the less popular Qi charging standard. But only Samsung phones have a reverse wireless charging option that lets you recharge other devices on top of your phone.
Swipe to scroll horizontally
| Spec | Galaxy S23 Plus | iPhone 14 Pro |
| --- | --- | --- |
| Chipset | Snapdragon 8 Gen 2 for Galaxy Devices | Apple A16 Bionic |
| Display | Flat 6.6-inch AMOLED (Up to 1,750 nits) | 6.1-inch XDR OLED (Up to 2,000 nits |
| Resolution | 2340 x 1080 (393ppi) | 2556 x 1179 (460 ppi) |
| Refresh rate | 120Hz (48-120) | 120Hz (1-120) |
| Memory | 8GB | 6GB |
| Storage | 256GB/512GB UFS 4.0 | 128GB/256GB/512GB/1TB NVMe |
| Main rear camera | 50MP (OIS), ƒ/1.8 | 48MP ƒ/1.8, 1.22um pixels, sensor-shift OIS |
| Telephoto camera | 10MP (OIS), f2.4, 3x optical zoom | 12MP ƒ/2.8, OIS, 3x optical zoom |
| Ultra-wide angle camera | 12MP, ƒ/2.2 | 12MP ƒ/2.2 wide-angle, 1.4um pixels |
| Front Camera | 12MP, ƒ/2.2 | 12 MP ƒ/1.9 AF |
| Battery | 4,800mAh, 45W USB-C Fast Charging, 15W Wireless Charging, 5W reverse wireless charging | 3200mAh battery, 20W wired charging, 15W MagSafe |
| Updates | Up to Android 17 (four updates), security through early 2028 | Up to iOS 21 or 22 (five or six updates); security through late 2028 |
| Security | Ultrasonic in-screen fingerprint sensor | Face ID |
| Connectivity | Wi-Fi 6E, sub-6 and mmWave 5G, UWB, NFC, Bluetooth 5.3 | Global 5G bands, Wi-Fi 6, Bluetooth 5.3, NFC, UWB, Emergency SOS (NA) |
| Dimensions | 157.8 x 76.2 x 7.6 mm | 147.5 x 71.5 x 7.85mm |
| Weight | 196g | 206g |
| Colors | Phantom Black, Cream, Violet, Green | Space Black, Silver, Gold, Deep Purple |
| Protection | IP68, Gorilla Glass Victus 2 | IP68, Ceramic Shield |
Comparing other specs between the Galaxy S23 Plus and iPhone 14 Pro, both should hit the same 5G bands and have the latest Bluetooth standard and Ultra Wideband support. Samsung added the newer Wi-Fi 6E standard, which primarily matters if you own a compatible router; you may not have one now, but both phones have years of promised software support, so you'll appreciate this future-proofing.
Apple added the new satellite-based Emergency SOS feature, letting you use your iPhone 14 Pro to call for help if you're somewhere without cellular service. It's a fantastic feature, one that Samsung is working on but didn't bring to the Galaxy S23 series despite rumors to the contrary. Just keep in mind that Emergency SOS is only available in some countries like the U.S.; international iPhone 14 Pro owners may not be able to use it initially.
Samsung Galaxy S23 Plus vs. iPhone 14 Pro: Cameras
These phones have quite similar sensor hardware across their three rear camera sensors and selfie cameras. The S23+ and 14 Pro main cameras have nearly the same megapixel size, identical apertures, and optical image stabilization (OIS), while the telephoto lenses share a 3X optical zoom.
Cameras are one area where the Galaxy S23 Ultra wins over the iPhone 14 Pro, but the more standard hardware on the S23+ means that the differences between it and the Pro come mainly down to software and subjective taste in how each company uses post-processing to touch up photos.
Both the Galaxy S23 and S23+ have the same cameras, and our S23 reviewer noted that Samsung is "often very aggressive in its processing, punching up the colors and contrast way more than they need to be." He also noted that Samsung's notoriously slow shutter speed can be the phone's "downfall" for capturing fast-moving subjects.
But our S23+ reviewer argued that its photos are more "accurate" to life than the last generation, with reduced artificial saturation and noise and increased "dynamic range and detail." And he specifically praised the quality of Night Mode shots and the "color balance and accuracy" of the wide-angle lenses, something our Galaxy S23 reviewer agreed with.
Plus, we love the new selfie camera, which uses improved AI to "separate the subject from the background and making the artificial bokeh more natural."
As for the iPhone 14 Pro cameras, our reviewer raved about them, noting that the "higher-res sensor delivers incredible shots in daylight situations, with excellent color accuracy and high levels of contrast," while noting that it "also does an incredible job in low-light situations."
But not everyone agrees with that assessment. Plenty of iPhone 14 Pro users have complained about Apple overprocessing their photos, making the colors look washed out and the overall appearance artificial. It's certainly a point-and-click phone capable of taking great photos, but not nearly at the same level as the Pixel 7 Pro.
In other words, both of these phones' postprocessing software have issues that Samsung and Apple must address before their camera hardware lives up to their potential.
Samsung Galaxy S23 Plus vs. iPhone 14 Pro: Which should you buy?
As with most Apple vs. Android comparisons, the Samsung Galaxy S23 Plus vs. iPhone 14 Pro discussion is mostly academic, since iPhone and Android users tend to stick to their respective camps. iPhones have their usual strengths and weaknesses compared to the best Android phones, and you already know which one you prefer.
Both phones should last you at least five years, though Apple phones tend to have slightly better trade-in value over time. Their processors make powerful leaps compared to past generations, so they shouldn't feel obsolete for quite some time.
You can choose the iPhone 14 Pro (or Pro Max) for the best visual experience, but some people would sacrifice the extra pixels and nits of brightness to remove the Dynamic Island in favor of a hole-punch camera.
Really, the only significant flaws to worry about with the iPhone 14 Pro are its mediocre battery life — you can always turn off AOD or buy the Max to help with that — and its eSIM restriction. Frequent travelers or those who want more carrier flexibility might go with the Galaxy S23+ for that reason.
Whichever phone you choose, rest assured that you're getting one of the best 2023 phones available.
Choose the Galaxy S23+ to prioritize robust performance that doesn't sacrifice battery life, attractive selfie shots, and the usual Android software perks. Downgrade to the Galaxy S23 for a one-handed experience or upgrade to the Ultra for the best possible Samsung specs.
Choose the iPhone 14 Pro for all of Apple's usual perks along with some vital upgrades to the display, cameras, and safety features. Don't choose the iPhone 14 Pro if you want a reliable all-day phone, or upgrade to the Pro Max if you want a display size on par with the S23+.
Sign up for Black Friday email alerts!
Get the hottest deals available in your inbox plus news, reviews, opinion, analysis and more from the Android Central team.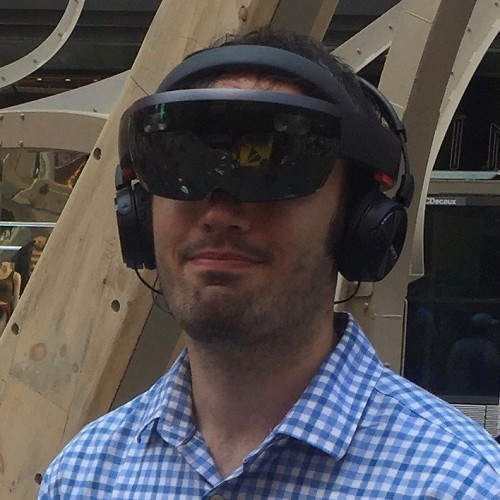 Senior Editor, VR/AR and fitness
Michael spent years freelancing on every tech topic under the sun before settling down on the real exciting stuff: virtual reality, fitness wearables, gaming, and how tech intersects with our world. He's a semi-reformed Apple-to-Android user who loves running, D&D, and Star Wars. Find him on Twitter at @Michael_L_Hicks.