Samsung Galaxy S23 Ultra vs. iPhone 14 Pro Max: Battle of the behemoths
The flagship battle continues.
New year, new Galaxy
The Galaxy S23 Ultra is likely to remain as a contender for best smartphone until the calendar flips into 2024. It has plenty of cameras, a gorgeous display, and improved performance to go along with the built-in S Pen.
For
Incredible 200MP main camera
Battery life is finally on par with the iPhone
More comfortable to hold and use
Built-in S Pen is fantastic
Samsung DeX is game-changing
Against
More expensive
No upgrades to the charging speeds
Incredible hardware
iOS may not be everyone's cup of tea, but it's hard to argue with the level of performance offered by the iPhone 14 Pro Max. Apple is starting to lag behind in photography, and the phone might be a bit cumbersome to handle, but it's still easily one of the best smartphones that money can buy.
For
Dynamic Island is unique and interesting
The best battery life in a smartphone
Arguably the best for mobile videography
Premium build quality
Incredible processing power and speed
Against
No physical SIM card slot
Expensive
Same heavy and awkward design
Stuck at even slower charging speeds
Unless you find yourself looking at one of the fancy new foldable phones, all the options are essentially still the same. This means slabs of glass with a metal frame, and plenty of cameras to go around, at least for the flagship phones. This trend continues with the Samsung Galaxy S23 Ultra vs. iPhone 14 Pro Max, as these are likely going to be the two most popular flagship devices for most of 2023, at least until the iPhone 15 Pro Max arrives.
Samsung Galaxy S23 Ultra vs. iPhone 14 Pro Max: Design and display
Why you can trust Android Central Our expert reviewers spend hours testing and comparing products and services so you can choose the best for you. Find out more about how we test.
The Galaxy S23 Ultra is using a 6.8-inch AMOLED (3088 x 1440) display, while the iPhone 14 Pro Max comes with an everso-slightly smaller 6.7-inch OLED panel. It also should come as no surprise that both of these devices are equipped with adaptive refresh rates between 1-120Hz, which also plays into the incredible battery life.
On the surface, both the Galaxy S23 Ultra vs. iPhone 14 Pro Max look identical to their predecessors, but there have been a couple of major changes. Samsung is still using the same trypophobia-inducing camera array on the back, along with a pinhole cutout for the selfie camera.
But where Samsung made one of its biggest changes was in the severity of the curves found across the device. Starting with the screen, the Galaxy S23 Ultra is 30% flatter than its predecessor, as Samsung aims to answer concerns about its premium flagship being too cumbersome to hold. This is great news, especially for those who regularly take notes using the built-in S Pen, as you'll have more surface area to work with, and don't have to worry about accounting for the edges of the screen as much.
Samsung also flattened out the sides of the Galaxy S23 Ultra a bit, which may not seem like much of a change until you actually hold one. Even with an almost-7-inch display, the phone is now more comfortable to hold and while you'll still likely want to grab one of the best Galaxy S23 Ultra cases, those who prefer to go case-less will have a better time.
Apple, on the other hand, has been sticking with the same design that was introduced back with the iPhone 12, invoking a bit of nostalgia harkening back to the ultra-popular iPhone 4. This means flat edges and corners that dig themselves into your palms. And while rumors for the iPhone 15 lineup suggest Apple will be taking a similar approach to the Galaxy S23 Ultra, the fact remains that using an iPhone 14 Pro Max isn't all that comfortable.
One area where Apple did make a change is with the all-new Dynamic Island, taking a different approach to the selfie camera altogether. Because the iPhone still relies on Face ID for biometrics, Apple couldn't just switch over to a pinhole camera as we've seen from pretty much all of the best Android phones.
Instead, it opted to leave the notch for the non-pro iPhone 14 models, integrating an interesting design choice. Thankfully, Apple didn't just ditch the notch and slap an oblong cutout at the top of the screen. The Dynamic Island is actually interactive, expanding to show things like the timer that you just set or the album artwork after closing Spotify.
Samsung Galaxy S23 Ultra vs. iPhone 14 Pro Max: Performance and battery
Where the S23 Ultra is finally able to match up is in the efficiency gains provided by the all-new Qualcomm Snapdragon 8 Gen 2 for Galaxy. Clock speeds have been improved across all of the cores, making it even faster than the "regular" Snapdragon 8 Gen 2 found in the OnePlus 11 and other recently-released flagship devices. There's also a new cooling system that Samsung has implemented, which greatly reduces the amount of heat emitted, in turn, providing more stable performance and battery life gains.
Apple's A16 Bionic chip is still at the top of its class, in terms of both smoothness and performance. The iPhone 14 Pro Max handily outperforms the Galaxy S23 Ultra in single-core Geekbench performance metrics, but the gap has definitely been narrowed and it's not quite as large in terms of multi-core performance.
Along with the improved performance gains, the Galaxy S23 Ultra seems to handle mobile gaming quite a bit better than its predecessor, also matching up with what the iPhone 14 Pro Max can offer. In our comparison of the Galaxy S23 Ultra vs Pixel 7 Pro, Nick Sutrich found that the S23 Ultra "pushes a full 50 FPS with nary a dip in performance" while playing Fortnite.
Swipe to scroll horizontally
| Spec | Samsung Galaxy S23 Ultra | Apple iPhone 14 Pro Max |
| --- | --- | --- |
| Chipset | Snapdragon 8 Gen 2 for Galaxy Devices | Apple A16 Bionic |
| Display | 6.8-inch Dynamic AMOLED 2X, 3088x1440, 120Hz adaptive refresh rate (1-120Hz) with 240Hz touch sampling, 1,750 nits peak brightness | 6.7-inch Super Retina XDR OLED (2796 x 1290), 120Hz adaptive refresh rate (1-120Hz), HDR10, 2000 nits peak brightness |
| Memory | 8 or 12GB | 6GB |
| Storage | 256GB/512GB/1TB | 128GB/256GB/512GB/1tb |
| Main rear camera | 200MP, ƒ/1.7 | 48MP ƒ/1.8 |
| Telephoto camera | 10MP, ƒ/2.4, 3x optical zoom | 12MP, ƒ/2.8, 3x optical zoom |
| Telephoto camera 2 | 10MP, ƒ/4.9, 10x optical zoom | ❌ |
| Ultra-wide angle camera | 12MP, ƒ/2.2 | 12MP, ƒ/2.2 |
| Front Camera | 12MP, ƒ/2.2 | 12MP, ƒ/1.9 |
| Battery | 5,000mAh, 45W Fast Charging, 15W Wireless Charging, 5W reverse wireless charging | 4,323mAh, 20W wired charging, 15W wireless charging (MagSafe), 7.5W Qi wireless charging |
| Security | Ultrasonic in-screen fingerprint sensor | Face ID w/ SL 3D depth/biometrics sensor |
| Connectivity | Wi-Fi 6E, sub-6 and mmWave 5G, UWB, NFC | Wi-Fi 6, sub-6 and mmWave 5G, UWB, NFC |
| S Pen | ✔️ | ❌ |
| microSD card slot | 🚫 | 🚫 |
| 3.5mm headphone jack | 🚫 | 🚫 |
| Dimensions | 163.4 x 78.1 x 8.9 mm | 160.7 x 77.6 x 7.9mm |
| Weight | 234 g | 240 g |
| Colors | Phantom Black, Cream, Green, Lavender | Space Black, Silver, Gold, Deep Purple |
| Protection | IP68, Gorilla Glass Victus 2 | IP68, Ceramic Shield glass |
For the first time in arguably forever, Samsung's latest Galaxy S23 Ultra could actually go toe-to-toe with the iPhone in one of the biggest metrics - battery life. We're not going to get into the whole Android vs. iOS debate, as that's been constantly played out, but Apple's biggest iPhone regularly takes home the crown for the longest-lasting smartphone.
Samsung decided to stick with a 5,000mAh battery in the Galaxy S23 Ultra while Apple uses a respectable 4,323mAh cell. But in battery tests, the 14 Pro Max has been capable of reaching two days of use on a single charge, and you could push it even further if you enable Low Power Mode.
At the time of this writing, we're still working on our full Galaxy S23 Ultra review, but Nick has already pointed out that the battery is "super impressive." He's able to easily get two days of battery life "several times," something that simply was not possible on the Galaxy S22 Ultra without basically leaving the phone untouched.
Battery life on the Galaxy S23 Ultra is legit. Super impressive stuff. Only thing I wished it did was charge faster, but it's not "slow," per se. pic.twitter.com/6d5YB8Ivh8February 10, 2023
Another area where both the Galaxy S23 Ultra vs. iPhone 14 Pro Max continue to disappoint is in the charging speeds. While there are now phones that can reach 240W charging speeds, the S23 Ultra is still "stuck" at peak speeds of 45W, whereas Apple seems to have forgotten that phones can safely charge past 20W. No matter which phone you decide on, be ready to wait awhile if you need to go from 0-100%.
Samsung Galaxy S23 Ultra vs. iPhone 14 Pro Max: Cameras for days
It was pretty obvious if you watched Samsung's most recent Galaxy Unpacked event that there was a lot of focus on the upgraded camera system, pun intended. That's thanks to the introduction of a 200MP main lens on the Galaxy S23 Ultra.
And while that's definitely the star of the show, the Galaxy S23 Ultra is also equipped with three other rear-facing cameras. These include a 10MP 3x telephoto camera, 10MP 10x telephoto camera, and a 12MP ultra-wide lens. The secondary, tertiary, and quaternary cameras are mostly unchanged from the Galaxy S22 Ultra, while the new 200MP lens has more than four times the number of megapixels found in the iPhone 14 Pro Max.
However, if you were to go back just to the iPhone 13 Pro Max, the gap would be even greater, as Apple upgraded the main sensor in its latest device to a 48MP wide-angle lens. Previously, Apple had a Google-like approach to the cameras, implementing slightly-upgraded 12MP sensors every year.
In addition to offering a much better main sensor, Samsung gains an advantage thanks to having an extra rear camera. The iPhone 14 Pro Max sticks with the "tried and true" triple camera array, with the aforementioned 48MP main lens, along with a 12MP ultrawide and a 12MP 3x telephoto sensor.
Our Galaxy S23 Ultra vs. iPhone 14 Pro Max camera comparison is coming soon, but for the time being, it definitely seems that Samsung's phone offers much better camera quality. However, that's not to say that the iPhone is completely out of the race, as there are some nuances when it comes to using Samsung's smartphone cameras that might cause more than a bit of frustration.
The biggest one of these is the shutter lag which has been a problem for years on the best Samsung phones. When you tap the shutter button on the S23 Ultra while focusing on a stationary object, it's not really noticeable. But that tune immediately changes if you're trying to take a picture of an object that is moving.
Samsung knows that this is an issue, as it introduced an all-new Camera Assistant module for Good Lock. When installed, users have the ability to enable "Quick tap shutter" which will "take pictures as soon as your finger touches the Shutter button instead of when you lift it off." There are also "Capture Speed" settings that can be tweaked to improve the shutter lag, but the end results don't really offer a substantial difference and you'll have to sacrifice image quality even more.
Meanwhile, unless you are using Apple ProRAW for taking pictures on the iPhone 14 Pro Max, the photo is captured as soon as the Shutter button is tapped. ProRAW is a bit different as it's doing the same thing that Samsung's cameras are doing all of the time, as it immediately begins processing the picture. The problem is that if you don't care about the processing and just want, or need, to quickly capture something, there's a good chance that you might miss it when using the Galaxy S23 Ultra.
Samsung Galaxy S23 Ultra vs. iPhone 14 Pro Max: Which should you buy?
When it comes to deciding a "winner" between the Galaxy S23 Ultra and iPhone 14 Pro Max, there really isn't one that is better than the other. Sacrifices have to be made on either side of the fence, such as missing out on Samsung's excellent DeX mode if you opt for an iPhone. And if you go for the Galaxy S23 Ultra, then you'll miss out on Apple's incredible Siri Shortcuts, along with knowing that your $1,100 smartphone will last get the latest iOS updates for the foreseeable future.
Samsung has definitely improved on the software front, as the Galaxy S23 Ultra will continue to be supported by security patches until 2028. However, unless something changes in the near future, major software releases are "limited" to three years (2026).
Trade-in deals notwithstanding, both of these phones are also quite expensive, with the base model Galaxy S23 Ultra priced at $1,199, and the iPhone 14 Pro Max starting at $1,099. However, there's even a catch in that regard, as Samsung is not offering the Galaxy S23 Ultra with 128GB of base storage. Meaning that in direct comparison, both of these phones with 256GB of storage are equally matched.
It appears as though Samsung working closely with Qualcomm on the Snapdragon 8 Gen 2 for Galaxy is already paying major dividends, closing the gap in performance. You'll also get a built-in S Pen, a total of five cameras, and all of the luxuries we enjoy from the world of Android.
Besides a few hiccups, the iPhone 14 Pro Max continues to offer one of the most stable experiences on a smartphone, complete with arguably the best video recording and still the best battery life. But then you'll have to decide whether it's worth entering Apple's "walled garden" and everything that entails. Which now includes the removal of a physical SIM card tray in favor of going eSIM-only.
The truth is, no matter where you put your money, you'll end up with an incredible phone that will last for years and is well-equipped for almost everything you can throw at it.
The kitchen sink
If you want a non-folding smartphone that takes the "kitchen sink" approach, the Galaxy S23 Ultra is the way to go. It offers incredible battery life, excellent cameras, and still includes an S Pen.
It's time for a design refresh
Apple's iPhone 14 Pro Max does everything you would expect from a flagship phone. But even with the addition of Dynamic Island, it's time for Apple to make a phone that's more comfortable to use.
Get the Android Central Newsletter
Instant access to breaking news, the hottest reviews, great deals and helpful tips.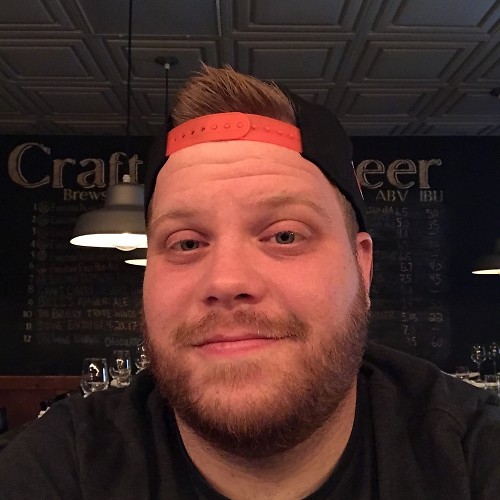 Senior Editor - Chromebooks, tablets, and wearables
Andrew Myrick is a Senior Editor at Android Central. He enjoys everything to do with technology, including tablets, smartphones, and everything in between. Perhaps his favorite past-time is collecting different headphones, even if they all end up in the same drawer.