Moto Z2 Force vs. Samsung Galaxy S8: Top dollar battle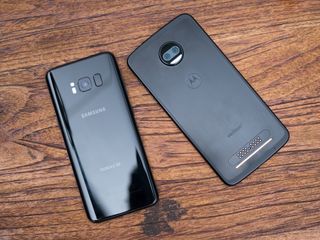 When you launch a phone that costs over $700, you're pretty clearly targeting the top of the mainstream phone market. So for the new Moto Z2 Force, it's going to be expected to go head-to-head with the proven Galaxy S8. Both phones have some clear advantages, a couple of less-desirable features and some points of personal preference to boot. Which one deserves your money, though? We compare the two so you can decide.
Image 1 of 5
On the Motorola side of things, the Moto Z2 Force hardware hasn't changed much since last year on account of its Moto Mod compatibility. It's still a handsome and unique device, though, particularly if you've taken a liking to its flat and angular looks. The aluminum frame is robust and nicely chiseled, with plenty of flat surfaces and angles not only on the back but also the front. It's a bit on the wide side and its 6 mm thickness and perfectly flat, slippery back make it rather tough to manage in one hand without a Mod on the back.
The Galaxy S8's design is pretty much the antithesis of the Z2 Force — it's narrow, curved and smoothed in just about every area. Setting the two side-by-side it's quite amazing how much more hand-friendly the Galaxy S8 is — not just in its narrow profile, but its curved edges that don't jut into your hand so sharply. The one clear downside of all this size-trimming is the fingerprint sensor, which is much harder to reach than the standard placement on the front of the Moto Z2 Force.
Display area is about the same on the two phones, but the big differentiator is the Moto Z2 Force's ShatterShield display that's guaranteed to not break in the first four years you own it. On the other hand, the Galaxy S8's Gorilla Glass 5 is tough, but its curves and tiny bezels give it effectively zero extra protection against cracking when dropped. If you're clumsy, this is a pretty clear choice ... although if you're willing to take it easier on your phone the Galaxy S8's display is a bit better overall and its glass feels better to your fingers than the Z2 Force's plastic coating.
Internally, this is a dead heat, with both phones offering a Snapdragon 835 processor, 4GB of RAM and 64GB of storage. Of course the calculation changes a tad if you're outside of the U.S. where the Z2 Force bumps to 6GB of RAM, but given the performance of these two phones it doesn't seem like that's going to make too much of a difference. Of course you also have the battery, where the slightly-below-average Galaxy S8's 3000mAh capacity is nearly 10% larger than the Z2 Force's 2730mAh. Neither one is going to be a multi-day phone, but you may like the prospects of the Galaxy S8 give you a little extra breathing room.
Image 1 of 5
The camera comparison here is interesting because the Moto Z2 Force has a new setup with dual lenses but ostensibly lower overall specs on them. The pair of 12MP cameras — one monochrome, one color — let the Z2 Force take great black-and-white shots as well as selectively focused photos with dramatically blurred backgrounds. But with just an f/2.0 lens, no OIS and smaller pixels, the Z2 Force's cameras aren't likely to produce the same consistent low light shots that the Galaxy S8's single camera can. The Galaxy S8's front-facing camera wins in some respects with its higher resolution (8MP), brighter lens (f/1.7) and auto focus, but the Z2 Force is no slouch with its 5MP sensor getting a nice boost from a dual-tone front-facing flash.
Much like their hardware, these phones are differentiated strongly in their software. Samsung's experience is consistent and familiar to those who are upgrading from other Samsung phones, but the piles of features and additions may be off-putting to someone who wants a cleaner interface, simpler experience and choice over what they put on their phone. Motorola's software strikes a great balance between keeping things simple and providing just a handful of user-friendly features. Moto Actions, Moto Display, Moto Voice and just a few other tweaks add to Android without being distracting or heavy-handed, whether you've used a Motorola phone before or not.
The only true wildcard in this comparison is the Moto Z2 Force's bevy of available Moto Mods to augment its experience, which really don't have an equivalent on the Galaxy S8. If you like the idea of having a phone that could pretty seamlessly expand its capabilities over the year or two that you own it, this is where you want to be. Your Mod usage may be just a Style Shell early on, but over time you may add wireless charging, or a big speaker, or a battery pack or something new entirely without having to buy a whole new phone. That's pretty neat.
Choosing where to spend the big bucks
For most people who are a bit flexible in what they get out of a phone, either the Moto Z2 Force or Galaxy S8 will get the job done — which you should buy will come down to your preferences on the design, shape and brand recognition. Both phones offer top-end specs, screens, hardware quality, cameras and performance.
But when you're being asked to pay around $750 for a phone, it's totally reasonable to have high expectations and want something very specific. The Galaxy S8 clearly offers more features, a slightly nicer display, a more compact design and great extras like I68 water resistance, wireless charging and a 3.5 mm headphone jack. The Moto Z2 Force has a shatterproof screen, cleaner software, interesting dual camera tricks, better fingerprint sensor placement and a truly unique system of interchangeable Moto Mods.
On the whole, most people will see the scale tip toward the Galaxy S8 for everything that it does. But with so much overlap in what these phones do and the few areas where the Moto Z2 Force has unique advantages, it's worth considering in this price bracket.
Be an expert in 5 minutes
Get the latest news from Android Central, your trusted companion in the world of Android
Andrew was an Executive Editor, U.S. at Android Central between 2012 and 2020.