Moto Z2 Force Edition specs: Snapdragon 835, 4 or 6GB RAM, 2730mAh battery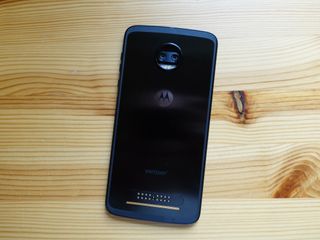 The Moto Z2 Force Edition is the company's most powerful, and flexible, phone ever. It's made to take a beating, with its break-proof ShatterShield screen cover technology, but at 6.1mm thin it's extremely easy to wield in one hand. And while the Moto Z2 Force Edition is the spitting image of the Moto Z2 Play, it features a dual camera setup and a high-resolution Super AMOLED display. The only real downgrade from the Moto Z2 Play, and the original Force, is the battery size: reduced to 2730mAh, the phone falls back on Moto Mods support to extend uptime.
Swipe to scroll horizontally
Category
Spec
Operating System
Android 7.1.1 Nougat
Display
5.5-inch 1440p Super AMOLED
ShatterShield shatterproof display
Processor
Qualcomm Snapdragon 835 octa-core
GPU
Adreno 540
RAM
4GB (U.S.)
6GB (ROW)
Storage
64GB (U.S.)
128GB (China)
Expandable
Yes, up to 2TB
Battery
2730mAh
Charging
USB-C
15W TurboPower fast charging
Water resistance
Water-repellent nano-coating
Not waterproof
Rear Camera 1
12MP (1.25µm pixels) color sensor
f/2.0, PDAF
laser-assisted autofocus
Rear Camera 2
12MP (1.25µm pixels) monochrome sensor
f/2.0, PDAF
laser-assisted autofocus
Front Camera
5MP f/2.2
85-degree wide-angle lens
Front-facing dual-tone flash
Connectivity
Gigabit LTE (X16 baseband)
802.11 a/b/g/n/ac dual-band
Bluetooth 5.0 (after Android O update)
Moto Mods support
Security
One-touch front fingerprint sensor
SIM
Nano-SIM slot
Network
U.S. (AT&T / T-Mobile): LTE: B1, 2, 3, 4, 5, 7, 8, 12, 17, 20, 25, 26, 28, 29, 30, 38, 40, 41-Japan & China, 66, 252, 255
U.S. Sprint: CDMA: BC 0, 1, 10 LTE: B1, 2, 3, 4, 5, 7, 8, 12, 17, 20, 25, 26, 28, 29, 30, 38, 40, 41-Japan & China, 66, 252, 255
U.S. Verizon & US Cellular: CDMA: BC 0, 1 LTE: B1, 2, 3, 4, 5, 7, 8, 12, 13, 17, 20, 25, 26, 28, 66
ROW: CDMA: BC 0, 1, 10 LTE: B1, 2, 3, 4, 5, 7, 8, 12, 17, 18, 19, 20, 26, 28, 34, 38, 39, 40, 41-Japan & China TD-SCDMA: BC34, 39
Dimensions
155.8 x 76 x 6.1 mm
Weight
143 g
Colors
Super Black
Fine Gold
Lunar Grey (T-Mobile-only)
Daniel Bader was a former Android Central Editor-in-Chief and Executive Editor for iMore and Windows Central.
Why not offer two variants, one w small and other w bigger battery size. A mod adds a lot more weight as a battery rather than internal battery, plus it leaves the mod free to do something else

Why is the US version 4GB??

The 1st thing that caught my eyes: "The only real downgrade... is the battery size: reduced to 2730mAh". Is this a new race toward the bottom? Let's see how small we (as phone OEM) can shrink the batteries and the suckers (aka consumers) still gobble up our claim about battery optimization.
Compared to this, a not-so-long-ago 3000 mAh seems humongous now!

No this is to force more people to buy a battery mod.

Very possible. Whatever their reason is, the tiny battery sucks and will deter a lot of people from buying it.

Small battery, less RAM, large bezel, no water resistance... This phone may be for someone but that someone is not me.

It does have water resistance.

I actually think the Z2 play is better. It has a bigger batter and a headphone jack. Plus looks like the same exact camera. Minus the second camera.

Not really. The Z2 Play's camera is a single module and has larger pixels. To compensate for the smaller pixels, the Z2F has a monochrome sensor with the same setup, almost exactly like the Huawei P9, but with different apertures, ISP and software.

Well that's even better! That would mean Moto Z2 Play would probably be better in low light with larger pixels.

Again, not really. Remember that the Z2 Force has a secondary sensor without a Bayer filter. That means it's much more sensitive to light. Combined with good processing, performance is theoretically equivalent to a single sensor with 1.7 micron pixels. Let's not forget that the Force has a better DSP.

We've reached a point where yearly upgrading is pointless. Just throwing fast CPU and more RAM into a phone just won't cut it for me. I love the idea of mods, but since they'll work my my Moto Z Droid, I'll just get a few new mods and keep my old phone.

Agreed. The mods actually are a disincentive to me to upgrade this year. If I want to spend money, why not just buy more mods for my Z Play? The phone runs like new and it will take a heck of a lot of battery degradation to be an issue.

That's why I'm in no rush to get rid of my note 4. Yes it's over 2 yrs old. But it still runs damn well and the removable battery is so so sweet.
I can only hope just like unlimited plans returned so do removable batteries.
I don't care about optimization. Batteries are getting smaller. Smaller! And sealed! That's crazy to me
Water resistant is less important imo than removable batteries.
And guess what the s5 showed us that we can have both.
Ppl, don't let them think credit card thin phones with sealed in batteries are the way to go, they're not

LOL; you have a Note 4 that actually works?! One that doesn't stutter/freeze/lock up, and reboot constantly (even frequently self-rebooting to the "Download Only" screen), after taking forced OTA updates?! I do declare - whatever did you do to keep yours functioning properly? And, yes - I already tried the WakeLock "fix", which really didn't help mine (I just got this phone about 4 weeks ago).

Just kept it in a case, never rooted. Tmobile network fyi.
Ummm, nothing out of the ordinary, just been good with it.
Long live the mighty note 4

So the phone overall looks good. Minus the battery capacity. Yeah, you're gonna need a battery mod for this. Oh, and the regional thing. Will probably just keep my OG Z for another year.

It's officially Lenovo now that China's getting a version with more RAM and Storage.

I was looking forward to this phone, until it was actually revealed with a tiny battery, geographical crippling, mediocre water resistance, and a lack of OIS. Not no, but HELL NO.

They really just screwed themselves with that small battery. Was planning on getting one for my daughter who is going away to college, mainly because I could get her a phone that I wouldn't have to worry about when it comes to screen damage. No way is that battery going to cut it for her and she is not going to carry around battery mods. You lost a sale Moto because of your greediness to sell battery mods.

Better off getting her a Z Force from last year instead and save a few $.

2730 mAh battery = DOA for me.

It's crazy, bat$h!t crazy

Lmao ahahahah ahahahah I laugh every time I read the price and look at the specs

And as usual lenovorola / lenovo-motorola almost never does updates. only get one bump, from 7.1->8.0 (wont ever see 8.1) and never get monthly patches. A lot of their 64--bit hardware phones run 32-bit images too. Crap.
Android Central Newsletter
Thank you for signing up to Android Central. You will receive a verification email shortly.
There was a problem. Please refresh the page and try again.