Samsung Galaxy S8 and S8+ specs: Everything you need in a phone today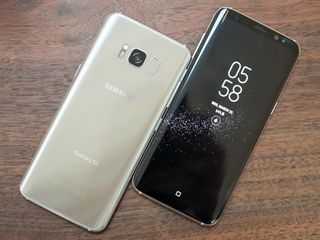 For the past couple of generations, Samsung has been able to fit everything we're asking for into a phone. It gets top-end specs and features into sleek and relatively compact devices, and that's the case again with the Galaxy S8 and S8+. Though many of these hardware features were found on the Galaxy S7, you'll find that the Galaxy S8 simply added to the equation without dropping anything in the process.
Here's the complete spec sheet for the Galaxy S8 and Galaxy S8+.
Swipe to scroll horizontally
Category
Galaxy S8
Galaxy S8+
Operating System
Android 7.0 Nougat
Android 7.0 Nougat
Display
5.8-inch AMOLED
2960x1440 (570 ppi)
6.2-inch AMOLED
2960x1440 (529 ppi)
Processor
Qualcomm Snapdragon 835
or Samsung Exynos 8895
Qualcomm Snapdragon 835
or Samsung Exynos 8895
Storage
64GB (UFS 2.1)
64GB (UFS 2.1)
Expandable
microSD up to 256GB
microSD up to 256GB
RAM
4GB
4GB
Rear Camera
12MP Dual Pixel, f/1.7
1.4-micron pixels
OIS
12MP Dual Pixel, f/1.7
1.4-micron pixels
OIS
Front Camera
8MP, f/1.7
auto focus
8MP, f/1.7
auto focus
Connectivity
Wi-Fi 802.11ac MIMO
Bluetooth 5.0
NFC, GPS, Glonass, Galileo, BeiDou
LTE Cat.16
Wi-Fi 802.11ac MIMO
Bluetooth 5.0
NFC, GPS, Glonass, Galileo BeiDou
LTE Cat.16
Charging
USB-C
Fast charging
Qi wireless
Powermat wireless
USB-C
Fast charging
Qi wireless
Powermat wireless
Battery
3000mAh
3500mAh
Water resistance
IP68 rating
IP68 rating
Security
One-touch fingerprint sensor
Iris scanner
Samsung KNOX
One-touch fingerprint sensor
Iris scanner
Samsung KNOX
Dimensions
148.9 x 68.1 x 8 mm
159.5 x 73.4 x 8.1 mm
Weight
155 g
173 g
Get the Android Central Newsletter
Instant access to breaking news, the hottest reviews, great deals and helpful tips.
Andrew was an Executive Editor, U.S. at Android Central between 2012 and 2020.
Why are the batteries so small with screens this big?

First reason is likely the form factor, screen size isn't an accurate measure because of the aspects ratio. Second and most important is that Samsung might, just might, have learned a lesson from the note 7 debacle.

The battery life on the S7 running Nougat is already far from ideal...on the S8, with an even unnecessarily bigger screen but the same battery capacity it will likely not be better...on the contrary. Shame =\

Both S8 phones have a more efficient processor compared to the S7 phones though.

You're correct. However, the S8/S8+ have quite a bit more screen real estate to power up. My guess is that the battery life will be pretty similar.

No noticeable battery life changes for me going from marshmallow to nougat on my s7e. Still getting some of the best battery life I have had in a phone.

S8+ battery is a 35mAh and with the Saving issues the phone can use, thinking is great. I m a survivor of a Mega 6.5. still my official cell. so I have the experiance Battery not an issue here

Hm, 3000mAh might be good for that overall size but that's not a lot for a tall display. I'm hoping that the 10nm SoC and software plus display help stretch it. The U Ultra's battery life isn't exactly inspiring for the S8, since the U is larger overall but has the same size battery.

Hahaha I just wrote the following: Hmmm I wonder if the S8 will get hammered by the tech writers for having ONLY a 3000 mAh battery with that display size and resolution. I personally don't have a problem with it, but it'll be interesting to see their take on it.

I wonder how much the camera software will improve the overall quality?

That's one of my main concerns. For Samsung not to highlight the camera performance (or what they did to make it better), makes me think they're not interested in being the "leader" when it comes to photos. The AC podcast even delves into what Samsung should do in terms improve the likelihood of taking great pictures each time the shutter is pressed. There was no evidence of them doing that in the event today. For them to say, "better low light performance" and leave it at that makes me think they dropped the ball. Clearly they're focusing on Biometric Security and Bixby with the S8.

People say this every year. And every year Samsung rates near the top in camera results.

I am sure Samsung have included as big a battery as they SAFELY could. And remember these phones may be tall but they are not wide, unlike the Mate 9 for instance.

And why can't it be SAFELY made to be a little thicker?

The phone is thicker then the s7

The battery is too small for the display size, especially on the regular S8, and the FPS placement is terrible. Those are my two biggest issues with the new S8's, along with the high probability of false touches, and 6Gb of RAM looking like a China only thing. Oh, and that update thing, too, yeah. Beautiful phones, but not for me this go round. Enjoy.

With Iris scanner and facial recognition, you might not need the FPS.

Quick Charge 2.0, 3.0, or 4.0?

I'd really like to know as well!

The S8+ is only 1mm wider than the S7 edge with a much bigger screen. Nice!

Where do you see that? It's (S8+) both taller and wider than the S8 by more than 1mm. I see that it's thicker by .1 mm though.

I'm comparing it to the S7 edge, not the S8.

Doh!!!! My mistake. You did say S7

No official confirmation if it supports QuickCharge 4.0?

I'm sure I'm outnumbered on this, but I could care less about the "infinity" screen. I'm more into function/performance rather than looks/form. And...I'm waiting on the new Note(?). (I am a big user of the pen). My questions from you all would be; 1. How do you use a screen protector with this model when the screen edges are rounded. 2. How do you make a protective case for this model? I think we'd ALL agree that you need a case to protect this investment. What good is fancy form when you have to hide it in a case? What happens to the "infinity" edges when using a case? I'll be glad if/when the 'rounded glass edge' fad goes away. I'd much rather have them concentrate on battery life and stellar camera performance. (Not that this camera isn't good, it is, but could even be better.) I'm still using the N4 but it IS getting old in the tooth regarding performance. (And no "loop pay" (magnetic) radio, which I use Samsung Pay a LOT!)

I was on here a couple years constantly complaining about battery life and size. Looks like things haven't changed.

Preach. For a 6.2 inch display it should be 3800/4000 on the low end. Done with these guys who can't seem to figure this simple, all day battery life (for moderate users) thing out. My Z Play is spec'd way lower but it is as smooth as my 6P was in day to day use, and I never...*ever*.... worry about how long it will last.

lol true.
as soon as they get more power efficient processor, battery gets slimmer and features and tolling hardware are thrown in.
they won't let you have a 24 hr comfortable use of their phones period.
idk, but more I see if these "flagships of the year" in 2016 and probably through 2017 I'm more committed to buying Z Play. battery anxiety is definitely on top of my list.

"battery anxiety"...You'll forget that phrase even exists with the Z Play...

As an current owners of a Z Play as well, you can put your fears of battery anxiety away. It's incredibly good and Moto's TurboCharger is also incredibly fast as well. I'm not sure if it's as fast as Huawei's SuperCharger or OnePlus's Dash Charge but it's definitely fast enough.

yeah I know. I got it for my wife last November and I'm just hating since then :) she is a heavy user and charged every other day. snappier than any phone we had in 7 yrs.

New processor so I'm sure it'll be about the same as the s7 edge which works great for me . The s7 edge has won most battery drain test that I've seen on YouTube

just a little different right ? right now i didn't see what S8 and S8+ can do

Guess we'll have to wait and see . After the production phones are released these are demo phones

Finally a replacement for the Mega that instigated we Old Timers to a more versatile technology

I may have missed it with all the other stuff floating around with this device. It comes with USB-C. Right?

I don't get it why they call it bezel less/infinity phone. The curved part of the front is unusable, so Samsung may as well have bezel there, which would be big bezel. The gimmicky name; infinity, doesn't help at all. If you want bezel less phone, you have see Xiaomy one.

It's usable in the edge-screen feature.

I have a Galaxy S7 and, this being my first Samsung, I didn't know what to expect regarding battery life. Unfortunately I'm disappointed. I can't do much on the phone without the battery plummeting.