AT&T's Moto X officially getting its Android 4.4 KitKat update!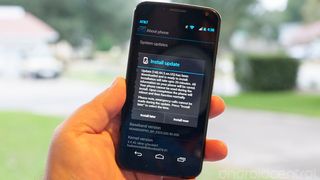 Another Moto X is added to the KitKat stables
Motorola has just confirmed that the AT&T Moto X is getting its Android 4.4 update.
Shortly after the soak test began, the KitKat update is on it's way to everyone with a Moto X on AT&T. This makes the third (fourth if you count the developer edition) Moto X to be updated to KitKat. We're excited, We know you're excited. Heck, we're also excited that you're excited.
The release notes are after the break.
Source: AT&T (opens in new tab)
AT&T Moto X Android 4.4. update changelog
Android™ 4.4, KitKat: Android 4.4, KitKat, is the latest release of the Android platform. KitKat includes enhancements such as restyled status and navigation bars, a new full-screen mode, color emoji support, improved closed captioning support, stronger security, smarter power use, and more tools and capabilities for better app development.
Phone dialer: Improved the phone app with the ability to look up contacts directly from the dial pad, see and tap frequent contacts, and search your corporate directory easily.
Camera - Focus and exposure: Enhanced the "touch to focus" option with a new circular, on screen control that can be dragged by your finger around the viewfinder to adjust a photo's focus and exposure.
Gallery - Photo editing: Added new photo editing options to the Gallery app including new filter effects, draw on your photos, advanced cropping, and adjustments to color, exposure, contrast and more.
Hangouts -SMS/MMS support: Incorporated a new version of Google Hangouts that supports integrated SMS/MMS messaging. Hangouts can be set as the default SMS app under Settings > Wireless > Default SMS app.
Touchless Control - "Find my phone": Added a new "Find my phone" command to Touchless Control. Just say "OK, Google Now-find my phone" and your Moto X will ring loudly to let you know where it's hiding when you've misplaced it nearby.
NFC - Host card emulation: Enhanced support for NFC Host Card Emulation (HCE), to improve experiences such as contactless payments, loyalty plans, transit passes, card access and more.
Accessory support: Added support for Square credit card reader
Senior Editor — Google Ecosystem
Jerry is an amateur woodworker and struggling shade tree mechanic. There's nothing he can't take apart, but many things he can't reassemble. You'll find him writing and speaking his loud opinion on Android Central and occasionally on Twitter.
My Moto X arrives Monday. Will feel like I've got a Nexus, I imagine.

Other than the higher cost, you've probably got better. You've got a Nexus with well thought out and useful exclusive software.

It's not even close to a nexus(unless its the dev edition). Go get a Moto X from AT&T and try to unlock the bootloader via a simple fast boot command, flash a recovery and then a ROM of your choice. Not going to happen. I'm not trying to be a smart a**, in just making a point. Edit...I would love to have a developer edition moto X though. Posted via Android Central App

That depends on what you want out of a Nexus. If you want a Nexus because of the unlocked bootloader/custom ROM/custom kernel/etc. capabilities, then yeah, the Moto X isn't going to cut it. But if you want a Nexus because you love the stock Android experience and want updates fast, the Moto X definitely will. I'm on Verizon, so unfortunately the Nexus 4 and 5 have been out of my reach, but I had always wanted one because of the stock experience. I don't bother with root/custom ROMs/etc. unless I feel I need to. For me, the Moto X is everything a Nexus could be, and I personally prefer its design to the Nexus 5.

Nexus is meant to be rooted. Posted via Android Central App

I love how everyone is shitting on the Nexus line now that the Moto X is out. Posted via Android Central App

all the way up until the N5, it deserved it. The Gnex and the N4 really deserved it. Not sure about the prior ones. The N5 only has the camera problem as a major issue, the battery can be reasonably dealt with. With something like the X you get the best of both. A stock like experience with actual feature built in to enhance the experience. As stated before, and not by me alone, Pure Android is a barebones OS that is meant to be built upon. The X right now does it lighter than the others. Notice I didn't really say better, but lighter. You really cannot have a better because everyone wants/needs different things from their phones.

Sound quality of the speaker on the N5 is also a major issue. Plus the screen looks washed out. So other than battery, sound quality, screen contrast, and camera its Googles best effort to date.

I want to know why Moto didn't add the business directory lookup to the dialer. That was a dumb thing to leave out of 4.4 Posted via Android Central App

Let's get it out of the way again.. And yet my N4 still has no kitkat Posted via Android Central App

Trooth,
Be patient my N4 got it last night. Start up splash screen reminded me of Google Edition roms on SGS4's.

Who gets a nexus device and waits for OTAs? Posted via Android Central App

True. Posted via Android Central App

Just got it!!
http://goo.gl/ai0RE4

Can't wait to use Google wallet on my Moto X along with my Nexus 5. My Nexus 7 (2012) received kit kat today! I may wait a week to hear the feedback before updating.

I hope the Sprint and US Cellular get it before Thanksgiving. Keep it up Moto.

Couple a days is my guess. Posted via Android Central App

r u kidding me... sprint and us cell will get it in 2 days

Um... Idk if I'm wrong or the article, but I signed up for the soak test and I believe this update is just for soak test members.... Posted via Android Central App

Nope it's on motorola's twitter account as well

Yeah. I find it strange as well, but the same happened with the Verizon soak test. Pushed out really quick. Go moto. I'm on my nexus 5. Can't wait to get home to my moto x. Posted via Android Central App

nope, my bro just got it on his and he's not part of any soak test or dry test

O.O So glad I chose to pay full price for a custom Motorola X. They are really surprising me lately with there phone support!

Thank you!!!!! Posted via Android Central App on my Moto X

Update Is downloading ! Posted via Android Central App

Super impressive. They even muscled the carriers to get out of the way. Super encouraging and looking to Moto in July when I'm ready for an upgrade.

And I'm still waiting for kitkat on my nexus 7 Posted via Android Central App on the New Nexus 7!

Sideload. Could not be any eaiser. Posted via Android Central App

I'm gettin' some now!! Posted via Moto Galaxy X Nexus One 7s (2013)

From your wife or your phone!? Posted via Android Central App

Unfortunately, just the phone :( haha Posted via Android Central App

Lol, =( Posted via my "Gift from God" Nexus 5

After the update, the differences are minor, hardly noticeable really. The hangouts and Find My Phone features were there before so nothing new.
Camera? Haven't had time to test that, but never really had any complaint before.

I agree, the differences are very minor, but to me it is more important to note the fact that updates are actually being rolled out in a timely manner as promised.

What? An AT&T phone getting a timely update? I must have stepped into an alternate universe by mistake! Hats off to Moto and Google for getting their shit together in a big way! Posted via Android Central App

Yeah, that AT&T is rolling out is surprising. Probably shamed into it by Verizon having the X for way less time and already pushing an update. On the other hand, I wonder if Moto+Google has taken over the push for AT&T, and pretty much negotiated them over toward the flower bed to look at all the pretty pretty while the Grownups do the software push.

Looking at the changelog, nothing ATT centric was added or modified which may explain why the phone was updated so fast... Usually the Death Star wants to either add bloat or make sure that the updates will work with their bloat which adds to the delay. Posted via Android Central App

I think Motorola announced the full release on AT&T before my soak test had finished downloading. WTF? Not that I am complaining, but what was the point of the soak test? Anyone?

Normally there is more time between the soak test roll out & the final OTA. However due to the success of the other variants update I assume they decided to just push it out. Posted via Android Central App

Yea I'm guessing you are right, I just don't see why they even bothered then. Oh well. Off use Google Wallet tap to pay

Just got my update. I will say after owning a Droid Bionic while I was on Verizon it is very refreshing to see new updates rolled out as promised.

Of course Sprint is last, this makes perfect sense. But not complaining, I thought these updates would come months later anyway

When is Verizon S4 getting it? Posted via Android Central App

Considering the Verizon S4 got 4.3 under a month ago, it's going to be a while for 4.4, my friend: http://www.androidcentral.com/verizon-galaxy-s4-android-43-update-landing-today-gear-support-band-iv-lte

But my phone heats up and the international version got another 65MB update to address this issue.Weren't we suppose to get 4.4 during holidays season?

The leaked documents say january ----------------------------------------------------
My S-Pen went through hell to deliver this important message to you

What a bunch of BS! Moto talking about a soak test, confidentiality, etc...then do a system wide release? lol..

When you consider how minor this release really is, and the fact that its probably been in testing for weeks, the soak test is more to see how many phones get bricked by users doing updates rather than the phone not working.

My 2012 Nexus 7 is still on 4.3 disappointed. Posted via Android Central App

So if you are so disappointed side load it. Not trying to be mean to you but I hear so many people sit and complain about not receiving the OTA. In the time it takes them to complain, they could have already manually performed the update. Meh. Posted via Android Central App

True. Posted via Android Central App

AT&T has been sitting on 4.2/Sense 5 for HTC One X for months now but they have the time and resources to push this out first? This is ridiculous.

As soon as AT&T released the One X+, you should have known that any future support for the original One X was a pipe dream. Posted via Android Central App

Both the One X and the One X+ are on the same update schedule. It astonishes me that they push out an update they just received while waiting on one they've had for months and are still "testing".

Oh, ok. Yeah, that's definitely a load of crap. I love how carriers use the "still testing" cop-out, to avoid issuing an update or allowing devices to run on their network. Posted via my "Gift from God" Nexus 5

So many phones get left behind boss..that's why I went Nexus and my fiancée went iPhone. So easy to side load updates to the Nexus line. I'm not sure if the CyanogenMod program includes the One X, but you don't have to be rooted to enjoy more up to date software if the One X is supported. I would hit up their website and check it out. Posted via Android Central App

My One X from Telus is still sitting on 4.1.1... lol Telus is the worst with OTA updates, it took them well over a year to update the Milestone (Droid) and HTC Desire. Hopefully the wait won't be long for my Rogers Moto X.

Just used the new camera. Huge improvement for me. Yay! Posted via Android Central App

Wasn't there a update for the ATT HTC One X that was started and then pulled off real quick? I think my Wife asked about a notice on her one x about an update and then when I checked it wasn't available? Probably doesn't matter because as far as ATT is concerned the one x is old news now. Still a nice phone though. Sent via the DeathStar with my CM 10.2 S3

I really, really hope this translates into sales for Motorola. They really deserve it. The KitKat rollout has been stunningly fast, and I was absolutely shocked to see Motorola Connect updated yesterday to work with Hangouts. Previous experiences with OEMs (I used to be an HTC guy) taught me to expect updates to come either never or so late that you're not excited to see them anymore. They're just getting it right in every way. Putting the core experience apps on the Play Store is brilliant. But people need to vote with their wallets, because if Motorola doesn't move units despite all this progress, this winning streak won't last long. (That being said, Google seems ready to support them financially for the long haul, so thank god for that.)

Unfortunatly, Samsuck will continue to own the market. BTW, Samsung devices won't see Kit Kat until next year, at the earliest. Hell, they are just getting 4.3 and only because they wanted their devices to work with their failure of a smart watch.

Lmao. You're hater Posted via Android Central App

I agree totally. I suspect that Moto becomes the Nexus provider for number six or seven.

Mine got update tonight. I see very little reason for the Nexus anymore.

I'm glad your not in charge at Google. The Nexus will be my phone of choice for the foreseeable future. Everyone is forgetting that the Nexus is a developer phone that is easily modifiable. All of us that buy the Nexus because of the dev community would not even think about a carrier branded Moto X. Posted via Android Central App

This. Thankfully, Motorola sells an unbranded Moto X directly from their website. Also, if you're on prepaid, the Nexus is the way to go, unless you don't mind financing the Moto X. Posted via my "Gift from God" Nexus 5

Considering that I have had my last two nexi for fast updates and pure Android.... I have found my solution in my Motorola Moto X. Woke up this morning to the update on my Moto, while my Nexus 7 still hasn't seen one. Hello Moto! :-)

This site has almost everything to do with why I decided to buy a Moto X. I had been struggling to choose between the Moto X and the Nexus 5 and after very thoroughly researching my options I decided to go with Moto X. I realize both phones have a lot to offer, but the "bells and whistles" (as my brother calls them, he owns a Nexus 5) are exactly what I wanted in a phone. Locing the new update!

/shakes fist at Moto X Posted via Android Central App, HTC One
Android Central Newsletter
Thank you for signing up to Android Central. You will receive a verification email shortly.
There was a problem. Please refresh the page and try again.