The Pixel 6 isn't even out yet and Google is already offering discounts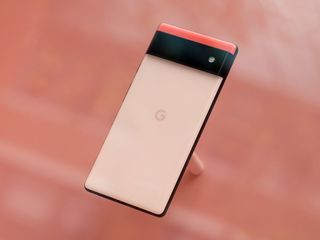 (Image credit: Michael Fisher / Android Central)
What you need to know
Google is offering discounts on the upcoming Pixel 6 if you make purchases on its online store.
The discount only applies to certain countries where the Pixel 6 will be sold and may expand to others.
Google has yet to announce a price for its upcoming flagship but is expected to pride more details in October.
There's no shortage of hype in the run-up to the Google Pixel 6 launch, especially around Google's birthday. And even though we're likely a month from the full reveal, some Google is already offering discounts on its upcoming flagship to celebrate turning 23.
9to5Google spotted the offer on the Google store in a few different Asia-Pacific countries where the Pixel 6 will be sold, offering what looks to be the U.S. equivalent of $50 off the price of the device.
In Australia, purchasing anything from the store will reward you with "$70 off the upcoming Pixel 6 phones," and the company even throws in a 15% discount code (BDAYSURPRISE) to sweeten the deal. The code can be used on nearly any item in the store, except for the new Nest Cam and battery-powered Nest Doorbell.
It appears to be roughly the same deal in Japan and Taiwan, and the code even works on the Pixel 5a, which is available only in the U.S. and Japan.
As per the Australian site, eligible purchases must be made from September 25 to September 27. Customers will receive an email with the promotional code by November 30 and must use the code by December 31 or else forfeit their nice discount.
Google has yet to provide a price for the Pixel 6, but given the $AU999 launch price of the Pixel 5, any bit counts, especially since the Pixel 6 will be competing with some of the best Android phones of 2021 and much of 2022 as well.
The offer hasn't appeared for other countries where the Pixel 6 will be sold, but Google is teasing "surprise offers" as part of a 24-hour sale scheduled for September 27 in other countries like the UK. The U.S. and Canada are notably left out of the fun.
A true Pixel flagship
The power of AI in your hands
The upcoming Google Pixel 6 Pro is set to become Google's best smartphone ever with its new custom-built SoC that will power the phone's AI and machine learning on-device, enabling better photography with its triple-camera system, improved speech recognition, and tons of new experiences.
Derrek is a long-time Nokia and LG fanboy who loves astronomy, videography, and sci-fi movies. When he's not working, he's most likely working out or smoldering at the camera.
If google thinks they can sell this phone at iPhone 13 $799 or iPhone pro $1000 they are crazy. $699 for 6 and $899 for Pro tops...before the inevitable sales...

I live in Australia I am, all set for the 70$ of a Pixel 6 Pro, bought another pair of Pixel Buds, to qualify, the Buds had a 15% discount also, with the Birthday sale, in regards to pricing, for the upcoming Pixels, I have a feeling Google will place the Pixel 6 $100-$150 lower than the Iphone 13, ($1349) so my guess would be $1200 and the Pixel 6 Pro at around the same price or $100-$200 less than the Iphone 13 Pro, ($1699) say $1500, that is on par with what they have done with most of the Pixel releases, here, would love to be wrong though, for context the Pixel 5 was selling for $999 , the Pixel 4XL (64 gig) was $1279, Pixel 3XL was $1399 (64 gig), if base Pixel 6 Pro is $1500 ill be picking up one day one.

Be prepared for those high end flagship prices, Google already said that was going to be the case.

If the specs turn out to be true for the Pixel 6 Pro in particular and the updates for 5 years is true then Google selling the Pixel 6 series at iPhone pricing will be justified in my opinion.

Pixel is not for everyone. The Pixel 6 is particular is upping the hardware across the board compared to previous pixels to justify a higher price. But there are plenty of people, not just me, that are ready and willing to buy this phone the instant it comes out simply because it is the best camera experience on any phone bar none. The consistency of excellent shots you can get with a pixel is unparalleled. Google makes the "A" series for the masses. People that don't understand the difference in camera software will stick with Samsung and Apple. That's fine. But there are more and more people that understand the camera is the most important part of a smartphone and Pixel is head and shoulders above the competition and will continue to be with it's AI advancements and Tensor chip.

Why offer a discount on something most places in the United States can't purchase yet??? Makes no sense. I am starting to wonder if this series of phones is overhyped? Yet I really want to get my hands on a 6pro

I want one too. But I'm gonna wait until some have been sold. Then I wait for the headlines here at AC: Oh the screen sucks... The battery life on Pixel 6 is terrible... etc! If they don't appear I will see what deals are available. Not now!

if you don't go with pixel 6 or 6pro what are you leaning towards?

Misleading headline aside, seems like they are offering discounts in markets where they are trying to increase exposure.

Just wish that Google would release the Pixel phones here in New Zealand. Treats us like a tech 3rd world country though quite happy to take you money for other services.
Android Central Newsletter
Thank you for signing up to Android Central. You will receive a verification email shortly.
There was a problem. Please refresh the page and try again.