T-Mobile's wild deals include a free Galaxy S21 and $200 in Samsung credits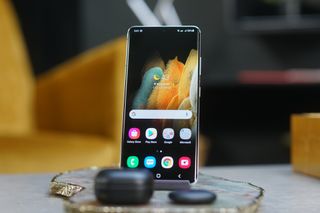 (Image credit: Android Central)
What you need to know
T-Mobile customers can get $800 off a new Galaxy S21 when trading in an eligible smartphone.
Customers can also get $200 in Samsung credits when purchasing one of the new smartphones.
The Galaxy S21 smartphones are currently available for pre-order, and officially release on January 29th.
The Samsung Galaxy S21 smartphones aren't even available yet and T-Mobile is already going all-in on the deals. For users pre-ordering one of the new Samsung flagships, T-Mobile is offering up to $800 off if you trade in an eligible device! That means you'll be getting the Galaxy S21 for free!
Customers can pre-order the new Samsung Galaxy S21 5G today and get it free with eligible trade in. Experience the newest Galaxy phone on the 5G leader in coverage.Customers can pre-order the new Samsung Galaxy S21 5G today and get it free with eligible trade in. Experience the newest Galaxy phone on the 5G leader in coverage.— T-Mobile (@TMobile) January 14, 2021January 14, 2021
Of course, there are some caveats. Fortunately, this deal doesn't require you to add a new line, but the amount of trade-in credit you get depends on the device, with the following smartphones making you eligible for the full $800:
Apple: iPhone 11 series, iPhone X, iPhone XR, iPhone XS series
Samsung: Galaxy S10 series, Galaxy S20 series, Galaxy S20 FE, Galaxy Note20 series, Galaxy Note10 series, Galaxy S9 series, Galaxy Note9 series
Google: Pixel 4a series, Pixel 4 series
OnePlus: 8 5G, 8T+, 7T Pro
LG: V60, Velvet, Wing
Other smartphones, such as the iPhone 8, Galaxy S8, LG V50, and OnePlus 7 Pro will snag you up to $400 off, which isn't bad. And if you've got an iPhone 7, Galaxy S7 or S6, Pixel 2, OnePlus 6, or LG V40, any one of those will get you up to $200 off.
The device has to be in good condition for it to count towards the credit, and once traded in, the value of the device is applied as a one-time bill credit and deducted from the total offer amount, which is then applied over 24 months to reduce the price of the Galaxy S21.
In addition, T-Mobile is also offering up to a $200 Samsung credit when you pre-order a Galaxy S21 Ultra! The Galaxy S21+ will score you $150 in Samsung credits, and you'll get $100 for the base model. With that, you can head over to Samsung's website and potentially snag yourself the new Galaxy Buds Pro!
And if you're still on the fence about them, check out Daniel Bader's Samsung Galaxy Buds Pro review and find out why these are easily some of the best wireless earbuds. And of course, Samsung is throwing in a free Galaxy SmartTag when you pre-order any of the Galaxy S21 smartphones, which is just the icing on a very sweet cake!
Head over to T-Mobile to see if your device is eligible for these awesome Samsung trade-in offers (opens in new tab).
The new standard
Look no futher.
The Galaxy S21 is Samsung's latest 5G smartphone. With the latest Qualcomm Snapdragon 888 processor, a large AMOLED 120Hz display, triple-camera system, there's almost nothing you can't do with this smartphone.
Derrek is a long-time Nokia and LG fanboy who loves astronomy, videography, and sci-fi movies. When he's not working, he's most likely working out or smoldering at the camera.
I wonder if my S20 FE has to be paid off.

Of course. Think they are going to pay off your old phone AND give you a "free" one?

I do not see where TMobile is offering up to $200 in Samsung credits. I only see the device trade in offer. I do see Samsung themselves offering an additional credit for people ordering the TMobile branded device from the Samsung store. How do I find this Samsung credit when ordering a device through TMobile?

Agree - author Derek Lee needs to provide a source or correct the article. Otherwise, people are gonna feel ripped off.

Okay, so I actually just contacted Samsung. The promotion line opens 1/27 and closes 2/28. Once you get your new phone, you download the shop samsung app, and register for the offer. Once verified, you'll get the credit sent via email.

Yes, I couldn't find that either. I also asked someone in store and they said they didn't know anything about it. They told me to check samsungs website, and see if they had something that said it on there, so I'm not sure what the deal is there. It'd be quite awesome if we got that $200 in credit.

After calling Tmobile, they were asking me for an insane down-payment! 780 for the Ultra 512 gb. After the trade in.. And I'm currently only financing 1 phone.. When before I had like 4-5 phones at a time! And according to my friend who works at tmobile, my account has the best rating for pricing. So decided to order from Samsung directly, I have their credit card for financing and it's the best choice! You also get 250 credit for accessories through the shop Samsung app, and better deal on trade ins. Paying 33 a month the Ultra 512gb.

T-Mobiles financing had always been insane. I don't know of anyone, even with perfect credit walking out without an absorbent amount of money down for their phones. I think they do that so that way they at the very least make their money of the product in case someone decides not to pay.

I checked with T-Mobile and my Note 10+ was only going to get $325, so I wonder where the $800 comes in? Maybe with the 20 line. From Samsung, I got $550 for the trade-in plus the $260 in Samsung credit along with the Samsung Tile knockoff. Honestly, I didn't even need a new phone but I didn't want to wait until my trade-in value was basically nill.

That is just the normal trade-in amount, not the promotion. T-mobile's systems are bad about showing you what you will get with the promotions, but they have always delivered in the end for me. I always screen shot all the terms and conditions just in case.

Just to double-check, I just finished a chat session w/ Samsung support. You have to pre-order your S21 between Jan 14-28. Then, using the Shop Samsung app ON YOUR NEW S21, you'll be able to register for the promotion between Jan 27 through Feb 28. The offer includes BOTH the credit AND a smarTag!
Android Central Newsletter
Thank you for signing up to Android Central. You will receive a verification email shortly.
There was a problem. Please refresh the page and try again.