USB Type-C FAQ — everything you need to know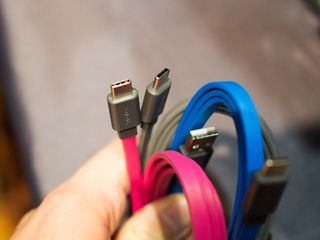 More people every day are picking up Android phones with a new power port on the bottom. MicroUSB has started the slow march out, and USB-C is taking its place. It's an unusual port that does a whole lot more than charge your phone, and the companies that make third-party cables for everything have been learning as they go that USB-C is wildly different from what we've been using up to this point.
It's a change that has brought about a ton of questions regarding safety and extended usage over time, so we've put together this handy little FAQ to get you ready to use USB-C.
Image 1 of 2
Image 2 of 2
Why the switch to USB-C?
We've been using microUSB in lots of things for a long time now. As an industry standard, it saved many people from needing to worry about using multiple kinds of cables to charge their various gadgets. (So long as those gadgets all used microUSB.) USB-C takes that idea and expands it to a single port that can be used on any kind of computer, not just the small one you keep in your pocket. This oval port aims to replace microUSB, miniUSB, and the rectangular USB-A port you see in desktops and laptops.
Not only is it universal, it's more capable than all of these other ports combined. USB-C enables faster data transfer between two devices and significantly faster charging of all your devices. It's a significant step forward, but because there are already a massive number of devices in the world with other USB ports it's going to be a slow step forward.
Image 1 of 2
Image 2 of 2
Will my battery actually charge faster with USB-C?
Yes. Sort of. Here's how this works.
The USB-C spec is capable of delivering power at significantly greater rates than anything you're using to charge your phones and tablets right now. For example, Google's Pixel C includes a 15W charger that will charge the tablet significantly faster than a Quick Charge 3.0-enabled USB-A power adapter. Google's Chromebook Pixel 2 includes a 60W charger to charge the massive battery inside that laptop within 2 hours. MicroUSB isn't capable of delivering that kind of power safely.
That said, USB-C phone chargers for the Nexus 6P and Nexus 5X charge at a similar rate to Quick Charge 3.0. Battery capacity and safety come in to play here, so you won't be seeing phones charging fully in minutes or anything like that. It's a very fast charge, but if you're up on current-generation charging tech you won't notice any significant difference on a phone. Five or 10 minutes, maybe.
When it comes to laptops and tablets, however, things get a lot more interesting.
What are the different kinds of cables?
In order to play nice with most of the computers out there today, as well as all of your current wall and car chargers, many phones with USB-C are shipping with a pair of cables. One has USB-C on both ends, and one has USB-C on one and and the rectangular USB-A on the other end. Shipping both cables ensures you're able to connect to everything, but it also ensures you get the fastest possible charging and data transfer by using the cord with USB-C on both ends.
Image 1 of 2
Image 2 of 2
Will I need new power adapters?
Eventually, yes. In fact, you should probably plan for it now.
USB-A power adapters aren't as capable as USB-C power supplies, and while you're able to charge your phone relatively the same way you can charge your phone right now with your current power adapter, things like supporting multiple rapidly charging USB-C phones and tablets on the same adapter is possible with USB-C. At some point, you're going to want to update.
Why hasn't every phone manufacturer switched to USB-C yet?
Phones and tablets are planned months in advance, and the phones we're seeing released now with microUSB still were being planned before the USB-C spec was finalized. Manufacturers had to choose between rushing to support the new standard or waiting a year. For a company like Samsung, which already had invested significant resources in the microUSB-powered Gear VR, rushing to support a new standard this generation didn't make sense.
What about the articles I read about faulty USB-C cables?
Some third-party manufacturers had problems early on making USB-C cables that followed the spec and were safe to use. This meant some particularly nasty side effects that resulted in damaged laptops, phones, and testing equipment. When you have a massive retailer like Amazon allowing new products to be listed regardless of regulatory clearance, and manufacturers willing to lie about whether their cables had passed safety checks in order to sell quickly in a market that is competing to see which cable is cheaper and somehow better at the same time, problems arise.
Fortunately, a lot of those issues are being dealt with in a number of key ways. For starters, extra USB-C cables are now much easier to purchase from the companies that made your gadget in the first place. We're also seeing public outcry and reviews from incredibly smart folks result in significant changes to cables being sold on store like Amazon.com. You can check the reviews section of just about any of the top-rated USB-C cables on Amazon right now and find commentary regarding the quality and safety of the cable. Here's a great example of what to look for in the Amazon review.
How do I know I'm buying a safe USB-C cable?
The first step should always be your manufacturer. The company that made the hardware you're using either made the cable that goes with it themselves or contracted out to a trusted source to get those cables made. Those cables are designed to work with the hardware you are using. With exception to a recall performed by Apple, cables provided by the manufacturer have all been safely made. If you're ever not sure, buying cables from your manufacturer or a trusted brand is a good way to go in this situation.
If you're specifically looking for third-party cables and want to confirm the quality, you can look in the reviews section for that product on Amazon for detailed analysis or check out Google Engineer Benson Leung's suggestions on quality USB-C cables.
Are you sure this USB-C thing isn't a fad?
While nothing is ever set in stone, USB-C is a standard that has been adopted by Apple, Google, LG, HTC, and dozens of other companies already. It's a new standard, which means it'll be a while before most folks are only using USB-C, but it looks like that is the general direction things are heading. If you only end up using USB-C to charge your phone for the next year or two, that's okay. If you dive in head first and only use things that are USB-C enabled, that's OK, too.
Russell is a Contributing Editor at Android Central. He's a former server admin who has been using Android since the HTC G1, and quite literally wrote the book on Android tablets. You can usually find him chasing the next tech trend, much to the pain of his wallet. Find him on Facebook and Twitter
Me personally I like USB Type C it makes charging your device less of a hassle despite USB Type C being hard to find in stores. Posted via the Android Central App

any good car charger for the 6P? i feel like anything i've tried takes forever unlike the original wall charger that comes with it.

There are three at the link. All tested by Benson Leung
https://usbccompliant.com/

I bought the Vinsic charger, no complaints.

whoa why is Nomad Roadtrip so much more expensive?

It has a built in battery so you can grab and go.

For the UK/EU amazon - usbccompliant.co.uk

I have the Vinsic charger from the link aslowe provided. It's on Benson's list of approved, and it works nicely. It even slowly charges my 5x if I'm running Waze and streaming music .

Vinsic makes a good one for about 9 bucks. Charges my 6p rapidly works great and has a normal USB slot as well for other devices. Posted via the Android Central App

I love the article Russell. I was just discussing the ins and outs of usb-c with my coworker 20 minutes ago. I am going to share this article to him.

Anyone else with a nexus 6p have charger issues? My 2 month old 6p wall brick died. Posted via nexus 6p

That sucks ... Did you contact them? No issues with mine.

Did you contact Google/Huwaiwei, I am sure they would send your a new one since you are still under warranty. Posted via the Android Central App

Yeah I contacted them, they want me to send my entire phone to them. Told me it would take 3 weeks. Lol Posted via nexus 6p

Thunderbolt 3 with USB C port is the most glorious thing that ever happened to cables :D
It's nearly perfect.

OnePlus screwed up their original cables, so it's not just Apple that did so. http://www.androidpolice.com/2015/11/26/oneplus-concedes-that-its-type-c... Posted via the Android Central App

I'd say it's not the same thing, the apple cable was actually faulty, while the OnePlus one was designed to work with the OnePlus 2, which it does fine. It was a bad design choice, but a design choice rather than a fault none the less. Posted via the Android Central App

Is there something wrong with fastcharging on 5X? I read something about touchscreen lag on the Internet and I would like to buy this device...

Not in my experience. My 5X does rapid charging very well. I wouldn't think you have to worry about that. Posted via the Android Central App

Hi Normen62, I've a Nexus 5X for about 4 months now. When I first got the Nexus 5X, using the supplied LG charger to quick charger my 5X caused a lot of touchscreen lag. This was solved by using any other charger (e.g. google's own type c wall charger) resulted in no lag. However following the March update I can confirm that there is NO LAG when using the original LG charger to quick charger.

So it's software related. Good, thank you. I tought it's hardware issue.

Where are the USB Type C hubs??? I have a Blade Stealth. Would love to use a USB type C connector while my USB type C charging cable is also in use. Amazon has 1 and only 1 type available.

You should check this out: http://www.amazon.com/MINIX-NEO-USB-C-Multiport-Adapter/dp/B01ANITHVQ/re...

Thanks for the article. I am gonna be in the market once I get my hands on the g5. Sucks with having multiple fast charging micro usb but oh well.... Anyone have any words yet on which chargers may work for the g5? Posted via the Android Central App

Excuse my ignorance, but is Apples lighting port a form of USB-C or something totally different? Posted via the Android Central App

Thanks, Russell! Very informative. Posted via the Android Central App

Samsung S7 with wireless charging, No USB required .

That is one good-looking infographic. Posted via Galaxy S7 edge

This isn't ALL WE NEED TO KNOW. I read reviews of some devices that had USB-C sockets that were only USB 2 compatible. The graphic in the story shows USB 3.1 Gen 2 giving up to 10 Gbps. Is it now a formal standard? What are the rules and who complies with them, and who doesn't?

Strange system. I edited a spelling error and it duplicated the post!

I'm fine with micro usb. I charge my LG G3 overnight and back up my data on my laptop every couple months... So I have no need for it Posted via the Android Central App on my LG G3

Does it support host to host functions now? Can't really find any definite answers.

What about Oneplus 2's Type-C port.. You didn't mentioned anywhere about Oneplus's port.. I read somewhere that the port on Oneplus 2 is just a micro usb port with a similar design of type - c, features of type-c are not available here.. Is this real?? Posted via the Android Central App

I would say please delve into the power requirements and the types for 3.1 a la Android Authority's article: http://www.androidauthority.com/usb-type-c-and-3-1-explained-656552/

I am not allowed to bring a USB-A cable into work. I want to quick charge my OG Nexus 6. Ideas? Qualcomm 2 or 3 battery pack with USB-C to micro-USB cable seems to fit the bill. Thoughts? Or does anyone make a QC charger with the wire built into the wall plug?

See if you can buy the Nexus 5X charger. It has USB Type C on both ends

I'm not spending a few hundred now when I'm going to get the next nexus to continue my Fi service

What about durability? I always dislike that my micro usb cable breaks after a few years. I hope usb-c is more durable than micro usb...

Prob won't be more durable. They are very similar in construction. Good thing they are cheap. Couple years out of a less than $5 cable is about all you should expect. Or buy the more "premium" cables but I doubt those would be any better

My biggest question that seems to be unanswered, is should there be a concern regarding the chargers used with the USB-C cables. I have some of the recommended USB A-C cables, but should I be worried that my car charger, 6-port charger, etc, are not good for charging through my USB-C cable?

I couldn't care less that Samsung didn't take on usbc. I have tons of chargers and cables. No need to replace them. My phone charges in an hour 20 from almost dead to 100. Not complaining about charging speed either. I can see the advantage of usbc, but still don't want to change as for me, there is zero benefit.

Yup, this is what I feel as well.

For laptops I can see the benefit. For phones, no. I don't know. To me the most significant sentence for me was this: "... It's a very fast charge, but if you're up on current-generation charging tech you won't notice any significant difference on a phone. Five or 10 minutes, maybe." That's it for me, bottom line. For my Note 5 with Quick Charge, I will get next to no benefit if it had USB-C. OTOH, I would have to replace about a dozen house and car chargers. So for me I'd have to pay about $100 - $200 in new chargers just to get practically no benefit from the new standard. I was VERY glad the Note 5 didn't come with USB C and I am not looking forward to the next device that does honestly ...

Hey guys QI and TYP C? I'm looking forward to buy the Xiaomi Mi5 and it has the Typ c port. I'd love to charge it per Qi wireless charching but it does not support it. -- Does anyone knows anything about a Qi receiver for Typ C usb?-- I only find the receivers for microUSB (the old one)?
Any suggestions or ideas? I know that there will be some receivers in the future. (There must be,) But I'd like to have a look now. Thanks

Based on the work from Benson Leung there are 30% of USB-C cables that fail the test. This has encouraged a lot of other individuals to do testing too and providing similar reviews. There are quite a few websites popping up in response to this such as: usbccompliant.co.uk (UK/EU) & usbccompliant.com (US).These sites have already been listing the "Benson" compliant cables listed on Amazon - but It is good to see Amazon taking accountability themselves.

Here is a list of all Benson Approved USB Type-C (USB-C) Cables & Accessories http://bensonapproved.com

PLEASE HELP
So I have an alarmclock that's an iHome brand. It has a dock where you can insert it into your iphone and it will charge. I recently purhcased the new Nexus 6P and am looking for preferably an adapter over a cord adapter wherein I can put it on top of the charger from the iHome alarmclock (which would essentially make it a lightening charger (the tip minus the cord as it is attached to the alarm clock), So, I'm wondering if they even make an adapter that i mcould plug one side into the lightening tip of the alarm clock dock and have the other end of the adapter to be able to plug into my new Nexus 6p phone that way I can still stand it on the dock of the alarm clock, instead of having to use a cord adapter where I wont be able to sit it on top of the dock. Does anyone know of such an adapter than I can search for, and what it would be called (i.e. lightening to USB-C adapter, or USB-C to lightening adapter, I would assume that it would be Lightening to USB-C adapter). Further, any brands/companies or specific adapters that won't blow out my electronics, like any chargers, my alarm clock and for sure my phone would be very welcomed! Thank you very much! I sure wish I had a knack for computer, IT knowledge as most of you do! Kinda Jealous! :)
PLEASE HELP!?!?!

So my unaddressed question involves USB C->A cables and chargers. The 100% compliant cables with 56K resistors limit charging current to 500mA. But we now have a zoo's worth of USB-A chargers [not hubs, chargers] that routinely deliver up to 2.4A to devices. What cable would allow a USB-C device to draw >500mA but >3A from such ports? This is of interest because thus far, no one makes a http://www.amazon.com/Anker-Charger-PowerPort-Android-Devices/dp/B0196JB... that is 12VDC in, only USB-A only devices like https://www.amazon.com/dp/B0119K3876/ref=wl_it_dp_o_pC_nS_ttl?_encoding=...

Dirt. They forgot about dirt. Get a bit of pocket crud in that connector and it's dead. Get the same stuff in the Apple Lightning connector and you can just shake it out. Not a fan of #USB-Type-C.

I think some of you guys that don't like USB-C don't see the potential of this new cable. If computers, tablets, phones and accessories all use USB-C then we would only need one cable for EVERYTHING. There is even speculation that future iPhones could come with USB-C since the MacBooks already do and if that happens everyone might finally be able to get along. If you needed to borrow a charger you wouldn't even have to specify the type because everyone would have the same thing! The faster charging and data speeds is nice but I think the real advantage of USB-C is that it will be universal!

Is it safe to charge a pixel 2 XL with a lenovo yoga 920 65W USB-C charger?
Android Central Newsletter
Get the best of Android Central in in your inbox, every day!
Thank you for signing up to Android Central. You will receive a verification email shortly.
There was a problem. Please refresh the page and try again.