USB Type-C FAQ — everything you need to know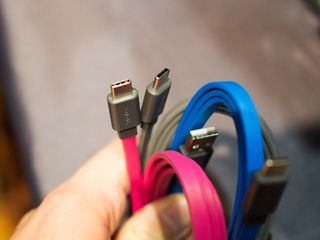 More people every day are picking up Android phones with a new power port on the bottom. MicroUSB has started the slow march out, and USB-C is taking its place. It's an unusual port that does a whole lot more than charge your phone, and the companies that make third-party cables for everything have been learning as they go that USB-C is wildly different from what we've been using up to this point.
It's a change that has brought about a ton of questions regarding safety and extended usage over time, so we've put together this handy little FAQ to get you ready to use USB-C.
Image 1 of 2
Why the switch to USB-C?
We've been using microUSB in lots of things for a long time now. As an industry standard, it saved many people from needing to worry about using multiple kinds of cables to charge their various gadgets. (So long as those gadgets all used microUSB.) USB-C takes that idea and expands it to a single port that can be used on any kind of computer, not just the small one you keep in your pocket. This oval port aims to replace microUSB, miniUSB, and the rectangular USB-A port you see in desktops and laptops.
Not only is it universal, it's more capable than all of these other ports combined. USB-C enables faster data transfer between two devices and significantly faster charging of all your devices. It's a significant step forward, but because there are already a massive number of devices in the world with other USB ports it's going to be a slow step forward.
Image 1 of 2
Will my battery actually charge faster with USB-C?
Yes. Sort of. Here's how this works.
The USB-C spec is capable of delivering power at significantly greater rates than anything you're using to charge your phones and tablets right now. For example, Google's Pixel C includes a 15W charger that will charge the tablet significantly faster than a Quick Charge 3.0-enabled USB-A power adapter. Google's Chromebook Pixel 2 includes a 60W charger to charge the massive battery inside that laptop within 2 hours. MicroUSB isn't capable of delivering that kind of power safely.
That said, USB-C phone chargers for the Nexus 6P and Nexus 5X charge at a similar rate to Quick Charge 3.0. Battery capacity and safety come in to play here, so you won't be seeing phones charging fully in minutes or anything like that. It's a very fast charge, but if you're up on current-generation charging tech you won't notice any significant difference on a phone. Five or 10 minutes, maybe.
When it comes to laptops and tablets, however, things get a lot more interesting.
What are the different kinds of cables?
In order to play nice with most of the computers out there today, as well as all of your current wall and car chargers, many phones with USB-C are shipping with a pair of cables. One has USB-C on both ends, and one has USB-C on one and and the rectangular USB-A on the other end. Shipping both cables ensures you're able to connect to everything, but it also ensures you get the fastest possible charging and data transfer by using the cord with USB-C on both ends.
Image 1 of 2
Will I need new power adapters?
Eventually, yes. In fact, you should probably plan for it now.
USB-A power adapters aren't as capable as USB-C power supplies, and while you're able to charge your phone relatively the same way you can charge your phone right now with your current power adapter, things like supporting multiple rapidly charging USB-C phones and tablets on the same adapter is possible with USB-C. At some point, you're going to want to update.
Why hasn't every phone manufacturer switched to USB-C yet?
Phones and tablets are planned months in advance, and the phones we're seeing released now with microUSB still were being planned before the USB-C spec was finalized. Manufacturers had to choose between rushing to support the new standard or waiting a year. For a company like Samsung, which already had invested significant resources in the microUSB-powered Gear VR, rushing to support a new standard this generation didn't make sense.
What about the articles I read about faulty USB-C cables?
Some third-party manufacturers had problems early on making USB-C cables that followed the spec and were safe to use. This meant some particularly nasty side effects that resulted in damaged laptops, phones, and testing equipment. When you have a massive retailer like Amazon allowing new products to be listed regardless of regulatory clearance, and manufacturers willing to lie about whether their cables had passed safety checks in order to sell quickly in a market that is competing to see which cable is cheaper and somehow better at the same time, problems arise.
Fortunately, a lot of those issues are being dealt with in a number of key ways. For starters, extra USB-C cables are now much easier to purchase from the companies that made your gadget in the first place. We're also seeing public outcry and reviews from incredibly smart folks result in significant changes to cables being sold on store like Amazon.com. You can check the reviews section of just about any of the top-rated USB-C cables on Amazon right now and find commentary regarding the quality and safety of the cable. Here's a great example of what to look for in the Amazon review.
How do I know I'm buying a safe USB-C cable?
The first step should always be your manufacturer. The company that made the hardware you're using either made the cable that goes with it themselves or contracted out to a trusted source to get those cables made. Those cables are designed to work with the hardware you are using. With exception to a recall performed by Apple, cables provided by the manufacturer have all been safely made. If you're ever not sure, buying cables from your manufacturer or a trusted brand is a good way to go in this situation.
If you're specifically looking for third-party cables and want to confirm the quality, you can look in the reviews section for that product on Amazon for detailed analysis or check out Google Engineer Benson Leung's suggestions on quality USB-C cables.
Are you sure this USB-C thing isn't a fad?
While nothing is ever set in stone, USB-C is a standard that has been adopted by Apple, Google, LG, HTC, and dozens of other companies already. It's a new standard, which means it'll be a while before most folks are only using USB-C, but it looks like that is the general direction things are heading. If you only end up using USB-C to charge your phone for the next year or two, that's okay. If you dive in head first and only use things that are USB-C enabled, that's OK, too.
Get the Android Central Newsletter
Instant access to breaking news, the hottest reviews, great deals and helpful tips.