Every Android phone with ARCore right now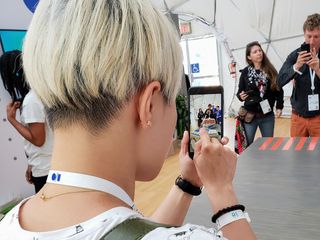 You don't need to own a Pixel from Google to take advantage of ARCore anymore! Google is working with partners like Samsung, Motorola, Huawei, Xiaomi and others to bring augmented reality to all types of phones at all price ranges.
Here's the complete list!
Phones with ARCore support
Asus
General Mobile
Google
Pixel and Pixel XL
Pixel 2 and Pixel 2 XL
Pixel 3 and Pixel 3 XL
Pixel 3a and Pixel 3a XL
Nexus 6P
Nexus 5X
Huawei
Honor 10
Honor View 10 Lite
Honor V20
Mate 20 Series
Nova 3/Nova 3i
Nova 4
P30/P30 Pro
Porsche Design Mate 20 RS
Y9 (2019)
Infinix Mobile
LG
Motorola
Moto G6
Moto One, One Power
Moto Z2 Force
Nokia (HMD Global)
Nokia 6 (2018)
Nokia 8
Nokia 8 Sirocco
Nokia 8.1
OnePlus
OnePlus 6T
OnePlus 6
OnePlus 5T
OnePlus 5
OnePlus 3T
OnePlus 7/7 Pro/7 Pro 5G
Oppo
Samsung
Galaxy S7 and S7 edge
Galaxy S8 and S8+
Galaxy S9 and S9+
Galaxy S10/S10+/S10e/S10 5G
Galaxy Note 8
Galaxy Note 9
Galaxy A3 (2017)
Galaxy A5 (2017)
Galaxy A6 (2018)
Galaxy A7 (2017)
Galaxy A30/A40/A50/A60/A70/A80
Galaxy Tab S3
Galaxy J7
Galaxy J5 and J5 Pro
Sharp
Sony
Xperia X
Xperia XZ1 Compact
Tecno
Vivo
NEX S
NEX Dual Display Edition
Xiaomi
Zebra
TC52 WLAN Touch Computer
TC57 WWAN Touch Computer
TC72 WLAN Touch Computer
TC77 WWAN Touch Computer
Excited to get started with ARCore? Make sure you have the framework app installed (opens in new tab) and get ready for some exciting new apps to head your way!
Updated August 2019: This article was updated with a complete list of all the phones that support ARCore.
Android Central Newsletter
Get instant access to breaking news, the hottest reviews, great deals and helpful tips
Awesome news, any chance for an article showcasing good ARcore apps?

Good call. I didn't even know it was available on my phone til I saw this.

Came here to post exactly that. AC, shows us the apps we should try.

Both V30's require Oreo, not just the plus. smh.

My G6 says it's not compatible, I am guessing it needs Oreo

Anyone have the Zenfone AR?

According to Google, Android 7.0 or higher is the current limitation for phones that could eventually be supported.

OnePlus 5T as well? OnePlus5 is basically the same phone (sans different screen).

I have the Oneplus 5t and have arcore installed (it came when I tried to view dinosaurs in Jurassic World Live. I'm able to use the Tower AR game too.

Kinda surprised that OnePlus has the AR core as, it's, screen is only 1080p but then maybe I'm confusing it with VR.

The 5T doesn't support it. I find this odd since the oneplus 5 and 5t are basically the same phones

Kind of odd that the U11 and Plus are not supported. The S7/S7 Edge are kind of sluggish in terms of performance, so it's kind of odd that they ARE on the list.

It might be ready for 12 of the 13 phones listed, but not the S8. I downloaded it with no issues, it installed, but no way to access the program. No icon, no "Open" button in Google Play Store, no directory hidden or visible on device or sd card. I'll try to download it again in a couple of days. Will definitely change my star rating once I can play with it myself. The videos and reviews look fantastic. Can't wait. Please fix.

It's a framework, not an app. You still have to install apps that use the framework.

How about that S7? March 2016 and still going strong.

Tried to download ARCore from Google Play to my Galaxy S9+ and it tells me it's incompatible. What up?

It's sadly not available on the unlocked version, I confirmed that with a Samsung rep

I'm running Oreo on my Verizon LG V30 ThinQ and I still can't use AR Core.

No use for it. Just using the camera app with AR stickers makes phones run incredibly hot, and drains the battery like an old V8 car with the pedal to the floor.

How come my Moto X4 does not come with ARCore and G5 does? It is a lesser phone. I'm confused.

I have it on my Android One X4.

Why the Nokia 6 (2018) and Nokia 8 Sirocco but not the Nokia 7 plus? All released the same year/time. That's a disappointment...

Maybe because the 7 Plus didn't get a US release.

HTC U12+ not support this?

Hehe so glad the Pixel 2 XL support the AR Core but then again it is a Google phone.

This is very confusing... I know the LG V30 is listed as compatible but the ARCore app is listed as unavailable for my device in the Google Play store because it isn't compatible. The kicker is that I was able to download AR core and install it on my V30 a couple months back from the Play Store when it was shown as available for my device. I've even tried some ARCore apps and they work as expected. Did anyone else download and install prior to them marking it as incompatible?

Not available for my device (sprint lgv30+)

No HTC? Yikes. That said, props to Asus and Google for getting ARCore support to the Zenfone AR after it shipped with Tango.

Could anyone provide the apk?

You'll find the Nokia 7 plus does come with it too

Why is the OnePlus 5T not listed in there?

Mate 10 Pro here. Device not compatible with this version.

The Nokia 8 should be on that list as it was added fairly recently.

OnePlus 6 seems to work fine with the demo apps

The Nokia 7 Plus also supports ARCore.

Nokia 8 is missing from the complete list.

Sony XZ2 suppor it,. Installed with out any issues.

Installed ok on Nokia 8. Just need apps/programs to use it with....... Any ideas?

You are missing A LOT of devices. Here's the official list of devices from Google itself https://developers.google.com/ar/discover/supported-devices

Hopefully google will work with same sung and others so that the core will be able to be used in older phones like the Note 5 and NOT just the new phones!

Well it doesn't work on my P20 Pro. Any suggestions?
Android Central Newsletter
Get instant access to breaking news, the hottest reviews, great deals and helpful tips
Thank you for signing up to Android Central. You will receive a verification email shortly.
There was a problem. Please refresh the page and try again.