Should you buy the Sony Xperia XZ2 Premium?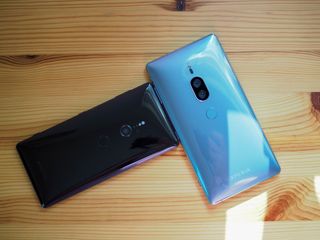 Best answer: Unless you are a diehard Sony fan, or need the additional low-light performance of its secondary camera, the Xperia XZ2 Premium is an overpriced and poorly-designed premium smartphone that you should pass on. Instead, buy the cheaper Xperia XZ2.
It's an extremely awkward phone
The Sony Xperia XZ2 is a powerful, capable flagship for 2018 that has much of its desirability stripped away due to its design. Unlike the smaller Xperia XZ2, which negates the impact of its sizeable top and bottom bezels with a narrower, taller 18:9 aspect ratio, the XZ2 Premium reverts to a legacy 16:9 aspect ratio, making it both tall and wide. Its glass back is rounded, which prevents it from sitting flush on a table or desk, and because it's so heavy, it slides easily off surfaces or out of pockets.
Using the phone in one hand is almost impossible, too, which can lead to frustrating moments of trying to manipulate a very slippery phone without dropping it. Suffice it to say, if you do decide to get the XZ2 Premium, you should pair it with a good case. I like this one from Anccer.
Furthering the awkwardness is the location of the rear fingerprint sensor, which is lower than your index finger thinks it should be. Instead, where your finger immediately goes is right on top of one of the two camera sensors that adorn the phone's back.
The 4K screen is wasted on Android
One of the Xperia XZ2 Premium's differentiating features is its 4K screen, which is admittedly beautiful. But it's also wasted on Android, since so few apps actually support output at that resolution. And when an app does support it, like YouTube, 4K content, while stunningly sharp, does not impact the viewing experience as much as it would on a larger display. I spent quite a bit of time watching well-produced 4K video on the XZ2 Premium and then dropped the resolution to 1080p and had trouble telling the difference unless my face was right up to the screen, which normally it wouldn't be.
Sony does claim that it upscales 1080p content to 4K, but I'm confident that most people won't be able to tell the difference between this display and a nice QHD panel for most daily tasks.
That being said, the advantage of a 4K display — if your eyes are good enough — is that you can scale text down to tiny sizes and see everything perfectly clearly. I've really enjoyed reading on the Xperia XZ2 Premium because you can just fit so much text on the screen at once.
The camera is Sony's best
The Xperia XZ2 Premium has Sony's first dual camera setup, and except for one major omission, optical image stabilization, this is about as thoughtful a setup as you'll see. The main sensor is identical to Sony's other XZ2 phones, a 19MP MotionEye that's proven to be excellent in most situations. The main difference is that the lens is sharper, at f/1.8, compared to the smaller XZ2's f/2.0 lens.
Image 1 of 2
The other main difference is the secondary camera is a huge 12MP monochrome sensor with an incredibly fast f/1.6 lens. The upside is that the camera performs really well in low light, and features a true depth-sensing portrait mode. You'll see how well the phone does compared to the Galaxy Note 9 in low light, retaining color and detail in very challenging conditions.
It's easily the best, and fastest, camera Sony has ever made, but it's let down somewhat by the company's terrible camera app, which desperately needs a revamp.
The price isn't right
If the Xperia XZ2 Premium was $799, my recommendation might be different, but the phone costs a hair under $1,000 and isn't available on any U.S. carriers, which means you're paying full price. Given how much more awkward it is to use than the Xperia XZ2, and how similarly the two perform, I feel like the obvious advice is not to buy the Premium and to instead buy the XZ2 itself. Or, if you're looking to spend a grand on a phone, the Samsung Galaxy Note 9 does almost everything better.
Bottom line
I really like the Xperia XZ2 Premium, and would recommend it if it were cheaper. But at $1,000, it's too expensive, especially for how awkwardly designed it is. If you want a great Sony phone, get the much cheaper Xperia XZ2, or if you want to spend a thousand bucks, upgrade to the Galaxy Note 9.
Our pick
A better Sony phone for most people.
If you're really interested in a 2018 Sony flagship, the Xperia XZ2 gives you nearly everything the Premium version does with a nicer design, less awkward usability, and a fantastic single camera.
For most people, the Xperia XZ2 will be more than enough phone. It's got a large 5.7-inch display with a narrow body thanks to its 18:9 aspect ratio, and its 19MP camera takes awesome photos in all but the dimmest conditions.
A little bit more
Too much of a good thing.
This is Sony's best phone ever on the inside, but the Xperia XZ2 Premium is bulky, awkward, and far too expensive to recommend to most people.
If you want to spend the money
Samsung Galaxy Note 9 ($1,000 at Amazon)
The upgrade pick.
If you want to spend $1,000 on a phone, it's probably a better idea to spend it on the Galaxy Note 9, which provides a better overall experience.
Get the Android Central Newsletter
Instant access to breaking news, the hottest reviews, great deals and helpful tips.
Daniel Bader was a former Android Central Editor-in-Chief and Executive Editor for iMore and Windows Central.