Samsung Galaxy Tab S4: Everything you need to know!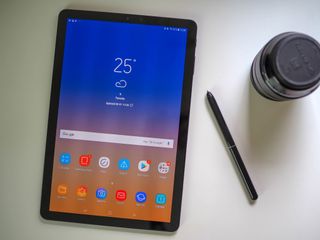 Android tablets are few and far between in 2019, but if you're someone that's been hunting for one to add to your gadget lineup, Samsung's Galaxy Tab S4 should be at the top of your list.
With a large AMOLED display, powerful internals, and a few nifty tricks that you won't find anywhere else, the Tab S4 makes a compelling argument for anyone that's tablet-shopping this year.
Whether you're ready to throw down some cash or just want to learn more about what Samsung's been working on, here's everything you need to know about the Galaxy Tab S4!
The latest Galaxy Tab S4 news:
April 12, 2019 — Android Pie begins rolling out to the Galaxy Tab S4 in France
After Samsung's string of Pie updates to its most recent flagships, it appears the Galaxy Tab S4 is next in line. For now, only the Galaxy Tab S4 (opens in new tab) models in France are receiving the update, but it's a good sign that it will be rolling out to more regions in the future. With this update, users can expect the all new One UI experience on their Tab S4 along with all the Android 9.0 Pie goodies from Google.
As with most updates, this one will be rolling out in stages over France and is hitting the SM-T835 LTE model first, with the Wi-Fi version expected to be next. If you want to check if it is available for your Tab S4, check the settings menu, scroll down to Software update, and tap Download and install.
All the big details
What are the specs?
The Tab S4 is a flagship gadget, and as such, has flagship specs to accompany it. Here's the full rundown of everything it's packing:
Swipe to scroll horizontally
Spec
Samsung Galaxy Tab S4 Specs
Dimensions
9.81-inches tall
6.47-inches wide
0.28-inches thick
17-ounce weight
Colors
Black
Grey
Operating system
Android 8.1 Oreo
Processor
Qualcomm Snapdragon 835
Screen
10.5-inch 2560 x 1600 Super AMOLED panel
16:10 aspect ratio
RAM
4GB LPDDR4X
Storage
64GB or 256 GB
Expandable up to 400 GB
Rear camera
13MP
f/1.9 aperture
1.12µm pixel size
Front camera
8MP
f/1.9 aperture
1.12µm pixel size
Battery
7,300 mAh
Fast charging
Up to 16 hours of video playback
Connectivity
USB Type-C 3.1
3.5mm headphone jack
Bluetooth 5.0
Wi-Fi 802.11 ac
Audio
4 speakers
Tuned by AKG
Dolby Atmos surround sound
Security
Iris scanning
Facial unlock
S Pen
Included for free
4096 levels of pressure sensitivity
There's no fingerprint sensor
We've come to expect fingerprint sensors on just about every mobile device these days — even smartphones that cost ~$200. Even so, Samsung's chosen to forego such a feature on the Tab S4.
Instead, the Tab S4 can be unlocked using either iris scanning or facial unlock.
This isn't too big of a deal considering the improvements Samsung's made on these fronts, but even so, I imagine some users will be put off at the lack of a sensor we've grown so used to over the years.
DeX can be run directly on the tablet
Samsung's DeX platform has been around since last year as a way to turn your Galaxy smartphone into a desktop computer by plugging it into a special dock and then plugging said dock into a monitor.
DeX has come a long way since it was introduced alongside the Galaxy S8, and this time around, Samsung's allowing you to run its DeX interface directly on the Tab S4.
While you can manually open DeX at any time, Samsung's also created a special keyboard accessory that'll automatically launch DeX once it's connected to the Tab S4.
Once you're in the DeX mode, the traditional Android UI will be replaced by something you'd expect to see on a desktop computer. You can open multiple apps at once and run them in their own windows, drag content from one app to another, use keyboard shortcuts, and much more.
You'll probably want to get the keyboard accessory
If you plan on using the Tab S4 as a productivity machine, you'll definitely want to pick up that keyboard accessory to go along with it.
Samsung's calling it the Book Cover Keyboard, and along with giving you a comfortable typing experience, also protects the Tab S4 from all sorts of daily wear and tear.
The Book Cover Keyboard connects to the Tab S4 using a special POGO connection system (the same one found on the 2018 Galaxy Tab A) and will set you back a pretty penny at $149.99. Thankfully, if you order it together with the Tab S4 between now and and September 8 on Samsung's website, you can take 50% off to bring the price down to just $74.99.
An S Pen is included for free!
While your wallet might be mad at you for buying both the Tab S4 and Book Cover Keyboard, it'll be relieved to know that the S Pen comes included with the tablet out of the box.
This is a much bigger S Pen compared to what you'll find on the Galaxy Note 8 with a weight of 9.1 grams, but even with the added heft, it should still be plenty comfortable for long writing or drawing sessions.
The rubber pen tip measures in at 0.7 millimeters and the S Pen supports an impressive 4096 levels of pressure sensitivity.
Daily Board turns it into a smart home display
Lenovo's new Smart Display is one heck of a smart home gadget, but if you're planning on picking up the Galaxy Tab S4, it can actually pull double duty as a smart display of its own.
In addition to the Book Keyboard Cover, Samsung's also selling a Charging Dock accessory that connects to the same POGO system.
When the Tab S4 is in the Charging Dock, it goes into Daily Board mode and shows your favorite photos, the time, weather, and other useful info — all while charging the tablet. It's certainly not as fully-featured as what Lenovo or Amazon's crafted, but it's a nice extra nonetheless.
You can buy it now for $650
If you're interested in the Galaxy Tab S4, you can buy it now from Samsung's website for $650. You can either pay outright, or get it with 12-month financing to lessen the burden a bit.
You also have the option of buying an LTE-equipped model with support for AT&T, Sprint, Verizon, and US Cellular.
See at Samsung (opens in new tab)
Get the Android Central Newsletter
Instant access to breaking news, the hottest reviews, great deals and helpful tips.
Joe Maring was a Senior Editor for Android Central between 2017 and 2021. You can reach him on Twitter at @JoeMaring1.
It'll be the android tablet to buy in 2018, but you probably shouldn't buy an android tablet in 2018.

I would definitely buy it ONLY and if ONLY it TRULY competes with the iPad Pro

Than get the Galaxy Tab S3 because that already competes ... Or if you want something bigger find a Galaxy tab pro 12.2 with spen😌 both options are better than the iPad pro

It is amazing how close minded Apple fans are of Android products.

Honest question, how is this tablet (or the previous one) better than the iPad Pro specifically? And please provide something more substantial than the Samsung tablet runs Android. It's safe to say that anyone visiting and posting on this website is open minded regarding Android products, regardless of whether or not they're Apple fans.

so I can sell you a wooden cutting board for meat with some icons on it, you will never recognize the difference because you even don't understand what are widgets or a typical USB drive usage every Android has for, a typical iUser :)

Widgets and USB OTG are definitely things that I miss from my Android tablet. I now have to dumpster dive into apps to see what's new and I have to rely more on cloud services to get files into my iPad. You're right. I can complain all day about lack of widgets or wanting a proper file system on my iPad pro. Won't change anything. . . Apple's not going to budge. The thing is when it comes to using the iPad that I have to review and annotate PDF files the way I want to (total free flow handwriting with the pencil) neither Anrdoid nor a MS Surface comes close to being able to do it as quickly or effectively in a manner that I prefer. Android versions of PDF editors are too clunky and just not as fast as PDF Expert on an IPP. Annotating using a stylus in Windows PDF editors doesn't have the flexibility that PDF Expert or Notability has on the iPad. In the end after testing many different editors on both I went with an ipad pro with PDF Expert for a particular workflow that's important to me to justify the tablet. The battery life, screen quality, sound quality and effectiveness to do the productivity tasks that I want to do won out for me between the iPad Pro and the dated Galaxy Note Pro 12.2. When considering the upgrade from the Note Pro to something else earlier this year it was clear to me that while there'd be a performance increase jumping to a newer android tablet the software issues I'd have with the workflow I wanted would remain. I chose the iPad because of that and now my GNP is sitting at home collecting dust. I still get my fix of widgets on my Google Pixel XL though . . no way in hell I'm moving to an iPhone as a daily driver smartphone (I do carry an iPhone 6 on the side though for $hit$ and giggles).

nice, but just one app is not an argument for that cutting iBoard :) Samsung is far more advanced Android than Google too simple/dumb iAndroid. Are you sure you cannot use a top Samsung advanced tablet for your work?

The point I was trying to make is that if a particular workflow is important to someone there will most likely be a platform that suits them better than others. For my use case I can honestly say that for the documents I'm opening there is no Android tablet out there that's going to provide a better experience for me than the IPP is right now. It's not just the hardware but the software too and believe me, I've purchased MANY different PDF applications on Android and iOS to find the right combination. I have no doubt that there's others out there that happily edit PDF files on Android tablets in a way that is optimum for them - everyone's workflow is different, mine just happens to be working with engineering drawing sets plotted to PDF at 24"x36" in size and a few hundred pages plus. On Android the various PDF applications I have tried just don't move through my files as smoothly or quickly as they do in my iPad. I've tried pulling one of my large files over onto a Galaxy Tab S3 and while performance is much improved over the dated Note Pro 12.2 the rendering of my plan sheets as I zoom in and out and flip through pages is noticably laggier than on the iPad. Not sure why. I have not tried a ChromeOS based tablet yet. I held off jumping to iOS as I watched them mature a little wanting to see how application development would play out for them. When Android application access was implemented on ChromeOS the realization hit me where things stood in terms of the maturity of the platform and that jumping to iOS for a year or so might not be a bad idea while things matured more on the ChromeOS side. I'm in no way arguing that an advantage in a single workflow proves market dominance of a device, all I'm saying is that if a particular workflow is important to someone more than other things then it can influence their purchase decision dramatically. The compromises I've had to make to get the productivity I need for one particular task are not lost on me, it's been painful and I hate looking at the home screen on my ipad LOL.

I agree, but I am so turned off by not have onboard SD card. It's my biggest issue.

Would this device be updateable to Chrome OS when that is made available for tablets?

"I can't imagine anyone willing to hand over $600+ for an Android tablet." Do you believe the bullshit you write? No one is going to buy? Stellar journalism!

yes, he is just an iLimited "author" satisfied with iCon plate... obviously constantly still 10 years behind in IT like Apple but buying at least Samsung hardware in Apple products all the time :)

It should cost (much) less than a phone with a Snapdragon 835 being sold in late 2018.

Enjoying my tab S3. Great tablet

I still love android tablets shame they are dying. I happily brought a m5 at almost half this price and its just as powerful. Don't know why Huawei dont get more coverage

"Samsung was clearly trying to compete with the iPad Pro with that pricing, but in 2018, I can't imagine anyone willing to hand over $600+ for an Android tablet." I CANNOT imagine anyone with brain would buy an iPad with 10 % of features of any Android tablet for even $100 ... iPad is 10 years behind Samsung in software (iPad = just iCons) not talking about iPad = Samsung hardware.... So I cannot imagine anyone willing to hand over $100 for an iPad Pro Pro Pro Pro Pro Plus Pro iCon plate without widgets, without a common USB hard drive mode, with slower UI, typical disastrous Apple "security!" etc :) For such a superior device I am willing to pay even $1000 and I will if the price is so here :)

Uhm much better software support.

What do you mean? A simple calculator also does not need to fix much :) You cannot compare iSimple iOS (and surprisingly slower UI) with Samsung Android full of features when you can use eg. S9+ even like a computer with Samsung DeX

Based on past Android tablets, is this one actually going to be supported for more than a few months?

This is not true. It will get android P, this time next year and then probably never get another major OS update again. But to say only a few months is not true. Even the Tab S3 has been updated to Oreo.

Not everything is either/or. Some have a tablet and a laptop. That being said, I am opting for the HP Chromebook X2 myself.

We don't have many high quality Chromebooks in the UK. It's either the cheap ones or the pixelbook. Samsung stopped selling its computers (including Chromebooks) years ago in Europe.

My last Galaxy Tab tablet only got two years of security updates. I'm no longer buying anything from any of these companies that don't support their devices for at least 4-5 years. Call me jaded

For a few hundred less, I'm curious how a Surface Go would compare? It would be nice to have a Tab S4 to compliment my Note but as long as the tablet has a descent stylus, I'm good.

This will probably be a good tablet but the price is way too expensive for an android tablet, even if it is from Samsung. All you have to do to see how great a value you are getting is go to the same Best Buy site that is linked in this article and search for the trade in value of the tab s3. All four iterations of the tablet listed on their site give a value of $0. I have actually been watching the trade in value for the past 6 months and it has hovered around $20 to $30 for most of this year and some of last year. My wife uses the tab s3 and I was seriously considering trading it in for credit toward the s4. The tab s3 is a little over a year old so it's ridiculous that it's resale value to a big box retailer is virtually nonexistent after such a short time when compared to an iPad. I truly feel that an android tablet is not worth buying unless it's sold between $200 to $300. And I am saying this as a current owner of an iPad Pro and tab s3 as well as a former owner of a galaxy tab s, galaxy tab s2, nexus 7, galaxy note 10.1(still the best Samsung tablet ever made imo), and a hp touchpad. An iPad is a better buy not only in terms of resale value but overall long-term software support.

You're completely correct about resale value and long-term support. However, your reasoning for why it's too expensive is flawed. Resale isn't a direct result of the quality or value of the product. The resale value of an iPad almost entirely is due to brand recognition. The rest of it is due to the software updates, and the fact that the hardware isn't garbage. That isn't to say the Samsung tablets are a great deal or anything else. It's not true. They're charging too much for last gen hardware. It feels like they're using the tablets to sell old SoC stock.

This may be what I replace my Note 10.1 2014 Edition tablet with. While I'm sure that the much larger S-Pen is more comfortable to use, I wish it had the smaller one that can be stored in the tablet.

Personally I don't recommend an Android tablet, iPads are just so perfect in the tablet space. HOWEVER if you must go Android then really the only choice is Samsung. Perhaps a better choice on the Android side would be a Chrome device.

There are hardware differences between iPads and Android tablets. Hardware-wise, Apple pulls ahead slightly. Software-wise, it's a mixed bag on either side. Pick the one that provides you with the features you want. Personally, the ability to install from third parties is worth more to me than the hardware benefits of an iPad pro.

Why isn't using the 845processer?

They pulled the same crap with the last gen as well. They're trying to charge premium prices while selling last gen SoCs. I would have purchased the S3 and/or the S4 if they actually bothered to sell it with the current gen.

Yep, the pricing is still just as ridiculous and funny as in the first article, and the defenders and justifiers are even funnier. 😂😂😂

So I can buy this with 64gb storage, 4gb memory on last year's Snapdragon 835 with the special $75 promo price on the type cover for $25 less than Amazon is selling the 128gb Pixelbook with 8gb of memory and a core i5? Is that right? Wow. What a hard decision!

I agree, but I hate the flopped over keyboard. Make the Pixelbook detachable from the keyboard and I'm full in!

HP Chromebook X2. Aside from the lack of backlit keys, it's quite nice. Not a straight 1:1 in hardware specs, but it's no slouch.

I'm being very tempted by the soon to come iPad Pro, and I am hardcore Samsung/Android. Looking forward to a heads on review!

Might be time to retire my shield k1 tablet, laggy piece of crap takes ages to warm up on a fresh boot too.

No need to buy it at that price when the Tab S3 is just about at good. Im using that, replacing my Note 10.1 2014 and its a fine improvement.

At those prices, I'll just plan to fork over a few hundred more for a much nicer W10 2-in-1.

Will that Daily Board app be available outside of the device? I've got a number of older tablets that I'd love to use as digital photo frames.

More worthless midrange Samsung tablets. I wish Google would make another Android tablet. I hate that Samsung is the only choice if you want a good Android tablet.

Important qn, is the MS Office free to use or need subscription as what I read on some sites? (only free for devices with screen <10.1 inch)

I'll stick to my Archos Internet Tablet 5

I'll stick to my Archos Internet Tablet 5.

I'm loving my Tab S4! No problems with it, only wish it was a little lighter.