The Xiaomi Mi 8 is a blatant iPhone X ripoff with a full-sized notch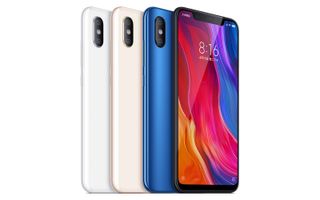 Over the last two generations, Xiaomi has introduced a glass-and-metal design aesthetic with flowing curves and rounded edges that made devices like the Mi 6 stand out. However, Xiaomi is ditching all that with its latest flagship and going back to what it does best: copying Apple.
The company unveiled the Mi 8 in China earlier today, and it's immediately evident that the iPhone X was the "inspiration" for the device. The phone features a full-sized notch at the top of the display, which houses a complement of sensors including the 20MP front camera, proximity sensor, IR lighting module and an infrared lens, and the earpiece. Unlike the iPhone X, however, there's still a prominent bezel at the bottom, making the design asymmetrical.
Xiaomi is offering an IR face unlock feature that works in a similar fashion to FaceID, but it isn't as secure as Apple's implementation or Samsung's iris scanning tech. The phone comes with a 6.21-inch AMOLED FHD+ (2248x1080) panel, and Xiaomi is touting a maximum brightness of 600nits and 88.5% screen-to-body ratio.
The phone is powered by a Snapdragon 845, and Xiaomi is offering dual 12MP + 12MP cameras at the back with AI scene detection. The primary sensor has OIS and large 1.4-micron pixels, and from the specs it looks like the camera is identical to the one featured in the Mi Mix 2S. That bodes well for the Mi 8, as the Mi Mix 2S has one of the best cameras I've used this year.
On the software front, the Mi 8 is running MIUI 10, which comes with a host of new features aimed at China. We'll likely be seeing a global version of the ROM in the coming months.
The front camera is interesting too, as it is a 20MP unit with huge 1.8-micron pixels. There's also a 3400mAh battery that should easily deliver a day's worth of use.
As for the naming convention, Xiaomi says it skipped the Mi 7 and went with the Mi 8 moniker to commemorate its eighth anniversary.
More than any other Android phone I've seen recently, the Mi 8 looks like a blatant copy of the iPhone X, from the notch up front to the orientation of the dual cameras at the back. The design feels like a regression from the likes of the Mi Mix 2, and with Xiaomi now having an official presence in European markets, the Mi 8 doesn't really paint a great picture for the brand as a whole.
The phone will be making its debut in China, and will be sold in three variants: the base model with 6GB of RAM and 64GB of storage will retail for ¥2,699 ($420), the 6GB/128GB option will cost ¥2,999 ($470), and the model with 6GB of RAM and 256GB of storage will set you back ¥3,299 ($520). That's still less than half the price of true flagships, so if you're in the market for a phone that looks like the iPhone X for around the $500 price point, Xiaomi has you covered.
Harish Jonnalagadda is a Senior Editor overseeing Asia at Android Central. He leads the site's coverage of Chinese phone brands, contributing to reviews, features, and buying guides. He also writes about storage servers, audio products, and the semiconductor industry. Contact him on Twitter at @chunkynerd.
"However, Xiaomi is ditching all that with its latest flagship and going back to what it does best: copying Apple." Lol spot on

If I want an iPhone X I'll buy an iPhone X. Things like this turn me off entirely. There's a difference between having a certain style that's similar and flat out copying.

Don't lie you unresponsive journalist not that anyone is responsible now. But mi 8 explorer edition is just as secure as face Id of apple. Besides iPhone X was not the most original phone(essential,mi mix) and the phone is actually symmetrical as the ears are usually black though it loses beauty points that mi mix series has.

wrong. you have no idea what you are talking about. do a little research.

That notch is perfect. I can have extra room that will fit the clock and 3 icons. Even though I sometimes have 20 icons, I need to cut on to smartphone addiction and do less stuff with it.
The funny bunny ears like top bezel is going to be a constant reminder of that. Thank you Xiaomi.

Biased report.
No facts to back up claim of lower accuracy of Face ID.
Full bezel-less design is hallmark of the Mix series, not these. Comparison should be to Mi 6.
These are basic knowledge. I suggest you reflect and do more research.

do the research yourself. Apple version (of face ID) costs close to $70 per unit. No cheap knock off can afford to put that in their rip off device. maybe they didn't try to Prove it to You because they KNOW it for a FACT.

Price does not equal quality. It's definitely more likely that apples version is better but price is not the way to try and prove that out.

Does it include expendable storage ?
If yes, than this copy of the iPhone X is definitely a better choice

I wish, and also wish this article would state it. GSM arena says no: https://www.gsmarena.com/xiaomi_mi_8_se-9219.php It's still a better choice, because... Android.

I would rather rest on my Galaxy S8 due to the expandable storage 😅

Take a deep breath... 🤔LOL, if rumours are accurate, Apple is ditching the notch in 2019! 🤣

It's not a carbon copy of the iPhone X, in fact I think it looks better. I do wish Chinese manufacturers would come up with some original designs though. Their whole copycat agenda with everything from phones to cars is nothing more than a meme now and has "defined" Chinese manufacturing for a while now. They have talented designers and have proved they can come up with their own sweet looking devices in the past, the Oppo Find7 and OnePlus One spring to mind.

I can't edit for some reason but it appears that this is too much of a carbon copy after all, urgh. However the Mi 8 SE looks like it has more angular corners and it appears to look much better.

I do think this notch nonsense will be gone soon. Probably next year. Especially if apple ditches since damn near EVERYONE has been following. Some unapologetically.

It's like Apple actually released an Android version of the iPhone X. Shameless yes but there will be a lot of people that like the iPhone X but don't want the locked down prison that iOS provides. Looks a really decent phone tbf

Apple's biggest issue is the mess that iOS has become. Always up against release deadlines, significant bugs have been a real problem for years. Out of boredom I'll occasionally take a peek at iPhone blogs.

Yep I agree. I had every iPhone from the 3G up to the 7 Plus. I think what made iOS work for so long was its simplicity but as the years rolled on they've tried to squeeze so much in without changing it's core functionality that they've just ruined it. iOS needs a complete overall

On what basis are you boldly saying the face ID isn't as accurate?

Such a biased Review. Haven't even used it still making statement about inaccurate Face ID. Harish, did Apple just pay you to say that?

It's a blatant copy of the iPhone! Period!

Common sense paid Harish. And yeah Apple has no better work other than paying bloggers because no one is buying Apple phones.

I really don't care that the phone looks like the iPhone, the iPhone 6 looked like the HTC phones off that time and the criticism was not as high. And the 6S, the 7....etc. But with them we don't get the declaration of blatant copying of HTC. People stop glorifying Apple so much, they are stuck with limitations of technology just like everyone else, they are just good in spinning a story for whatever they are doing at the time.

This is literally a Chinese iPhone X clone. For shame Xiaomi, for shame.
Android Central Newsletter
Thank you for signing up to Android Central. You will receive a verification email shortly.
There was a problem. Please refresh the page and try again.