LG G6: Specs, problems, availability, and more!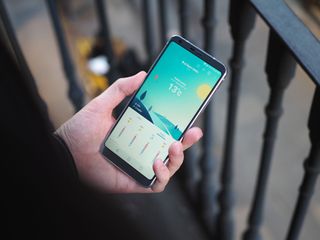 After a flirtation with mods in the LG G5, LG decided to change things up in a big way for 2017. The mods were gone after only one try. Additionally, LG got rid of the removable battery — a long time staple for power users — in favor of an all-glass build. The dual cameras are back and better than ever, as in LG's brand of Android.
This is everything you need to know about the LG G6.
Check out our reviews
Honestly, the LG G6 doesn't do anything poorly. It's well-designed, gorgeously-engineered, and comes off as a mature, reliable piece of equipment. As MrMobile said in his review, it wears its chunkiness on its sleeve, not trying to hide its metal frame with sloping glass. As a result, it may feel a bit squat next to the Galaxy S8, but I've grown to really love that solidity, both in my hand and my pocket.
It's waterproof, drop-resistant, and covered in glass, just like the Galaxy S8. And while it lacks this year's Snapdragon 835 platform, I've yet to worry about its performance, since the Snapdragon 821 — which powers the Pixel and Pixel XL — is still so good, and feels so new.
The bottom-firing speaker is good, the headphone quality is great, as is the call quality and LTE reception. I had some trouble connecting to one particular LG Bluetooth speaker, and the Bluetooth volume was unexpectedly low on another speaker, but that's the extent of the bugs I've found so far.
LG G6 review
LG G6 second opinion: This one's the best
LG G6, one month on: A great phone, and the best LG has ever made
It's got a big screen, but feels really compact
The LG G6 is the first of likely many phones with a non-standard screen aspect ratio. Specifically, its 2:1 (or 18:9, for a more standard comparison) screen makes it considerably taller than most phones out there today, but coupled with the near-elimination of bezels around the bright, beautiful IPS display, it's one hand-friendly.
The screen really is beautiful. Contrast is great for an IPS display, an area where Samsung's AMOLED panels traditionally take the lead, and colors are punchy and accurate. Indeed, LG's 2880x1440 pixel screen is Dolby Vision HDR certified, as well as HDR 10 certified, two competing standards that, with the help of Netflix, Amazon Prime Video, Vudu and others will make it much more pleasant to watch video content on a relatively small phone screen.
It's got wireless charging, but only in the U.S. and Canada
For some reason, LG decided to keep one of its best features, wireless charging, limited to the North American market. It's not a huge deal — most people rely on Quick Charge wired charging through the USB-C port — but it's strange nonetheless. Still, the phone's 3,300mAh battery may need a top-up, wired or wireless, once or twice throughout the day, as we've found the phone to have less-than-stellar uptime compared to phones like the Pixel XL.
These LG G6 features are limited to some regions
Its two cameras are wonderful and creative
Like the G5 and V20, the LG G6 has two cameras on the back, each 13MP in resolution but with differing focal lengths, that transition seamlessly using toggles in the simple-yet-powerful camera app.
We've spent some time playing with G6's optics, and while the regular, optically-stabilized is great indoors and out, it's the wide-angle sensor that we've grown to love, especially when taking landscape photos that capture the whole field of view.
LG's also got some really fun camera modes that take advantage of its symmetrical screen, which can be divided into two perfect squares. You may not want to use the word 'twofie', but the phone can take two square photos at the same time using the front and back cameras.
Only the Korean unit gets the Quad DAC
One of our favorite features from the LG V20 and V30, the Quad DAC that makes music incredibly inviting, full and sonorous, is not coming to the North American or European models of the G6. Citing higher costs, LG says that there just isn't a big market for audiophile components in smartphones — but that doesn't exactly assuage our frustrations.
Fortunately, the LG G6+, which is available as an Amazon Prime Exclusive, has the same Quad DAC in the U.S.!
Get a microSD card, because the storage won't last
Another strange decision, especially in light of the Galaxy S8 coming with 64GB of storage by default — the North American and European LG G6 only comes with 32GB of internal storage, with no option to buy a higher-capacity model. Sure, 32GB should be fine for most people, but it won't last forever, which is why we recommend you buy a big, spacious microSD card for it.
Don't buy an LG G6 without a microSD card
The launcher is still pretty terrible
We like the software on the G6 — it's LG's most restrained take on Android to date, and there's very little to complain about. But the launcher, which eschews the app drawer and adds ugly borders around all homescreen icons, is pretty bad.
Our recommendation? Download Nova Launcher, Action Launcher, Evie Launcher, or something that resembles the opposite of whatever LG is thinking.
More: How to make the most of an extra-tall home screen on the Galaxy S8 or LG G6
Those colors are gorgeous
Black or platinum — doesn't matter. Both colors are really, really nice, and they shimmer and reflect light in their own unique ways. I haven't been a big fan of the generic silver that seems to ship with every phone these days, but LG's take on it, called Platinum, is really something else altogether. And then there's the shiny, fingerprint-friendly black color, which I've been using. I love it; as long as you keep it clean, it's one of the crispest-looking phones I've ever had in my pocket.
There's also a white variant, but it's not coming to the U.S.
Which color LG G6 should you buy?
There's a Prime-Exclusive version
The G6 has joined the ranks of other Android phones that are sold by Amazon for $50 in exchange for advertisements being shown on the phone's lock screen. The Amazon version of the G6 is unlocked and ready for use on AT&T, T-Mobile and Verizon. The LG G6+ is also available from Amazon, costing only $499. For the extra $100 over the Prime-Exclusive G6, the G6+ includes 128GB of storage instead of 32GB, and the 32-bit Quad-DAC that will make your Sennheisers sound like heaven.
More: LG G6 joins Amazon Prime Exclusive for $399 as the G6+ and Q6 make their U.S. debut
It's not perfect
Like any phone, the G6 has its fair share of problems, especially when it comes to overcoming some of the endemic software problems LG is known for.
For starters, it doesn't have a super large battery, but there are things you can do — optimizations and such — to prolong the inevitable. And LG's software, while not great, is the best it's ever been — you just have to know how to wrangle it.
Common LG G6 problems and how to fix them
It's a lot cheaper than the Galaxy S8
So here we come to the final decision. At between $400 and $500 depending on the carrier, and cheaper unlocked, the G6 is a lot cheaper than the Galaxy S8. That's a lot of money to save on a phone that's better in some ways (it's much easier to pick up off a table, and the fingerprint sensor placement is so much better) and nearly as good in others. The Prime-Exclusive version of the G6 is significantly cheaper at $399, so don't forget that if you don't mind seeing advertisements.
If you've made up your mind, you can learn everything you need to know about the phone in our forums!
Then you can figure out which carrier to buy it from.
Where to buy the LG G6 in the U.S.
If you want something newer, get the G7
Despite earlier rumors, LG has released a proper follow up to the G6 with the G7. The G7 continues key G-series features like the wide-angle camera and excellent audio, with a slightly refreshed design — including a notch that you can hide — and internals to match other 2018 flagships. If you're in the market for an LG phone today, you may be better of ponying up for the G7.
LG G7: Review, Specs, Availability, Problems and more!
Oreo is here
While it was a bit behind compared to other manufacturers, LG finally starting rolling Android 8.0 Oreo to the G6 in June 2018. It hasn't quite reached all networks and regions, and we're only a couple months away from the final Android P release. We can hope that LG will get better with support on future devices, but they've had a similar release schedule the past few years.
More: These U.S. carriers have updated the LG G6 to Android Oreo
Updated June 2018: Article updated with information regarding the Oreo update and the LG G7.
Sign up for Black Friday email alerts!
Get the hottest deals available in your inbox plus news, reviews, opinion, analysis and more from the Android Central team.
Daniel Bader was a former Android Central Editor-in-Chief and Executive Editor for iMore and Windows Central.