LG G6: Specs, problems, availability, and more!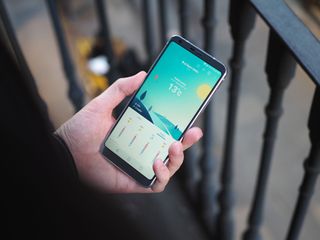 After a flirtation with mods in the LG G5, LG decided to change things up in a big way for 2017. The mods were gone after only one try. Additionally, LG got rid of the removable battery — a long time staple for power users — in favor of an all-glass build. The dual cameras are back and better than ever, as in LG's brand of Android.
This is everything you need to know about the LG G6.
Check out our reviews
Honestly, the LG G6 doesn't do anything poorly. It's well-designed, gorgeously-engineered, and comes off as a mature, reliable piece of equipment. As MrMobile said in his review, it wears its chunkiness on its sleeve, not trying to hide its metal frame with sloping glass. As a result, it may feel a bit squat next to the Galaxy S8, but I've grown to really love that solidity, both in my hand and my pocket.
It's waterproof, drop-resistant, and covered in glass, just like the Galaxy S8. And while it lacks this year's Snapdragon 835 platform, I've yet to worry about its performance, since the Snapdragon 821 — which powers the Pixel and Pixel XL — is still so good, and feels so new.
The bottom-firing speaker is good, the headphone quality is great, as is the call quality and LTE reception. I had some trouble connecting to one particular LG Bluetooth speaker, and the Bluetooth volume was unexpectedly low on another speaker, but that's the extent of the bugs I've found so far.
LG G6 review
LG G6 second opinion: This one's the best
LG G6, one month on: A great phone, and the best LG has ever made
It's got a big screen, but feels really compact
The LG G6 is the first of likely many phones with a non-standard screen aspect ratio. Specifically, its 2:1 (or 18:9, for a more standard comparison) screen makes it considerably taller than most phones out there today, but coupled with the near-elimination of bezels around the bright, beautiful IPS display, it's one hand-friendly.
The screen really is beautiful. Contrast is great for an IPS display, an area where Samsung's AMOLED panels traditionally take the lead, and colors are punchy and accurate. Indeed, LG's 2880x1440 pixel screen is Dolby Vision HDR certified, as well as HDR 10 certified, two competing standards that, with the help of Netflix, Amazon Prime Video, Vudu and others will make it much more pleasant to watch video content on a relatively small phone screen.
It's got wireless charging, but only in the U.S. and Canada
For some reason, LG decided to keep one of its best features, wireless charging, limited to the North American market. It's not a huge deal — most people rely on Quick Charge wired charging through the USB-C port — but it's strange nonetheless. Still, the phone's 3,300mAh battery may need a top-up, wired or wireless, once or twice throughout the day, as we've found the phone to have less-than-stellar uptime compared to phones like the Pixel XL.
These LG G6 features are limited to some regions
Its two cameras are wonderful and creative
Like the G5 and V20, the LG G6 has two cameras on the back, each 13MP in resolution but with differing focal lengths, that transition seamlessly using toggles in the simple-yet-powerful camera app.
We've spent some time playing with G6's optics, and while the regular, optically-stabilized is great indoors and out, it's the wide-angle sensor that we've grown to love, especially when taking landscape photos that capture the whole field of view.
LG's also got some really fun camera modes that take advantage of its symmetrical screen, which can be divided into two perfect squares. You may not want to use the word 'twofie', but the phone can take two square photos at the same time using the front and back cameras.
Only the Korean unit gets the Quad DAC
One of our favorite features from the LG V20 and V30, the Quad DAC that makes music incredibly inviting, full and sonorous, is not coming to the North American or European models of the G6. Citing higher costs, LG says that there just isn't a big market for audiophile components in smartphones — but that doesn't exactly assuage our frustrations.
Fortunately, the LG G6+, which is available as an Amazon Prime Exclusive, has the same Quad DAC in the U.S.!
Get a microSD card, because the storage won't last
Another strange decision, especially in light of the Galaxy S8 coming with 64GB of storage by default — the North American and European LG G6 only comes with 32GB of internal storage, with no option to buy a higher-capacity model. Sure, 32GB should be fine for most people, but it won't last forever, which is why we recommend you buy a big, spacious microSD card for it.
Don't buy an LG G6 without a microSD card
The launcher is still pretty terrible
We like the software on the G6 — it's LG's most restrained take on Android to date, and there's very little to complain about. But the launcher, which eschews the app drawer and adds ugly borders around all homescreen icons, is pretty bad.
Our recommendation? Download Nova Launcher, Action Launcher, Evie Launcher, or something that resembles the opposite of whatever LG is thinking.
More: How to make the most of an extra-tall home screen on the Galaxy S8 or LG G6
Those colors are gorgeous
Black or platinum — doesn't matter. Both colors are really, really nice, and they shimmer and reflect light in their own unique ways. I haven't been a big fan of the generic silver that seems to ship with every phone these days, but LG's take on it, called Platinum, is really something else altogether. And then there's the shiny, fingerprint-friendly black color, which I've been using. I love it; as long as you keep it clean, it's one of the crispest-looking phones I've ever had in my pocket.
There's also a white variant, but it's not coming to the U.S.
Which color LG G6 should you buy?
There's a Prime-Exclusive version
The G6 has joined the ranks of other Android phones that are sold by Amazon for $50 in exchange for advertisements being shown on the phone's lock screen. The Amazon version of the G6 is unlocked and ready for use on AT&T, T-Mobile and Verizon. The LG G6+ is also available from Amazon, costing only $499. For the extra $100 over the Prime-Exclusive G6, the G6+ includes 128GB of storage instead of 32GB, and the 32-bit Quad-DAC that will make your Sennheisers sound like heaven.
More: LG G6 joins Amazon Prime Exclusive for $399 as the G6+ and Q6 make their U.S. debut
It's not perfect
Like any phone, the G6 has its fair share of problems, especially when it comes to overcoming some of the endemic software problems LG is known for.
For starters, it doesn't have a super large battery, but there are things you can do — optimizations and such — to prolong the inevitable. And LG's software, while not great, is the best it's ever been — you just have to know how to wrangle it.
Common LG G6 problems and how to fix them
It's a lot cheaper than the Galaxy S8
So here we come to the final decision. At between $400 and $500 depending on the carrier, and cheaper unlocked, the G6 is a lot cheaper than the Galaxy S8. That's a lot of money to save on a phone that's better in some ways (it's much easier to pick up off a table, and the fingerprint sensor placement is so much better) and nearly as good in others. The Prime-Exclusive version of the G6 is significantly cheaper at $399, so don't forget that if you don't mind seeing advertisements.
If you've made up your mind, you can learn everything you need to know about the phone in our forums!
Then you can figure out which carrier to buy it from.
Where to buy the LG G6 in the U.S.
If you want something newer, get the G7
Despite earlier rumors, LG has released a proper follow up to the G6 with the G7. The G7 continues key G-series features like the wide-angle camera and excellent audio, with a slightly refreshed design — including a notch that you can hide — and internals to match other 2018 flagships. If you're in the market for an LG phone today, you may be better of ponying up for the G7.
LG G7: Review, Specs, Availability, Problems and more!
Oreo is here
While it was a bit behind compared to other manufacturers, LG finally starting rolling Android 8.0 Oreo to the G6 in June 2018. It hasn't quite reached all networks and regions, and we're only a couple months away from the final Android P release. We can hope that LG will get better with support on future devices, but they've had a similar release schedule the past few years.
More: These U.S. carriers have updated the LG G6 to Android Oreo
Updated June 2018: Article updated with information regarding the Oreo update and the LG G7.
Daniel Bader was a former Android Central Editor-in-Chief and Executive Editor for iMore and Windows Central.
I want to buy it but I preorder the S8+ already. Maybe I sell my Pixel XL to get the G6

why on earth would you sell the Pixel to get an LG phone?

I have to much problem with the Bluetooth. Connect but my music skip to much. Much less $$ , less bezels. Google is not replacing the phone because they said is a bug a d not a defective phone. I wait over two months for a phone that is not working

There buying it because its better then the pixel.

Because this years pixel has a lot of things that went wrong with it. Updates have helped recently, but at $749 it's just too much to spend on a phone that has too many issues, even if it has the best software experience of any phone.

There are so many lower priced phones that offer more of what I want. The lack of the quad dacs really killed it for me.

Buy the Korean version. $789 on Amazon.

Does anyone know if the Korean model will work on T-Mobile? Without any signal limitations that is?

Awfully expensive for a phone that becomes a paperweight in a year or less. Don't trust LG, won't buy another LG product, hope they get sued into Oblivion. (My g4 just bootlooped 2 days ago after 9 months).

Mine bootlooped after almost 18 months. Sent it to LG, got it back after a week or so; they wouldn't repair it because it was rooted and had had a 3rd party screen repair. Thankfully I was able to disable the two big cores and it's been running fine for a week now. But yeah LG never again....time to give the Chinese brands a try I guess...

My exact thoughts! After this crappy G4 hardware and software support (still on 6.0 with no security updates??), I will NEVER be buying an LG product again.

I would consider it if there wasn't an S8 Plus. But I'm waiting for the Note 8, anyway. Also, SAMOLED and Samsung Pay are the killer features that would stop me from picking the G6 over the S8/Plus.

Exactly my thoughts as well. Note 8 and Samsung Pay. I shop at Target too often and NFC only mobile payments don't work there.

Get a Gear S3 and pair it to whatever phone you want (ducks)... But yeah, it's a solution to get MST payments on another brand (or the G5+ that doesn't have NFC at all)

How much is the Gear S3? And don't worry I only throw things at my boss...

Would be okay if Samsung Pay was actually in your country.......two years on and its still not in the UK

Do we need Samsung Pay in the UK? I pay with contactless everywhere - even my little corner shop. Android Pay does the job. What would Samsung Pay offer over and above Android Pay?

Their UI is still a mess and pretty far behind Samsung, which is saying something since Samsung seems to be swinging back to a bloated mess of a UI too. The cameras look fairly unimpressive too, again I have never ever wanted a wider angle lense (but that is just me), regardless of my feelings on the lense the pictures it produces just look alright to me. Overall I am just not really impressed with the phone, more impressed than last year but that bar is so low it is hardly worth mentioning.

If you care about front facing camera at all, avoid the G6. It's laughable. Just so bad.

It really is. Flip phone bad. LG what were you thinking?

I was hoping it was just the demo phone but they all suck.

Luckily I'm not a twelve year old girl and really don't need or use the front facing camera.

There are some people that like to be in pictures with their loved ones....

Yeah I take a lot of photos with my wife and my child. Luckily.

It's not laughable at all.

Compared to the Galaxy S7 and s8 along with the iPhone 7 and 6s it is the worst. It's a joke that they would release this phone with such a terrible front shooter.

That's something 13 year old girls care about. Sorry your puppy dog ears won't look very well in the crappy G6 front facing camera. /s

typical teenager comment, don't agree so insult it. Never mind the many valid reasons to have a decent front facing camera. Your petty mind only focuses on slandering someone for their opinion

This "person" is a troll. Don't feed it :)

Gotta s8plus in the wing so it's no on the g6 . Saw them both side by side and the s8 I'm sorry but it's just stunning next to anything else out at the moment

If LG had put 64 GB of storage in this phone, I would have considered it.

Well, I needed a new phone & got the LG. I got for 50% off, a Free Google Home & a set of Tone Infinims for Half off. It was a pretty good deal through #Sprint. The GS8+ was the same payment on a Lease, but NOT when you account the 50% off. Plus I like the non edge display. The Samsung is gorgeous though! I did go to Target & got a sweet deal on a MicroSD UHS I one 16GB card for only $8.99 for the camera, so I think Im set :-)

They lost me at "may need a top off once or twice a day, because battery life is less than stellar". After the disgrace that was the Moto X Pure, I'll never buy another phone that isn't applauded for great battery life.

Except that its a bogus comment. With moderate usage i am still over 60% at the very end of most nights. The lowest I ever got the phone so far was about 27% and that was off the charger for about 30 hours.
This is with GPS on all day and always on display on all day. Maybe android central had bad reception and the radios were working over time, but this thing has great battery life. Also keep in mind its a bigger battery than whats in the S8. The S8 is trying to power a screen bigger than the S7 edge on a battery that is 600mha smaller than last year.

Yep. Stopped reading after I saw that.

Moto X Pure??? My wife is using my 2 year old Moto X Pure and she is a realtor who is talking (using speaker phone) and texting and sending email all day long and still has about 20% battery at the end of the day every day! She never has to plug in during the day. And the phone is 2 years old. I wish I still had it. Best phone I ever had so far. Has the best vibration motor you could ever want....it will rattle your teeth.

Sorry, not buying it. We had multiple Pures in my household, they all had terrible battery life. The Snapdragon 808 was known for overheating and battery issues. And finally, every review of that phone applauded the quick charge due to how much it was needed due to the ****** battery.

Camera on Z play is terrible otherwise one of the best phones... That battery life 👍👍👍

Well Moto sure as hell fixed the battery in the G5+. It's phenomenal.

I think a lot of it had to do with the display type and the Haggard 2015 chipsets because the Turbo 2 was also bad.

I think that the Honor 8 Pro is a serious alternative to the G6. At least you can forgive the compromises as it is much cheaper.

The Honor 8 Pro looks really interesting to me. The one concern when dealing with smaller companies, is their repair policies. I personally have a Nexus 6p that has been with Huawei since March 13th due to the 7.1.1 boot loop. These smaller companies can't afford a quick turnaround like the big boys. They also don't have anyone regulating them. I was told that the repair process would take 7-10 days. Then I was told (after sending) that the 7-10 day Windows doesn't start until they actually receive the phone. It took them 48 hours to email me my shipping label, then another 48 hours to process the device into their system after my UPS tracking listed it as delivered. Then after another call I was told that it's actually 7-10 weekdays and that they were experiencing a 1-2 day delay due to high work orders. I hated my Moto X Pure, but at least they sent you a new device and you sent your old one back. They took a cc as insurance. In case you are wondering, I didn't buy the 6p from Google, which is why I had to go through Huawei.

I thought Huawei was the third largest handset manufacturer in the world?

I loved the Honor 8. I bought it for a while while the Note 7 thing was going on. Probably the best phone I've ever used, speed wise. It's too bad the screen was so small, otherwise i would have kept it, as it smoked the Note 7, and S7 Edge in performance. I would hold out for the 8 Pro, but no water proofing and no wireless charging kills it, so sadly I think I'll buy the S8, to keep those and Samsung Pay and put up with the lag until someone comes out with something else.

I loved the LG G6! It was a great phone with super thin bezels and felt small despite being 5.7". I had to return mine though because it had scratches on the camera lens, and that was after 5 days of owning it. I kept it in a case and didn't get it anywhere near sand. It's too bad. Otherwise it was a solid device.

And that's with gorilla Glass 5 on the lens

What's baffling is that people actually downvoted my comment, even though it was objective. The camera lens scratching issue is a thing. Other people have that problems. Just look for the thread in the LG G6 forums.

I have that same problem with my v20. In a case and the camera glass still gets scratched to hell.

Minimal LG bloat is worth mentioning too.

Too many compromises which the author touches on. I can get alternatives for much cheaper or get the GS8/GS 8+, where I don't have to hear a company say "we limited certain features to our home market." Sorry LG. I get tired of hearing that.

Sorry to break this to you.. But China and South Korea get an S8 with 128gb, and 6gb of ram.. Ya know.. Even more of a slap then say, wireless charging or a quad dac.

That comment on the battery life worries me. Companies need to improve this to get my money. It shouldn't be beat out by the Pixel XL.

My battery life has been fantastic. I suggest checking out other review sites or YouTube for battery specific tests. By 10-11PM I typically have over 50-60% remaining.

"But the launcher, which eschews the app drawer and adds ugly borders around all homescreen icons, is pretty bad." Are you just lazy? BOTH of those can be changed with the default launcher with just a few taps. You've clearly never changed a single setting in any app before in your life. I've had no complaints with using the default LG launcher with the app drawer enabled and the icon borders disabled. If you just want to complain about something that is a non-issue merely to have a bullet-point then you are an awfully poor journalist.

I have done both as well with my G6. Pretty happy with it all around so far.

So I should buy a device and have to change the launcher instead of buying a device with a launcher I like?

You don't have to change the launcher. Just change the settings of the existing launcher to add the app drawer and remove the square icon borders. It's right there in the home screen settings on the phone, literally 3 clicks away. I have the G6 and coming from the Galaxy S6, the launcher is much more customizable than the stock launcher on the S6.

I guess I didn't emphasize the sarcasm of that remark......my bad

You're not 99% of the population, which will never touch either of those settings. This site isn't just for the early adopters who know everything about every phone.

But that 99% of the population probably don't think it's bad and those who care know where the settings are or to use a launcher of their choice.

Are you really implying literally that 99% of people will never touch a single setting? Or just THIS setting, because you can know that...

Where did he say a SINGLE setting?

Don't want either the G6 or the S8. Both are too full of silly screen gimmicks. I hate curved glass front and/or back. G6 has too little built in storage and S8 is far too expensive. Of course they will both sell well. The Samsung's will dominate, unless they fry. Tired of the obsession with less bezel. Nothing wrong with protecting the screen. All the obsession with bezels, and cameras has caused the manufacturers to focus too much attention on non relative items. These are NOT video toys or cameras. That is why they sell TV's and DSLR's! These are tools for communication and GPS.

No, that's exactly what they are. People like to use the AIO device, Why would I want to carry around a camera, a TV and Camera?

Sorry @jaseman but I have to disagree. I use my phone far more as a media device and computer than I do as an actual phone. I'm even looking at point and shoot photos I took just a couple years ago and modern smart phones take better photos than my camera did. To be honest, the phone is the least used part of my smart phone experience.

Pixel XL is pure Android with a fairly good size battery, a course it's going to last longer.

Maybe I'm just lucky but I've had the G6 for 3 days and I've very happy with it. Both rear and front camera's are working great. I am coming from a V20 so it's taking a little bit to get used to the smaller built. The battery life isn't great, on par with my V20 and I'm fine with that. I've had the s7 edge in the past (my son has it now) and just not a big fan of the curved screens. I've checked out the S8 and S8+ multiple times and again not digging the screens. I had the Note 7 and I do miss that phone, probably the best phone I've owned. I'll have to see what the Note 8 looks like but for now very happy with my G6 purchase.

You thought the Note 7 was the best phone you've ever owned, but you are not a fan of curved screens. I don't get people.

Agreed. Not gonna pay 200 bucks with JOD just to get the Note 8 in 6 months. The LG6 and its 32g of storage will last until N8 comes out. A good phone that is very solid.

the n7 HAD curved screens. You contradict yourself.

If you (I) can get the Korean version, yes. Wireless charging doesn't do it for me when you fast charging when plugged in.

If you have T-Mobile this means no wifi calling, HD voice or gogo pass functionality (since it relies on wifi calling to authenticate). Huge deal breakers for a frequent flyer like me.

I need the latest software and security update on time
I am waiting for Pixel XL 2

Most manufacturers get security updates on time nowdays. Why you need th latest buggy software immediately? Who knows.

charge up twice a day.... no thanks-

To me, the G6 looks better than the S8. Plus, the performance difference between the 821 vs the 835 is going to be negligible. Only way to tell is if you put the phones side by side. Easiest thing to do would to go with the one who has the best update frequency (spoiler alert: neither).

You get a lot more on the S8 for $100 more though

Just to clear some things up:
- G6 battery is FANTASTIC. My personal experience is that with moderate usage, "always on display" and GPS it took about a day and half to get 27% (forgot to charge overnight). Arstechnica was a bit harsh on the G6 but in their actual battery tests (which you dont see android central doing) G6 was the top performing phone for WebGL battery life and middle of the pack (ahead of Pixel) for WifiBrowsing.
https://arstechnica.com/gadgets/2017/04/lg-g6-review-lgs-personal-best-s...
- Wide angle camera is great.
- The screen is FLAT. Meaning you can hold the damn thing. Cases work the way they should instead of trying to "show off" the sides.
- The fingerprint scanner is reachable.
- The Dolby / HDR display looks great.
- The price is great. A 43inch TV + Google Home + half off the G6 from verizon is way, way less expensive than $750 for an S8. Its a $330 steal that comes with more than $330 worth of promo stuff. If we want to have fair criticisms, LCD makes for a mediocre always-on-display (compared to bright always-on-amoleds), 32GB is small for on-board storage, and regional variants is bullcrap. Storage is fixable with an SD card.

Android Authority also listed the battery as a very strong point, mentioning they could almost get 2 days out of it. They directly compared it to the Pixel XL and S7 Edge and it beat both by a large margin. http://www.androidauthority.com/lg-g6-review-752130/

I agree with the battery life. I unplugged mine at 7:30 am, used it all day at work while connected to WiFi, and it was down to 65% when I got home around 5 pm. It had much better battery life than my S7 edge.

"It had much better battery life than my S7 edge" I love LG products in general and not a huge Samsung fan, but this is quite frankly either a lie or some other outside element (poorly written app, too high brightness or screen time) was hurting your s7 edge battery life. The g6 and the s7 edge both use the same processor, the g6 has a higher resolution screen and its larger and on top of it it has a smaller battery. (3300mah versus 3600 of the s7 edge) On top of it OLED is much more efficient than LCD. It is impossible the g6 has better battery life. And I have used both these phones, in my experience the s7 edge had better battery life by about an hour or so. I'm a heavy user and no phone is getting me through a whole day without recharging at some point so that extra hour was handy. That said I still prefer my pixel over either.
If you are saying the g6 you just bought has better battery life than your s7 edge that was nearly a year old and had 300 hundred charge cycles on it ok I get that but buts not a fair comparison.

I didn't have much luck with Samsung phones but then a friend recommended the LG G3. I got it and loved it. When the G4 dropped in price I got that and it was ok but got slow and the battery life wasn't great. So when I saw a promotion for the G6 I jumped on it and I am very pleased so far. G6 is my favourite that I have owned so far.

galaxy S8 fingerprint sensor looks strange to me and believe they just dropped it there because on screen fingerprint was not ready for prime time. hopefully we see it on the note 8. i would prefer a LG g6 over the galaxy S8 but does that really matter? think booth phones are close together and on the end the price will be the selling point when JOE BLOW goes inside the store and want a cheap phone

And best of all, the LG G6 doesn't have a curved screen!!!

i need the 64 or 128 gb v30

Could u confirm that canadian g6 has wireless charging? I thought it is just the us model. Thanks!

I will never buy an LG model again - they are truly appalling with OTA updates/security patches (many have already mentioned this). Seems they prefer you to use a USB connection and LG Bridge (erm, hello 2005). Plus I think the UK is getting the short end of the stick with no wireless charging or DAC and they still want you to cough up around £650!!!

Agree on the UK getting a poor deal. However I prefer the flat screen and the thicker frame on the sides compared to the Galaxy S8. I can live without the wireless charging, but think they should have put 64gb in for a phone this price. I really don't like how thin Samsung have had to make the buttons on the S8 to fit them into the frame of the phone.

It can't compete with S7E and not with S8, and i would prefer my mate 9 over all of those if it had IP68 and quad DAC, that would be awesome. G6 is ok phone but stupid geographic restriction are very very bad, better just not to sell this awful phone in Europe if it's so crippled out of features.

I hope LG finds a way to bring back the design of the G4, as components shrink and become cooler and more efficient. I guess the cramped conditions were part of the reason for the infamous hardware failures, but I loved that tapered slim look. Neither of the shells quite worked for me - I wasn't a fan of the leather one, and the plastic one had weird geometric dents for some reason - but I was hoping that a future model would keep the shape but make it smooth.

i will prefer the Samsung galaxy s8 plus for its fancy design.

In Poland G6 is priced 724$ and S8 774$ thats only 50$ difference Still dont know should I stick with s7 edge, I feel like I need something fresh

Its got a flat screen ..wish it had the quad DAC like the V20 here in the states ...and would have snapped it up . Sprint is running a promo ..half price on lease or installment ($14.75 month) for new lines of service on Unlimited Freedom plan . Kenny

The Quad DAC will be available in the Mexican version according to LG Mexico.

Allow me to share my experience with the G6, since buying it on launch day: I've had it replaced via factory warranty 3 times. Once, because the wi-fi calling was not working well. The 2nd and 3rd times were because the vibration motor stopped working. Throughout all 4 separate G6s I've owned, I had people complain that they either could barely hear me during phone calls or I kept cutting out (it sounded fine on my end, though). I think the phone is built well. I actually don't mind the launcher and software. It's nice and responsive. The camera is pretty good. But the problems I had were too much. So, someone on eBay just scored a great deal on my 4th model by buying it from me after only a week of use for $240.

Had it since launch day
Never had an issue.
Camera is a downgrade on previous models but the app is a massive improvement.
Phone works great. stands toe to toe with a galaxy s8 in nearly every sense.
Had some issues with battery drain after a while but cleared away unused apps and everything was back to normal so housekeeping is advised.

Be nice if we could get the Oreo update

I will gladly pay $300 for this phone.

One of the slowest phones that i have EVER owned

I just upgraded my G4 to a G6 about a month ago and I love it. I am not worried about all the fine details but I like the quality of photos it takes and the wide screen lens is useful if you need to get a lot crammed into the shot you want. The phone is really snappy and I find the battery can last me through the day. It may not be the phone for everyone but I enjoy it. I know two other people that have a G6 and they also like it.

Just bought one used on eBay for $180 and I love it. Has 8.0 Oreo, headphone jack, wireless charging, 5.7" 2k screen. Battery has been great as well. Keeping this awhile unless it gets laggy or battery starts to go bad
Android Central Newsletter
Get the best of Android Central in in your inbox, every day!
Thank you for signing up to Android Central. You will receive a verification email shortly.
There was a problem. Please refresh the page and try again.