Unlocked LG G6 finally gets Android 8.0 Oreo update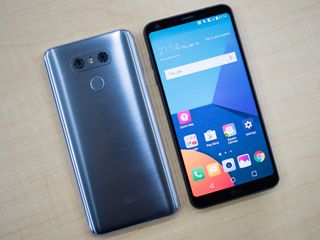 The LG G6, one of 2017's most underrated phones, has been stuck on Nougat since its release. LG promised (and failed) to push Android Oreo to the phone by the end of April, and after missing that deadline, it looks like the update's finally being rolled out in early June.
One of our readers recently got an update on their unlocked LG G6 (model US99720a) that upgraded it to 8.0 Oreo and also included the May 2018 security patch.
All of Oreo's regular features are included, such as picture-in-picture and notification dots, in addition to aesthetic changes to LG's launcher and settings page.
Interestingly enough, our reader indicates that their G6 has been noticeably slower since upgrading to Oreo, saying that apps take "1-3 seconds to load" and that it's "struggling to refresh all the app icons and widgets" when going back to their home screen from an app.
We should see U.S. carriers updating their G6 models soon if the unlocked variant's now being updated, but at the time of publication, only the unlocked handset is seeing the Oreo love.
If you've got an unlocked LG G6, have you gotten the Oreo update yet? If so, how's it running?
Thanks, Jeffrey!
These U.S. carriers have updated the LG V30 to Android Oreo
Android Central Newsletter
Get instant access to breaking news, the hottest reviews, great deals and helpful tips
Joe Maring was a Senior Editor for Android Central between 2017 and 2021. You can reach him on Twitter at @JoeMaring1.
Nice!
What a nice surprise to be on the May security patch too.

Jeez LG/Samsung if you plan your design/development/testing properly the unlocked model should be first ones to get update over carrier models.

Hahaha LG G6 owners are only just get Android 8.0 Oreo? LG are a joke lol.

You know It's not much different than other oems right?

I know it's the same with other OEMs, only the Pixel phones you can trust for updates.

There it is. Beno, we know, we know Pixels are awesome, you're going to get a Pixel 2XL when you can, blah blah blah

I honestly cringe every time I see his username. Always riding Google's junk about the pixel. The phone isn't even all that.

Lol it's not all that wish I got something else.

Whore_Hayy, the Pixel isn't about useless features and gimmicks it's about the software experience and they is no software experience that is as good as the Pixel 2 XL but you wouldn't understand that as your up Samsung's a hole, which I'm ordering tomorrow (why couldn't you make the Pixel 2 XL more widely available Google?) You can keep your useless "features" and gimmicks that other phones have I want to be different and not another Samsung, HTC or LG shill or whatever phone you use. And the Pixel 2 XL is definitely all that.

a typical joke right up there next to Samsung

No joke, nkw that I have a Pixel 2 XL now I now know first hand that the Pixel 2 XL is an amazing phone with and an amazing software experience and camera which is better than any bloated Samsung. Fact!

Verizon G6 got O8.0 a week or two ago. Only has the April 1 patch. Runs okay, but sometimes a bit laggy. You'd think a 1 yr old flagship would not have any issue with the latest OS.

It's fine. But with only 4GB of RAM, manually clear memory & storage. 4GB ram is not enough in 2018.

4GB RAM is enough with a Pixel which doesn't have the crap that comes with an LG phone with their crappy UI.

4GB of RAM is plenty when coupled with the Snapdragon 845. My G6 performs just as well as the boring Pixel 2. No noticable lag and everything is still snappy and fast.

Don't even respond to Beno. Always referring to Pixels as the end all, be all of smartphones.

Angry GTS it is your crappy bloated G6 is the one that is boring with its old Snapdragon 821 not 845, get it right. Oh and I'll be enjoying Android P in a few months while you'll be lucky to get it on your LG G6 lol.

Hey, did u get the oreo update? Did it slow it down?

Hope the Amazon Prime Exclusive G6 gets the update soon too

Got the Oreo notification this morning for AT&T.

Tipster, here! Update: my phone is running constantly warm. While my phone was asleep, it drained 70% of the battery in 3.5 hrs. I'm going to reach out to LG Support. Hopefully this is an isolated issue instead of a botched update!

Still haven't received any oreo update on my g6.

Got my upgrade last night, so far so good,fingers crossed. The boot screen now displays LG6 ThinQ.

Mine is unlocked H870DS and it's still on 7.0 with an October 2017 insecurity patch. In the meantime, we find out that Apple is going to push the latest version of their OS to a 2014 device. That would be like LG updating the LG G3 to Android P. Boy, did we pick the wrong side.

Same model. Same status.
When I bought LG G6 I thought that LG would provide updates like before within two or three months. Not like this =(

My Sprint LG G6 downloaded and installed the 8.0 update, last night. The strange thing is there was no notification. After reading this article yesterday, I figured I'd check my phone. Not sure if it made a difference, but I manually updated both the PRL and Profile, before checking for the update. --- Since I only just installed it last night, it's too early to provide any real feedback. The install seemed to go fine. Not much looks different, maybe some finer/sharper fonts, but menu system looks identical to previous version. I may have noticed a very slight lag in opening apps, but that could also be a "placebo effect" from reading similar comments here. --- BTW... Sprint 8.0 update also include the May Security Patch.

Just installed it on my stock, unrooted, Sprint G6, and it's very laggy compared to what it was just earlier today!

Updated my Sprint Stock G6 a day or two before you, now running for almost 2 weeks. I would say I've seen none to very little/minor difference in speed and operation. For the first day or so, I may have detected a slight delay in opening some apps, but don't think that's the case any longer. General menu/screen navigation is still smooth and consistent, as it was Pre-O. Hope your experience similarly improves.

Delayed goodness from south Korea, now Huawei beats LG at updates 🤔?

Still stuck on Android 7.0 with December patch

After the LG G6 Oreo Update Recently my Paypal App doesnt Work,My Sagelink Bank,App
Doesn't work FB Messenger was all wonky,Facebook signed Me out and wouldnt let me
Back in without a major Hassle.
Got tited of all the crap nuked the phone with a factory reset and now its WORSE.
LG better get on this fast or Im Never buying another LG.....Bought Every phone since the G2

Hate forced rebranding to G6 ThinQ. Noticable lag in many operations. Zombie Amazon Assisstant app came with update has been marked disabled yet it gets reset to enabled, I don't want constant feed of suggestions. Hate that home bar on bottom is context sensitive and switches content/options.

I'm here in Australia and yet to receive the update :/
Android Central Newsletter
Get instant access to breaking news, the hottest reviews, great deals and helpful tips
Thank you for signing up to Android Central. You will receive a verification email shortly.
There was a problem. Please refresh the page and try again.