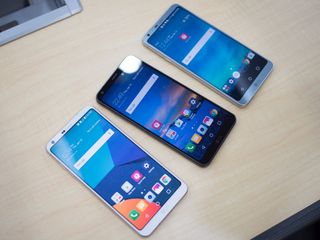 With the amazing amount of coverage and information out there surrounding every smartphone launch today, everyone is quick to over-analyze and jump to conclusions about every minute aspect of a device. It has always been the purpose of our reviews to give context to all of the parts of a smartphone and how they all influence one another, but it's a rarity that we can tell a deeper story about the chain of thought that went into creating a new top-end phone came to be. The decisions before the decisions, if you will.
In mid-February, Alex Dobie and I had the unique opportunity of meeting several of the people deeply involved with the design, development and creation of the LG G6, including specialists in hardware, design, cameras, software and testing. Naturally the discussion centered around the latest top-end device from LG, giving us insights into the thought process and development of a complex smartphone, but the discussions also gave us great insight into just what it takes to design, build and launch a smartphone today.
First take
Get to know the LG G6
Nearing the end of our time in Seoul with LG, Alex Dobie and I sat down to recap everything we had seen and talk about how it all comes together. For our initial impressions of the phone, be sure to watch the video above!
It's complicated
LG G6: It all started with a taller screen
Our crash course in understanding how the LG G6 came to be started in the Gasan district of Seoul, South Korea, where a majority of the "Mobile Communications" division of LG Electronics is located. Ian Hwang, Director of Product Planning, and Ho-joong Jeong, VP of Product Development, were an excellent pair to get us up to speed with the initial thoughts on the latest in the G series.
Hwang immediately set the stage for the G6: "We heard our customers' voices when we planned this product. People want a bigger screen, smaller body, water and dust-proof, and reliability." He continued,"People love bigger screens, but they don't like big, bulky smartphones. More than 80% of people are holding their phones with one hand [...] meaning the grip and portability are very very important."
Over the next two days, it was clear these basic principles were the foundation for the creation of the G6. Despite releasing the big and brash V20 just a few months ago, LG had been rethinking its strategy for the G series — a process that began before the LG G5 was released — by focusing on making the most compact and easy-to-handle phone that also offers a substantial screen size for people to do everything they wanted on a modern smartphone. As we would continually see through our time spent at LG, individual decisions on materials, components and software all came back to this basic principle of having a simpler phone that was easier to manage in one hand.
Our complete LG G6 review!
The LG G6 breathes new life into the G series, with a fresh design and a renewed sense of simplicity that helps it feel more cohesive. To learn all about it, we have a complete review for you to enjoy.
Read our complete LG G6 review here!
It all started with this choice of an extra-tall 18:9 (yes, that should just be 2:1) aspect ratio display that keeps the phone narrow — under a magical "maximum" width of 72 mm that LG spoke about — while also providing room on the screen we all desire. That screen size and aspect ratio would in turn influence all other decisions that went into the creation of the G6. Now in order to fit that display in a phone that we can all still use, bezels had to shrink. And of course as the bezels decrease, so does the overall size of the case — and now, together with the market's desire for waterproofing, the back of the LG G6 had to be sealed with an embedded battery inside. You can see how this quickly cascaded through the development process.
But it doesn't stop there.
Of course it's rather easy to make a phone that looks good — that is, until you think about the usability or practicality of creating a device that has to last two or three years spending hours a day being bumped, dropped and abused. As is the case with every other company making top-end phones today, LG doesn't look at hardware in a vacuum — it knows that these phones go everywhere with us and need to be robust. You can't go too far in the other direction and start going with "rugged" designs, but that main point of "reliability" kept coming up.
Despite the inherent fragility of using glass (in this case Gorilla Glass 5) on the back of a phone, LG made some serious claims about durability. 250 drop tests went into picking out the right thickness and shape for the 6013 aluminum frame. The larger corner radius and wider spacing between the antennas showed over threefold improvement in durability when dropped on the corner of the phone — which, in LG's testing, was the most-common contact point for random drops. In LG's labs, the G6 took 15 drops to the corner before its hardware was affected to the point where it was no longer IP68 water resistant.
Given the current emphasis on safety following the Galaxy Note 7's recall, LG was keen to spend extra time talking about batteries as well. Tests that involved dropping a 20-pound steel rod on a fully charged battery and then piercing it fully with a nail didn't cause its batteries to fail — the result of technology LG understandably wasn't keen on explaining due to its confidential nature.
In many ways, all of these external hardware decisions are predicated by what required components are already tightly packed inside the desired frame size. Though many of us are spec hounds that want everything in a single device, that isn't practical — there are concerns of power consumption, heat, battery size, individual component costs and interoperability between it all.
A decision to go with a Snapdragon 821 instead of the newer 835 may seem like simply a choice about a processor, but that change in chip would instead necessitate a redo of the internal structure of the phone, choices of other components and of course hours of engineering time in firmware. More succinctly, as Hwang put it, "If people can fully enjoy the smartphone experience on this 821, which is reliable because it is the third generation of this chipset, [...] this is the best possible option we could give to our users." The engineers know this chipset intimately, have fully optimized for it, and there are efficiencies to sticking to this processor.
One of the important spec trade-offs to understand was in the camera setup. LG has continued to refine its dual camera approach, and customers have taken to it kindly. According to user research, Hwang explained, "Almost half of G5 users are using the wide-angle lens as their main camera." Using identical camera sensors for both standard and wide cameras in the LG G6 made sense, then, but of course led to additional compromises in terms of the "main" camera reducing resolution to 13MP.
Size and thickness of the camera assembly also had to be kept in check to make sure the G6 wouldn't have a camera bump on the back or cut into space on the main board where the processor lies. In a world where the wide-angle camera is increasing in importance, this was a net positive move.
Through all of the iterations, trade-offs and designs, the LG G6's final form emerged as yet another take on what the G series means while doing something completely different from any preceding phone in the line.
Inspiration from hardware
UI and UX: Bringing it all together
After a jam-packed day of learning about the LG G6's hardware, we traveled to another LG building in the Seocho area of Seoul to talk software. Kun-ho Lee, Head of GUI Design, gave a fantastic introduction into LG's refreshed software experience. When you turn the LG G6 on you see something very much along the lineage of the V20's customized version of Android 7.0 Nougat, but in this case it is now heavily influenced by the G6's unique hardware.
The driving factors behind the interface and UX work on the LG G6 came down to balance, simplicity and fresh colors. The focus on balance, as Lee explained, comes directly from the G6's 18:9 display — now with this aspect ratio, the interface can be split into a series of squares with perfect symmetry. Default apps were redesigned to introduce top/bottom symmetry using these squares, and while it isn't something every user will notice explicitly, the hope is that it will subconsciously be more appealing to the eye. This is something that really only works if your screen is of this proportion, and it's a brilliant move that marries the hardware and software designs.
The same goes for the influence of the G6's rounded display corners (which themselves are coordinated with the curves of the phone frame) on the icons and interface elements of the software. Pointed to a slide deck that itself had rounded corners, Lee explained that the various rounded corner elements "provide a balance and unity to the home screen" that on other phones is disrupted by seeing icons of all shapes and sizes. For this reason LG is not only redesigning all of its own app icons to be rounded squares, but also applying a filter of sorts to either scale or put backgrounds on third-party apps to normalize the look across the phone.
However you personally feel about manufacturers getting their hands into your app icons, you can appreciate the dedication shown here to try and offer something consistent and enjoyable when you unlock your phone.
Another small nod to the hardware found in the entirety of the software is the color palette. LG's design team spent time with the color specialists at Pantone to pick "vivid and vibrant, yet natural, colors" that looked unique and played to the strengths of the G6's LCD screen. And in a rather large nod to Google's Material Design philosophy, Lee and his team created a dozen new unique wallpapers for the G6 by taking high-resolution photos of various stacked pieces of paper and plastic to create true works of art.
Fueled by inspiration from the hardware design rather than true physical constraints, the software designers for the LG G6 were able to create an interface that feels more consistent, connected and naturally balanced.
Hard work pays off
The end result: LG G6
When you pick up an LG G6 you won't immediately be able to break down and identify the myriad tiny pieces that went into its creation. But the goal isn't to have you spend time thinking about the details — it's about the complete product. Its taller screen surrounded by sturdy hardware and thoughtfully chosen internals are aimed at giving you the best experience with the fewest compromises. The balanced software accented by complementary colors and nods to the hardware design is supposed to be something you just use rather than constantly think about.
Everything detailed here is just the backstory, showing all of the hard work and dedication that goes into every single part of a smartphone. Over a year of development to come down to the single launch of the latest version in the G series from LG.
Get the Android Central Newsletter
Instant access to breaking news, the hottest reviews, great deals and helpful tips.
Andrew was an Executive Editor, U.S. at Android Central between 2012 and 2020.