Everything you need to know about the LG G6's cameras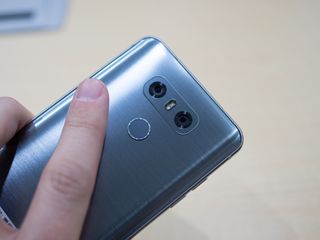 Photography has become one of the leading factors in choosing a phone today, with so many companies putting out great choices. LG has been near the top of the pack for the past few generations of its G and V series of phones, and it is hoping subtle tweaks to its formula can keep it in the conversation with the LG G6.
Dual rear cameras are very much the focal point here, with the wide-angle camera getting a much-needed boost of attention as LG finds that nearly half of its users use that as their primary shooter. At the same time, the wide-angle front-facing camera stands alone as your only camera choice up front, making sure you fit as much as possible in your selfie.
Here's the full breakdown of what to expect in the LG G6's camera setup.
Rear cameras
LG is well known for its dual camera setups at this point, and it has tweaked the setup over the past couple generations of its high-end phones. The G6 has yet another tweak to the combination, moving to using the same sensor for both cameras rather than a markedly better sensor in the "main" camera with a weaker sensor in the wide-angle camera as before. The sensors are identical 13MP Sony units (IMX258) with 1.12-micron pixels, though the specs supporting them differ a bit.
The standard camera has a 71-degree lens — which is about standard for most smartphone cameras — with an f/1.8 aperture and OIS. It also has PDAF (phase-detect auto focus). Depending on how much LG has improved its software, this camera setup may be looked upon as a downgrade from the 16MP sensor it was using in prior phones. Not only has the resolution dipped, but there also wasn't any increase in pixel size to show for it — you may have noticed that laser auto focus is gone as well.
More: LG G6 vs. Pixel XL camera comparison
The wide-angle camera still offers you those super-unique photos that you just don't get on any other smartphone, and now with a better sensor it's even more valuable. It has a 125-degree wide-angle lens with an f/2.4 aperture — but it lacks OIS and autofocus, just as before. Before you go running to grab your pitchfork, hear me out: because of the ultra-wide look, there isn't much need for autofocus (everything is just set to infinity) or OIS. While stabilization would be nice to have it isn't critical — the only worry here, perhaps, is the f/2.4 aperture for lower light shots.
When it comes to using those cameras, LG sees them as operating independently in nearly every aspect. Though you can smoothly zoom between the two when staging a still or recording video, in the end you're only going to be using one at a time. The only exception is a dual-shot mode that takes both a wide-angle and standard shot at the same time for an interesting artistic effect.
Front camera
After trying to use two distinct front-facing cameras with the LG V10, things switched back to a single extra-wide camera on the V20 and we have the same look now in the G6. That keeps things simple in terms of components, but also means you don't have two cameras taking up precious space on the LG G6's small bezels.
Front-facing cameras are usually rather wide by default, but considering there's little reason to have anything but a super-wide lens for your selfies LG has gone with a 100-degree lens with f/2.2 aperture in front of its 5MP sensor. There isn't any sort of stabilization here, but once again size constraints are in full effect.
There's so much more to the LG G6 than just the cameras. Be sure to read our full review, and breakdowns of the various features from LG's latest phone!
Android Central Newsletter
Get instant access to breaking news, the hottest reviews, great deals and helpful tips
Andrew was an Executive Editor, U.S. at Android Central between 2012 and 2020.
It's great that they've managed such great shots on a standard 13MP 1.12um camera, but imagine what they could do with the Pixel's shooter. Because, really, it means that they haven't meaningfully changed their camera hardware since the LG G2's IMX135, while Samsung has now blown through at least four different sensors.

Also just a wild guess but I imagine the sensor here is the IMX258. Let's see how correct I am.

For me as a photographer i find the whole dual camera thing more are less a gimmick that no one really asked for i compare photos with my daughter iPhone 7 with my s7 edge and let's just say she's not to happy right now with apple . Samsung could have easily added a dual camera if they saw a real advantage there not trust me

only real "advantage" is wider shots... but if you go the the camera samples that they posted for this phone here on AC, the "wide angle" shots have a HORRIBLE fish eye effect. but i am totally with you. Love my S7E camera. lol

The wide angle is a huge advantage, I can get incredible shots with my V20 that no other phone besides LG can get. For things like travel or landscapes it works out fantastic, or anywhere you need a wider view to capture everything. The quality is good enough for phone or online viewing. The fish eye effect is only using it at exteme angles. You will find no photographer without several lenses or at least a zoom to cover from wide to telephoto.

Had a S7E and now i got Mate 9. no phone can come close to DSLR no matter how hard they try, dual camera or not. When i need serious shooting, i always take mine D5500 over any phone, my last trip to Prague and Germany was shot with D5500.

The Nokia 1020 came the closest to DSLR territory. But that was first a camera, then a phone.

True also heard tales about Nokia 808, awful phone but awesome camera :)

I can confirm the tales are true (I own both).
In fact the 808 sometimes takes better photos than the 1020 as the 1020 software had a terrible habit of adding a slightly warmer tint to the pictures.

I've had the LG G5 for a while now and one the best features on this phone is the dual camera. Yes the wide lens is only 8mp, but the video filming with the wide angle still records in qhd. You don't realize how useful it can be until you've had one at your disposal on a daily. I don't ever want a phone without a wide lens now. It's just nice being able to switch back and forth at the touch of an on-screen button.. I like how they upgraded the G6 to a 13mp this year but they took iOS out which is kind of a bummer. Bottom line, the wide-angle lens is pretty damn sweet.

So they just picked the last thing their phones where good at and ruined it.
Boy this will be a walk in the park for Nokia and Samsung this year. The G6 will be dead before it even arrives.

It's not because it has smaller megapixels???

Maga pixel have nothing to do with it Sammy has just 12 and it's a beast . It's all about the censor and processor my old full frame camera had just 5 mags and took beautiful pictures

Uh, it's not just sensors and processors. There's a heap of stuff that judges how a camera performs. Sensor size and pixel size come to mind, along with construction, aspect ratio, dynamic range and resolution. Software processing is a critical one, though.

Sounds like a winning formula welcome to the Samsung Galaxy S7 Edge

Couple of things: - Although the S7 has the best camera on Android *so far*, the 12mp resolution is a weak spot in it. It produces great pictures to look at in your phone screen and post on social media HOWEVER, you have to accept the picture you took and lose any notion of zooming in after the shot etc. With just 12mp you have no room to play a lot with it.
So yes, megapixel numbers DO count. They're not the *only* thing that counts (though no one warned Sony about that, apparently), but they also play a very important role on mobile photography. - Your full frame camera had everything larger. Larger lenses, larger sensors, etc. You can't compare a full frame camera with a phone camera because the hardware isn't remotely the same.

Well that goes without saying the laws of physics apply here . You have to know your limits it's just a cell phone with a teeny tiny sensor . But with that being said I've printed plenty of pictures from my s7 edge as long as you don't zoom those 12 mags will amaze you

Well sure... As long as you don't zoom, yeah. But it's still a weak spot nonetheless. It doesn't concern my *that* much because I always carry with me a Nokia 1020 for photos but still, I know I can't rely on the S7 for zooming and that's a shame.

i had S7 for a year, and daylight shooting isn't impressive at all, Note 5 was better mainly to weird plastic oil painting effect, it affects some photos not all, but S7 is not impressive at daylight at all. Night shot are awesome only if u use manual mode, as Auto mode is too aggressive on ISO, too high.

Nokia is going with a stock Android OS with no theming engine afaik. Man, are you gonna hate those whites everywhere.

Already taking care to putting some sense into them. And if not, there would come the day I'd have to root a phone to fix it... And it might be upon us. One thing is for sure : I ain't using a phone with the sh*t UI of stock Android ;)
(Alternatively I might just keep using the S7 instead)

Why so many mixed reviews on the camera... :(

The G6 takes great photos, and there are valid technical reasons to drop to 13 MP without increasing pixel size. And there's not really any other Android OEM in the US market that offers a second wide angle lens like LG is doing. The wide angle dramatically strengthens perspective and allows for incredibly dynamic photos that are literally impossible to replicate on a phone that has a single standard angle sensor. If you don't understand what that means though, you're probably just using nothing but auto and will be better off with the Samsung style camera.

The addition of the wide-angle lens would justify it IF that lense was optically stabilised. However, unlike the V20 for example, they dropped the OIS on the wide-angle lens which makes it even worse as OIS-less cameras are utter sh*t. Another thing is: you can increase the size of the pixels without reducing their count. Thirdly, well if in the US there are no more offers that's none of my business. I couldn't care less what you get or don't get in the US. I'm not American and in the European continent we get plenty of stuff ;) (though admittedly the G6 we'll get will be the sh*t version).

Iam confused between G6 and S8 S8+...wait and watch is my game... Depends on price and feel in the hand
Android Central Newsletter
Get instant access to breaking news, the hottest reviews, great deals and helpful tips
Thank you for signing up to Android Central. You will receive a verification email shortly.
There was a problem. Please refresh the page and try again.