How to make the most of an extra-tall home screen on the Galaxy S8 or LG G6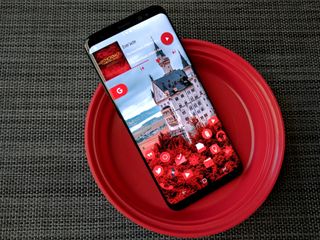 The tall screens on recent flagships like the Samsung Galaxy S8 and the LG G6 offer up a lot of options for building and theming home screens. You can mix things up and lay your icons and widgets out differently — matter of fact, you sort of have to. Using the same layout on an S8 as you did on a Google Pixel will leave your fingers stretching, your layout wonky, and some of your space wasted.
Let's fix that.
Add more rows
The standard home screen grid has been 4x4 or 5x5 on most home screens for a while, and while that used to turn out good home screens when screens were under 5 inches, on tall screens, that just doesn't cut it anymore.
If you like the simplicity of a 4-column desktop, try bumping up the number of rows to a 4-column by 6-row grid. I've found something of a sweet spot for tall home screen desktops around six to eight columns by seven to nine rows, give or take a dock or persistent search bar (more on those in a minute). By adding more rows, you can fit more icons on your big, tall home screen, or you can better space things out.
Move your search bar
If you're used to having a Google search bar on your home screen, you don't have to get rid of it, but if it stays at the very top of your home screen, it's going to be harder to reach and less likely to be used. In an age where we can all summon Google with a quick command word, the search widget is less useful than in years past, but it's nice to have a shortcut sometimes, and they can add a pop of color to your home screen.
Rather than having the search bar perched on the highest shelf of your home screen, consider moving it down where it'll be a little easier to reach. Placing the "pill" Google search widget available in Nova Launcher about a third of the way down the screen puts it near where my left thumb naturally gravitates to on the home screen, so bringing it down has helped me use it more.
If you employ a launcher with a persistent search bar at the top of the screen like Evie Launcher or Action Launcher's Quickbar, theme them well and get ready to reach. You should also consider a gesture shortcut many launchers like Evie use to make it easier to use that high search bar on tall screens: assign the pull down gesture on your home screen to Search.
Creating balance
Now, just because it's harder to reach the top of your screen doesn't mean it should be empty while everything sits at the bottom like cement shoes. You need to create balance in your home screen. Rather than placing items you'd tap regularly like app shortcuts near the top of the screen, place a widget that you're more likely to glance at and move on, like weather or calendar appointments.
Towards the bottom of the screen, you can take advantage of the extra space and spread out your icons, or add a widget or two that you interact with frequently. For some themes recently, I've even disabled the dock to allow myself even more room to spread things out and arrange my icons diagonally rather than boring straight lines (thank you, subgrid positioning).
This leaves the middle clear for gesture shortcuts, also letting your wallpaper shine through and helping your home screen look tidier than it may actually be.
Go vertical
If you tend to use your phone with one hand, rather than arranging your icons around the bottom of the screen, place your icons along the side of the screen. This should keep everything in reach of your thumb, decrease stretching for icons, and leaves more room at the top and bottom of the screen open for widgets, should you so desire.
Going vertical on a tall screen can make your home screen seem even taller, but when combined with an off-center wallpaper, a vertical dock can create a unique and refreshing look to your home screen.
Have fun with it
You've got more real estate to work with now, so just play around with it. You might find a new style you like going forward, you might find that you don't really need a widget you've had on your desktop forever, or you might just find that your old style works just as well with a tall screen as it does with a short one. The only way to find out is to play around with it, so what's stopping you from finding a new, happier home screen?
Ara Wagoner was a staff writer at Android Central. She themes phones and pokes YouTube Music with a stick. When she's not writing about cases, Chromebooks, or customization, she's wandering around Walt Disney World. If you see her without headphones, RUN. You can follow her on Twitter at @arawagco.
Enable immersive mode and use Nova to remove the status bar and viola... Big beautiful screen in all of its glory.

This is going to sound crazy but I'm using squarehome2 on my Galaxy S8 and it's beautiful! 😁

It's not crazy if it works for you.

Squarehome 2 can really be glorious if you know what you're doing. That tile design of Windows phone is really functional and mature looking so I tend to theme it with dark tones of colors and its arguably the most gorgeous interface ever. Microsoft f*cks up big time by not convincing developers to support its OS as I really think they have the most mature looking interface out of all the mobile OS but no worries because Squarehome brings most of those stuffs to Android.

Yeah, the Windows Phone/Mobile interface intrinsically supported a vertical space. I still keep my Icon (930) on W10 as a WiFi only device, just to keep a hand in that space, and think about what if....

I sold my Icon but kept my 640 for that same reason (and because it accommodates 128GB microSD cards for my music & movies). I still get the "Insider" updates for Windows 10 Mobile, but they're just bug fixes, even on the "Fast Ring." I guess I'm just a sucker for dead platforms: first webOS (still have my fire-sale Touchpad), then Blackberry, then Windows Phone. I do have an iPhone 6S Plus & iPad Air 2 for work, but my personal phone is the OnePlus 3T - I love the added customizations compared to stock Android on my Nexus devices. it's like running an enthusiast ROM with better support and stability (I say that while my Nexus 7 2013 is currently running LineageOS). I hope the OP6 will be a tall phone - my large paws would appreciate the extra height (the Nexus 6 was the largest phone I owned but I preferred the way the Nexus 6P felt in my hands.).

Thats a good launcher as well. I used it at times on my OnePlus 3T. Yet to install on my S8 due to the extra tall screen

Which music player widget is shown in the majority of the pics?

Material Music Komponent for KWGT

My boss has an s8+ and a dji drone. The dji app crashes immediately upon opening the app. There's a message that pops up and says this screen size is not compatible with this app (something along those lines). I recommended this phone to him and between this, bixby and the occasional lag.. he's beginning to hate this phone and wants his note 4 back. Any fix to this problem so he can chill out and enjoy the s8+

There's a setting in the apps coding the developer reds go fox, but in the meantime the app should be able to launch and play with black bars at the top and bottom. That's how I play some of my games on here. Open the app, tap recent and see if there's a teal icon available over the app you just opened.

my s8+ works fine with dji go app, not sure what his issue is there? alternatively you should perhaps change the screen size settings to not use full screen mode, its under settings > display > full screen apps and choose dji go and turn it off :-) other options might resort to removing and reinstalling the app, and depending which drone you have perhaps check you have the correct dji app, there are 2, make sure you have the most upto date 1 for the drone... not much help im afraid

I hope more apps are set out better now that screens are only going up, up, up. Samsung seems to be leading by example and made things much easier by moving the menu buttons in their Browser at least to the bottom instead of the top which is much more user friendly for the new screen ratio of today's phones.

What's the weather widget at the bottom of the seven thousand strays wallpaper?

You cannot make a post on this and not name the icon packs and widgets at least! I need to know the name of the pink pack!!

I've got full instructions for that theme coming, but the pack is called Unicorn. Fitting, no?

I was stoked to see someone else that collects Disney theme park music.

I'm always looking for more, especially area and background music, which is just awesome for working and writing to.

Yes! Those are my favorites to play as well. I haven't added anything to my collection in a number of years, but I have large accumulation.

If you're ever feeling charitable, I'm always open to more. New or old, so long as it sounds lovely, I love it.

I like mine with no icons at all. Maybe just one or 2 the rest I control with gestures.

Ultra-minimalist.... I wish I could do that, but then my themes would be too boring to write up...

LOVE LOVE LOVE your Spaceship Earth background with the 80s-era fountain in the foreground. That 3-panel clear sculpture with the EPCOT logo on the tops is missed. Yes, I'm an EPCOT geek. :)

I'm looking forward to the announcements today for Epcot, but I can't help being a little anxious, too. And thanks! A friend on Twitter gave me the image. So purdy!

That is one of the best EPCOT wallpaper I have seen!

Thanks for this I hate wonk in my home screen

That's some good home screen that has been listed. The s8 has a beautiful screen and I'm in love with the tall screen. Great to fill widgets at the top and not feel cramped. Please do list down the widgets and icon packs.

Icon packs: Whicons, Golden Icons, Glim, Unicorn, Lines, Icon Pack Studio Widgets: Nova Launcher's customizable Google Search Bar widget, 1Weather (Tabbed for the big one, Compact for the small one), Material Music Komponent for KWGT (except #explorecanada and Epcot, which use Ubiquity Music Widget).

What a classic pic of spaceship earth!! Love it!

Details of green Volkswagen setup, please :)

Wallpaper is from DeviantArt, I featured it in a wallpaper weekly in June. The icons are green variant Glim icons. Nova's search widget, set to a matching green and Kustom Music Komponent for KWGT, with white text, fully transparent backgrounds, and green accents.

Where can I get the flower wallpaper at the bottom? Awesome setups Ara

That's in a theme pack, coming soon!

I keep it p simple. Stock launcher. Dope wallpaper. Most used apps on the front page. No search bar just a small weather widget. Google calendar widget on the next page full size with the device management widget for quick clean up.

i keep it simpler with jus one app on the home screen(google search button) with a dope GOTG wallpaper and my edge widgets at the rdy with IG, text, FB, and ESPN

I'm I the only one that would prefer a phone with a 16:9 or 16:10 ratio? I can deal with a little more width and less height.

At this point I'm glad that phones aren't going to 3:2 like tablets have.
Android Central Newsletter
Thank you for signing up to Android Central. You will receive a verification email shortly.
There was a problem. Please refresh the page and try again.