Action Launcher: Everything you need to know!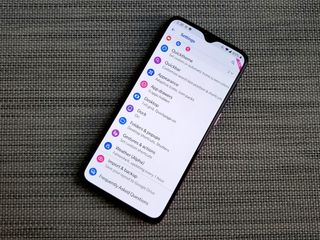 Some launchers are made to be quick. Some launchers are made to be adaptable. Some launchers are made to be smart. Then there are some launchers that try to do it all, and they usually fail. Action Launcher (opens in new tab), however, is the rare instance of a home screen launcher that is as quick as it is cunning, and white it does have limits, there's no doubt that Action is one of the best launchers you could come home to.
The latest Action Launcher news
December 24, 2018 — Action Launcher gives stable users big, beautiful v38 update for Christmas
Action Launcher's latest update is a beauty, and after three weeks of beta testing, v38 is rolling out to everyone. Merry Christmas! Overhauled launcher settings for all!
The update has more goodies than Santa's sleigh — most of which we covered in the beta release below — but the improvements to Quicktheme and return of the Lock Device gesture option will excite users most. The update also includes the 2019 Supporter banner, for either $6 or $12.
'tis the season of giving, so consider giving back to Action Launcher's developer, Chris Lacy, and enabling him to keep cranking out cool updates like this one! Who knows, maybe he'll bring us hex color support for Quicktheme next Christmas.
Free at Google Play (opens in new tab)
December 3, 2018 — Action Launcher v38 Beta is here and it's got presents for everybody!
Action Launcher has been on V37 for months now, and with it's sixth birthday coming up later this week, I was wondering when we'd be seeing a big, beautiful beta update from Chris Lacy. v38.0-beta1 is here, and there's a lot here to unpack, starting with overhauled Action Settings!!! Woo hoo!!
Sorry, I'm a settings nerd, and it's been a great year to be one. The new Action Settings infuses more colors into the menus and features more granular Quicktheme settings — still no hex color picker, I'll have to write Santa about that — a newly combined Appearance menu, and the ability to search for settings by name. Searching for settings is a godsend, especially for a launcher with as many awesome options as Action Launcher
More Pie and Pixel goodness has seeped into Action Launcher with v38, particularly in the app drawers, folders, and pop-up menus. There's also new infinite scroll options for both home screens and docks, and it's making me nostalgic for the days when I used three dock pages for all my app folders. Good times...
This update also brings the 2019 Supporter badge, which comes with 5 pink and purple wallpapers that make my inner girly-girl weep with joy. You can become an Action Launcher Supporter for $6 or $12, but everyone opted into the Action Launcher beta can enjoy this update right now as it rolls out through Google Play!
Free at Google Play (opens in new tab)
Get in on the Action
The Swiss Army home screen
Action Launcher is a launcher that's perfect for the instant gratification generation, because it's watchword is quick: Quickdrawer, Quickpage, Quicktheme. You can get your home screen set up exactly as you want with Action Launcher and you can find your way around it real quick. Here's what makes Action Launcher the best launcher and the only launcher for so many users.
Theming made easy
Theming on Android takes a little skill, a little know-how, and a lot of luck. Or you could just use Action Launcher, which makes it stupid simple to get your launcher themed properly to color-match most wallpapers you set.
Inside Quicktheme
Behold, a Cave of Wonders
Most launchers are pretty straightforward: you have a number of home screens, a dock, and an app drawer. Action Launcher's not most launchers, and if you look closely at this diamond in the Android rough, you'll find a treasure chest of hidden wonders.
Covers, Shutters, and Quickpage: Action Launcher's hidden treasures
Get Adaptive
Adaptive icons are here, and no doubt they will improve, but until they do, Action Launcher has decided to take matters into their own hands by creating launcher-exclusive AdaptivePack to allow users to get Adaptive goodness on their home screens without being completely besieged by white backer plates. As a bonus, you can now have adaptive folder icons to match your adaptive icons!
Action Launcher's approach to Adaptive icons
Why would you make us choose?!
Swiping from the left edge of Action Launcher, you have two mutually-exclusive features you can choose from: the recently-added Google Now pane, and Action Launcher's classic Quickdrawer. So… which do you choose? How can you choose?!
Quickdrawer or Google Now, an Action Launcher dilemma
Be a hero with Action Launcher Supporter
App development is a full-time job, and good apps deserve to have their developer compensated so they can devote their full time to making said apps better instead of being distracted by another job. Enter Action Launcher Supporter, and the history that led to it.
Go beyond Plus! Action Launcher Supporters
Why do you love Action Launcher?
Tell us in the comments: what keeps you coming home to Action Launcher?
Get the Android Central Newsletter
Instant access to breaking news, the hottest reviews, great deals and helpful tips.
Ara Wagoner was a staff writer at Android Central. She themes phones and pokes YouTube Music with a stick. When she's not writing about cases, Chromebooks, or customization, she's wandering around Walt Disney World. If you see her without headphones, RUN. You can follow her on Twitter at @arawagco.
Still waiting for folders in the drawer...

Action Launcher is good, but for me Nova is the way to go.

I like and rock them both. Put the Pixel 2 edition on them and there's something to like out of both editions. Runs great on my 5t

If we could blend both of them together... Now that would be THE go to launcher!

Newer Microsoft Launcher is pretty cool as well. Usually use Nova but I have kept Microsoft on my S7 and S7 Edge for longer than I thought I would. I dig pinning my wife on my home screen so I don't have to go through the painful process of opening and using the phone app. Reminds me of my BlackBerry Classic and defined keys. Damn do I still love to use that keyboard!!

You can do that with Nova Launcher also. It's a widget that's labeled as a Direct Contact. Put it on any screen that you want, touch it and the phone will automatically call your wife (or anyone else you make a Direct Contact) or pull up their profile if they have more than one number...

Same here. I tried Microsoft launcher figuring I'd play with it for an hour and switch back. I'll be damned if I'm not still using it 6 months later.

It's a tough world when you're stuck spending that 4 seconds going through your phone app

Does AC have an investment in this Launcher? They sure do fanboy it frequently.

I did a few articles leading up to this ultimate guide in recent weeks, just as I did a series of articles leading up to last month's Nova Launcher Ultimate Guide.

Can't remember seeing an ultimate guide for Nova Launcher.

He has now posted the link...twice.

I hope you're not referring to me...

I'm a Nova Launcher through and through, but I will confess I do like the slide out app draw from the side instead of the more traditional app drawer. I've gone so far as to change my Nova Launcher app drawer to the list and then make it transparent so that it won't necessarily cover my wallpaper. Never did embrace Action Launcher but did like that feature...

I must be getting old, I didn't see the Nova launcher article 2 biggest features I like about Action is the auto theming to the wallpaper and the slide out app drawer..

Got an advertising deal with Cris Lacy?

I've tried action launcher several times and whilst I like the idea of it, it's never worked for me as well as Nova so I've always switched back. Actually rocking the stock launcher on my note 8 now and it's fine. Maybe the need for a third party launcher is going away for me...

Little off topic (I like Nova, only app I've paid for!!) but what Music Widget is that on the first image???

Material Music Komponent for KWGT! I love it, it's easy to recolor for themes and there are three sizes to pick from.

Enough with the Nova/Action Launcher circle jerk. You know there are other launchers out there? Not everyone is redesigning their home screen everyday. Some of us prefer launchers that add productivity like BlackBerry launcher and Microsoft Launcher.

BlackBerry Launcher's best features are reserved for subscribers, though the launcher itself is nice and simple. Microsoft Launcher is capable, with room to grow. We've been assembling the ultimate guides for Nova and Action the last two months, thus the uptick in their content. We will now return to our regularly scheduled theming tips and tricks and theme packs.

Just like BB Launcher, you have to pay for the features in AL that separate it from your every day run of the mill launchers too! Features such as...Desktop shortcuts, Quick Drawer, Hide Apps in Quick Drawer, Adaptive Icon, Adaptive Zoom, Shutters, Badge Notifications, Folders in App Drawer, QuickTheme, Google Now integration and Ad removal.

Can you finally organize app icons by alphabetical order on the desktop?