How to use gestures to become an Android home screen expert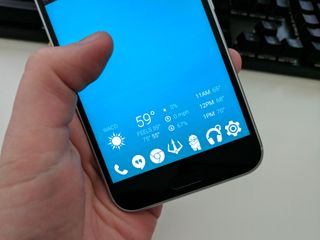 Slide-to-unlock. Pinch-to-zoom. Double-tap-to-wake. Gestures that work well are invaluable to a user's experience, and Android phone manufacturers are bringing these gestures to the home screen in deceptively simple and astonishingly successful ways.
Case in point: the Samsung Galaxy S9 and the Google Pixel 2 — two of the most popular flagships on the Android market — eschew the app drawer button and instead use a gesture to open the drawer. On both phones, swiping up on the home screen will take you into the app drawer, but Samsung goes a step further: by default, swiping down on the home screen will open the app drawer, too.
So what if you want to use a gesture to open something other than the app drawer? No problem.
Gesture controls on launchers can be generally broken down into two categories: preset and customizable. First-party launchers like the Pixel Launcher, as well as system-wide gestures on Samsung, HTC, and other devices, are preset gestures in that you can turn them off and on, but you can't change them from their default action. Some third-party launchers like Evie Launcher utilize preset gestures, likely in the interest of simplicity.
The second category of gesture controls are customizable controls, such as those we find on Action Launcher, Nova Launcher, and ADW 2 Launcher (opens in new tab). These launchers all offer a series of gesture controls that the user can assign a desired action to, from direct dialing your mother to opening the notification shade to opening Google Maps or launching a Tasker task. Customizable gesture controls let the user create the UI that they want through their taps and swipes.
While most launchers put things in different places, customizable gesture controls on launchers are generally in the same place and format. Look for Gestures or Shortcuts on your launcher's settings menu. You'll be treated to a list of gestures you can assign shortcuts and apps to. Tap the gesture you desire, then you'll be treated to a list of all the things you can assign there. While the possibilities are really quite endless, here are some popular and useful ways to utilize gesture controls on your home screen:
Swipe up to open app drawer
Swipe down to open notification shade
Double-tap to open app
Double-tap to lock phone 1
Two-finger swipe down for Quick Settings
Two-finger swipe up to connect to home Bluetooth speaker (Tasker task)
Two-finger swipe down to disconnect to home Bluetooth speaker (Tasker task)
Tap Home button (on home screen) to open Google app
Two-finger swipe up to turn on flashlight.
Swipe the Phone app to call Mom
1 A lot of users do this to avoid wearing out their power button, and for phones with double-tap to wake since they start getting used to double-tapping to wake and sleep.
That last one is a swipe action. Nova Launcher allows you to not only assign actions to a gesture to the home screen but to individual apps on your home screen, called swipe actions in the shortcut editing screen. Swipe actions allows us to do things like:
Direct dial mom by swiping the Phone app
Add a secret app to a folder by making it the shortcut gesture — I use this to avoid blank spaces in folders
Begin Navigating home when you swipe on Google Maps
Toggle Bluetooth when you swipe on Google Play Music
Start playing your drive-time playlist when you swipe on Google Play Music
Beyond Nova Launcher, there aren't a lot of launchers that support swipe actions. Also, as more and more apps continue to support Android 7.1 App Shortcuts, users are being offered offer multiple options as opposed to the singular action assigned to swipe actions. It'll be interesting to see how launcher continue to handle this over the next year or two.
So what gestures do you give your phone on a regular basis? Have you hit upon the perfect shortcut system to achieve peak efficiency on your home screen? Share them with us in the comments — I'm always looking for new shortcut combos to try.
Updated March 2018: This post has been updated to reflect changes in flagships, launchers, and some gesture magic.
Get the Android Central Newsletter
Instant access to breaking news, the hottest reviews, great deals and helpful tips.
Ara Wagoner was a staff writer at Android Central. She themes phones and pokes YouTube Music with a stick. When she's not writing about cases, Chromebooks, or customization, she's wandering around Walt Disney World. If you see her without headphones, RUN. You can follow her on Twitter at @arawagco.
Two main one I use from Nova. Swipe down on screen to pull notification shade down. Love it because I don't have to reach the top of the phone to pull down the shade. And double tap to pull down quick settings. Just easier than swiping down twice. I sent up a couple others but don't really use them.

Yeah, most people I know that use gestures seem to set up about a half a dozen and use them to varying degrees.

I use same gestures like you

Just wish I could double tap to sleep with Nova and not have to use the pattern to unlock. Fingerprint scan alone won't wake.

Use the "Timeout" option for the screen lock. According to Nova's description, "Show a black screen fro 5 seconds while the screen timeouts and turns off."

Not easily finding it. Please spoon feed me to set up? Sorry. EDIT: Using a Pixel if that matters.

Nova Settings > Advanced > Screen lock method > Timeout

Found it thanks! Google is sometimes your friend.

I use home screen gestures to launch many of my most used apps. My home screen app is Smart Launcher Pro (there is a free version too). I was able to program 8 swipes to launch 8 different apps. There are also other shortcuts too.

Using swipe up for Bluetooth on or off, use swipe up for search Google, Swipe up for setting a calendar event. Turn flashlight on or off. Swipe side for emails, calendar today, events. Swipe up feature can be set for anything you want.
Other swiping options are available. Using BlackBerry Dtek60.

I use a swipe gesture to open my contact listing for the two local police departments I'm likely to call. Swipe on the Phone icon in my dock and you get the Contact card for Police - Carrollton and Southlake. I have a DIY home security system that sends a text or a robo-call to you and then you decide whether or not to call the police depending upon what you spy through the camera. I also work for a hotel in Southlake and from time to time have needed to call the police or fire. It's so much easier and faster than searching through your contacts on the fly when your security system is going off or a guest is having an emergency... I also use swipe gestures to open my picture gallery - Quickpic, Google Photos and Flickr...

I have the double tap to open my app drawer and swipe up to bring up my hidden dock. I just love only having one row of folders and the items in my dock just don't quite fit in with any of them. The less on my home screen at all times the better.

When the screen is on, swipe up opens my phone app, double tap toggles the notifications bar and swipe down toggles my dock. Two finger swipe down opens app drawer. I keep saying I'm going to do more, but I start to forget them after a while. Thanks for the ideas.

Swipe up to pull the app drawer (I'm just lazy to aim for the little arrow) and down for google search. I don't use double tap to lock because the Z3 Compact already has that feature.

I use edge gesture on my note 8 swipe down to close de the app in both edges swipe up to bring up the task switcher and slide left and right to go back.

Yes.. gesture controls originated with the Samsung S3.... Yeah... On Touchwiz (now called Samsung Experience) ... The "so called" bloatware .... (Yes it was an issue back in S3 days)... A lot of good abdroid things in Touchwiz later made their way permanently to Android OS.... To be honest, I disable all gesture controls because I don't use them, & they are collectively an unneeded battery drain.

All this swiping is soooo yesterday! Don't you guys have Hot Keys? KeyOne productivity ..........

what about Gesture Control app?