POCO F1 review: Incredible performance at an unbeatable price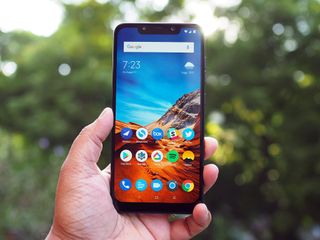 Xiaomi has done a magnificent job carving out a name for itself in the smartphone segment. The manufacturer continues to be the largest handset maker in India, no mean feat considering the Indian market is one of the most competitive in the world.
A large part of Xiaomi's success in India has to do with impressive numbers in the budget segment, where Xiaomi dominates. The Redmi and Redmi Note series make up a huge chunk of sales for the brand, and an unfortunate side effect of that budget-focused push is that Xiaomi is now perceived as a budget brand. Even a device like the Mi A2 — which retails for ₹16,999 ($250) in India — is a hard sell when a majority of Xiaomi's phones sell for ₹10,000 ($150) or less.
That's one of the main reasons why Xiaomi doesn't launch its flagships in the country. The Mi Mix 2 was the exception to the rule, but the phone did little to sway customers looking to pick up a OnePlus 5T.
Xiaomi is once again making its foray into the mid-range segment, but this time it's taking a different route. Instead of bringing the Mi 8 or the Mi Mix 2S to India, the Chinese manufacturer has created a sub-brand called POCO, which gives it the ability to start afresh in this category.
The POCO sub-brand is helmed by Xiaomi's Lead Product Manager Jai Mani, who has been integral to Xiaomi's growth in India over the years. Xiaomi is trying to attract a younger audience with POCO, and it's clear from the marketing spiel that the focus will be on speed. Furthermore, the POCO brand will primarily cater to a global audience, and to that effect, the POCO F1 won't be launching in China. The device — and subsequent phones that follow — will be unveiled in India and other global markets.
The brand isn't trying to hide the fact that it's a part of Xiaomi — the branding at the bottom of the phone says "POCO by Xiaomi", and POCO will leverage Xiaomi's existing after-sales network. Now that we have a better idea of what POCO is about, it's time to take a look at the device itself.
Pros:
Unmatched value
Rugged design
Top-notch performance
Outstanding battery life
Cons:
Average camera
No water resistance
About this review
I (Harish Jonnalagadda) am writing this review after using the POCO F1 in New Delhi and Hyderabad, India for seven days. The phone was running MIUI 9.6 (9.6.11.0) based on Android 8.1 Oreo and hasn't received any updates over the course of the review. The unit was provided to Android Central for review by Xiaomi.
POCO F1 Hardware
While the POCO F1 is using an identical panel as the Mi 8 series, it doesn't share any design similarities at the back as the phone comes with a polycarbonate chassis instead of a glass finish. However, the F1 shares one key attribute that made Xiaomi phones stand out over the years: value for money. The POCO F1 will be sold in three variants, and all three options — including the one with 8GB of RAM and 256GB of storage — will be available for under ₹30,000.
The model with 6GB of RAM and 64GB of storage will retail for ₹20,999 ($300), the variant with 6GB of RAM and 128GB of storage will be available for ₹23,999 ($345), and the high-end option with 8GB of RAM and 256GB of storage will go on sale in the market for ₹28,999 ($415). Then there's an Armored Edition with a kevlar back and 8GB/256GB for ₹29,999 ($430). Xiaomi is offering LPDDR4X RAM and UFS 2.1 flash memory as standard on all three variants.
So if you're looking to get your hands on the Snapdragon 845 on a budget, the POCO F1 is virtually unchallenged. ASUS' ZenFone 5Z also offers similar hardware, but even that particular device costs ₹29,999 ($430). To put things into context, the OnePlus 6 starts off at ₹34,999 ($500), making it seem expensive by comparison.
Simply put, the POCO F1 is the most affordable phone to feature the Snapdragon 845, and that isn't likely to change anytime soon.
Coming to the design side of things, the POCO F1 deviates from the mold with a polycarbonate back. We haven't seen many polycarbonate designs in recent years — the budget segment has moved to metal, and the mid-range category is full of glass-backed phones. The POCO F1 doesn't look premium by any stretch of the imagination, but what it lacks in looks it makes up for in durability.
POCO says a glass back increases manufacturing costs and reduces durability, so it went with a polycarbonate chassis that's much more rugged in day-to-day usage. POCO also mentioned that a majority of customers using glass-backed phones opted to put a case on their devices anyway, and that a polycarbonate back negates that purchase. And should you need one, POCO bundles a clear case in the box.
Personally, I've had zero issues with POCO's choice of materials. Sure, the device isn't nearly as premium as the ZenFone 5Z or the OnePlus 6, but it should hold up to daily wear and tear much better. The phone will be available in four options — black, blue, red, and kevlar. The blue and red color options look interesting enough that it makes the F1 stand out, and the Armored Edition with kevlar is in a league of its own.
The kevlar option will be exclusive to the 8GB/256GB model, and the pattern will be immediately familiar if you've used OnePlus' Carbon Fiber case. POCO is using DuPont's Kevlar aramid fiber, and the material is wonderfully grippy and doesn't attract smudges. The kevlar edition in particular feels great to hold and use daily, and although the back looks like a removable shell, it isn't. There's no way to switch out back covers, and the battery is non-removable as well.
As you'd imagine for a phone in this segment, the F1's fit and finish is top-notch, and POCO hasn't missed out on any essential features. The F1 comes with a 3.5mm jack that's located at the top, a hybrid SIM card tray with the secondary SIM slot doubling up as a MicroSD slot, and USB-C charging. The power and volume buttons are located on the right, and they offer decent tactile feedback.
The POCO F1 has a sizeable notch at the top of the display, and the cutout holds the earpiece and an IR module that facilitates facial recognition. The speaker is one of the best you'll find at this price point, and the F1 gets loud — playing games and watching videos is a delight on this phone. A major reason for that has to do with the fact that the phone has Dirac HD Sound — a mainstay on Xiaomi phones in the past. The earpiece also doubles up as a secondary speaker.
The POCO F1 features a 6.18-inch FHD+ 19:9 display with a resolution of 2248 x 1080. It also has a layer of Gorilla Glass 3 for protection against tumbles. Xiaomi has been making decent IPS LCD panels in this category for some time now, and the screen on the F1 is identical to that of the Mi 8SE. Colors seem muted out of the box, but you get the option to adjust the contrast levels. Switching to the increased contrast mode made colors much more vibrant, and I had zero issues with reading the contents on the screen under harsh sunlight.
Another noteworthy feature on the F1 is facial recognition. The phone has a dedicated IR sensor at the front that enables face unlock, and POCO is quoting a time of just 0.1ms. The feature itself is identical to the Mi 8, and with that phone unlikely to debut in global markets, it's great that POCO is bringing the same facial recognition tech to its phone.
POCO said it considered getting rid of the fingerprint sensor because face unlock was so reliable, and this statement holds up in real-world use. The POCO F1's face unlock feature is one of the fastest I've used to date, and it could just take the fight to the OnePlus 6 — and win — in this area. One particular area where it does better is low-light scenarios — the F1 fared much better at recognizing my facial features in the dark.
| Specs | POCO F1 |
| --- | --- |
| Screen | 6.18-inch FHD+ (2248x1080) IPS LCD |
| Chipset | Snapdragon 845 |
| RAM | 6GB/8GB |
| Storage | 64GB/128GB/256GB |
| Software | Android 8.1 Oreo, MIUI 9.6 |
| Rear Camera 1 | 12MP, ƒ/1.8 |
| Rear Camera 2 | 5MP |
| Front Camera | 20MP, ƒ/2.0 |
| Security | Rear fingerprint, face unlock |
| Battery | 4000mAh |
| Connectivity | Wi-Fi 802.11 ac, BT5.0 |
| Colors | Black, Red, Blue, Kevlar |
| Dimensions | 156 x 75.5 x 9mm |
| Weight | 185g |
| Price | ₹20,999 ($300) |
POCO's main focus is on speed, so it's no surprise that the F1 features the latest hardware available today. The phone is powered by the 10nm Snapdragon 845, and POCO is using the 2.80GHz bin. That's the same chipset we've seen on the OnePlus 6 and ZenFone 5Z, and it delivers blistering performance day in, day out. MIIUI is well-optimized for the platform, and doesn't feel bloated anymore.
The phone also has 6GB of RAM as standard, and comes with an 8GB option as well. To further differentiate the F1, POCO is incorporating liquid cooling in the device, which is designed to boost sustained peak performance times. There's a vapor chamber next to the chipset that siphons heat and dissipates it over a wider area, preventing the phone from overheating during prolonged gaming sessions.
POCO is touting a decrease of up to five degrees Celsius because of liquid cooling, and playing PUBG on the device for over two hours didn't produce an excessive amount of heat. I played a few rounds on the OnePlus 6 as well, and the back heated up considerably more. In that context, the F1 manages its thermals much better.
As for calls, the F1 had zero issues on Airtel and Jio's 4G networks. POCO also worked with Qualcomm on enabling 4G+ on the device, allowing for faster throughput. Dual VoLTE is enabled out of the box as well.
With the F1 primarily targeted to gamers, POCO slotted in a 4000mAh battery in the device. As we've seen on the Redmi Note 5 series, a 4000mAh battery and MIUI makes for outstanding battery life, and the F1 outmatches even the Redmi Note 5 in this category.
The Redmi Note 5 and Note 5 Pro are powered by 14nm Snapdragon chipsets, whereas the POCO F1 is running the 10nm Snapdragon 845. The node shift combined with the huge battery means you'll easily get two days' worth of use out of the F1. You'll see anywhere between eight and nine hours of screen-on-time spread out over the course of two weeks, and even after heavy usage on a particularly hot day, I wasn't able to get the battery to go below 30%.
The F1 supports Quick Charge 3.0, and POCO is bundling an 18W charger in the box. It takes just under two hours to charge the device fully, and you'll be able to go from flat to a 50% charge in just under 30 minutes. Honestly, there isn't a single flagship that comes close to the F1 in terms of battery life.
POCO F1 Software
On the software side of things, the POCO F1 is running MIUI 9.6 with a few extra additions. The notable one — and a feature that has been oft-requested by the Mi community — is the app drawer. The F1 comes with an app drawer that's similar to what you'll find on the Pixel 2, and POCO added a few customizations as well. You can access the full list of apps with a swipe up gesture, and there's a shortcut to search apps along with a new sort feature that works surprisingly well.
The feature automatically sorts apps into various categories — Communication, Entertainment, Games, Tools, Lifestyle, and the like — and you have the ability to move the personalize the categories based on your usage. A swipe left gesture lets you go through the selected categories, and the feature comes in handy if you have a ton of apps installed. You're essentially getting a similar functionality as folders, but the process is automatic.
That said, there's no way to add an app to a particular category manually, and that poses its own set of problems. On my unit, games like PUBG and PinOut automatically showed up in the Games folder, but Alto's Odyssey did not. Similarly, Slack showed up in the Finance & Business section and not the Communication category, so it's clear that there's still some work to be done in optimizing the sort function.
There's a secondary sort feature that lets you organize apps by color. You'll see a list of colors at the bottom of the app drawer, and selecting one lists all the apps that prominently feature that hue. When I sorted using the green color, it pulled up the likes of Spotify, WhatsApp, Maps, Starbucks, Uber Eats, and so on. It's definitely an interesting way to sort apps on the phone, but I didn't get much usage out of it in the week I've used the phone.
Another nifty addition is the ability to install third-party icon packs directly from the launcher. There's an option in the settings to do so, and this is also another feature that I was particularly looking for in MIUI for some time.
Aside from that, it's the same MIUI experience as on any other Xiaomi phone. There's enough customization on offer to satiate even the most die-hard fan, and the interface itself doesn't feel bloated anymore. Far from it. If anything, the phone feels as fluid as the OnePlus 6 in the week I've used it.
On the downside, it comes with a ton of bloatware: you get everything from the usual UC Browser, Amazon, and Facebook, to Microsoft apps like Word and Excel, and plenty more. The good news is that all of these apps can be uninstalled.
And because the MIUI experience is never entirely complete without some sort of issue with notifications, the POCO F1 has its share of bugs. This time around, the issue primarily revolved around Newton Mail and Slack — notifications for either app just didn't show up, and I had to manually toggle Autostart for both to receive notifications. I had the same issue in MIUI 9 with Gmail, and to its credit Xiaomi has fixed that particular problem in a subsequent update. That'll likely be the case here as well.
The current MIUI 9.6 stable build (9.6.11.0) is based on Android 8.1 Oreo and has the June 01, 2018 security patch. POCO has mentioned that it will roll out the Android 9.0 Pie update in under three months, with a beta build ready for enterprising users shortly.
The Pie-based build will feature MIUI 10, which has a new notification pane that offers similar functionality to that of the Pixels. The pane in the current MIUI 9.6 build also has a similar white-and-blue aesthetic, and POCO says it will refine the feature-set in the coming months.
And as is the case with all phones running Android 8.1 Oreo out of the box, the POCO F1 offers Treble, and POCO says it will honor the warranty for those users that tinker with custom ROMs. Kernel files for the F1 will be released before the end of the month, and POCO is actively encouraging the modding community to build custom ROMs for the phone.
POCO F1 Camera
It should be clear by now that POCO shares a lot of the internal hardware with the likes of the Mi Mix 2S and the Mi 8 series. That continues with the camera as well, with the device featuring a 12MP IMX363 sensor from the Mi Mix 2S and a 5MP secondary shooter. There's EIS to stabilize videos, and a front 20MP f/2.0 camera with portrait mode and pixel binning.
POCO is leveraging Xiaomi's AI scene detection feature, with the AI able to detect over 25 scenes and 1000 scenarios and automatically adjust the shooting mode. The feature isn't as aggressive as that on Huawei/Honor devices, but it does make a difference in a few scenarios.
The camera itself is decent for what the phone costs. Most photos taken in daylight come out with plenty of detail and high dynamic range, but there are a few instances where the images look oversaturated. And while the phone takes decent shots in low-light conditions, it misses out on a lot of details in the background.
Should you buy it? Absolutely
With the F1, POCO isn't going after the likes of OnePlus 6 or even the ASUS ZenFone 5Z. The price point is more in line with that of the Nokia 7 Plus, and the company is targeting current Redmi Note 5 Pro or Redmi Note 4 users looking for an upgrade.
Considering both devices have sold millions of units over the last two years, there's no shortage of potential customers. POCO is in a win-win situation here: it's starting off with a clean slate that's free from any connotations around brand perception, and at the same time it is able to tap into Xiaomi's supply chain.
The phone itself is superb, offering unmatched value for money in this category. The design won't win any awards, but it is great to use on a day-to-day basis. Battery life is outstanding, as is the performance. MIUI feels much more polished than before, and the introduction of a launcher has eliminated a major point point for customers.
It comes down to how the camera holds up against the likes of the OnePlus 6 and other devices in this segment, but ultimately, you're getting more than your money's worth with the POCO F1.
As for when you'll actually be able to get your hands on one, POCO is set to kick off sales from August 29. The phone will be available in weekly flash sales, but POCO says it will ramp up manufacturing to meet initial demand as the weeks go by.
As for other markets, POCO says it will bring the F1 to over 50 markets in the coming weeks and months.
4.5 out of 5
The POCO F1 once again demonstrates just how cognizant Xiaomi is of the Indian market. By launching a Snapdragon 845-powered device at this price point, Xiaomi is able to effectively shift the conversation away from whether the POCO F1 can hold up to the OnePlus 6 and the ZenFone 5Z.
It's another matter entirely that it manages to do so, but the fact that it costs just ₹20,999 ($300) makes it one of the best options in the market if performance is what you're after.
Harish Jonnalagadda is a Senior Editor overseeing Asia at Android Central. He leads the site's coverage of Chinese phone brands, contributing to reviews, features, and buying guides. He also writes about storage servers, audio products, and the semiconductor industry. Contact him on Twitter at @chunkynerd.
"Right off the bat, it's easy to see that the POCO F1 doesn't have any similarities with any current Xiaomi device." The first sentence threw me. It looks exactly like a MI8.

I was alluding to the design at the back, but I did a poor job of stating that. Cleaned it up.

I hope this comes to the UK, ticks all my boxes and I actually prefer it's not a glass back. Hope the typical UK mark up isn't too high.

A Xiaomi phone with expandable storage? Count me in!

Kevlar back for $430 with all those specs, now we're talking.

I just bought the Avengers OP6 and this comes out? And it checks so many boxes. And it has a 4000 mAh battery.

Yeah, I feel bad too getting the OnePlus. Could've waited for 15 more days.

is this phone is heavy considering it has a 6.2inch screen?

My guess is yes considering screen size and 4000 mah battery

Xiaomi say 182g, which makes it 19g heavier than an S9, 7g lighter than an S9+ - and given that it's much closer in size to the S9+, that seems reasonable...

I truly dislike the name POCO but that's irrelevant. This phone will shake up the upper midrange segment of the mobile phone market. To the benefit of the buyers. I really dislike the glass sandwich design too but most OEMs are putting it on their flagship phones nowadays.

Notch. That's a no. Didnt even need to read the entire article. Sigh, it's sad that its come to this

There is an easy way to disable the notch look so that should not be a issue at all IMHO

Compatible and available in US?

Why does this stuff never come to the US!!!!!!!!!!!!!!!!!!!!!!!!!!!!!!!! OnePlus is no longer a "value" option and is overpriced for what you get. I'd buy one of these for everyone in my family if they were available in the US.

I had the same thought, i would buy two of them if i could and sell my old phones and have a little money left over.

OP6 is overpriced for what you get? Before this came out, what flagship phone could we have gotten at that price? Lol

No water resistance + no NFC = no buy

Bah, lack of NFC is what kills it for me. I use Google Pay all the time.

That's what keeps the price down. TBH I'm happy with my Nokia 8 which has NFC so this phone is also a no go for me. Not only that but why would you put the 20MP Camera on the front of the device!!?!

the Mi8 has NFC is barely more expensive, picked up my 128GB version for $400

blah blah what ever who uses nfc anyway dude it's super fast for it's pricerange and beats the Galaxy in speed your jelous cause you can't get it

No headphone jack (and no adapter in the box either - going by the description on flipkart) + Gimmicky flash sales. I seriously hope Xioami gets its act together.

It has a headphone jack on the top...

Thanks for bringing that to notice. Couldn't see it in any of the pictures. Now the only nagging part is the flash sale - although it's still missing the IR blaster which is present on the other Xiaomi phones (this is like godsend for office ACs)

It's a whiter shade of pale!

This is straight up unbelievable.
Total disruption of the market!!

If it makes it's way across the "pond" to the U.S, this will be the next phone for my wife! Her Moto G4 is due to be replaced.
This is a perfect device for her! Fast. Inexpensive. Durable.

order it on Amazon or eBay duh

But will it get LTE in the US?

I would buy this if it came to South Africa

then they would shoot you and take it so you're better off without a cool phone lol

I imagine the name POCO would test poorly with both U.S. and Latin American focus groups, but neither of those markets are the target audience, I suppose. At this point it seems there is no version with U.S. LTE bands at all.

Well done Harish. Thanks for the review. Well done.

I wish the aspect ratio was 19:9 so that the phone would be a tad easier to handle given the considerable bezels
And also why don't phone reviews talk about the audio quality through the headphone jack.please tell me you opinion about it dear reviewer.

Please read the article or get your facts straight. The POCO F1 features a 6.18-inch FHD+ 19:9 display with a resolution of 2248 x 1080. The above sentence is from the article.

Dude the aspect ratio is 18.7:9
The article above got it wrong
Varun knows what he's talking about

Thanks for pointing it out. You are right. My mistake that i did not research well.

The cheapest snapdragon 845 equiped phone indeed... it is bad news for the next Pixel phones! I don't know why Google decided to stick with the October time frame to launch their premium phone with a processor that's not that new anymore and with other OEM starting putting it in mid-range phones...

Customers who buys the Pixel, don't care much about that, but about the timely software updates and the amazing camera XP

A Note is the only phone for me, but I must admit, that's quite a good looking phone for the price.

If this phone was handled by carrier's in the US it would sell like hot cakes. And really put a dent in Apple & Samsung. It will never happen but it's food for thought. Cheap phones are getting better, and the true flagships are in the 1,000 dollar range! Yikes..... .

POCO por poco dinero. No tiene buen diseño, esos radios de pantalla son... feos de verdad. El rendimiento parece el esperado, las camaras mas bien miopes, los acabados corrientes. En xiaomi tienen una receta, buenos ingredientes, pero les falta un autor.

I look at it this way. 415.00 bucks for the 8gb model & 256gb's of storage. Plus a 4000mamp battery, yikes that's a hell of a deal. You can't beat that with a stick!

Dang, I wish that this phone would come to the US.

In my opinion Xiaomi POCO F1 will give a great competition to OnePlus 6.
read more here http://themillionword.com/

We need more initiatives like this. For me is not normal phones at 1000 euros

in liquid cooling system , that liquid needs to refilled at regular intervals right . how does it work here ??

Wish it was here in USA!!!!

I know right?! This would instantly be a great deal that would make people question $1,000 phones assuming marketing is great.

What I care about is getting top notch (heh) specs at the lowest cost, without sacrificing quality. This phone gives all of that and more. Even 1+ looks overpriced now. Way to go Xiaomi!

Apple and Samsung do their level best to keep these well made, high spec affordable Chinese manufacturers out of the US and the carriers. The One Plus via T-Mobile could be the start of some truer competition. If Amazon were to partner and market a device like the POCO F1 I could see some disruption. Especially if it had all US carrier bands. It's unlocked, affordable phones like these that have to scare the hell out of ridiculously priced handsets. If it was Android One it would be even more appealing. I dig they are moving away from the glass fad. One has no option but a case. My BlackBerry Z30 had a carbon fiber type weave and the feel in hand was unmatched.

I totally agree, Samsung & Apple's presence here in the US is very strong. With all the money they have there is no way a phone this cheap would ever be released with a US carrier!

I ordered my Poco F1 from " http://www.mi.com/in" and received a faulty product. I have encountered rising in phone temperature up to 47°C. The phone gets really really hot, sometimes it feels as if it will burst. Also, the battery life is extremely poor due to a faulty battery as it doesn't even give a 12hrs backup. Complained Xiaomi about the same about 5-6 days ago but whenever I call or email them they have the same reply that a concerned team will contact you within 24hrs please be patient. It's almost more than a week and I haven't even got an invoice for my device! Think 100 times before you buy a product from a Chinese company and end up wasting your ₹22k, as they may not deny to help you afterwards, but they surely can refuse by saying "a concerned team will contact you within 24hrs please be patient". My Incident IDs are: 1. WOIN2018091402114
2. WOIN2018091102241
3. WOISIN2018091202439-6574
4. WOISIN2018091002212-D350
5. WOISIN2018091102718-93F3
Android Central Newsletter
Get the best of Android Central in in your inbox, every day!
Thank you for signing up to Android Central. You will receive a verification email shortly.
There was a problem. Please refresh the page and try again.