Nokia 7.1: Everything you need to know!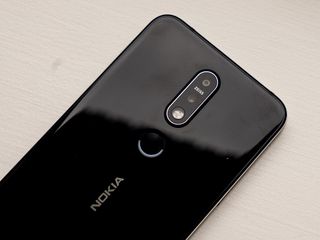 Just in time for the big holiday shopping season, Nokia's making a return to the United States with its latest smartphone — the Nokia 7.1. The Nokia 7.1 is a mid-range handset running Android One that offers a wide array of specs, features, and more at an extremely competitive price.
Is this a phone that deserves a spot on your shortlist this year? Here's what you need to know.
Check out our hands-on coverage
We need to spend a bit more time with the Nokia 7.1 before we give it our full and final review, but in the meantime, do check out Nirave's initial hands-on impressions.
The Nokia 7.1 is already looking great thanks to a well-constructed design, promising cameras, and a gorgeous display.
Get the full scoop here 👇
Nokia 7.1 hands-on: A $350 success story
Get familiar with all the specs
To meet such a competitive price, Nokia couldn't outfit the 7.1 with the latest and greatest specifications around. Some corners had to be cut, but even so, we're still looking at a pretty respectable spec sheet.
Some of the highlights here include a Snapdragon 636 processor, 4GB RAM, 32 or 64GB of expandable storage, dual rear cameras, and a 3,060 mAh battery.
Nokia 7.1 specifications: 5.84-inch display, HDR upscaling, Android One
It's running Android One
All of Nokia's phones going forward are powered by either Android Go or Android One, so it shouldn't be much of a surprise that the Nokia 7.1 falls into the latter program. However, even if it isn't surprising, it's still darn exciting.
Android One means that the Nokia 7.1 has an extremely clean software experience that looks very close to what you'd find on a Google Pixel phone. There are a few custom software tweaks, such as Nokia's own camera app, but this is still a stock Android experience through and through.
The Nokia 7.1 is currently based on Android Oreo, but we should hopefully see an update to Android 9 Pie in the not too distant future.
The display is impressive for this price
Smartphones in the $300 - $400 price range usually don't have the best displays, but this is one area in which the Nokia 7.1 doesn't disappoint.
On the front of the phone is a large 5.84-inch LCD panel with a resolution of 2160 x 1090. The aspect ratio is tall and narrow at 19:9, and since this is 2018, there is a notch at the top.
That's all fine and dandy on its own, but Nokia kicks things up a notch (pun definitely intended) by integrating full HDR10 support and real-time SDR to HDR upscaling throughout the entire UI to give you an extremely rich and vibrant screen no matter what you're looking at.
Here's when and where you can buy it
If you're interested in picking up the Nokia 7.1 for yourself, pre-orders go live at Amazon, Best Buy, and B&H starting Friday, October 5 with shipments scheduled to go out on October 28. In addition to online sales, the Nokia 7.1 will also be available in-stores at Best Buy locations beginning November 4.
The Nokia 7.1 costs $349, and to keep it protected after the fact, Nokia's also selling an official clear case and flip cover that'll run you $10 and $20, respectively.
Android Central Newsletter
Get instant access to breaking news, the hottest reviews, great deals and helpful tips
Joe Maring was a Senior Editor for Android Central between 2017 and 2021. You can reach him on Twitter at @JoeMaring1.
I found out what I needed to know. It wasn't the unveiling of the Nokia 9. I guess I'll be stuck with my Pixel XL a bit longer.

Most likely will be launched at MWC next year

Yeah, a few more months should be worth the wait.

I'm not a Pixel fan. Why didn't you opt for the Pixel 2XL ? I'm just curious.

I already had the Pixel XL since launch. I was looking at Note 8 and Pixel 2 XL last year, but waited long enough that k figured I'd wait until the original was paid off. Now it's about time for the upgrade.

The only thing I don't care for is the rounded corners on the display. I wish that would go away

If what LG said about my G6 is true, it is to protect the screen from breaking if the phone lands on the corner when dropped.

I understand that... But I think the corners of this phone are too round compared to others.

Love the darker grey and rose gold color. That is one snazzy looking device.

Since the Nokia 7 didn't come to the US, I settled for the 6.1. One of the things I liked about it right off was that is WASN'T all roundy. In fact it reminded me if the Nexus 5 in appearance!

I didn't want to have to get the smaller pixel 3..... Looks like now I might have to. Don't want to wait until next year. Nokia has been talking about this flagship device for so long now and they keep releasing everything BUT a true flagship. Then there is always a wait until next year and hope when it does come out I am not saying "I waited this long for this? Chances are if it is released early next year it won't have be running the latest chip so it will already be a disappointment

Could this be considered the next 'Flagship-killer' ?
Android Central Newsletter
Get instant access to breaking news, the hottest reviews, great deals and helpful tips
Thank you for signing up to Android Central. You will receive a verification email shortly.
There was a problem. Please refresh the page and try again.