The Porsche Design Mate RS is a Huawei P20 Pro with an in-display fingerprint sensor and a $2000 price tag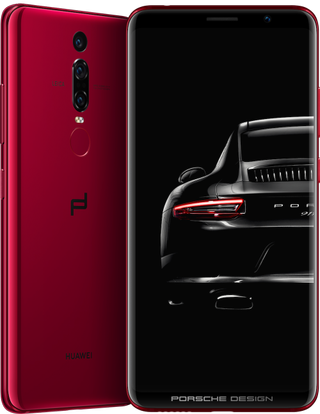 As Huawei is wont to do, alongside the beautiful overkill of the Huawei P20 and P20 Pro, the company unveiled the latest in its collaboration with Porsche Design, the Mate RS.
The phone, which costs starts at €1550 (around $2000 USD) depending on the storage size, is basically a smaller, squatter P20 Pro with a few niceties that somewhat (ok, maybe not) justify its higher price tag: an in-display fingerprint sensor like the one we saw from Vivo and Synaptics at CES (along with a rear fingerprint sensor for good measure) and between 256GB and 512GB of internal storage. There's also wireless charging on board, which is why the phone, at 8.5mm thick and 183 grams, is slightly thicker and heavier than the P20 Pro. That means the tri-camera setup is included on the back, including the whopping 40MP main sensor, and the bewildering 24MP sensor on the front.
Like previous PD phones, it has prominent Porsche Design branding and only a small Huawei insignia on the back, and the color choices — deep black or a China-exclusive red — are in keeping with the company's particular clientele.
The Porsche Design Huawei Mate RS (full name) will be available in May from Porsche Design stores and other select retailers.
See at Porsche Design (opens in new tab)
Android Central Newsletter
Get instant access to breaking news, the hottest reviews, great deals and helpful tips
Daniel Bader was a former Android Central Editor-in-Chief and Executive Editor for iMore and Windows Central.
Overkill? Yes. Dope AF? Also, yes.

Android Auto in Porsche cars? Nope, and it kills me every time the wife plugs in her iPhone and CarPlay starts up...

I'm not really an infotainment guy in general. Just like that phone. DB is it true that Android Central is giving one of these away?

It's coming later this year, first in the facelifted Macan.

Very sad..... But I want one.

I rike it, I rike it arot

I wouldn't ever pay that for a phone, my wife would likely divorce me if I did...... but that's one hell of a phone right there. It makes my Mate 10 Pro feel so inferior

It also makes me wonder which of Huawei phone's line is the true flagship. The "P line" or the "Mate line" ?

Exactly. I thought the Mate was after the past few years but the P20 Pro especially makes me think otherwise.

This is a Mate. The actual Mate line will also have the next Kiran in, so will trump this. Sad they add wireless to this but no other. Bonkers.

Looking good other than the Porsche design text on the front. Just the Porsche logo on the back would have been fine.

This. I don't even mind the Huawei Logo on the front but personally I don't want to see the prestigious name of Porche on the front.

Agree. Looks poor, the Porsche writing.

Drop dead gorgeous. Nice cues for what we'll be able to enjoy in a lesser priced device in the not too distant future hopefully.

The point is, they've could of done it on all P20. I feel sry for all suckers that will buy any of P phones, real phones are coming in 2019 and all, if wise, will skip all 2018 phones from all manufacturers. Especially Huawei.

Some people won't even be here in 2019. Can't live life always waiting for the next thing.

Your loss. Looks like the best phone of 2018 so I must be one of those suckers

Once it's 2019 then the real phones will be in 2020 so skip the 2019 phones altogether. Then skip the 2020 phones so you can got the real phones in 2021

Could have added the wireless charging.

I remember a time when that sounded like allot for a phone.

I know, me too, thats is different now

Nothing makes this worth even 1 grand..much less 2 grand! Who was it that said there's a sucker born every minute?

100% agree. Bonkers, utterly.

Nothing makes S9+ nor Pixel 2 XL nor Note8 nor iPhone X worth a grand either. It's a bubble just like any other bubble and they want to capitalize on it.

The S9+ has every feature box ticked. The quality of the screen, wireless charging, medium sized battery, ton of options, decent cameras, headphones in the box, something to plug them into. You can't expect it to be anything less than top end pricing. The Pixel has an epic camera, and that is where the story ends. They have minimal customisations, so you'd think that would cost less, not more. It really should have launched at £500, max. The iPhone has great cameras, wireless charging, great screen, notch aside, a known entity in terms of brand, albeit a fragile glass fest brand. So Apple can command top dollar. Although, the omittance of fast charging out of the box is criminal. LG with the V30, they almost had it, but the screen and cameras nibbles it. They should have been £150 less than Samsung. Sony, well this year they went gimmick level, with the vibrator. HTC, great cameras, but an otherwise lack of features. Huawei should have had wireless charging in the P20 Pro, the rest is decent. But, they are using an "old" processor, and some naff skin and no ois. The P20 line, and Mate RS will be brought down to Earth when the next Mate comes out.

So they have the in glass technology but only put it in the Porsche version? And not in all the P20 series. Such a wasted opportunity to use that and gain more customers

I get it, for the price. But wireless charging should have been in the P.

Biggest oversight, imo. Wireless charging should be there by default.

It's not worth $2k, but this is the first version differentiated enough to be worth a significant premium.

And then we have the people saying what something is worth on here. I guess y'all can afford a Porsche too. With that being said definitely a dope phone and definitely out of my price range. My only gripe of a phone this magnitude and price why not include a 3.5 jack and a micro SD slot?

Micro SD?
512GB not enough for you?

Is weird why Apple always is the one to follow

Fingerprint sensor on the front 3 X cameras on the back. Which Apple product have they copied?
Maybe it's using Samsung screens?
Android Central Newsletter
Get instant access to breaking news, the hottest reviews, great deals and helpful tips
Thank you for signing up to Android Central. You will receive a verification email shortly.
There was a problem. Please refresh the page and try again.