Deal: BOGO 50% off Pixel 3 sale starting Nov. 16 on the Google Store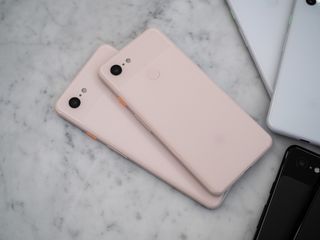 If you've been eyeing the Pixel 3 or 3 XL but waiting for the right time to buy, your patience is about to pay off. Google just announced a heap of Black Friday deals that'll be available soon on the Google Store, and the biggest one is easily its discount on the Pixel 3 series.
Starting November 16 and running through the 21st, you'll be able to buy one Pixel 3 or 3 XL and get another one up to 50% off.
Following that, November 22 through the 25th is when you get to instantly take $150 off one Pixel 3 or $200 off a Pixel 3 XL. Lastly, on Cyber Monday only, buying a Pixel 3/3 XL will secure you with a free Home Hub (a $149 value) + a $50 credit you can spend on the Google Store however you'd like.
In addition to savings on the Pixel 3, the Google Store will also have $300 off the Pixelbook, 50% off Google Clips, $50 off Pixel Buds, and plenty more. There are a ton of discounts being offered on the Google Home line, too, but just remember that you'll be able to find savings on these gadgets pretty much everywhere on Black Friday and beyond. To check out the full list of current offers, be sure to hit up our friends over at Thrifter.
What do you think about these savings? Will this push you to finally buy the Pixel 3? Let us know in the comments below!
See at Google Store (opens in new tab)
Joe Maring was a Senior Editor for Android Central between 2017 and 2021. You can reach him on Twitter at @JoeMaring1.
I'm actually pretty impressed with these offerings. Time to trade up to a 3 now.

Google putting the Pixel 3 on this kind of sale this early means it is selling lower than expected. Google software is fantastic but the hardware is lacking.

I was just getting ready to post a similar comment. Obviously sales have been underwhelming, but then that's understandable given deals that are available on other high end Android phones.

The price is the major problem here. I'm looking at Note 9 prices now and rolling into BF and I was seriously thinking about going that way. Was convinced I'd do that until I saw this BOGO deal. I need to review the current "problem" list with pixel 3 though to see how risky things are.

Nah. They just have more wiggle room since they started it off so expensive.

I wouldn't buy the pixel 3XL if it was 75% off for one, the pixel 3 on the other hand I might get if I get a truly substantial discount.

At $650 the Pixel 3 is clearly a better phone than the Pixel2 that launched at that price, but it still doesn't look like a "deal". They're just reducing an overpriced product down to last year's pricing.

I didn't realize that until you said it. Wow! That's so interesting.

I've only been saying this since the phone was released. I saw it coming.

Reducing the 3XL's price by $200, plus further reducing by the trade-in amount for my Pixel XL, would put the phone in the under-$600 range. At $900 it was tough to justify, but because I'm upgrading from the OG Pixel this now feels like a no-brainer. I was considering the 2XL before, but I'd much rather have the more future-proof device.

The Pixel 3 is plagued with problems. I'll pass.

I'm really tempted to upgrade to a 3XL with $200 off.

Just curious if they will discount Titan key bundle.

I was definitely intending to get a 3 by the end of the year as the successor to my HTC U11 (starting to show its age just a tad...), but it looks like next week is the time to do it!

Has anybody seen the offer on the google store? can´t seem to find it at all....
Android Central Newsletter
Get the best of Android Central in in your inbox, every day!
Thank you for signing up to Android Central. You will receive a verification email shortly.
There was a problem. Please refresh the page and try again.