Common Galaxy S9 problems and how to fix them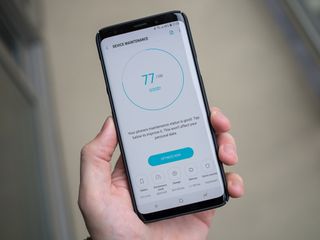 Samsung's hardware is solid, particularly in high-end phones like the Galaxy S9 and S9+. But any time you make tens of millions of a single phone and ship them around the world, some customers are bound to find issues — and at this scale, they can quickly become significant.
Now that the Galaxy S9 and S9+ have been out for several months, we're rounding up the most common problems and finding the best ways to fix them.
Bad battery life
Some people report solid battery life, particularly with the larger Galaxy S9+, but the smaller phone leaves something to be desired for heavy smartphone users. No matter your situation, here's how to get the most out of the battery you have:
Use Power saving mode. Turning it on from the notification shade quick settings or the Device maintenance settings, the "mid" Power saving mode will reduce your screen resolution, lower brightness and stop apps from waking up in the background. You shouldn't use this mode all the time, but if you're low on charge it can be a life saver.
You can find battery-intensive apps by going to Device maintenance and tapping on Battery usage to see what's taken up the most power over the course of the day. If something's out of the ordinary, keep an eye on it and see if it continues to cause problems.
Uninstall unused apps, as they may be waking up in the background and using battery without your knowledge. If you haven't used an app in a while, there's no need to keep it around when it could be using up your battery.
It may look really cool, but you can save lots of battery by turning off Always On Display. Go to Settings, Lock screen and security and tap the toggle next to Always On Display. A compromise can be to limit the hours it runs (via these settings), rather than having it on the whole day.
Running out of storage
Samsung made a great move in putting 64GB of internal storage in the Galaxy S9 and S9+, and even released 128 and 256GB options, meaning you have even more runway for using the phone without worrying about storage. Still, some people are going to hit that limit sooner or later. Here are some tips for cleaning up your internal storage:
Offload photos to a cloud management service like Google Photos. The service offers unlimited backup of slightly compressed high-quality uploads, plus 15GB of free full-quality backups. After the photos are uploaded, you can save space by removing them from your phone.
Use the Galaxy S9's built-in Device maintenance feature, found in the settings. Tap on Storage and see what it can offer to clean out — just be aware that it may clear some cached images and temporary files that will just have to be downloaded again when you use some apps.
Delete unused apps! You may have gone on a download spree when you first bought your phone, only to end up using 20 of the 200 apps you installed. Scroll through your apps and find a few that you don't use — long press the app icon and tap Uninstall to remove it from your phone. You can always download it again later.
Get an SD card, and start to store non-critical data like music, movies, photos and videos on the card. You can move some apps, but the best way to save on storage space is to move big media files first.
Wi-Fi, Bluetooth, and GPS problems
Dealing with wireless problems can be frustrating, whether you're talking about Wi-Fi, Bluetooth or GPS. There are so many variables involved that it can be tough to tell whether the issue is on the phone's end or somewhere else. The basics of troubleshooting these issues are as follows:
Make sure you turn off Wi-Fi or Bluetooth, wait a few seconds and turn it back on. If that doesn't fix the problem, move on.
Restart your phone. Sometimes all that's needed a quick kick to the reset button and you're good to go.
If Wi-Fi problems persist, try forgetting the network by long pressing on the network name and tapping Forget network. Then tap the network again to re-enter the password and re-connect.
If Bluetooth problems persist, try unpairing the device from your phone and re-pairing. To do that, tap on the cog icon next to the product's name and hit Unpair. Put the device you're connecting to in pairing mode and connect again.
This will forget all of your saved Wi-Fi and Bluetooth devices, but it may be what's necessary to fix the problem.
If the problems persist at this point, chances are they are related to something else in the chain, like the wireless router or Bluetooth accessory you're trying to use. Follow troubleshooting steps for those devices and start fresh.
Software isn't up to date
One of the biggest frustrations for Android fans is how slow Samsung can be at keeping its software up to date, even on its most expensive and popular devices. You can always check for available over-the-air (OTA) updates by going to Software update in your settings — but just because you don't get an update this way doesn't mean there isn't one available. You can update manually using Samsung's Smart Switch desktop software — just install it, connect your phone and tell it to download updates automatically. Sometimes the staggered OTA rollout schedule can put you late in the lineup, and you can get it faster by going through your computer.
If you've attempted to update over the air and via your computer, and still don't have the latest software, chances are it just hasn't been released for your phone yet. Remember that Samsung doesn't release the same software update to all models of its phones at the same time, and there can be differences in release timing between countries and even individual carriers. On top of that, Samsung rarely keeps up with monthly security patches, and often rolls up multiple patches into just one update every few months.
How to factory reset the Galaxy S9
Sometimes after lots of troubleshooting and work, you just can't find what's causing your phone problems. When all else fails, it may make sense to just factory reset your phone and start fresh. Back up your important data, and perform these quick steps to reset your phone to the way it came out of the box:
Go to your Settings.
Scroll down to General management.
Tap on Reset.
Tap on Factory data reset.
If you have a lock screen pattern or PIN, you'll have to confirm it.
Other issues
What are your main issues with the Galaxy S9 or S9+? We'll keep this article updated as new information becomes available!
Get the Android Central Newsletter
Instant access to breaking news, the hottest reviews, great deals and helpful tips.
Andrew was an Executive Editor, U.S. at Android Central between 2012 and 2020.