Chromecast Ultra supports 4K streaming for $69, coming in November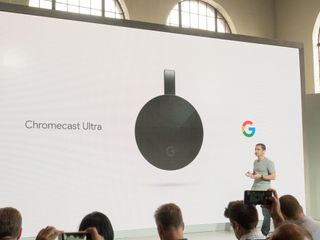 (Image credit: Android Central)
At Google's Pixel event in San Francisco, the company announced a new Chromecast, called Chromecast Ultra, that will debut in November for $69.
The main differences between the regular Chromecast, a puck that was introduced this time last year, and the Chromecast Ultra is speed and connectivity: Ultra supports 4K streaming, through a processor that is 1.8x faster than the previous version.
It also has integrated ethernet through the connector itself, allowing it to connect directly to a router or switch to avoid wireless signals altogether.
The new 4K feature will also work with a rollout of 4K streaming content set to hit Google Play Movies & TV in November. At launch, Netflix, Vudu, and YouTube will support 4K at well, which is great to see.
The Chromecast will be available for $69, and will be sold alongside the existing HD Chromecast. The company says that it has sold over 30 million to date, and this update will sure to spur a few million more.
Android Central Newsletter
Get instant access to breaking news, the hottest reviews, great deals and helpful tips
Daniel Bader was a former Android Central Editor-in-Chief and Executive Editor for iMore and Windows Central.
Nice to see 4K in the play store

I really hope that Google does not jack prices through the roof for 4K content. The fact that some movies in the play store cost $8 - $10 dollars more for the HD version over the SD version does not give me hope, though.

I really want to see what they do with all my prior purchases. Will they be auto-upgraded to 4K, or will that require another purchase?

Are you able to just hand in your current blu rays for 4K blu rays? This is a silly question, in response of your silly question.

The fact Google even sells 'standard definition' content is ridiculous.

I agree. Who even owns an SD screen these days? Even budget phones are usually at least 720p. I feel like it helps them justify the HD price because 'it's better' when really it should be the standard. I'm not purchasing everything again in 4K either. I might consider paying a small and I mean small upgrade fee.

It's a cheaper option for movies that don't benefit much from HD.

But it shouldn't exist. The HD content should be cheaper and 4k the more expensive option. It's like selling a film cheaper for a black and white version. It shouldn't be a thing.

I don't understand that argument. ALL films look better in HD compared to SD. SD content scaled on an HD screen looks worse than it does on an SD display and almost everyone has an HD display in 2016, at least in countries that support Google Play Movies anyway.

The only thing interesting from today's event...

Well yes, I don't speak for the masses...I'm not Jesus, Allah or Barbara Streisand for God's sake

I think I'll wait for the Xiaomi. Seems to be a much better offer overall. Nice to see a 4k Chromecast though.

It should also allow multi room audio. Having to buy a chromecast video and an audio is dumb. I don't have enough inputs even if I wanted to. Just charge me $30 more and give me one with both if you have to

To be honest if the chromecast was inline-hdmi it would be alot more useful, most people don't have chromecast as the default setup on their tv, Best feature of google tv was the inline hdmi connection

YES!!! I really miss my old Revue's HDMI passthrough. I HATE having to switch the input selection on my TV. First world problems, I know, but still.

I don't need it I got a Sony 2016 4K TV with Android TV on it

Have chromecast v2 (purchased 1st)& then Roku 4-can't remember last time I used the chromecast. I just want the FCC to get a move on with opening up cable boxes to 3rd parties
Android Central Newsletter
Get instant access to breaking news, the hottest reviews, great deals and helpful tips
Thank you for signing up to Android Central. You will receive a verification email shortly.
There was a problem. Please refresh the page and try again.