Samsung Bixby: Everything you need to know!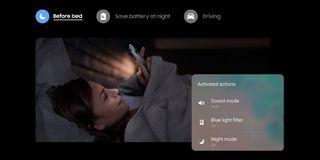 Bixby is Samsung's take on the pocket assistant, combining machine learning, voice assistance, visual help and more into an all-encompassing helper. Whether you're rocking a Galaxy S8 or you're eyeing a shiny Galaxy Note 8, we can help you get started with Bixby the right way.
The latest Bixby news
February 22, 2019 — Samsung updates Bixby with Routines, Voice Unlock, and other features
Samsung made a lot of announcements at its Unpacked event on Wednesday, and while most of our attention was focused on the S10 series and Galaxy Fold, Samsung also unveiled some new additions to Bixby.
Out of all these, the most exciting was definitely Bixby Routines. Similar to something like Siri Shortcuts or Google Assistant's Routines feature, Bixby Routines allows you to create a string of actions that are performed at once. However, rather than having to manually trigger these with a voice command, Bixby Routines are performed automatically in certain situations. For example, you can use Samsung's pre-made "Before Bed" routine that turns on Night Mode, lowers your phone's brightness, and mutes sound when it detects your usual bedtime.
As of right now, Bixby Routines are exclusive to the Galaxy S10, S10+, and S10e.
Thankfully, Samsung also announced a few other Bixby features that will be coming to other Bixby-enabled devices that are running Android Pie. These include:
Upgraded Lens Mode in Bixby Vision — New AR features that allow you to try on things like sunglasses, hair styles, or see how a piece of furniture would look in your home. You can also scan a movie poster and Bixby will automatically pull up its trailer.
Voice Unlock — Say "Hi Bixby" to initiate a voice command even when your phone is locked.
Bixby Key Customization — If your phone has a physical Bixby button, Bixby Key Customization will finally allow you to remap it. While you can't disable the button, you can switch Bixby to a double press and have a single press of the button do something else.
January 7, 2019 — Samsung's adding Bixby integration to Google's biggest apps
During its CES 2019 press conference today, Samsung announced something pretty impressive — it's working directly with Google to create new Bixby integration with Google's most popular apps.
This means that YouTube, Google Maps, Gmail, and more should soon offer deeply integrated experiences while using Bixby.
It's currently unclear when we can expect these integrations to roll out, but even with the announcement in its current form, it's still something exciting to look forward to.
All the big details
Everything you need to know about Bixby Voice
Up until the latest preview, all we knew about Bixby is that it enabled you to press a button to control the phone with your voice. Well, now that we've had some time with it, we can confirm that Bixby Voice really is all about talking to the Galaxy S8 or Note 8. It's not quite the same as Google Assistant, though, as Bixby is more conversational and apologetic when it messes up. This is a voice-activated virtual assistant that truly aims to please.
Everything you need to know about Bixby Voice
Best tips for wrangling Bixby to get it to do what you want
Bixby Voice delivers a pocket assistant that you can talk to in order to get things done. However, if you can't seem to get Bixby to do what you're asking, then using the assistant can feel like more of a hassle than a help. These tips will help to ensure that when you tell Bixby Voice to do something, it listens.
Best tips for wrangling Bixby Voice to get it to do what you want
How to disable Bixby Voice
Bixby Voice lets you ask a question out loud to your Galaxy device and have your phone answer right back. While this is handy for some people, not everybody wants to have Bixby answering questions for them. By turning off Bixby Voice, holding the Bixby button will now launch the app instead of a speech bubble. Turning Bixby Off — or back on — only takes a few moments, and we've got the details for you here!
How to disable Bixby Voice
How to access your Bixby History
Bixby Voice records all of the questions you ask, along with all the answers that it has delivered in response. If you've been wanting to take a look back at something you've asked in the past, you can access the history feature from within the Bixby app. It only shows you the last 7 days' worth of questions and answers, but it can be totally worth it.
How to access your Bixby History
How to use Bixby Vision
Bixby Vision is a feature that's unlike any other and designed to take your pocket assistant to the next level. Using Bixby Vision you can extract or translate text, search for images similar to what your camera sees, shop for those items, and plenty more. With so much going on it can be hard to get a decent grasp on everything when you're just starting out. That's why we've done the hard work for you, and detailed out what you need to know to get the most out of everything Bixby Vision can do!
How to replace Bixby Voice with Google Assistant
Not everyone wants to use Bixby Voice, and if you'd prefer Google Assistant, then you're in luck! There are a few things you can do in order to replace Bixby with Google Assistant.
How to replace Bixby Voice with Google Assistant on your Galaxy S8
Most popular Bixby Voice commands
There is plenty that Bixby is capable of doing simply by using voice commands, from playing music from your favorite app, to adding items to your calendar. We've got the details on the most awesome commands to aid you in your Bixby adventures!
Most popular Bixby Voice commands
How to customize Bixby Home
Bixby Home is the central hub where Bixby delivers summaries of what is going on in your apps in the form of cards. We've got the details on how to customize the look of Bixby Home, as well as the information it displays for you!
How to improve Bixby Voice using Samsung Feedback
Bixby Voice can easily answer your questions and help you access the apps you want with just a few words. However, if Bixby Voice doesn't understand what you are saying, then you definitely aren't going to get the results that you've been hoping for. There is an easy way to help fine tune what Bixby hears while you're speaking to it using custom feedback to correct incorrect words or phrases.
How to improve Bixby Voice using Samsung Feedback
How to change the language and speaking style of Bixby Voice
Like most other virtual assistants, Bixby talks back — but some folks might not want to listen to Bixby's default voice "Stephanie". Or maybe you might like to have Bixby respond in a different language. Either way, it's a pretty simple process from within the settings of the Bixby app, and we'll show you how.
How to change the language and speaking style of Bixby Voice
How to customize Hello Bixby
You can conveniently access Bixby on the Galaxy S8 or Note 8 by swiping right on the home screen or by pressing the Bixby button (on the left, below the volume buttons) at any time.
But Bixby is only going to be useful if you make it your own. Here's how to customize your Bixby experience.
How to customize Hello Bixby on your Galaxy S8
How to completely disable the Bixby button
Thanks to a new update from Samsung, you can now completely disable the Bixby button on your Galaxy S8, or Galaxy Note 8 so that hitting the button has no action whatsoever.
How to completely disable the Bixby button
Questions?
Do you still have questions about a feature on Bixby? Have you been leveling up in Bixby, or do you miss Google Assistant? Tell us about it in the comments below!
Updated October 2017: We've updated this post with new information about Bixby and the Note 8, as well as how to completely disable the Bixby button!
Be an expert in 5 minutes
Get the latest news from Android Central, your trusted companion in the world of Android
Joe Maring was a Senior Editor for Android Central between 2017 and 2021. You can reach him on Twitter at @JoeMaring1.