Most popular Bixby Voice commands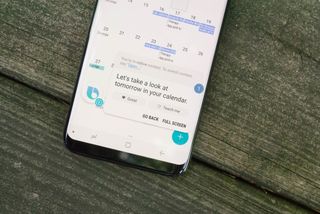 Bixby Voice for Galaxy S8, and Galaxy Note 8, brings an assistant to your pocket. There is plenty that Bixby is capable of doing by using commands, from playing music from your favorite app, to adding items to your calendar. We've got the details on the most awesome commands to aid you in your Bixby adventures!
Navigation
When it comes to making it from point A to point B, many of us use our phones as maps and get turn-by-turn directions for them. If you end up needing to use Maps, you can interact verbally by getting Bixby to help you out.
Navigate to location.
Start/Stop Navigation.
Change destination to location.
Music
Bixby is able to connect with a few different music services, including Pandora and Google Play. This means that once you know how to ask, you can have your tunes in just a few words, rather than having to manually open the app and find what you want to listen to. While there are a variety of different commands available depending on which music service you're using, there are a few that are pretty universal.
Play Music
Stop Music
Pause Music
Play Music from specific album
Camera
There are times when trying to get the perfect angle for your selfie and managing to hit the shutter button without ruining it is an effort in futility. For those of us with small hands, this is even worse thanks to that super tall infinity display that the Galaxy S8 is rocking. Thankfully, there are a solid handful of camera commands you can use with Bixby. These are especially handy for getting group shots without losing your balance or for getting that perfect angle.
Take a selfie
Set the timer for x seconds
Rotate the camera
Calendar
The calendar on your phone can be used as a powerful tool to keep track of everything going on in your busy schedule. Bixby can read off what is coming up on your calendar, as well as add items to your itinerary. That makes it handy to add things when you're busy, without having to type anything out.
Add an event to my calendar.
What is on my calendar for x date?
Do I have anything on my calendar for x date?
Questions?
Do you have a favorite command for use with Bixby Voice? Did we miss an excellent command or set of commands that ought to be here? Let us know about it in the comments below!
Android Central Newsletter
Get instant access to breaking news, the hottest reviews, great deals and helpful tips
Jen is a staff writer who spends her time researching the products you didn't know you needed. She's also a fantasy novelist and has a serious Civ VI addiction. You can follow her on Twitter.
I use "optimize phone" to run device maintenance

Bixby worked great once via voice when my phone was locked. Since then, it no longer recognizes any voice commands unless I hold the button. I wonder if I or my son may have clicked something...

I agree. Gotta hold the Bixby button or it won't work.

I wish it was better at the multi-step thing. "Turn off WiFi and turn off GPS" or any variant thereof inevitably results in only one command going through.
I also wish I could peg multiple actions to a quick command. Why is it that I can only set a single action to a quick command? I would like to be able to say "I'm home" and have it turn off GPS, turn on WIFI, close some apps (like navigation) and have it open up my podcasts.
Also, bixby has a terrible habit of deciding that the faintest twitch on your finger while you're holding the button means it's time to stop listening and execute the command--extremely frustrating when you're trying to use it while walking and it keeps cutting out. I don't dislike it, but honestly? I think Google should let OEM's license their Assistant tech so that way they can have personalized AI that doesn't suck, and Google Assistant gets that much more market penetration and data sources.

In it's early stage bixby is a work in progress. An I use it from time to time. Multiple commands all at once will go a long way to making it much better . Like open my music an okay Michael Jackson ... now that's what I want

I just find Bixby to be frustrating. I can't get it to call or text my wife, or anyone in my family, because it can't figure out our last names. Everything I can get it to do, Google Assistant does better. Maybe I just don't understand how to use it properly. Frankly, I don't really care. An AI assistant should work with the user's behavior, not the other way around.

I use it mostly for connecting to my wife's bluetooth sound thing. it's one of those aftermarket ones that plugs in to the audio ports, so it doesn't auto-connect. saves a few steps of opening settings, selecting it, etc... just say 'connect bluetooth airwave' and done

My favorite command is "go away and don't come back" LoL

Some Samsung apps, calendar and reminders, got an update today to get them ready for the Bixby English global release...

What can Bixby do that Google Assistant cannot do? Seems redundant and I don't use it much since I use the former.

Bixby is ment to work with your phone commands not as a over all search engine

I think Bixby has been really poorly marketed by samsung. The vast majority of people are attempting to use it as a search engine like Google assistant and for mapping when it's so much more interesting than this and more of a device control tool than the basic web search mapping and calendar tool that is Google assistant. Try taking photos and editing images, playing specific songs or truly controlling your phone with Google assistant and see how far you get

Yeah it's been poorly marketed alright. They marketed Bixby as a big feature on the s8 when most of the world still don't even have it yet

Exactly. The best move for them would have been to release it in place of S Voice. And be upfront saying that it's in development and constantly learning without a new button until it is globally available and go from there. Then it would be unlikely that people would be complaining as much as they are I think it has more to do with the extra button than it's functionality because I don't think anyone that isn't already using digital assistants has suddenly become an avid user.
Most people are complaining for the sake of complaining because if someone did any research outside of the standard biased bandwagon whining they would find an amazing tool that is growing in the device they already own.

This video shows a good use and comparison of voice and bixby plus how well they can work together. They are definitely not the same and I'm looking forward to both of their advancements as bixby seams to be learning and improving. https://youtu.be/67PsQAqwoyI

"Android Central" is one of my quick commands

Wish Bixby could open and play music from Spotify.

Definitely a huge gap. Surprised they added Google Play Music support before Spotify.

Yes! "Open Spotify" takes me to a web search. Interestingly, Spotify displays what I'm currently playing or recenty played, in the Bixby Home feed, compete with music controls, but got left out if Bixby Voice.
Android Central Newsletter
Get instant access to breaking news, the hottest reviews, great deals and helpful tips
Thank you for signing up to Android Central. You will receive a verification email shortly.
There was a problem. Please refresh the page and try again.