Samsung Galaxy S8 and S8+ hands-on preview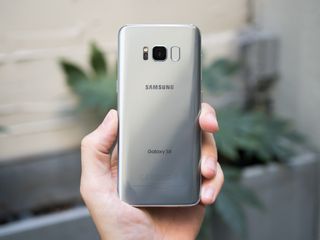 Despite 2016's late stumble with that phone, Samsung is still on top of the Android world. Part of that is due to its extreme popularity in the mid- and low-end phones that sell in dramatic numbers around the world, but it all falls under the halo of the flagship Galaxy S line. Last year's Galaxy S7 was (and still is) a great phone that cut back on gimmicks to just provide a fantastic overall experience that did just about everything the market wanted. There weren't many shortcomings to speak of — so how do you keep people interested, without giving up the things that brought you so much success?
For fear of looking like it's standing still, Samsung took a proven platform and refined it, keeping everything that made the Galaxy S7 and S7 edge so popular while adding a handful of big features that will keep people interested. The Galaxy S8 and S8+ are undeniably successors to the Samsung Galaxy S line in terms of looks, but make legitimately good moves toward usability. The same goes for the software, where a couple of big features and design changes lay on top of a familiar interface to the hundreds of millions of current Galaxy owners.
It can be tough to stay on top for long, but Samsung wants to keep pushing even though it's ahead. The Galaxy S8 and S8+ are how it does it — here are our first impressions of the phones.
Get up to speed
Galaxy S8 and S8+ Hands-on video
The latest flagships from Samsung are easily the biggest Android phones of the year in terms of influence and sales at the top end of the market, and that means there's a whole lot you'll want to learn. Kick it all off with our hands-on preview video, then read along for more details on what Samsung has to offer in 2017!
Gorgeous refresh
Galaxy S8 and S8+ Hardware
"Cool new Galaxy!" is a thing people say today, much in the same way they'd remark if you were carrying a fresh iPhone the day you took it out of its box. The brand identity of Samsung's last two generations of Galaxy S line cannot be overlooked, and it isn't taking this for granted. That's undoubtedly why the Galaxy S8 and S8+ look so similar to their predecessors, even if it's frustrating to the smartphone nerds among us who want to see altogether new designs year after year.
At a glance, from any given angle you'd be hard-pressed to immediately pick out the "new" phone between the Galaxy S8 and S7 series of devices. Yes the Galaxy S8 and S8+ are gorgeous phones, but they use the same recipe as 2016 — with just a slightly different proportion of the ingredients. Finely milled metal and curved glass are mixed together, and in 2017 there's simply a whole lot more glass.
83% of the front of the Galaxy S8 is usable screen real estate, which as you can see in the photos means there's minimal bezel to speak of on the left and right sides of the display. Even the top and bottom have shrunk, nearing the point on the top bezel where you can't go much smaller assuming you want a front-facing camera, sensors and call speaker. That top bezel is so thin that Samsung even sacrificed its bold SAMSUNG branding that has graced the top of every previous Galaxy S phone — leaving the silkscreen logo on the back to stand alone. On the bottom, the home button and capacitive navigation keys have been abandoned — perhaps the only part of this design that is a clear departure from previous Galaxy S phones.
Image 1 of 5
Image 2 of 5
Image 3 of 5
Image 4 of 5
Image 5 of 5
The shrinking bezels align with the change in display aspect ratio foreshadowed by the LG G6 — Samsung has moved to a super-tall 18.5:9 aspect ratio, making the Galaxy S8 actually narrower than the Galaxy S7, but notably taller thanks to its diagonal screen measurement of 5.8-inches to the GS7's 5.1-inches. The display corners are also curved, just like the LG G6 ... which doesn't add much but a neat bit of symmetry to the curved corners of the phone. But even with much smaller bezels, both the Galaxy S8 and S8+ are still quite tall compared to traditional 16:9 phones — the GS8+, in particular, seemed tough to manage in one hand in my brief time with it.
2017 also marks the death of "edge" branding within the Galaxy line, as both the Galaxy S8 and S8+ are technically edge phones, sporting dual-curved displays of the more subtle variety closer to the Galaxy Note 7 than the more dramatic Galaxy S7 edge. And with this distinction gone, it means the two models are nearly identical — with only the size of the screen (5.8-inch vs. 6.2-inch) and battery (3000mAh vs. 3500mAh) being differentiators.
Whether flat or curved, these displays look fantastic — and you shouldn't be surprised at this point that Samsung can make an industry-leading AMOLED panel. Not having spent a large amount of time with it I can't speak to its visibility in fringe situations like harsh sunlight or very dim areas, but based on what I have seen I have no doubts about its abilities. In both screen sizes the resolution is "QHD+" which means 2960x1440 — so that's 400 pixels taller than your typical 2560x1440 screen.
More: Complete Galaxy S8 and S8+ specs
What metal remains in the bodies of the Galaxy S8 and S8+ has been polished to a sheen rather than left in a more raw state, making for a more seamless look from the slick glass to the now-slick metal. The change is most dramatic on the black and silver color variations, in which there's little differentiation in the colors between the two materials. The colors all around are more subdued yet iterative takes on the Galaxy S7's available palette, with black, gold, silver and blue making a return — the one new color, "orchid grey," is a subtle purple-grey combo that's simply wonderful.
Image 1 of 5
Image 2 of 5
Image 3 of 5
Image 4 of 5
Image 5 of 5
The Galaxy S8 and S8+ are really beautiful pieces of technology in either size, but much has remained the same from the Galaxy S7 and Galaxy S6. Within the proper proportions, the volume and power buttons have stayed put on the sides, and the combination of a headset jack, data port (now USB-C, of course) and speaker are on the bottom.
The core tenets of what Samsung calls the "Galaxy foundation" are still here as well. That means you're getting an SD card slot, IP68 waterproofing and biometric security — all table stakes for Samsung at this point. A core point of that foundation is also the camera experience, which is big point of strength for Samsung. The Galaxy S8 and S8+ have the same camera hardware as last year, meaning we're looking at a 12MP "Dual Pixel" arrangement with an f/1.7 lens, leaving any improvement in quality to the new ISP (image signal processor) of the new Qualcomm and Exynos SoCs in the phones, as well as software improvements. Samsung says it has improved blur reduction simply by changing the processing, and as we've seen recently with the LG G6 and Google Pixel, a whole lot can be done in software nowadays.
On the other side of the phone, the camera is a complete overhaul. Samsung moved to a new 8MP sensor with a bright f/1.7 lens that finally includes auto focus, something that you very rarely see even on high-end phones. A welcomed improvement that will make each and every selfie look better.
The Galaxy S8's hardware runs the risk of not moving the needle those who haven't necessarily been drawn to the Galaxy S6 and S7 in the past, but it's clear at this point that there are hundreds of millions of people who over the years have decided they do indeed like the modern Galaxy styling. Samsung managed to make the Galaxy S8 bigger without making it unmanageable, and the Galaxy S8+ is a secondary option that gives people who want more screen the full experience in a larger footprint. All the while, these phones didn't lose a single feature the original Galaxy S7 and S7 edge had.
More of the same
Galaxy S8 and S8+ Software and experience
In continuing with its messaging about the "Galaxy foundation," Samsung isn't really playing the specs game anymore — at least, it isn't marketing the specs game. The Galaxy S8 and S8+ have the specs you need, but Samsung isn't adding more just for the sake of more — the focus is on providing the experience people expect from a top-end phone. You're getting top-of-the line processors in the Qualcomm Snapdragon 835 or Exynos 8895 and double the base storage to 64GB — but at the same time, it's staying put at 4GB of RAM and battery capacities that haven't increased from the Galaxy S7 generation.
To most people, the amount of RAM and precise size of the battery don't really matter — what does matter is performance, and there's a great chance that with either the Snapdragon 835 or Exynos 8895 paired with 4GB will do great. And doubling the base storage to 64GB while keeping the SD card slot is a nod to helping you store everything today and in a year when your apps and media appetite grow.
See everything new in the Galaxy S8's software!
Samsung always packs a ton of features in its software, and the Galaxy S8 and S8+ are no exception. To get up to speed with everything that's new in the software, be sure to read our full breakdown here!
Read our complete Galaxy S8 software breakdown!
And on the software side, Samsung is working with a known quantity, building on Android 7.0 Nougat that looks and acts much the same as the updates that have rolled out to the Galaxy S7 and S7 edge. (I was also told the intention is to launch with Android 7.1 — we'll see how that works out.) That means you're going to find mostly white and grey interface elements, along with pops of color throughout for icons and big touch points. The launcher has dropped an app drawer button but retained the drawer itself using a swipe-up gesture, just like Google's Pixel Launcher, and that kinda of subtlety can be found throughout the interface with a bit more transparency used all around in place of explicitly huge buttons.
Samsung is, for the first time, using an on-screen navigation bar with soft keys, which is something I'd bet Google is happy about — this basically leaves HTC as the final "big" name that doesn't at least give you an option for on-screen buttons. To help soothe those who felt so attached to the physical home button you'll still find the home button present on the always-on display you can push to bring up the lock screen. Samsung achieves this without "accidental" touches by using pressure-sensitive technology to make you press harder to activate the button on the always-on display.
Image 1 of 3
Image 2 of 3
Image 3 of 3
It isn't clear that Samsung intends to use this pressure sensitivity anywhere else in the interface, though, and during my brief time with the phones in the company of Samsung representatives nobody even mentioned the feature. The second part of the equation is a much-improved haptic feedback engine that gives you more of a physical feeling when pressing the button — very similarly to Apple's new iPhone 7 home button and MacBook Pro trackpad. The pressure sensitivity and improved haptic feedback are welcomed additions, but it feels a bit odd to not see the functionality expand beyond the home button. Maybe that's a sleeper feature waiting to be enabled in the future.
The Galaxy S8 and S8+'s tiny bezels necessitated the move to on-screen buttons, which also means it had to move its fingerprint sensor to the back of the phone. Rumor has it that Samsung wanted to get some sort of under-glass fingerprint sensing into the Galaxy S8, and when the technology wasn't ready ... well, we got this. The fingerprint sensor is placed next to the camera, which on these extra-tall phones is way up there. Those who hold their phone in their left hand are in double trouble as they have to reach up and around the camera lens to access it. It's likely to make it even harder to keep the camera lens clean, and Samsung's camera software even has a warning reminding you to clean your lens when it notices it's dirty.
Thanks to the precarious placement of the sensor, it makes sense that Samsung is really high on its iris scanning technology. Whether it's through a change of hardware or software, the iris scanner is much faster than the Galaxy Note 7's, which is a welcomed change. Of course I was using it in good lighting and for a short amount of time, but it recognized quickly and unlocked right away. Now, how will it do when viewing my eyes from the side, at night and while I'm walking down the street? Undoubtedly it will have less precision than just touching the fingerprint sensor. This is one that will take more real-world use to see how it does over time.
Bixby
Voice is viewed as the next big thing right now, and not to be left out Samsung created Bixby — and it was so excited about it there was actually a pre-announcement before the Galaxy S8. It's easy to initially think that because Bixby is a voice interface that it competes with Google Assistant and Alexa, but Samsung actually sees it entirely differently.
While Bixby does do some predictive intelligence, it isn't so much an "assistant" as it is a new way to interact with your phone via voice in order to replace touch entirely. Bixby is designed to be an ever-present voice layer that you can talk to at any time and have it navigate the phone's interface for you. For example, while in the Gallery app you can hold down the "Bixby button" — a hard key underneath the volume keys — and say "show me my photos from Barcelona" to get results. When viewing an image, you could say "apply a black and white filter, and rotate it to the left." These are things you could do with touch, but you can speak to Bixby instead and have it do the actions for you — be it because you don't have the ability to touch the screen at that moment, or you just don't know how to do the function with touch.
Beyond being able to navigate through every corner of "a handful" of Samsung's own apps, the company is really bullish on Bixby because of the way it handles contextual and incomplete information. Bixby knows where you are when you request something, and can act accordingly rather than starting from scratch. If it doesn't completely understand your request, Bixby is also able to get you part of the way there rather than failing entirely and requiring another complete request.
Now, skeptics would say that if your interface is so hard to use with touch that you need a voice assistant to replicate those movements for you ... well, maybe your interface should be simpler. And, as a generally skeptical person myself, I agree entirely. While I immediately see the value in using Bixby for accessibility and the handful of times when you actually just can't touch the display, I see no reason why I would stand there, holding my phone, and choose to press the Bixby button to ask it to do something in the app I'm currently looking at. It would be useful in an informative tutorial sense, but ideally I would want to learn for myself how to do things with touch rather than relying on Bixby to navigate apps for me.
It's clear there's an intense amount of time and engineering being put behind Bixby, but right now it's a neat demo of voice technology and that's about it. The fact that Bixby supports over 50 languages is fantastic, and the demoes I saw did work, but I'm not quite seeing the real-world value of telling Bixby to do things rather than just using apps myself. If Samsung thinks people have trouble using its apps, maybe it should just make its apps easier to use.
DeX
DeX is the first big software feature differentiator on the Galaxy S8 and S8+, and it's one that leaked the least going into the phone's release. It lets your Galaxy S8 or S8+ dock into a little breakout box that connects to a traditional computer monitor, keyboard and mouse to bring your phone's power to a bigger screen for vastly improved productivity. When docked, the monitor will display a desktop-like representation of your phone screen (rather than a tablet view, as some would guess), with app icons along the left, a "start" menu of sorts with commonly used apps and a full status bar in the bottom-right corner.
Image 1 of 2
Image 2 of 2
Android has long supported external keyboards and mice, so that's not a problem at all here. But app support is a real question. Samsung says it has designed its own apps to work in fully resizable windows, and has also struck deals with Adobe and Microsoft to make sure apps like Lightroom, Word, Excel and Powerpoint (still the mobile apps, mind you) look good on the big screen and can also be resized.
It wasn't hard to see the utility of plugging in a phone to this setup and instantly browsing in Samsung's own Internet browser while typing in a Word window and even replying to text messages. The question is, how long will it take for other app developers to get on board and make sure their apps run great on DeX? That's going to make a big difference in how much people will consider using this.
Then, of course, is the next question of how often you're going to be in a situation in which it makes sense to use DeX connected to a keyboard, mouse and monitor rather than just using a computer that's likely already attached to those peripherals. While DeX running on the power of a Galaxy S8 or S8+ would absolutely do the job for casual users ... those are precisely the type of users who don't want to have a keyboard, mouse and monitor. They just want a laptop — and probably a Chromebook at that.
Another winner, it seems
More Galaxy S8 to explore
We've only just scratched the surface on the Galaxy S8 and S8+. With the phones going up for pre-order on March 30 and released on April 21, we have a few weeks to wait before they're broadly available and can start to truly dive deeply into all of their features.
But even without seeing the phones for a deep evaluation, there's a whole lot to be excited about. Samsung continues to make some of the most gorgeous and perfectly executed hardware in the industry today, punctuated by a fantastic display that is now surrounded by even smaller bezels. You get more screen than ever before, and can choose between two sizes of phones with no differentiation in specs or capabilities aside from the battery capacity.
A year on from the all-around hit of the Galaxy S7 and S7 edge, Samsung added the latest top-end processors, more base storage, new iris scanning capabilities, the foundation for whole-phone voice control and a new desktop docking system. At the same time, it didn't take away a single feature that made the Galaxy S7 series great — you still get waterproofing, an SD card slot, fast charging, wireless charging, a known great camera and integration with Samsung's vast ecosystem of products and services.
Even if you (understandably) aren't entirely sold on Bixby's abilities or the idea of using DeX to replace your desktop computer, you can absolutely look past those features to see a fantastic overall phone. Fringe features aside, Samsung is still absolutely nailing the basics with the Galaxy S8 and S8+, providing the features and performance you expect out of a high-end phone while also giving you a great hardware that's wonderful to both see and hold. As always you're going to pay handsomely for Samsung's top-of-the-line experience, but as was the case last year you're going to get your money's worth here.
Andrew was an Executive Editor, U.S. at Android Central between 2012 and 2020.
Event delays 30 seconds and spoiler articles happen *laughs*

Hmm, does seem to look more like it in actual photos

I hate the fingerprint sensor placement, but I like the phone overall.

Yea...OCD people are going to be struggling with this device.

I thought I would too, but the plus fits my hand perfectly and my index finger falls right on it without "reaching" for it.

I agree completely! That placement I may be enough to push me towards the G6.

I own a G5 and I've been very impressed with it and i was waiting to see what Samsung bring but for me i think the g6 will be my next upgrade in sept looking at them both.

Looks cool but I'm thinking I'm gonna hold on to my S7

Pixel 2 will be my next phone, doesn't matter what happens

Even if Google screws the pooch with it? Not even going to wait to see what it offers, how well it works, and what it costs?

Even if they add more bezel?

I got a fever and the only prescription is more bezel!

If Google f***s it up I'll get the iPhone 7S. Otherwise, Pixel 2 all the way.

Rarely is a one-generation upgrade worth the money. If I had an S6 I'd probably be real interested. But with an S7, I'll wait to see what the S9 (and it's competitors) looks like.

I wish they'd just upgrade the s6 specs. My favorite Samsung phone ever. I know this will never happen, but I really feel like the size and form factor were pretty much perfect.

I had s4 mini and ignored s5/6. Loved my S7 but sold it, hopping s8 WON'T be bigger. Now I'm stuffed. Must handle s8 personaly to decide if I can stand the big size. Otherwise back to S7. I know there are many who don't like big phones but we are being ignored. Samsung doesn't makes 'mini' anymore.

Keeping mine too, might not switch until the S10

Did I miss the part about slow motion video capabilities from the event?

I can easily see a small Samsung "laptop" with a built in battery and keyboard trackpad usb ports and display which you slide your phone into like the Asus PadFone and use that. Or maybe a third party will do it. Or maybe I'll do it myself with the breakout box...

Debating as to get it or not... I want the VR freebie... might wait for the last moment possible to pull the trigger though and see as preorders arrive for folks.

I didn't see the author mention the face recognition.

Of course not! His reviews are always thinly veiled negatives towards Samsung. It's like he's mastering the art of subliminal journalism. Make them think he's praising it when he's really trying to undermine it. The biggest question with this device is whether the combination of facial recognition & iris scanning is good enough to negate the need for using the fingerprint sensor. He questions whether the device can scan his eyes from the sides but why would that even matter? If you're trying to unlock your phone that means you've picked it up and you're bringing it up to your face anyway. Besides, he had plenty of time to test that out. Why didn't he test it out rather than wait to ask the question? So stupid or maybe intentional.

Probably because it's useless. First demo of it on YouTube I looked at, showed how it could be fooled by a photo on another phone.

Odd no pricing was mentioned.

My guess is 749 for plus, 649 for regular

We didn't have pricing ahead of the launch. Pricing is ranging $720-750 for the GS8, and $820-850 for the GS8+.

Price is in one of the other stories here on AC.

In Europe:
S8 about $875
S8+ about $1000
Here is the pre-order page in Poland (exchange rate USD / PLN 1:4)
https://www.x-kom.pl/p/356434-smartfon-telefon-samsung-galaxy-s8-g955f-m...

Mixed on this. Love the phone itself. Definitely not digging the fingerprint placement so hopefully iris scanning is actually good. Really worried about battery life given the huge screen. These batteries don't last that long and after a year, I'm usually lucky to get 12hrs from my Note 5. My wife as the iphone 7+ and I am a huge fan of the 2nd camera...not everything deserves to be wide. Plus her battery life blows mine away and I don't see this changing anything. I definitely like the direction Samsung is going but that doesn't mean everything is cool.

The second camera on the iPhone is not a wide lens but a optical zoom in lens.

Proves he's lying about his "wife" having an iphone 7.

He never said it had a wide lens. He is essentially saying he prefers the zoom to the wide lens.

Thank you. Not sure how they missed that.

I did miss read that about the camera. My wife has an iPhone 7 Plus also, not my cup of tea but she likes it. But my battery on! Z Droid Force is much better.

Yeah, I don't think I could ever move to Apple right now...there is just way too much to love about Android. But, with both phones in my home, you can really see the advantages of each. I absolutely envy her phone in 3 ways....Battery life, imessage, and the dual camera for the longer focal length. I have a N5 now and considered the S8 but will mostly likely pass. Worried about battery life, don't want to give up my pen, still wishing for a longer focal length camera option. The G6 went super wide with the 2nd camera for some reason.

Bixby is the only thing I find interesting about the S8, as long as it doesn't require a net connection to use, nor send any kind of information about it's use back to samsung.

Google already has your information so information safety can't be a selling point

So its not a huge update if you already have an s7. Guess I will see what the note 8 has.

""Cool new Galaxy!" is a thing people say today, much in the same way they'd remark if you were carrying a fresh iPhone the day you took it out of its box."
For better or worse, i've never heard it (and i'm saying that as a loyal Samsung/Android guy). Sadly, what I usually i hear when i pull out my new Galaxy (Sx or NoteX), is people saying: "Is that the new Droid?!" Go ahead and cringe...I know i do inside! haha...i can't believe people still say that either and are that clueless...It's usually non-techie Apple people that have no idea about the "other" world of Android, i.e. that Android is the OS and not a device and that "Droid" was/is a line of phones from Motorola which has nothing to do with Samsung phones, etc.

What I mostly hear is..... crickets. Most people really don't care what phone anyone else is using, and pay little attention.

exactly. I never had anyone ever say "oh, is that the new (insert every single phone I have ever had)"
( a stranger has never asked, my friends are like, what phone are you using this week )
When I see people with phones, they always have some ugly bulky case, so I can't tell what phone they have.
I never use cases and people still don't care what phone I whip out.

perhaps when they say "the new 'droid'" they are in fact referring to Android in general. They're just truncating the word.

This is so true and absolutely pisses me off so very much. I go through the same thing because I have a BlackBerry Priv. People constantly saying **** like "Oh my God! You STILL have a BlackBerry? Who still uses a BlackBerry?" Meanwhile they are using a Samsung Galaxy S4/5 and don't realize my "BlackBerry" is a newer Android phone than what they have!

I heard a talk show host in San Francisco recently say, the only reason people buy "Droids" (yes, he used that term) was because they were *too cheap* to buy the "superior" iPhone. :p My guess is he never has spent any time with Android phones in the last couple years. The S8 announcement is good entertainment in the iPhone world. Some of the comments at MacRumors (https://www.macrumors.com/2017/03/29/samsung-galaxy-s8-unveiled/) are amazing.

I have never heard anyone mention anything about anyone's phone ever. I never heard anyone say "Is that the new iPhone?", "hey, is that the new Samsung?", or "hey, is that the new Pixel?". Nobody every says those things.

The only question that matters: are the bottom ports lined up? /s

I'm a bit of an anarchist, so I don't want anything lined up. ;)

I will reserve final judgement until I have one in my hand, but the position of that fingerprint sensor looks so bad, it might just be a deal breaker.

The size is a dylema. TOLERATED S7 size, not sure bout S8.

Depends what dimension matters to you. The S8 is slightly narrower than the S7, but a little longer. The fingerprint scanner location is simply stupid. Even if it was a last minute change it's still a stupid placement.

For the record, have NEVER heard anybody say "Cool new Galaxy!" Ever. Where do the people live that comment on other's mobile phones all the time in public?

They all work a tech blogs.

I was not planning to buy it until I saw Casey Niestat's video. I think the incentives like the Gear VR and 256GB SD card may make the price sting less. I'm preordering it tonight from Best Buy.

finger print sensor doesnt bother me as much as much as the batteries do ha!
everybody and they mama has rear sensors, but idk how battery life is gonna translate over....hmmm....lets see what the pixel 2 does, or even the new moto z for that matter.

Impossible to use one handed....... fingerprint is way up top and Iris scanner is Dumb.... ill wait note 8.

why is the Iris scanner dumb? What makes fingerprint sensor better than iris scanner?

common sense. No way the iris scanner will be faster than finger print sensor. Maybe in the gs9 but not yet, they basically forcing you to beta test it

It worked just as fast on the Note 7. The more you used it it, the faster it got. Common sense.

You see everyone? It's not impossible to upgrade to USB-C ports AND keep the headphone jack. It is not a detriment to the device quality and is easy for the two ports to coexist. I bet all those people who thought you could only have USB-C/lightning and therefore had to move on must feel silly now.

Actually, they are probably just enjoying their iPhone, and don't give a turkey about Samsung phones. Like it's always been.

It's not just iPhone users that have been on an anti headphone jack crusade lately. Android users that have phones from HTC and Motorola or any manufacturer that removed the headphone jack have been saying silly things like comparing the headphone jack to floppy drives saying the headphone jack is holding back phones, etc.

Erm, yes. The HTC 10 had USB-C and a headphone jack a year ago. Nobody ever said it was impossible, it's only ever been a choice by manufacturers.

I've noticed on every site reporting on this phone they state the camera is only 12MP. But if you visit Samsung's site it actually says it has a 15MP camera

Yup, that's clearly a typo. I haven't seen 15MP anywhere ... and have confirmed independently on the phone that it's 12MP.

It seems they have removed the back camera spec from the us Samsung galaxy page and replaced it with the front facing camera spec. So I guess someone did mess up, I did get a picture of the mistake though :D

"For example, while in the Gallery app you can hold down the "Bixby button" — a hard key underneath the volume keys — and say "show me my photos from Barcelona" " What might make this interesting is if you could do this from anywhere. While looking at a web page, for example, say "show me my photos from...." and Bixby is smart enough to open the gallery first, and then select the proper images. Of if I'm looking at a picture of the Sagrada Familia in the gallery, say "find me more information about the Sagrada Familia..." and Bixby automatically opens the browser and does a search. But as it is, I'm inclined to agree that this is a nice demonstration of voice recognition, but maybe not much more. But many of the features we now take for granted started off as a half-baked solution, so it'll be interesting to see where this goes. Given Samsung's market share, the *might* be able to convince other developers to make use of it. But I don't see a lot of 2rd party edge apps yet.

According to the presentation Bixby is contextually aware of what app it is in. So when applicable, it will use said app to get you what you want. If it isn't applicable, it will go to the appropriate app. "show me my photos" will most certainly open up a gallery regardless of which app you are currently in. If you're already looking at a picture in the gallery & want more info, it will run a search on that OR provide relevant info such as proximity info. for example, if it's a location photo you're looking at, Bixby might return restaurants or places of interest near and around the location in the photo in addition to general info you may have requested.

" While DeX running on the power of a Galaxy S8 or S8+ would absolutely do the job for casual users ... those are precisely the type of users who don't want to have a keyboard, mouse and monitor. They just want a laptop — and probably a Chromebook at that." Not so sure about the Chromebook, part, but otherwise... I don't see me, or many other people, dedicating a monitor and keyboard for the few occasions I'd use this. What might be useful would be a way to use my existing laptop keyboard and screen to control the phone and display it's output. Wait, isn't there an app for that?

"What might be useful would be a way to use my existing laptop keyboard and screen to control the phone and display it's output. Wait, isn't there an app for that?" Yes, you could use an app for that but it's a multi-step process to get it to work and the lag makes the whole ordeal hokey and frustrating. It isn't something you'd want to do for more than 20 minutes if you can keep the connection that long. Dex avoids those issues and would be useful to those who don't really have a need to spend several hundred dollars on a new desktop system. So a user could just skip the desktop upgrade and get Dex dock & use that to surf the web or to edit documents on their existing monitor with keyboard & mouse and still be able to take & make calls, video calls, use their Android apps, etc. in another window.

Depends on how much the Dex dock is. I have a feeling it will not be much cheaper than a Chromebook.

This. IMO the dex dock would have to be $50 or less to really be considered a viable option. Otherwise, simply grabbing a chromebook makes more sense in almost every way I can think of. I suspect Samsung will treat it more as a techie toy than a method for saving money by purchasing their premium device.

I'm gonna hold on to my S7E. I'll wait and see what will the S9 will bring

Battery? Looking forward to battery reviews! I need a the iphone type battery. I want to surf the net, look at the news, make some phone calls, text, and tweet for a full day and still be at 50% at 9 PM. I dont play games or watch video....so I am not expecting too much. The Moto Z is the only phone I know of that does this. Going to wait for Pixel 2...if the S8 or the Pixel 2 can't deliver, I might be done. Which android phones are currently out that do have the best batteries?

Mate 9 can easily achieve that, sammy won't, the S7E won't probably s8 won't too. If u got last gen high end phone, the S8 is really nothing special.

Get the Lenovo P2. At the moment mine is showing 38% battery with 6 hours 32 minutes on screen time and 4 days 12 hours and 30 minutes on standby. This is without turning on any power saving modes.

Does anyone know if I will be able to use a stylus (like the S-Pen) with the S8?

Samsung isn't making a stylus accessory, so your only choice would be a standard capacitive stylus ... which because the Galaxy S8 doesn't have a fancy digitizer layer would basically just be like using a fine-tipped finger. Nothing special would happen.

Spigen alrady had a group of cases available. http://bgr.com/2017/03/29/best-galaxy-s8-cases-galaxy-s8-plus/

Yes there is. Just not mentioned here.

Reasons I won't get the S8: Fingerprint sensor on right next to camera - WTF
The Samsung web browser
The Samsung email client
The Samsung calendar
The Samsung app store
The Samsung gallery app
The Samsung memo app
S Health
S Voice
Samsung+
Samsung Smart Stay
Samsung Cloud
Samsung Pass
Samsung Gear
Always On Display

Roughly translated as you won't get it because Samsung?

every single one of those can be disabled and replaced.

Disabled but not deleted. They still take up some of your storage.

Then you don't want a Samsung phone... Period.

I think that was his/her whole point.

You guys just don't get it. Android is now but a FIGURE HEAD in Samsung phones. Nothing more, nothing less. If you are looking for a 'pure' Android feeling, well then, you are barking at the wrong phone.

I love the mixed metaphor! (But I do agree with you mostly Joey)

Does anyone know if you're able to use 3rd party fonts on the S8/S8+? Or has Samsung continued blocking the use of 3rd party fonts with this phone

Don't think this is the only major player in the 'Droid market this year. I'm anxiously awaiting the Pixel 2. I had the Pixel but returned it as it was too small for me (the XL was totally unavailable). Loved the clean interface, speed, and great camera on the Pixel. Disliked that it wasn't water and dust sealed. Probably would have kept it had it had those two features. Also, the way it interacted with voice commands was great. So, I'm interested in the S8, but more interested in the Pixel 2.

The Pixel is not a Droid, the only Droid I know of is the Moto Z Droid Force. Haven't really heard anything about a 2017 model.

I thought the Google Pixel was the top Android phone currently. Anyways there is nothing amazing enough to upgrade my S7 edge.

Same here, S8 is too big and nothing impressive.

I'm upgrading to the S8+ because I had the Note 7 and had to return it. I currently have the S7 Edge which I consider to be a downgrade from the Note 7 in various ways.

I am definitely experiencing upgrade exhaustion. I see no reason to upgrade from my LG V20. I guess I will wait until fall to see what LG and Google will bring out. After the Note 7 debacle, I am kind of leery of anything from Samsung now. Don't want the hassle of having to return a phone again on a recall.

Nothing new in s8 no extra battery no extra ram no extra camera 12 only and no
Extra full screen camera.

None for me....Thanks but No Thanks. My GS7 is great enough...btw the back of the GS8 with the fingeprint scanner next to camera is a No Go for me

My pre-order is in bring on the infinity display

The j-off reviewer is at it again. Give the phone a positive and then undermine the kudos with a clearly baseless argument. Case in point: Bixby. "....but I'm not quite seeing the real-world value of telling Bixby to do things rather than just using apps myself. " And yet this joker praises Google Assistant for being able to open different apps & create messages, etc. Hey, it's great that GA can open the photos app, but don't you think Bixby is just a little bit better if you can tell it to edit a specific photo in a specific way? Such as "Find a photo of my mother, apply a black and white filter, and reduce its size by 50%, save it, and send it to her via mms." The reviewer knows that Bixby has this capability because it was part of the Samsung presentation AND it was demonstrated to reviewers in the demo areas. Yet he's chosen not to mention it specifically but rather roll it up into a generalization of "Bixby navigating your apps for you". Andrew, you're the worst! Why does AC continue to let you have all the big review announcements? Your reviews are always pieces of crap. Please stop it and improve your journalism.

I've been saying the about andrew for over a year now he's clearly intentionally bias

Bixby doesn't know much about the world outside the phone apps. themselves. Google assistant can also do this (maybe not as well as Bixby) but also, can sustain a contextually meaningful conversation about almost any topic because it taps in real time into Google's humongous data tank. The preference depends on each user's focus and requirements.

That reviewer said something not completely positive about Samsung. Crucify him!

Awesome phones from Samsung. I would prefer a Galaxy S8 over Google Pixel!!! ;-)

If the Pixel would have been designed similar to these phones it would have been amazing!

Looks impressive but battery life is my biggest concern. Otherwise great device!

It has a more efficient processor and it also has fast charge so it's not that big of an issue.

Played with the g6 and I really don't like the tall screens. I was planning on ordering tonight but I think I've decided to wait and get a note 7 if they release those. For now back to my pixel XL I guess.

I hope it does not explode like the note 7.

Good job samsung forcing people to use the iris scanner. Slick move

Are you could just get a different phone. It's not a required purchase

For the price it's gonna be. Naw it's 2017 not paying that much for any phone

I'm guessing you felt the same way about the Note 7, but instead said "Naw it's 2016..." because the S8+ is the same price I paid for the Note 7 at T-Mobile back in August 2016.

Samsung has had the most popular phone for years, now they change the whole thing up. Why change what everyone liked,. Now it's not what everyone likes

Yeah... Be more like Apple. Just keep releasing the same phone year after year. That's how you do it.

HAHA, Apple just being courageous!

People don't know what they like, they put up with the worst Samsung software, fragmentation, bending over carriers for years. So they will be fine with these new changes. As usual some people complain over the forums but doesn't matter.

Think I'll just keep my S7 a few more years, I personally don't like the new direction of taller screens and no physical home button.

Theres nothing exciting about these Galaxy S8 phones. The Xiaomi Mi Mix already stole the show with its 93.1% screen-to-body ratio. And the 2015-2017 Sony Xperia flagships with their 4K screen resolutions and a power button that also act as a fingerprint scanner. When it comes to battery capacity, the Lenovo P2 and and Asus Zenfone 3 Zoom have it. Camera image quality? LG does it decently. Last years S7 and Pixel series also take good pictures and videos. Using the phone as a PC? Microsofts 2015 Lumia flagship series were already there. What about A.I. and ecosystems? Well, I want to see Samsung improve on these. Thats the simple truth above and beyond the hype.

I'm glad that you just named 8 different phones/manufacturers that do what this 1 phone does, but don't worry, there is nothing exciting here.

Haha I noticed that to . I think he was trying to troll...but it back fired

The Sony Xperia doesn't really even use a true 4K display anyway. http://www.gsmarena.com/sony_xperia_z5_premium_4k_display_under_our_micr... The article doesn't really describe it well, but if you analyze the photo, you'll find that the squares denoted by the resolution are [RG][BR][GB][RG][BR][GB] ...staggered back/forth as the lines go down, rather than true 4K which uses [RGB][RGB][RGB][RGB][RGB][RGB]... (RGB in each pixel). Samsung's QHD has historically also not been the real deal, interestingly enough. They have used "Diamond PenTile", which is basically [RG][BG][RG][BG][RG][BG]. Still two subpixels per square rather than three, as such it cannot produce the full detail of the 2560x1440 picture rendered by the hardware, and it has to be downsampled for the display. Rumors are that the 2960x1440 display in the Galaxy S8 is the real deal -- which, IMO, is better than had they gone to a not-true-4K screen. But no article has confirmed that yet.

An that's why you have options . Buy what works for you . Now me haha I ordered mine this mourning. Galaxy s8 come to papa

Can't see anything in this review that would tempt me away from my trusty S2!

Does anyone know if a stylus pen feature is integrated like in the Note in the S8?

Nope there is no S pen that's a different phone

Didn't see one in the fotos. The stylus is a Note thing, anyway. It's cool, but I haven't found it to be real useful on my Note tablet.

Samsung needs to get rid of the fragile all glass slippery bar soap design, and the idiotic curved glass. What's the point when your have to put a polycarbonate shell on it to protect it from an accidental drop. Samsung has lost the plot.

$11 TPU case works perfectly fine. I've had the Note 7 and the S7 Edge. Dropped them each a few times and neither shattered.

You did not comprehend my comment, what's the point of these fragile all glass phones that are build like soap bars, that at the end of the day you need to put a case on them, there is nothing like a solid polycarbonate build phone. I own a S7, had the phone out of the case and in my pocket, it slippedout of my pocket "because it is made like a soap bar" and landed corner first on the tiled kitchen floor, the corner got dinged and the corner glass turned white. This never happened to any other phone I owned that was not build competently out of glass.

true. phone can be attractive without this glass schtick. your experience is just like my friend's. they can either go metal or high end polycarbonate. I also think that polycarbonate is the best for handheld devices but metal is better for heat dissipation. though , LG V10 struck the best balance - steel frame + plastic

I never put cases on my phones because I don't like the extra weight and like seeing my phones' designs. Mine haven't felt fragile to me because after a year or so they'll have some minor scratches here and there, but :::: knock on wood :::: I've never had anything serious happen so I appreciate this design.

So, if you ask me - only area left for Samsung to improve is software update and ensure 7.1 is not the only version this phone gets.

I agree with you. My Galaxy S6 has not even received the Android Nougat 7.0 update. (G920I) Hopes that Galaxy S8 improves on it.

That will never happen, you will wait at least 6 months after Google brings out a new OS update.

I wouldn't mind something like my TabS 8.4 with phone capabilities, but I'm not interested in incremental screen size steps beyond my current S4, which is a real comfortable size in the hand. (And cheap, cheap, cheap on eBay.) My $.02.

I like the Infinity Display of the Galaxy S8+. Big display in a small phone!

Is it really the same camera?

Yes but with updated software.

Does anyone else think the LG G6 is a more compelling phone? Dual camera with a useful wide-angle lens. Fingerprint sensor in a much better location. Flat screen with some (but minimal) side bezels to prevent less accidental touches from simply holding the phone. Less software bloat. Larger battery (vs. regular S8), although the S8 may have a more efficient processor. I think the G6 also looks more attractive and will likely cost less. On the other hand, the S8 may have a marginally faster processor, and has Bixby and Dex. But I'm not sure any of those features offer any value to me (doubt I will notice the former or would use the latter).

The LG G6 looks better than the S8, this coming from a S7 owner, Samsung has lost the plot.

I think the G6 is more compelling as well, but take that with the following considerations :
> I dislike Samsung's design language
> I despise the software bloat
> I think the curved screen causes problems Additionally, I feel strongly that no phone manufacturer has made a strong argument for an upgrade in 2017. While I think the G6 is more compelling overall, I don't see any reason to get it over my current 2 year old phone. I count myself among those hoping that the Pixel 2 will be amazing.

Preordering mine tomorrow. I freaking love them

Was really in doubt but ended up ordering the black S8+ for around 900€...

Can't believe they continue to bloat the crap out of Android still. Every year is supposed to be different but they always become unusable laggy paperweights in a matter of a year. Sure, super slick and snappy out of the box and look great on those paid reviews but it's only a matter of time. My 2014 moto x held up longer than any galaxy and I would still be using it if the tiny 16GB storage hadn't become an issue. I guess as long as millions of people are willing to line up and pay through the nose for a throw away phone then they'll keep making them that way.

This sets the stage potentially for the Note 8 this year.
And to knock it out the park for me would be to get the fingerprint sensor on the front screen to work as they have time before August and September, and an increase of RAM to 6 or 8 GB.
For now, I have the S7 edge that I got to replace the Note 7 (without root) and I have a Note 4 rooted that I play around with with ROMs

Besides the finger print sensor placement, I love the phone. The fact that they say the battery will maintain higher charging capacity longer than older versions is great if true and would be a huge gain for me!

Still not a fan of the curved screens. But if the Note 8, or whatever has it, maybe I can tweak my video apps so the picture doesn't bend so annoyingly. I'ed go with a 6" if they make one. It's a waste of a display to have the picture distorted at the top and bottom.

You of Biggest announcement by Samsung... looking forward to see Samsung Galaxy s8 /S8+ launching...

Wondering if anything from the software side will come to the S7? Slowmo, iris scanning...

I love this samsung galaxy s8

Hate how every article about the s8 or s8+ starts off with a note 7 mention... Jeez. Get over it already. I don't hold a grudge. 100 some odd phones out of MILLIONS had an issue. Samsung admitted to fault, while Apple continues to always blame the customer for every shortcoming. I pre-ordered 2x S8's orchid grey for gf & I am I worried? Samsung is hands down the best always.

You had me right there with you - until you felt a need to take a jab at Apple. Samsung does need to stop apologizing about the Note 7.

Super awesome device! I'm gonna go for the s8+ for sure! 👌

S8+: is there a way to find out if this phone has a MicroSD card slot that uses UHS-I or UHS-II "bus"? I can't seem to find this information anywhere. UHS-I = single row of contacts (slower max speed); UHS-II = two rows of contacts (faster max speed) Thanks.

Sony Xperia XZ Premium. Best of them all. Too bad AC doesn't say much about it. But I suppose we will read more after it's release.

I've been thinking the same.

WATCH THE SAMSUNG GALAXY S8 and S8+ Official Launch Video :- https://youtu.be/WVchnSUO0cg

My Note 5 64 GB does the same thing! The S8... and S8+... nice phones!

I hope to win an S8, or S8+

Which one is most recomended to buy? Galaxy s8 or the galaxy s8+? And what colour is the best?

I visited a Best Buy today. I had a look at the new S8 phones. They're very slick, surprisingly small. I was expecting the bigger one to be a monster size like the giant iPhone but it looks and feels smaller than previous Galaxy phones. That part is kind of amazing. I'm not sure how I feel about the missing buttons. It's definitely better than the last phone I tried that had no home buttons. The area where the buttons reside is still reserved for the buttons, so you can touch that area, and if you happen to hit one of the hidden buttons it will work. Pretty ridiculous, but having a sensible button is probably no longer a possibility if you buy any new phone. That was the good. The bad is that I felt that I couldn't possibly use the S8 phones with one hand. It's thin, light, and super slippery, with no place exactly to hold the phone with you r fingers. It's the worrst design possible I think. S Note is not Samsung Notes and it has a fraction of the features and functions it used to have. I can't imagine why Samsung decided to turn this app into a shadow of it's former self.

An S8 Plus in Orchid Gray; pre-ordered and pre-paid as I am streamlining my bloated Verizon account. Now to rid myself of those two tablets received as promos dating to late 2013! Being a Verizon customer does have its virtues. I've never had an instance when their coverage dropped out on me; even during Hurricane Sandy in October 2012 when everything around us was out we still had electricity and Verizon coverage while many relatives and friends were hobbled for a week or more. After the Note7's failure to launch I'm a little disenchanted with tech at present and I hope that the S8 Plus will power through this summer's events capturing the moments and enhancing the family-based activities and vacations. It's springtime and hope 'springs' eternal.

The 18.5x9 ratio is a deal breaker for me. I'm an every other generation upgrader but Samsung wont be getting my money this time. I hope I'm not the only one who doesn't like these tall, narrow screens. Enough, at least, that there's at least a few good phone options with 16x9 or 16x10 screens.

I'm not yet converted, fully. I'll take the hit on any restocking fee if the device turns out to seem like a strand of fettuccine with a pretty display.

I cant wait! I'm all about the latest droid

I'd say, those are two wonderful-looking phones! Seriously, prolly the best looking phones I've seen. The S8 Plus could have been better https://versus.com/en/samsung-galaxy-s8-plus-vs-samsung-galaxy-s8 , a larger and battery and all, but I think with an aspect ratio like this, reaching for some parts of the screen would be a daily struggle. So thanks but no thanks, the S8 might just be the one for me.

I've been through 6 Galaxy phones and 2 galaxy tablets. Trying to force me to adopt the edge display is the end of line for Galaxy and I.

Curved edge...Fail. Good luck with a tempered glass screen protector!

Yes, a truly conformal curved-glass screen protector simply will not happen. My solution to this situation was/is an Armorsuit screen protector (for my S7 Edge; worked with the ill-fated Note7 too). It's not glass but, with patience, goes on relatively easily and the sensitivity and feel is acceptable.

Why good luck? I ordered it off Amazon yesterday. Several brands of protectors to choose from.

I had time this weekend to play with the S8+ at Best Buy. It is, in fact, a very nice phone. However, it does not have the width of the S7 Edge, and certainly not the width of the Note 7 (R.I.P.) and no S-Pen. Under the hood is what matters to me, and quite frankly, This phone really doesn't have anything to draw me away from my S7 Edge. Top this with no removable battery (again), and the experience with the Note 7 recall - the S8+ offers no real reason to make a move just yet. Unless you are one of those people who absolutely have to have the latest and greatest - my opinion, stay where your re for a while. Never know - Samsung might throw out an S8 Note +....

Excelent preview, i LOVE Galaxy s8 !

Went to T-Mobile this weekend to look at the S8 & S8+. Compared my LG V20 side by side and although the S8's were very nicely put together and looked good I think the V20 is more practical for what I use my phone for. Trying to read web pages on the S8's is not fun with a curved screen and the narrower width. Yes it makes it easier to handle but it is not as functional as a phablet. Hope the Note 8 has a true 6" flat screen option and at least a 3600mAh battery. There is no need for an edge screen or a 2nd screen like the V20 and Ultra have. I keep the 2nd screen on my V20 off. The S8's sure do look nice and I'm sure Samsung will sell millions of them.

'cool new galaxy'
Said no one outside of a commercial, ever
Android Central Newsletter
Get the best of Android Central in in your inbox, every day!
Thank you for signing up to Android Central. You will receive a verification email shortly.
There was a problem. Please refresh the page and try again.