How to customize Hello Bixby on the Galaxy S8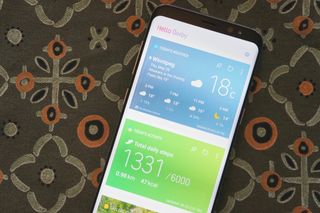 Bixby is Samsung's take on the virtual assistant, offering a similar experience to Google Now on the Galaxy S8 and S8+, along with the Galaxy Note 8 . You can access Bixby either by swiping right on the home screen or by pressing the Bixby button (on the left of the S8, below the volume buttons) at any time.
But Bixby is only going to be useful if you make it your own. Here's how to customize your Bixby experience.
How to customize your Hello Bixby cards
Feeling overwhelmed by all the content displayed when you check Bixby? It's set to display content from all supported apps by default to showcase everything it can do. Fortunately, it's quick and easy to customize your Bixby experience
Press the Bixby button or swipe right to access Hello Bixby.
Tap the settings icon in the top right corner.
Tap Hello Bixby cards.
Tap the switch next to all Apps
Tap the switch next to the apps you want to see on Bixby.
Bixby only currently supports a limited number of apps, and as you might expect, they're mostly Samsung's stock apps. If you use Google apps such as Gmail or Google Photos, you're out of luck for the time being.
How to re-organize Hello Bixby cards
Want the weather card or any other card to be at the top of your Hello Bixby menu? You can customize the order of your cards to fit your needs.
Press the Bixby button or swipe right on the home screen to launch Hello Bixby.
Tap the menu button on the card you want at the top. It looks like three dots in a vertical line.
Tap Pin to top.
It's just that easy. You can pin multiple apps to the top, but just know that the last card you pin will go straight to the top, so order your cards accordingly.
How will you customize Bixby?
Personally, I decided to turn off almost everything, even mostly useful features like Flipboard briefing. While I generally liked the content it was providing, I always find that Bixby cuts off the full headline and that's really annoying.
What do you think of Hello Bixby so far? Love it? Hate it? Let us know in the comments!
Marc Lagace was an Apps and Games Editor at Android Central between 2016 and 2020. You can reach out to him on Twitter [@spacelagace.
Had my Galaxy S8 2 weeks today and am yet to set up Bixby lol. Though I continue to accidentally hit the button whole trying to adjust the volume or watching a video. Maybe I'll set it up today

I avoided it for a few weeks but set it up recently. It's ok. Doesn't hurt anything which is important. I do check it maybe every day or every other day. Once you can talk to it that's when I think it'll be used more but even then...eh

Is there still a way to remap the bixby button?

Try downloading Bixbye from the Google Play Store. The app allows you to remap the Bixby button or disable it all together.

I use this app...have the button set to flashlight...
Works great!

I remapped to flashlight as well, but it kept coming on in my pocket so I just disabled the button.

I haven't used it yet but I will try your useful tips and see what happens, thank you!

I want to like Hello Bixby but it is lacking. The Google App feed has way more relevant information. It is very annoying that the headlines are cut off. It needs a lot more, especially since it has its own dedicated physical button.

I customized my Bixby, right off my phone.

Bixby doesn't even work and having a button is absolutely useless

There is a beta video going around where an Asian or Korean guy is showing off Bixby. it can almost do any task on your phone with voice commands. Pretty awesome stuff.

There's no options like that in the video on my Bixby
...im on VZW

If i hold down the Bixby button nothing happens... it's doesn't listen to anything at all... all it does is show me dumb news feeds...

Not finding Bixby useful right now on my S8 plus. Just a recap of muy interests and past activities on my phone.

It doesn't really work in spanish or my country (Mexico)
Android Central Newsletter
Get the best of Android Central in in your inbox, every day!
Thank you for signing up to Android Central. You will receive a verification email shortly.
There was a problem. Please refresh the page and try again.