How to replace Bixby Voice with Google Assistant on your Galaxy S8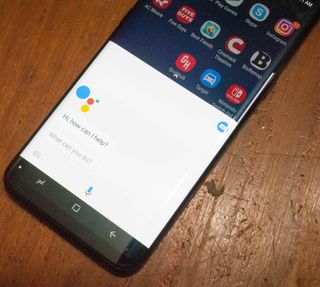 When it comes to having a pocket assistant for your Galaxy S8, or Galaxy Note 8, not everyone is sold on using Bixby Voice. If you prefer using Google Assistant, or you want to give a different assistant a try, then there are a few things you'll need to do. The Galaxy S8 has a dedicated button to map Bixby, along with voice commands. However, there are a few things you can do to replace Bixby Voice with Google Assistant.
Disable Bixby Voice
Launch the Bixby app on your phone.
Tap the menu button in the upper right corner of your screen. (It looks like three vertical dots.)
Tap on Settings.
Tap the toggle next to Bixby Voice.
Tap Turn Off.
Note: Disabling Bixby Voice doesn't disable Bixby Home, so unless you remap the button to Google Assistant, pressing the Bixby button will always bring up Bixby Home.
Remap Bixby button with an app
The big hurdle in replacing Bixby with Google Assistant is that Bixby button. While you can't remap the button by just using your phone, apps like BxActions (opens in new tab), or BixRemap (opens in new tab) can get the job done. It is, however, worth noting that in the past few months, Samsung updates have wreaked havoc with certain remapping apps. At the time of this writing, BixRemap is the app we suggest for remapping your Bixby button.
Keep in mind you'll still see Bixby flash before Google Assistant launches, but it only lasts a moment.
Install BixRemap

(opens in new tab)

.
Open BixRemap.
Tap Enable.
Tap BixRemap
Tap the toggle to Allow usage tracking.
Tap the arrow to go back.
Tap the arrow to go back.
Tap the Play button in the lower right corner of the screen (It is blue).
Questions?
Do you still have questions about replacing Bixby Voice with Google Assistant? Is there another method that we should have included here? Be sure to drop us a line in the comments and let us know!
Android Central Newsletter
Get instant access to breaking news, the hottest reviews, great deals and helpful tips
Jen is a staff writer who spends her time researching the products you didn't know you needed. She's also a fantasy novelist and has a serious Civ VI addiction. You can follow her on Twitter.
BixRemap crashes on S8 Active. :(

Tbh, I prefer Bixby to GNow. Bixby allows me to say "How do I get to this location from here" without needing my web history on. I get what Google is trying to do, but if I don't want it to build that profile on me to "guess" when I'll want to go home, I shouldn't have to have it on. Even though I can turn it off device by device, my S8 included, they want it on anyways. Implying they don't need it, they just want me to "forget" that it is on for some of my devices.

I bought bxActions and completely disabled the Bixby button. (I kept pressing it with my pinky while plating games) With over 100k people who actually paid for an app to do away with Bixby, you'd think that Samsung would get the memo and allow for customization.

100k instances to Samsung millions of devices sold is nothing, plus they spent so many more millions on Bixby itself, no way they'll let it die off the vine that quickly. I'd expect it in at least 2 more iterations at least, S voice took several years to die off too even though no one used it.

BXactions is brilliant, have my bixby button remapped for short press, double press and long press. Definitely worth the money.

Didn't work for me. I don't mind Bixby, but Google Assistant is WAY better at this point

With public tutorials like this, Samsung will have it blocked again in no time.

How is sense edge considered a gimmick but ppl want the bixby button to be customizable when that's pretty much all edge sense is (a customizable button)

Because "Samsung guy" says it's a gimmick, so it is. There has never been gimmick on a Samsung phone according to those guys. How many ways can you unlock your Samsung phone? Couple gimmicks here if you ask me. Face scanner
Iris scanner
Fingerprint scanner
Waiting for the rectum scanner.

"Gimmick" has become the fanboy buzz word for "those features on the phone i didn't choose". If it's not on my phone, it must be a gimmick, making me feel more secure in my purchase.

Exactly, great comment. Better than mine by a mile.

Bixby is constantly activating when I (or friends) talk and we don't even say words similar to bixby. Even when locked. It's really annoying.

Why choose one over the other? I have both enabled on my S8...

In reality Bixby is unescapable. What I did to lesson the pain was cut the button of a case. That stopped The accidental Bixby presses.

I don't have a S8, so I can't speak about Bixby, but I'm looking forward to seeing how it works in the Note8 which I plan on getting. Guess we'll see if I'll need to do this

Bixby is sadly a reason to avoid Samsung's phones. It is too bad because their devices are really spectacular. I do not want to have to use some kind of third party tool to try to get around Samsung on my thousand dollar phone.
Android Central Newsletter
Get instant access to breaking news, the hottest reviews, great deals and helpful tips
Thank you for signing up to Android Central. You will receive a verification email shortly.
There was a problem. Please refresh the page and try again.