Best tips for wrangling Bixby to get it to do what you want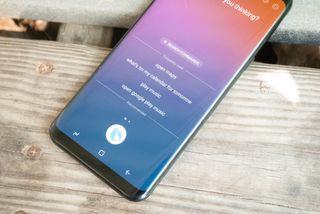 (Image credit: Android Central)
Bixby Voice for Samsung's Galaxy S8 and Galaxy Note 8 delivers a pocket assistant that you can talk to in order to get things done. However, if you can't seem to get Bixby to do what you're asking, then this assistant can be more of a hassle than a help. That's why we've put together this handy list of tips to get Bixby Voice to listen when you give it a command!
Ask Bixby to open an app
Why you can trust Android Central Our expert reviewers spend hours testing and comparing products and services so you can choose the best for you. Find out more about how we test.
When you're trying to get Bixby Voice to complete a specific task for you, the first thing that you need to do is ask it to open an app. Saying "Hey Bixby, Open my Calendar" will open up your Calendar, but once you have an app opened up, you'll be able to ask it to complete specific tasks without causing confusion for your pocket assistant.
Taking the extra moment to ask Bixby to open an app before giving her specific commands means that she'll know which app you're talking about, and you'll have a better shot of getting things done correctly the first time that you ask.
Check compatible apps
While Bixby works with many apps already, and Samsung is adding more to that catalog, it definitely does not include everything. If you want to be sure that Bixby is capable of doing what you are asking it to, double-check that the app you're talking about is compatible with Bixby.
There's a full list of every fully compatible app that you have access to. On top of that, if you take a look at Bixby Labs, these are apps that are currently being tested with Bixby. They may well lack full functionality for now, but knowing whether the app you want Bixby to use is available is key to getting it to do what you want it to.
Be specific
When asking Bixby to complete a task for you, be sure that you're being specific. Just asking her to do something vague isn't going to do you any favors. By being quite specific when you talk to Bixby, you'll be in much better straits to have the app do what you've asked it to on the first try. By saying "Bixby do I have anything on the Calendar for August 22, 2017?" it's much easier for it to complete my request in a single try than if I say "Bixby what's going on next week?"
Simply put, by being as specific as possible, Bixby will be able to understand exactly what you are asking it to do without clarification needed.
Take the time to teach Bixby
Every time that you have Bixby complete a task for you or answer a question, you have the ability to teach Bixby and give feedback. In some cases, Bixby gets the picture quickly, but if you find that the app is regularly mishearing your words, then you'll definitely want to correct it.
Bixby learns by interacting with you, and the better it understands you and what you're asking, the easier time it will have to complete all of the tasks you set.
Use Quick Commands
Quick Commands with Bixby Voice gives you access to really customizing your experience. By building your own quick command, you'll be able to launch specific actions with a phrase that you choose.
This means you can create phrases that will automatically launch what you need them to do. For instance "Take me to Mom's House" can automatically launch Maps and start navigation to your desired location. By setting up a cadre of Quick Commands, you can always be sure that your verbal commands are fulfilled correctly by Bixby.
Questions?
Do you still have questions about getting Bixby to do what you want it to? Is there a tip for using Bixby Voice that we should have included here? Let us know about it by dropping us a comment below!
Be an expert in 5 minutes
Get the latest news from Android Central, your trusted companion in the world of Android
Jen is a staff writer who spends her time researching the products you didn't know you needed. She's also a fantasy novelist and has a serious Civ VI addiction. You can follow her on Twitter.