Best Sci-Fi Games to Play on PS4, PS5 Because You Can't Play Cyberpunk 2077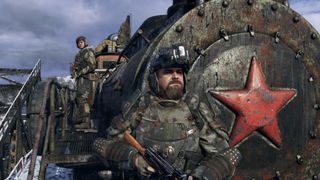 (Image credit: Deep Silver)
Not everyone can get their hands on Cyberpunk 2077 at launch, and even if you do, you might not be able to play it. Large groups of people are willing to wait for the next-gen patch to come out for new consoles before playing this highly anticipated game. With all the issues currently plaguing consoles and even players on PC, it's completely understandable. If you're one of these people, there are some great sci-fi games to pay while you wait.
Filling the time while you wait to play Cyberpunk 2077
We understand if you want to wait to play Cyberpunk 2077, but hopefully, many of these titles above can help you fill in the time between now and when you can finally play it. Fallout 76 takes the top spot in this article with its almost on-par gameplay with Cyberpunk 2077, along with the impressive continued support and additional content added since launch.
If you're not much of a Fallout fan, The Outer Worlds is another title that will tide you over for a good length of time while also providing a wonderful open-world sci-fi experience. If you are really looking for a cyberpunk-styled game, Deus Ex: Mankind Divided is essential. Ghostrunner is another Cyberpunk title that will put your reflexes to the test if something challenging is more of your taste.
Android Central Newsletter
Get the best of Android Central in in your inbox, every day!
Thank you for signing up to Android Central. You will receive a verification email shortly.
There was a problem. Please refresh the page and try again.