Best PlayStation VR shooters in 2022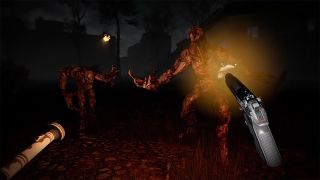 Shooters are a mainstay and favorite among many gamers and this style of play is only heightened in PlayStation VR (PSVR) thanks to motion tracking and intense immersion. The list of shooters for PSVR is ever-increasing, so it can be difficult to decide which one you want to buy. Well, look no further. I've collected up a list of all the best shooting games for your new headset to help narrow down your options.
New games breathe life into us all
Nothing makes a shooting game feel more immersive than throwing on a VR headset and having to make realistic hand motions to control your gun. If I'm going to play a first-person shooter on anything my first choice will always be in my favorite headset. After you experience the type of gameplay the PSVR offers you'll never look back. That's why Apex Contruct (opens in new tab) will be my favorite VR game for a long time coming. Not only was is it a phenomenal shooting game made to blow your mind, but the story was mind-blowing and the mysterious feel of the environment had the gears of my brain constantly turning.
Essa Kidwell is an expert in all things VR and mobile devices who can always be found with an Oculus Go, a Pixel 2, and an iPhone 7+. They've been taking things apart just to put them back together for quite some time. If you've got a troubleshooting issue with any of your tech, they're the one you want to go to! Find them on Twitter @OriginalSluggo or Instagram @CosmeticChronus.
Android Central Newsletter
Get the best of Android Central in in your inbox, every day!
Thank you for signing up to Android Central. You will receive a verification email shortly.
There was a problem. Please refresh the page and try again.