Best PlayStation VR Boxing Games in 2022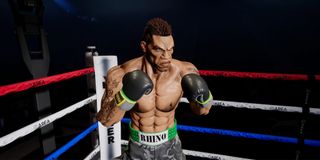 Some of us feel the call to the fight and want to try boxing for ourselves, but it's difficult for most of us to get into an actual ring. Well, the PlayStation VR (PSVR) has changed all of that by introducing a few boxing games that don't require skill or the risk of physical injury to enjoy. Alternatively, if you're looking for a punching game to get you active and moving, we know the best games for that as well. Check them all out here!
★ Featured favorite
(opens in new tab)
Creed: Rise to Glory has the best graphics and gameplay style you can find in a VR boxing game. Not only does it look great, but the mechanics teach you a proper boxing algorithm. It reminds you to take breaks in between punches and each time you land a hit the controller even vibrates for better immersion!You'll break a sweat, throw punches like the professional, and love every minute of it! Trust me. You want Creed if you're looking for an authentic boxing experience.
Adorable boxing
Knockout League is a riot with goofy characters, hilarious catchphrases, and silly mini-games. You can fight an octopus wearing a monocle and top hat or punch water balloons out of the air for crying out loud! You'll laugh your way throughout each and every level, I promise.
Boxing minigame!
Rec Room is an online game for the PlayStation VR that revolves around playing a bunch of different mini-games with friends and strangers across the world. While the boxing game is incredibly simple, it's still really fun. Compete against your friends and family to see who the better boxer is!
Hilarious and simple
This game has one focus. Punch the jerk at the bar who you decided to pick a fight with. The graphics aren't great, but it's full of good fun to have if you're looking for something to laugh at your friends with. Chug a bear, throw a chair, get dirty!
Best punching games for PlayStation VR
Don't want to specifically box against your opponents, but still want to get up and moving? Try out these punching games instead. These won't teach you boxing algorithms or put you up against live opponents, but they'll still get you on your feet and testing your reflexes!
Get down to music
Nothing is going to get you more active in VR than Beat Saber. You're given two sabers and a soundtrack. The goal? Dodge walls, destroy boxes to the beat of the songs, and follow the specified directions of which way your saber needs to swing.
The best package
(opens in new tab)
Superhot is not only one of the best punching games because it offers other options for violence to keep your attention. You can punch, beat, or shoot your enemies with multiple different options from fists to weapons.
Punch the rhythem
Even though boxing is in the name, BoxVR is more of a music punching game than it is a boxing algorithm game. Rack up a high score and get to the top of the leaderboards by punching the music right off the map!
Don't pull any of your punches
We all love a good fighting game to get us up and moving inside our virtual reality headsets. Creed: Rise to Glory (opens in new tab) captivated me because of the intense style and real-life lessons on boxing. It's truly phenomenal how you can learn to throw a perfect punch, pace yourself, and get a good workout without having to leave the comfort of your own home. The high-end graphics and 3D sound make it even easier to get immersed in the game for these lessons as well! This boxing game will give you hours of fun and valuable knowledge to keep forever.
If you're looking for less "learning how to fight" and more "getting active by punching things", then you want to go for Beat Saber! Beat Saber has the best soundtrack and mechanics for getting your heart racing in an incredibly fun way. Climb the leaderboards in online competitions and jam out to your favorite songs!
Essa Kidwell is an expert in all things VR and mobile devices who can always be found with an Oculus Go, a Pixel 2, and an iPhone 7+. They've been taking things apart just to put them back together for quite some time. If you've got a troubleshooting issue with any of your tech, they're the one you want to go to! Find them on Twitter @OriginalSluggo or Instagram @CosmeticChronus.
Android Central Newsletter
Get the best of Android Central in in your inbox, every day!
Thank you for signing up to Android Central. You will receive a verification email shortly.
There was a problem. Please refresh the page and try again.